LA Dominican-Jesuit
SO#10 Jesuit boys rule home meet, girls title to St Joseph
Saturday, Sept. 8, 2007 at City Park, New Orleans, LA
Course is 3 miles, grass
83 degrees, mostly cloudy, 74% humidity
HIGHLIGHTS:
Jesuit sr Kevin Fitzgerald, the #5 state returnee, rolled to victory in 16:39, followed by St. Thomas More jr Alden Heaphey in 16:44.
Jesuit was an easy boys team winner, scoring 23 points with 6 in the top 10. Brother Martin, with its A team running in Alabama at the Mobile meet, got a fine runner-up effort from the B team with 107.
Episcopal soph Lucie Pyle claimed the girls title in 20:52, ahead of McGehee soph Helen Kohnke in 20:56.
St. Joseph captured 4 of the top 9 places on its way to the girls team crown with 38 points. Co-host Dominican was next with 83.
PHOTOS:
Jesuit sr Kevin Fitzgerald earned individual honors in 16:39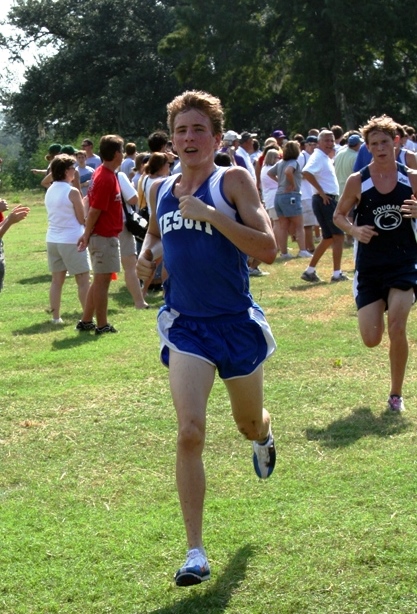 photo courtesy Jack Culicchia
SO#10 Jesuit capitalized on a good start, winning team gold with 23 points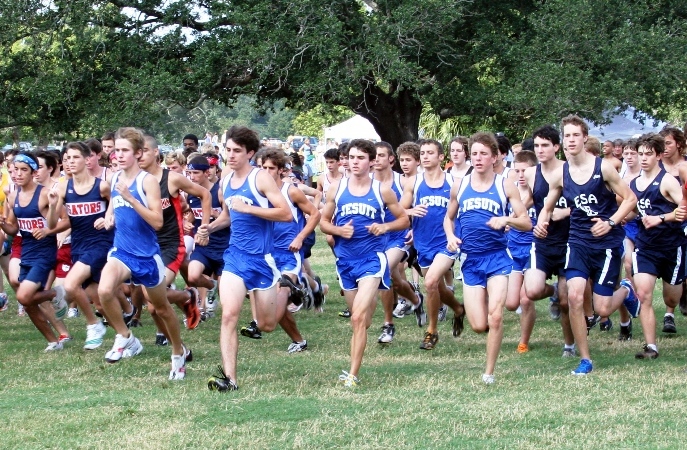 photo courtesy Jack Culicchia
RESULTS:




GIRLS


Top Individuals:
1.  Lucie Pyle         Episcopal of Acadiana    20:52
2.  Helen Kohnke       McGehee                  20:56
3.  Grace Ortkiese     McGehee                  20:59
4.  Claire Hossley     St. Joseph               21:04
5.  Erinn Breenblatt   St. Joseph               21:05
6.  Allison Fontenot   St. Joseph               21:37
7.  Michon Meche       Beau Chene               21:57
8.  Brooke Stephens    Dominican                22:01
9.  Stephanie Miller   St. Joseph               22:08
10. Shannon Yancovich  Newman                   22:12

Top Teams:
1.  38 St. Joseph
2.  83 Dominican
3. 118 McGehee




BOYS


Top Individuals:
1.  Kevin Fitzgerald   Jesuit                   16:39
2.  Alden Heaphey      St. Thomas More          16:44
3.  Peter Flores       Jesuit                   16:45
4.  Graham Williams    Jesuit                   16:51
5.  Mark Dotson        Menard                   16:56
6.  Cullen Doody       Jesuit                   17:09
7.  Adam Saloom        St. Thomas More          17:19
8.  Josh Guzman        Ben Franklin             17:25
9.  Chad Guidry        Jesuit                   17:31
10. Taylor Bacques     Jesuit                   17:35

Top Teams:
1.  23 Jesuit
2. 107 Brother Martin (B team)
3. 167 Beau Chene


South Region Index