Andy Wells Invitational





Connor leads The Woodlands over Cinco Ranch





Saturday, September 6, 2008 - Kingwood HS, Kingwood TX



results from Jack Alexander, submitted by John Sullivan



Results

- Varsity Boys - Varsity Girls

Boys - 3 miles, Girls - 4k



Highlights



US#14/SO#3

The Woodlands

boys run full-strength team and top SO#4 Cinco Ranch, 24-50, in 11-team battle. The winners put five in the top ten.
The Woodlands'

Reed Connor

dominates over approx. 3M course at 14:31, with teammate Drew Butler 2nd in 14:59. Both were on winning 4x1 Mile at NON.
SO#3

Kingwood

, led by individual winner Sophie Blake (14:19 for 4k) puts five in top 11 and beats SO#4 Cinco Ranch, 34-56. Kingwood Park just two points further back at 58 for third.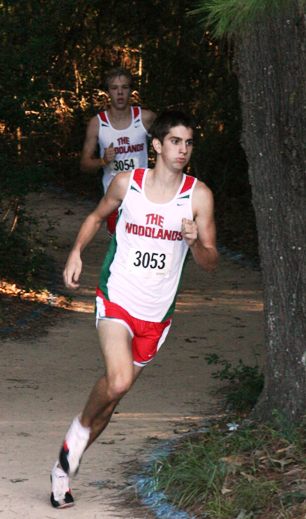 The Woodlands' Reed Connor and Drew Butler went
1-2 in the team victory. Photo Tom Connor.
Results
Boys
 Region III T&F Championship Meet                           Hy-Tek's Meet Manager
                       Andy Wells Invitational - 9/6/2008                        
                              Kingwood High School                               
                              Last Completed Event                               
 
Event 2  Boys 5k Run CC Varsity
=======================================================================          
    Name                    Year School                  Finals  Points          
=======================================================================          
  1 Connor, Reed                 Woodlands A           14:31.94    1             
  2 Butler, Drew                 Woodlands A           14:59.57    2             
  3 Brandon, Swindler            Friendswood A         15:14.65    3             
  4 Yale, Alec                   Kingwood High Sc      15:16.96    4             
  5 Milhorn, Landon              Woodlands A           15:17.65    5             
  6 Stredny, George              Cinco Ranch A         15:20.42    6             
  7 Moulder, Ross                Woodlands A           15:26.66    7             
  8 Dermit, Justin               Cinco Ranch A         15:29.28    8             
  9 Folks, Brad                  Woodlands A           15:30.35    9             
 10 Cetina, Raul                 Cinco Ranch A         15:30.97   10             
 11 Weatherly, Ryan              Cinco Ranch A         15:33.24   11             
 12 Spacek, Cory                 Kingwood High Sc      15:42.43   12             
 13 Wonser, Ryan                 Kingwood High Sc      15:42.81   13             
 14 Nowack, Craig                Cypress Woods A       15:44.59   14             
 15 Glova, Austin                Cinco Ranch A         15:45.62   15             
 16 Miller, Ben                  Cinco Ranch A         15:50.03   16             
 17 Peterson, Colin              Woodlands A           15:51.92   17             
 18 Hedges, Nic                  Woodlands A           15:52.47   18             
 19 Hernandez, Gavino            Kingwood High Sc      15:53.56   19             
 20 Ellis, Matt                  Friendswood A         15:54.19   20             
 21 Scheffey, Andrew             Woodlands A           15:54.85                  
 22 Smith, Tanner                Kingwood High Sc      15:55.61   21             
 23 Concienne, Max               Atascocita A          15:59.90   22             
 24 Rumsey, Kyle                 Cinco Ranch A         16:07.66   23             
 25 Gregory, James               Friendswood A         16:08.06   24             
 26 White, james                 Kingwood High Sc      16:08.80   25             
 27 DeBruin, Nate                Kingwood High Sc      16:09.36   26             
 28 Jackson, Kwame               Kingwood Park         16:12.75   27             
 29 Michelsen, Kyle              WoodlandsB            16:17.52                  
 30 Stevens, Michael             Atascocita A          16:18.01   28             
 31 Escobar, Andres              Cypress Woods A       16:18.64   29             
 32 Castellow, Joe               Atascocita A          16:24.55   30             
 33 Williams, Vadie              WoodlandsB            16:25.42                  
 34 Stoeber, Colin               Cypress Woods A       16:27.16   31             
 35 DeSousa, Pedro               Cinco Ranch A         16:27.54                  
 36 Dejuana, Dixon               Westfield A           16:28.77   32             
 37 Tasson, Brian                Atascocita A          16:29.36   33             
 38 Davila, Luis                 Cinco Ranch A         16:33.43                  
 39 Phillips, Wade               Kingwood High Sc      16:33.94   34             
 40 Holt, Spencer                Atascocita A          16:34.41   35             
 41 Montoya, Ulysses             Westfield A           16:37.36   36             
 42 Vasquez, Stephen             Atascocita A          16:38.26   37             
 43 Stanaland, Justin            Cypress Woods A       16:42.96   38             
 44 Brundage, Kyle               WoodlandsB            16:45.51                  
 45 Mize, Stevie                 WoodlandsB            16:49.73                  
 46 Dumars, Sherman              Cypress Woods A       16:50.17   39             
 47 Malinowski, Sal              Atascocita A          16:54.00   40             
 48 Deines, Trevor               Cypress Woods A       17:00.12   41             
 49 Barber, David                Kingwood Park         17:02.58   42             
 50 Szot, Josh                   Cypress Woods A       17:03.00   43             
 51 Rugeley, Evan                Kingwood High Sc      17:09.51   44             
 52 Caldwell, Sam                Kingwood High Sc      17:09.96   45             
 53 Toups, Chris                 Cypress Woods B       17:13.49                  
 54 Swindler, Dustin             Friendswood A         17:17.01   46             
 55 Nguyen, Martin               Westfield A           17:17.71   47             
 56 Ellis, Carl                  Friendswood A         17:28.22   48             
 57 Raymond, Lowery              Friendswood A         17:49.06   49             
 58 Salazar, Stephen             Atascocita B          17:55.67                  
 59 Baisden, Xavier              Atascocita B          17:56.09                  
 60 Zisman, Blake                Atascocita B          17:56.48                  
 61 Stone, Hudson                Cypress Woods B       18:03.20                  
 62 Phillips, Adam               Kingwood High Sc      18:04.19   50             
 63 Tovas, Pablo                 Dekaney High School   18:06.13                  
 64 Cuadra, Ben                  Friendswood B         18:07.10   51             
 65 Sosa, Sergio                 Westfield A           18:15.12   52             
 66 Forbes, Jacob                Kingwood High Sc      18:15.58   53             
 67 Goodwin, Michael             Friendswood B         18:18.76   54             
 68 Fuerst, Dustin               Spring High School    18:19.27   55             
 69 Dowdy, Thomas                Friendswood B         18:23.92   56             
 70 Suggs, Chris                 Kingwood Park         18:26.38   57             
 71 Douglas, Tony                Spring High School    18:33.44   58             
 72 Cavanaugh, Adams             Friendswood A         18:34.08   59             
 73 Herschmann, Drew             Spring High School    18:48.07   60             
 74 Lee, Sam                     Kingwood Park         18:51.10   61             
 75 Batiste, Karlo               Dekaney High School   18:53.70                  
 76 Cain, John                   Kingwood High Sc      18:54.63   62             
 77 Frieden, Marshall            Friendswood B         18:57.39   63             
 78 Guinaque, Jorge              Westfield A           19:01.02   64             
 79 Frye, Keeton                 Cypress Woods B       19:02.69                  
 80 Tilley, Ryan                 Spring High School    19:08.95   65             
 81 Shirley, Corly               Humble A              19:09.89                  
 82 Drew, james                  Atascocita B          19:16.66                  
 83 Jozami, Eduardo              Humble A              19:18.09                  
 84 McDonald, Blake              Friendswood B         19:30.23   66             
 85 Boyd, Steven                 Kingwood Park         19:31.62   67             
 86 Mussella, Alex               Spring High School    19:34.89   68             
 87 Nunez, Jamie                 Dekaney High School   19:36.70                  
 88 Diaz, Dean                   Cypress Woods B       19:44.76                  
 89 Williams, Tyler              Spring High School    20:43.93   69             
                                                                                 
                                   Team Scores                                   
=================================================================================
Rank Team                      Total    1    2    3    4    5   *6   *7   *8   *9
=================================================================================
   1 Woodlands A                  24    1    2    5    7    9   17   18          
      Total Time:  1:15:46.17                                                    
         Average:    15:09.24                                                    
   2 Cinco Ranch A                50    6    8   10   11   15   16   23          
      Total Time:  1:17:39.53                                                    
         Average:    15:31.91                                                    
   3 Kingwood High School A       69    4   12   13   19   21   25   26          
      Total Time:  1:18:31.37                                                    
         Average:    15:42.28                                                    
   4 Friendswood A               141    3   20   24   46   48   49   59          
      Total Time:  1:22:02.13                                                    
         Average:    16:24.43                                                    
   5 Atascocita A                148   22   28   30   33   35   37   40          
      Total Time:  1:21:46.23                                                    
         Average:    16:21.25                                                    
   6 Cypress Woods A             151   14   29   31   38   39   41   43          
      Total Time:  1:22:03.52                                                    
         Average:    16:24.71                                                    
   7 Kingwood High School B      226   34   44   45   50   53   62               
      Total Time:  1:27:13.18                                                    
         Average:    17:26.64                                                    
   8 Westfield A                 231   32   36   47   52   64                    
      Total Time:  1:27:39.98                                                    
         Average:    17:32.00                                                    
   9 Kingwood Park               254   27   42   57   61   67                    
      Total Time:  1:30:04.43                                                    
         Average:    18:00.89                                                    
  10 Friendswood B               290   51   54   56   63   66                    
      Total Time:  1:33:17.40                                                    
         Average:    18:39.48                                                    
  11 Spring High School          306   55   58   60   65   68   69               
      Total Time:  1:34:24.62                                                    
         Average:    18:52.93                                                    

Girls
 Region III T&F Championship Meet                           Hy-Tek's Meet Manager
                       Andy Wells Invitational - 9/6/2008                        
                              Kingwood High School                               
                              Last Completed Event                               
 
Event 1  Girls 4k Run CC Varsity
=======================================================================          
    Name                    Year School                  Finals  Points          
=======================================================================          
  1 Blake, Sophie                Kingwood High Sc      14:19.50    1             
  2 Cetina, Itzel                Cinco Ranch A         14:25.70    2             
  3 Schrader, Bree               Kingwood Park         14:29.17    3             
  4 Mahoney, Melissa             Cypress Woods A       14:35.44    4             
  5 Daigre, Catie                Kingwood High Sc      14:38.13    5             
  6 Jackson, Zahri               Kingwood Park         14:38.61    6             
  7 Sheehan, Kirsten             Kingwood High Sc      14:43.58    7             
  8 Goldsmith, Aluse             Cinco Ranch A         14:53.11    8             
  9 Fletcher, Grace              Kingwood Park         14:53.56    9             
 10 Steup, Rosemary              Kingwood High Sc      14:54.64   10             
 11 Nicholls, Shelby             Kingwood High Sc      15:14.53   11             
 12 Stone, Kristen               Cinco Ranch A         15:15.50   12             
 13 Alford, Kerrie               Cy Fair               15:15.97   13             
 14 Nicholls, Hailey             Kingwood High Sc      15:16.44   14             
 15 Ramsey, Meredith             Cinco Ranch A         15:17.84   15             
 16 Marches, Brittany            Atascocita A          15:18.60   16             
 17 Fischbuch, Sarah             Kingwood High Sc      15:21.17   17             
 18 Amadu, Miriam                Kingwood Park         15:23.04   18             
 19 Pagano, Jessica              Cinco Ranch A         15:27.37   19             
 20 Craig, Laura                 Kingwood High Sc      15:29.72                  
 21 Garwick, Jessica             Cinco Ranch A         15:30.07   20             
 22 Ramsey, Mallory              Cinco Ranch A         15:36.13   21             
 23 Black, Kacie                 Kingwood Park         15:38.02   22             
 24 Ford, Aimee                  Cinco Ranch B         15:41.45                  
 25 Heitzwebel, Emily            Kingwood High Sc      15:43.17                  
 26 Sanders, Faith               Spring High School    16:00.23                  
 27 Johnson, Chelsea             Cinco Ranch B         16:02.80                  
 28 Schindler, Brittany          Cinco Ranch B         16:03.17                  
 29 Livergood, Madeline          Cy Fair               16:03.58   23             
 30 Odom, haley                  Cypress Woods A       16:04.59   24             
 31 Smothers, Hannah             Kingwood Park         16:05.67   25             
 32 Harvey, Payton               Kingwood Park         16:06.24   26             
 33 Wright, Katherine            Cy Fair               16:15.05   27             
 34 Boice, Jessic                Kingwood High Sc      16:22.41   28             
 35 Pena, Sarah                  Cy Fair               16:22.93   29             
 36 Silva, Adelina               Cypress Woods A       16:30.15   30             
 37 Arend, Michelle              Cy Fair               16:35.32   31             
 38 Steib, Amber                 Cypress Woods A       16:39.42   32             
 39 Higgins, Kristin             Kingwood High Sc      16:46.83   33             
 40 Armstrong, Beth              Friendswood A         16:48.43   34             
 41 Murphy, Maddy                Friendswood A         16:48.80   35             
 42 Hernandez, Magdalena         Atascocita A          17:19.76   36             
 43 Quinlan, Haley               Cypress Woods A       17:20.98   37             
 44 Graham, Lyndsey              Cy Fair               17:22.75   38             
 45 Marshall, jenna              Atascocita A          17:23.66   39             
 46 Gonzalez, Yasiris            Westfield A           17:29.77   40             
 47 Lewis, Ashley                Westfield A           17:30.95   41             
 48 Walker, Rachel               Cy Fair               17:39.20   42             
 49 Anderson, Jillian            Atascocita A          17:43.67   43             
 50 Davis, Alexis                Cypress Woods B       17:46.56                  
 51 Olvera, Michelle             Atascocita A          17:51.42   44             
 52 Warren, Mandy                Cy Fair B             17:58.69                  
 53 Cesnik, Courtney             Cypress Woods A       17:59.25   45             
 54 Wright, Alecia               Westfield A           18:01.24   46             
 55 Tillett, Tiffany             Atascocita A          18:04.96   47             
 56 Rubio, Yaneli                Friendswood A         18:06.53   48             
 57 Meisha, Whyte                Westfield A           18:08.89   49             
 58 Smith, Julie                 Cy Fair B             18:12.66                  
 59 Olansen, Kathy               Friendswood A         18:17.05   50             
 60 Wittoesch, Judy              Cypress Woods B       18:21.19                  
 61 Wenzel, Ashley               Friendswood A         18:40.09   51             
 62 Webb, Roneisha               Dekaney High School   18:42.92                  
 63 Augustine, Emily             Atascocita B          18:44.15                  
 64 Phillips, Valerie            Atascocita A          18:47.01   52             
 65 Sisk, Olivia                 Cy Fair B             18:56.79                  
 66 Gest, Kristyn                Cypress Woods B       18:57.29                  
 67 Weber, Laura                 Cypress Woods B       19:00.37                  
 68 Hertl, Rachel                Friendswood A         19:08.46   53             
 69 Dao, Rosalie                 Westfield A           19:10.92   54             
 70 Pedraza, Cinthia             Cy Fair B             19:11.82                  
 71 Dorman, Emily                Kingwood High Sc      19:18.34   55             
 72 Elizondo, Lorena             Westfield A           19:27.38   56             
 73 Smith, D'Angello             Dekaney High School   19:37.35                  
 74 Hudgins, LaChelle            Dekaney High School   19:40.85                  
 75 Rubenak, Allie               Friendswood A         19:42.13   57             
 76 Fitzpatrick, Kelsey          Kingwood High Sc      19:43.11   58             
 77 Sadiku, Teuta                Kingwood High Sc      20:11.35   59             
 78 Crawford, Jessica            Humble A              20:40.42                  
                                                                                 
                                   Team Scores                                   
=================================================================================
Rank Team                      Total    1    2    3    4    5   *6   *7   *8   *9
=================================================================================
   1 Kingwood High School A       34    1    5    7   10   11   14   17          
      Total Time:  1:13:50.38                                                    
         Average:    14:46.08                                                    
   2 Cinco Ranch A                56    2    8   12   15   19   20   21          
      Total Time:  1:15:19.52                                                    
         Average:    15:03.91                                                    
   3 Kingwood Park                58    3    6    9   18   22   25   26          
      Total Time:  1:15:02.40                                                    
         Average:    15:00.48                                                    
   4 Cy Fair                     123   13   23   27   29   31   38   42          
      Total Time:  1:20:32.85                                                    
         Average:    16:06.57                                                    
   5 Cypress Woods A             127    4   24   30   32   37   45               
      Total Time:  1:21:10.58                                                    
         Average:    16:14.12                                                    
   6 Atascocita A                178   16   36   39   43   44   47   52          
      Total Time:  1:25:37.11                                                    
         Average:    17:07.43                                                    
   7 Friendswood A               218   34   35   48   50   51   53   57          
      Total Time:  1:28:40.90                                                    
         Average:    17:44.18                                                    
   8 Westfield A                 230   40   41   46   49   54   56               
      Total Time:  1:30:21.77                                                    
         Average:    18:04.36                                                    
   9 Kingwood High School B      233   28   33   55   58   59                    
      Total Time:  1:32:22.04                                                    
         Average:    18:28.41                                                    

South Region Index