Boys: 5k, 10:00 AM
Girls: 4k, 10:30 AM
78 degrees, cloudy, 75% humidity

- Highlights - Race Report - Boys Results - Girls Results -

Girls Start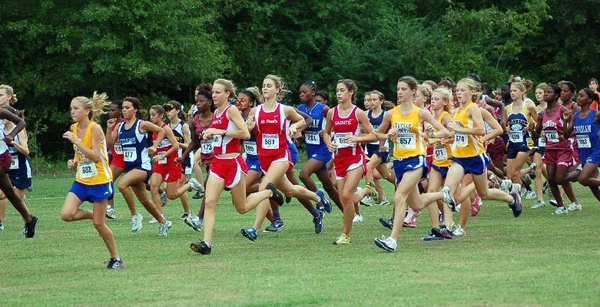 photos courtesy Lynn Holland

HIGHLIGHTS:
Corinth jr

Katlyn Will

produced the stunner of the meet, hanging on to the pace of Pass Christian soph

Cory McGee

(15th at Foot Locker Nationals last year), and kicking by in the last 400 to claim gold in 14:52 for 4k. McGee, running in flats, took silver in 15:24. She's been bothered by breathing problems lately and will be taking a short break while getting it checked out.

Katlyn Will stayed close enough to Cory McGee

photo courtesy Ken Williams

Tupelo girls

were without a few top runners, but still managed to claim team gold with 63 (4-10-12-15-22), ahead of St Paul (AL) with 70 (3-7-8-23-29). Pearl took 3rd with 108, followed by Corinth with 109.
Tupelo soph

Max Holman

, 4th at state in 2006, cruised home in 16:00 for individual honors. Lee Gilmer of St Paul (AL) took the silver in 16:15.
Max Holman


Tupelo boys

captured the team title with 41 (1-3-11-12-14), running without usual #1 and defending state champ Rob Ellis. St Paul (AL) was not far behind with 51 (2-4-7-9-29).



REPORT:


from Lynn Holland

Several dramas played out on Saturday at the MSU Horse Park as Mississippi State University hosted its annual high school cross country meet. The meet isn't huge but does usually bring together several of the state's top programs and matches them head-to-head in one race for all school size classifications. For example, in many years this is the only meet where long-time powers Pearl and Tupelo raced head to head. No average comparisons, no arguing about who might win; it actually gets decided the real way, on the course.

It was a breezy, warm and humid day with overcast skies. Heavy air, hard to breathe was the way several runners described it. The course was revised somewhat from prior years with both varsity girls and boys races climbing a long (easily 300 meters) hill twice. The elevation increase on that hill was probably 80 feet. Beyond the primary hill were several rolling hills, a steep descent back to the start/finish area, and long flat stretches in the start/finish area which the runners looped through mid-race.

Tupelo (2006 5A boys and girls state champs), Pearl (2006 4A girls state champ and boys runner-up), St. Paul's (5A Alabama boys state champ and girls runner-up), Madison Central (2006 5A boys runner-up, girls third place finisher), Corinth (2006 3A girls and boys state champion), Pass Christian (Cory McGee), St. Andrews (several time 2A champs including boys and girls 2006 state champion), Jackson Prep (which normally dominates the private school association in MS), and J. Z. George (up and coming 2A program) were all entered.

First drama, Tupelo runs without team leader Rob Ellis (sore hip), but gets clutch runs from Max Holman (overall winner in 16:00) and Ethan Schultz, who finishes third on the team and 11th overall (17:27), to take the boys team title with 41 points ahead of St. Paul's 51 points. Holman led the race from start to finish and was never challenged. St. Paul's was leading through four scorers, but Tupelo's fifth scored 14 to St. Paul's 29.

Second drama, J. Z. George finishes third (127 points, 18:15 average) in the team division of the boys race ahead of Pearl (146 points) and 2A rival St. Andrews (146 points). Janelle Jenkins led the Jaguars, finishing sixth with a time of 17:09.

Third drama, Cory McGee races Katlyn Will stride for stride for most of the 4K girls race. Cory seems to pull away coming into view on the steep descent at about the 2 mile mark. But as they run along the tree line before the next to last left turn, Katlyn surges. She catches Cory after the last left turn with about 300 meters to go and Cory never responds. Katlyn finishes strong with a time of 14:52, with Cory slowing down and clocking 15:24.

Fourth drama, Tupelo girls have continued to dominate the in-state competition, unbeaten since the second meet of the 2001 season. After topping strong Saltillo and Madison Central squads last week, Pearl, St. Andrews, and Corinth were the new challenges this week - all three were state champions in their respective divisions in 2006. Corinth had raced well with a team average only slightly slower than Tupelo's at Chickasaw Trails in different races two weeks ago and appeared to provide the sharpest competition. Tupelo, having graduated four from last year's NTN team, is in a rebuilding year and would be without 2 of its top 5 today.

As the girls race developed, Will and McGee pulled away from the field early on. Mary Carlton Johnston from St. Paul's trailed those two, but ran most of the race with Katherine Steinman of Tupelo about 20 meters behind and Lauren Foropaulos of Corinth about 20 meters further back. Those girls all finished in that order with no real changes other than the Will/McGee race mentioned above. After that, there was a pack of 6 to 8 and then another pack of 8 to 10 where the team race would be decided.

St Paul's got its number 2 and 3 in ahead of Tupelo and Corinth, but Tupelo's number 2 through 5 finished with only a 58-second spread to take the team title. Maria Holland finished tenth overall for Tupelo, with Haley Page (first varsity race) 12th, Emily Corban 15th and Abby Phillips (first varsity race) 22nd. Tupelo girls scored 63 compared to St. Paul's 70. Pearl was third and Corinth fourth.

Katherine Steinman led Tupelo to the team title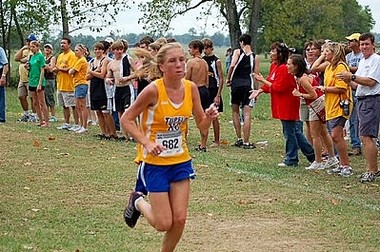 RESULTS

                                            
             Mississippi St High School XC Invitational - 9/22/2007              
                                  Starville, MS                                  
 
Event 5  Girls 4k Run CC Varsity
=======================================================================          
    Name                    Year School                  Finals  Points          
=======================================================================          
Finals                                                                           
  1 Will, Katlyn                 Corinth High School   14:52.80    1             
  2 McGee, Cory                  Pass Christian        15:24.16    2             
  3 Johnston, Mary Carlton       St Paul's             15:53.01    3             
  4 Steinman, Katherine          Tupelo High School    16:02.58    4             
  5 Foropaulos, Lauren           Corinth High School   16:04.08    5             
  6 Brown, Haley                 Pearl High School     16:40.74    6             
  7 Collins, Malise              St Paul's             16:49.06    7             
  8 Harkness, Margaret           St Paul's             16:56.38    8             
  9 Hunt, Kaileigh               Pearl High School     16:56.80    9             
 10 Holland, Maria               Tupelo High School    17:04.86   10             
 11 Filipov, Joann               Starkville            17:23.88   11             
 12 Page, Haley                  Tupelo High School    17:24.40   12             
 13 Col;eman, Christina          Corinth High School   17:28.01   13             
 14 Gonzalez, Jessica            Caledonia             17:32.26   14             
 15 Corban, Emily                Tupelo High School    17:36.95   15             
 16 Swims, Latifa                J.Z. George           17:37.32   16             
 17 Peters, Christin             Meridian              17:43.61   17             
 18 Diaz, Justine                Ridgeland             17:52.05   18             
 19 McGee, Devin                 Pass Christian        17:53.94   19             
 20 Terrel, Bridgett             Meridian              17:59.82   20             
 21 Hobbs, Tiffany               J.Z. George           18:02.15   21             
 22 Phillips, Abby               Tupelo High School    18:02.94   22             
 23 Hudson, Kayleigh             St Paul's             18:07.10   23             
 24 Chastain, Rebecca            Madison Central HS    18:13.90                  
 25 McFerrin, Maggie             Tupelo High School    18:14.42   24             
 26 Hollingsworth, Breana        Pearl High School     18:14.71   25             
 27 Smith, Anna                  West Lauderdale HS    18:16.11                  
 28 Juncos, Natalie              Northwest Rankin      18:24.03   26             
 29 Comer, Jesse                 Caledonia             18:24.57   27             
 30 Harris, Rachel               Ridgeland             18:26.73   28             
 31 Sampsom, Ellie               St Paul's             18:29.76   29             
 32 Ford, Kelsey                 Corinth High School   18:30.39   30             
 33 Buechler, Killian            St Andrews            18:30.46   31             
 34 Langston, Amanda             Pearl High School     18:33.00   32             
 35 McCulloch, Jamie             Madison Central HS    18:34.81                  
 36 Robbins, Mary Kate           Tupelo High School    18:39.01   33             
 37 Lamberth, Lisa               Tupelo High School    18:41.78                  
 38 Gaillet, Elizabeth           St Andrews            18:43.77   34             
 39 Jakalaukus, Janeah           Pass Christian        18:50.82   35             
 40 Craven, Emily                Pearl High School     18:52.44   36             
 41 Lambert, Amber               Pearl High School     18:54.18   37             
 42 Conway-Lewis, Claudette      St Andrews            18:59.51   38             
 43 Sollie, Audrey               West Lauderdale HS    19:06.59                  
 44 Green, Susannah              St Andrews            19:08.96   39             
 45 Manuel, Diamond              Meridian              19:12.93   40             
 46 Moran, Lacy                  Pass Christian        19:13.05   41             
 47 Barfield, Carlisha           Northeast Lauder      19:17.06   42             
 48 Harris, Brittney             Tupelo High School    19:20.75                  
 49 Erve, Dnesha                 Unattached            19:27.07                  
 50 Cadenhead, Hillary           Northwest Rankin      19:32.76   43             
 51 Britt, Halley                Ridgeland             19:35.29   44             
 52 Sanford, Elizabeth           Starkville            19:37.28   45             
 53 Blue, Elizabeth              Northwest Rankin      19:37.76   46             
 54 Pullam, Chancedy             Houston High School   19:40.14                  
 55 Martin, Clara                St Andrews            19:44.92   47             
 56 Bledsoe, Jerika              South Panola          19:45.74   48             
 57 Fox, Cierra                  Meridian              19:48.66   49             
 58 Griffen, Noel                South Panola          19:57.67   50             
 59 Halford, Hannah              St Andrews            19:58.00   51             
 60 Peterson, Candace            J.Z. George           19:58.64   52             
 61 Byers, Larken                St Andrews            20:00.23   53             
 62 Strauss, Busanna             Northwest Rankin      20:03.78   54             
 63 Robinson, Adrienne           New Hope              20:04.74   55             
 64 Walton, Haley                South Panola          20:06.76   56             
 65 Noggle, Tanya                Caledonia             20:09.10   57             
 66 Pitman, Diane                New Hope              20:09.24   58             
 67 Agany, Tabitha               Ridgeland             20:11.73   59             
 68 McFall, Haley                Corinth High School   20:14.04   60             
 69 Johnston, Alexa              Northwest Rankin      20:14.79   61             
 70 Heath, Kelli                 Tupelo High School    20:15.28                  
 71 Lisbon, Emma                 St Andrews            20:17.28                  
 72 Lambert, Abby                Corinth High School   20:22.35   62             
 73 Laster, Brittany             Meridian              20:24.15   63             
 74 Gonzalez, Stephanie          Caledonia             20:26.75   64             
 75 Fike, Elizabeth              St Andrews            20:27.62                  
 76 Walk, Amber                  Meridian              20:29.47   65             
 77 Phillips, Lutryca            J.Z. George           20:32.05   66             
 78 Hines, Claire                St Andrews            20:32.76                  
 79 Salaun, Cristina             St Andrews            20:34.26                  
 80 Rester, Kaitlan              New Hope              20:39.75   67             
 81 Kitchings, Mary Kat          St Andrews            20:39.84                  
 82 Harris, Hanna                Ridgeland             20:50.14   68             
 83 Taheri, Sara                 Ridgeland             20:53.05   69             
 84 Jenkins, Shannon             St Andrews            20:55.06                  
 85 Jimenez, Mary Grace          Ridgeland             20:57.89   70             
 86 Edmonson, Maddie             Northwest Rankin      20:58.46   71             
 87 McCollom, Anna               Corinth High School   21:03.01   72             
 88 Hall, Morgan                 Tupelo High School    21:03.55                  
 89 Kiihal, Whitney              South Panola          21:06.10   73             
 90 Cathcart, Abigail            Starkville            21:13.18   74             
 91 Boremicker, Lena             Caledonia             21:14.57   75             
 92 Franks, Morgan               New Hope              21:15.47   76             
 93 Owens, Carly                 Northeast Lauder      21:18.69   77             
 94 Coleman, Catherine           Corinth High School   21:27.08                  
 95 Wall, Laura                  Corinth High School   21:32.19                  
 96 Strutton, Ari                Pass Christian        21:32.35   78             
 97 Wineland, Layne              Northwest Rankin      21:32.65   79             
 98 Cheezum, Amber               New Hope              21:52.62   80             
 99 Anderson, Darian             New Hope              22:03.07   81             
100 Comer, Anna                  Caledonia             22:04.36   82             
101 Busch, Laura                 St Andrews            22:11.05                  
102 Jackson, Layne               Starkville            22:12.34   83             
103 Walker, Madison              Ridgeland             22:13.55                  
104 Gorman, Lauretta             St Andrews            22:15.33                  
105 Shea, Susan                  Corinth High School   22:15.51                  
106 Zehr, Jessica                St Andrews            22:15.99                  
107 Cartwright, Brianna          Meridian              22:18.10   84             
108 Dunbar, Adrienne             Meridian              22:18.75                  
109 Pratts, Cambronna            Meridian              22:21.80                  
110 Brewer, Charo                J.Z. George           22:22.92   85             
111 Peavie, Jade                 South Leake           22:30.49                  
112 Tomlinson, Elizabeth         Starkville            22:42.24   86             
113 Newman, Jasmine              J.Z. George           22:46.96   87             
114 Doran, Ariel                 Northwest Rankin      22:52.03                  
115 Leis, Christina              St Andrews            22:58.39                  
116 Stanley, Peyton              Caledonia             22:59.73   88             
117 Pitman, Christina            New Hope              23:02.99   89             
118 Fox, Shanae                  Houston High School   23:11.89                  
119 Jackson, Karina              Starkville            23:13.79   90             
120 Caidedo, Maria               Starkville            23:14.33   91             
121 Pace, Tiffany                Northwest Rankin      23:16.86                  
122 McCarthur, Amber             Pass Christian        23:22.70   92             
123 Young, Sarah                 New Hope              23:26.04                  
124 Hoage, Alex                  Pass Christian        23:26.56   93             
125 Love, Dorothy                Northeast Lauder      23:27.72   94             
126 Wilburn, Tranette            Ridgeland             23:29.80                  
127 Gibson, Gracie               St Andrews            23:30.96                  
128 Henry, Johnna                St Andrews            23:32.66                  
129 Doran, Shelby                Northwest Rankin      23:44.74                  
130 Tackitt, Erin                Ridgeland             23:46.25                  
131 Luk, Adria                   St Andrews            23:52.17                  
132 Betts, Carrie                Ridgeland             23:52.65                  
133 Howard, Anna                 Ridgeland             23:56.33                  
134 Flint, Caroline              South Panola          23:57.82   95             
135 Morales, Danielle            Caledonia             24:26.26                  
136 Kim, Barunie                 Starkville            24:28.68                  
137 Harkey, Leah                 St Andrews            24:33.57                  
138 Linford, Mandy               Starkville            24:39.52                  
139 Laiche, Jessica              Houston High School   24:40.95                  
140 Cunningham, Latisha          Caledonia             24:48.65                  
141 McDonnel, Kate Lee           St Andrews            24:52.14                  
142 Harkey, Lorna                St Andrews            24:54.99                  
143 Gurley, Carley               Caledonia             24:55.97                  
144 Simon, Leah                  Northeast Lauder      25:03.88   96             
145 Bolton, Leah                 South Leake           25:03.98                  
146 Johnson, Tiffany             Northeast Lauder      25:15.79   97             
147 Smith, Amanda                Houston High School   25:21.53                  
148 Baldwin, Marriona            Clarkdale             25:32.90   98             
149 Winters, Allie               Corinth High School   26:06.96                  
150 Townsend, Denise             South Leake           26:07.26                  
151 Robbins, Alix                Tupelo High School    26:21.84                  
152 Lindsay, Laura               Starkville            26:22.13                  
153 Tate, Tierra                 Starkville            26:46.78                  
154 Van, Liz                     Ridgeland             27:06.08                  
155 Ramey, Nicole                Clarkdale             27:41.09   99             
156 West, Allison                Ridgeland             27:45.21                  
157 Proctor, Reicca              South Panola          27:52.64  100             
158 Ferrell, Tara                South Panola          28:36.89  101             
159 Burton, Lindsey              Caledonia             28:42.45                  
160 Hathcock, Dominique          Caledonia             29:43.87                  
161 Hutchinson, Raven            Clarkdale             29:53.24  102             
162 Garrett, Ashley              Clarkdale             30:27.03  103             
163 Landrum, Donna               Clarkdale             31:07.87  104             
                                                                                 
                                   Team Scores                                   
=================================================================================
Rank Team                      Total    1    2    3    4    5   *6   *7   *8   *9
=================================================================================
Finals                                                                           
   1 Tupelo High School           63    4   10   12   15   22   24   33          
      Total Time:  1:26:11.73                                                    
         Average:    17:14.35                                                    
   2 St Paul's Episcopal Schoo    70    3    7    8   23   29                    
      Total Time:  1:26:15.31                                                    
         Average:    17:15.07                                                    
   3 Pearl High School           108    6    9   25   32   36   37               
      Total Time:  1:29:17.69                                                    
         Average:    17:51.54                                                    
   4 Corinth High School         109    1    5   13   30   60   62   72          
      Total Time:  1:27:09.32                                                    
         Average:    17:25.87                                                    
   5 Pass Christian High Schoo   175    2   19   35   41   78   92   93          
      Total Time:  1:32:54.32                                                    
         Average:    18:34.87                                                    
   6 St Andrews High School      189   31   34   38   39   47   51   53          
      Total Time:  1:35:07.62                                                    
         Average:    19:01.53                                                    
   7 Meridian High School        189   17   20   40   49   63   65   84          
      Total Time:  1:35:09.17                                                    
         Average:    19:01.84                                                    
   8 Ridgeland High School       217   18   28   44   59   68   69   70          
      Total Time:  1:36:55.94                                                    
         Average:    19:23.19                                                    
   9 Northwest Rankin            230   26   43   46   54   61   71   79          
      Total Time:  1:37:53.12                                                    
         Average:    19:34.63                                                    
  10 Caledonia                   237   14   27   57   64   75   82   88          
      Total Time:  1:37:47.25                                                    
         Average:    19:33.45                                                    
  11 J.Z. George High School     240   16   21   52   66   85   87               
      Total Time:  1:38:33.08                                                    
         Average:    19:42.62                                                    
  12 Starkville High School      299   11   45   74   83   86   90   91          
      Total Time:  1:43:08.92                                                    
         Average:    20:37.79                                                    
  13 South Panola High School    322   48   50   56   73   95  100  101          
      Total Time:  1:44:54.09                                                    
         Average:    20:58.82                                                    
  14 New Hope High School        336   55   58   67   76   80   81   89          
      Total Time:  1:44:01.82                                                    
         Average:    20:48.37                                                    
  15 Northeast Lauderdale        406   42   77   94   96   97                    
      Total Time:  1:54:23.14                                                    
         Average:    22:52.63                                                    
  16 Clarkdale Att Center        506   98   99  102  103  104                    
      Total Time:  2:24:42.13                                                    
         Average:    28:56.43                                                    


Event 6  Boys 5k Run CC Varsity
=======================================================================          
    Name                    Year School                  Finals  Points          
=======================================================================          
Finals                                                                           
  1 Holman, Max                  Tupelo High School    16:00.21    1             
  2 Gilmer, Lee                  St Paul's             16:15.18    2             
  3 Lee, Gordon                  Tupelo High School    16:55.10    3             
  4 Paltzer, Patrick             St Paul's             16:56.59    4             
  5 Kersh, Morris                Pearl High School     17:02.75    5             
  6 Jenkins, Janelle             J.Z. George           17:09.68    6             
  7 Gilmer, John                 St Paul's             17:11.68    7             
  8 Taheri, Arash                Ridgeland             17:19.16    8             
  9 Graham, Stuart               St Paul's             17:22.67    9             
 10 Ruhl, Adam                   Madison Central HS    17:25.70   10             
 11 Schultz, Ethan               Tupelo High School    17:27.71   11             
 12 Wilson, Jeff                 Tupelo High School    17:35.79   12             
 13 Holland, Carter              Presbyterian Chr      17:35.99                  
 14 Steece, Garrett              Madison Central HS    17:38.71   13             
 15 Dudas, Stephen               Tupelo High School    17:45.93   14             
 16 Moseley, Lee                 Madison Central HS    17:50.37   15             
 17 Carter, Graham               St Andrews            17:51.66   16             
 18 Dudley, Delshun              Meridian              17:55.42   17             
 19 Johnson, Blake               St Andrews            17:56.72   18             
 20 Painter, Jesse               New Hope              17:57.68   19             
 21 Paladino, Nolan              Tupelo High School    18:00.60   20             
 22 Jarvis, Robert               J.Z. George           18:01.68   21             
 23 Blanks, Carson               Meridian              18:17.41   22             
 24 Boerner, Hal                 Tupelo High School    18:18.57   23             
 25 Fleming, Jamarcus            J.Z. George           18:19.08   24             
 26 Weeks, Danny                 J.Z. George           18:24.02   25             
 27 Griffen, Josh                Houston High School   18:28.65   26             
 28 Lang, Daniel                 Jackson Prep          18:29.13   27             
 29 Hanson, Brock                Starkville            18:29.73   28             
 30 Braswell, John               St Paul's             18:32.47   29             
 31 Calloway, Harrison           St Paul's             18:34.44   30             
 32 Humphrey, Timothy            Pearl High School     18:40.16   31             
 33 Weeks, Nick                  Pearl High School     18:43.26   32             
 34 Sneed, Will                  St Andrews            18:46.19   33             
 35 Rickman, Spencer             Corinth High School   18:49.92   34             
 36 Johnson, Sid                 St Andrews            18:51.43   35             
 37 Comfort, Randall             Northwest Rankin      18:51.96   36             
 38 McDonnieal, Brian            Corinth High School   18:52.41   37             
 39 Green, Billy                 Pearl High School     18:52.76   38             
 40 Evans, Andrew                Meridian              18:55.43   39             
 41 Gillis, Tom                  Pearl High School     19:00.84   40             
 42 Robinson, Quendarius         South Panola          19:03.85   41             
 43 Salomon, George              Pearl High School     19:04.26   42             
 44 West, Wilson                 Starkville            19:04.82   43             
 45 Hopper, Timothy              St Andrews            19:05.61   44             
 46 McCarley, Austin             St Andrews            19:09.52   45             
 47 Osborne, Hunter              Pearl High School     19:12.52   46             
 48 Khymes, Madisen              Madison Central HS    19:13.73   47             
 49 Caveness, Drew               Corinth High School   19:16.02   48             
 50 VanLandingham, Neil          St Andrews            19:16.73   49             
 51 Moore, Kerrion               South Panola          19:19.27   50             
 52 Robinson, Maurice            J.Z. George           19:21.11   51             
 53 Price, Stennett              Corinth High School   19:21.70   52             
 54 Hammond, Andrew              Jackson Prep          19:22.16   53             
 55 Greenlaw, Marcus             Caledonia             19:23.05   54             
 56 Howard, Gary                 Ridgeland             19:23.49   55             
 57 Crosswhite, Tyler            Tupelo High School    19:24.63                  
 58 Anderson, Walker             St Andrews            19:25.27                  
 59 Nobles, Chris                Meridian              19:26.13   56             
 60 Hutton, Frank                Pearl High School     19:30.76                  
 61 Blair, Evan                  Corinth High School   19:31.08   57             
 62 White, Gufford               Northeast Lauder      19:31.96   58             
 63 Prince, Cody                 Northwest Rankin      19:32.48   59             
 64 Pope, Jesse                  Northwest Rankin      19:33.63   60             
 65 Cornelius, Jackson           Corinth High School   19:34.76   61             
 66 Loften, Ben                  Madison Central HS    19:36.38   62             
 67 King, Dillon                 Jackson Prep          19:39.57   63             
 68 Gilstrap, Daniel             Madison Central HS    19:39.87   64             
 69 Napier, Will                 Corinth High School   19:41.96   65             
 70 Keys, Rico                   South Panola          19:43.26   66             
 71 Chandler, Tyler              Madison Central HS    19:53.24   67             
 72 Tige, Philip                 New Hope              19:53.48   68             
 73 King, Conner                 Jackson Prep          19:57.05   69             
 74 Hunt, Trey                   West Lauderdale HS    19:57.70                  
 75 Edmunds, Jerry               West Lauderdale HS    20:02.24                  
 76 Baas, Dylan                  Ridgeland             20:03.39   70             
 77 Mosley, Roderick             Tupelo High School    20:03.90                  
 78 Ball, Nathan                 Starkville            20:04.25   71             
 79 Carpenter, Kyle              Northwest Rankin      20:05.21   72             
 80 Steinman, Kevin              Tupelo High School    20:06.35                  
 81 Hall, Drew                   Madison Central HS    20:06.95                  
 82 Andrews, Sam                 New Hope              20:07.98   73             
 83 Jackson, David               Starkville            20:10.00   74             
 84 Luter, David                 Jackson Prep          20:14.62   75             
 85 Burnett, Cody                Tupelo High School    20:19.73                  
 86 Windham, Hugh                Starkville            20:28.64   76             
 87 Williams, Jordan             Meridian              20:36.27   77             
 88 Wilb;ur;n, Josiah            Ridgeland             20:37.01   78             
 89 Uhiren, Ben                  Houston High School   20:40.53   79             
 90 Hammett, Daniel              St Andrews            20:48.19                  
 91 Bogue, Daniel                New Hope              20:51.99   80             
 92 Fernandez, Juan              Northwest Rankin      20:53.25   81             
 93 Smith, Taylor                Corinth High School   20:54.51                  
 94 McCullen, Luke               Corinth High School   20:55.41                  
 95 Chisolm, Taylor              Caledonia             20:56.45   82             
 96 Gaines, Ryan                 Tupelo High School    20:57.42                  
 97 Emerson, Jamarcus            Meridian              20:58.65   83             
 98 Rester, Josh                 New Hope              20:58.92   84             
 99 Rish, Parker                 Tupelo High School    21:04.35                  
100 Flowers, William             St Andrews            21:10.38                  
101 Jenkins, Temarcus            Meridian              21:14.14   85             
102 Cook, Dalton                 New Hope              21:15.46   86             
103 Rivers, JJ                   Ridgeland             21:16.35   87             
104 Jenkins, Alex                Meridian              21:20.85                  
105 Crews, Will                  Jackson Prep          21:24.09   88             
106 Reeves, Tramel               Jackson Prep          21:26.11   89             
107 King, Ray                    Meridian              21:27.99                  
108 Haick, Ander                 Jackson Prep          21:31.76                  
109 Smith, Jamal                 Meridian              21:34.68                  
110 Lizana, Christian            Pass Christian        21:35.38                  
111 Hadden, Kemp                 J.Z. George           21:36.88   90             
112 Dealey, Chris                J.Z. George           21:37.34   91             
113 Hammill, Britt               Corinth High School   21:40.83                  
114 Odomes, Markyvious           Meridian              21:42.19                  
115 Tubbs, Ben                   South Panola          21:46.56   92             
116 King, Christian              Meridian              21:48.68                  
117 Nobles, Mike                 Meridian              21:52.76                  
118 Savage, Matt                 Starkville            21:57.90   93             
119 Phillips, Todd               Starkville            22:01.48   94             
120 Foropolulos, John            Corinth High School   22:01.75                  
121 Kugel, Kevin                 Caledonia             22:03.86   95             
122 Reed, Brian                  Tupelo High School    22:06.74                  
123 Jones, Derrick               J.Z. George           22:09.40                  
124 Wilkins, Cody                Jackson Prep          22:15.63                  
125 Stafford, Dylan              New Hope              22:15.89   96             
126 Lacy, Kyle                   Starkville            22:18.55                  
127 Bagwell, JD                  Northeast Lauder      22:18.86   97             
128 Dewey, Billy                 Jackson Prep          22:23.20                  
129 Tolleson, John               Caledonia             22:25.07   98             
130 Felder, Malcolm              J.Z. George           22:30.09                  
131 Harris, Paul                 Tupelo High School    22:31.79                  
132 Kerby, Drew                  Corinth High School   22:39.86                  
133 Naylor, Jakobe               Meridian              22:41.59                  
134 Sarallo, DJ                  Corinth High School   22:45.94                  
135 Moore, Derrick               Northeast Lauder      22:47.96   99             
136 King, Nathan                 Northwest Rankin      22:51.02  100             
137 Dallas, Luke                 Jackson Prep          22:55.13                  
138 McCallum, Dustin             Northwest Rankin      22:58.83  101             
139 Faulkner, Joseph             Northeast Lauder      23:00.63  102             
140 McCaskill, Dwight            J.Z. George           23:03.30                  
141 Guynes, Hayden               Jackson Prep          23:05.67                  
142 Smith, Preston               Northeast Lauder      23:07.17  103             
143 Bouse, Garrett               Caledonia             23:13.13  104             
144 Collie, Pierre               Caledonia             23:19.74  105             
145 Webber, Brandon              Caledonia             23:21.56  106             
146 Rafferty, Andrew             Ridgeland             23:34.71  107             
147 Stroup, Ty                   Houston High School   23:38.02  108             
148 Weems, Morgan                Northwest Rankin      23:39.89                  
149 Patrick, Travis              Caledonia             23:43.56                  
150 Ducote, Martin               Corinth High School   23:50.49                  
151 Cutrer, Clark                Ridgeland             23:59.41  109             
152 Hurst, Chase                 J.Z. George           24:09.29                  
153 Reiselt, Logan               Corinth High School   24:14.54                  
154 Stephens, Jonathon           Pass Christian        24:15.16                  
155 Day, Jed                     Ridgeland             24:16.99                  
156 Hale, Jacob                  New Hope              24:19.63                  
157 Eads, Lucas                  Caledonia             24:19.89                  
158 Woods, Gerrard               Madison Central HS    24:20.61                  
159 Boykins, Larry               Meridian              24:27.75                  
160 Walker, William              Ridgeland             24:44.64                  
161 Joe, Stephen                 Ridgeland             24:48.21                  
162 Samuels, Brian               Houston High School   24:52.04  110             
163 Turner, Marrie               South Panola          25:13.99  111             
164 Lesure, Antonia              South Panola          25:15.46  112             
165 Moody, Tanner                Clarkdale             25:16.94                  
166 Nagy, Zac                    New Hope              25:19.32                  
167 Leland, Kendeavius           South Panola          25:25.92  113             
168 Porter, John Ryan            Houston High School   25:57.61  114             
169 Ware, Ricky                  Houston High School   26:00.90  115             
170 Todd, Jerrik                 South Panola          26:09.20                  
171 Miller, Cody                 Northeast Lauder      26:12.40  116             
172 McElrath, Evan               Caledonia             26:42.59                  
173 Wheat, Justin                New Hope              26:42.92                  
174 Rafferty, Philip             Ridgeland             26:49.84                  
175 Pichardo, Alvaro             Starkville            26:52.35                  
176 McNear, Lake                 J.Z. George           26:54.70                  
177 Courtney, John               Northeast Lauder      27:02.53  117             
178 Turman, Will                 Houston High School   27:09.59  118             
179 Watkins, Davien              Ridgeland             27:34.31                  
180 Katzenstein, Gabe            Caledonia             27:35.76                  
181 Houston, LaSamcs             Northeast Lauder      29:17.65                  
182 Sharkman, Chris              Clarkdale             29:44.32                  
183 Ezeala-Harrison, Ernezie     Ridgeland             30:18.24                  
184 Newell, Josh                 Ridgeland             30:39.60                  
185 Cutrer,, Jack                Ridgeland             32:46.93                  
186 Britt, Jeremy                Ridgeland             33:44.61                  
                                                                                 
                                   Team Scores                                   
=================================================================================
Rank Team                      Total    1    2    3    4    5   *6   *7   *8   *9
=================================================================================
Finals                                                                           
   1 Tupelo High School           41    1    3   11   12   14   20   23          
      Total Time:  1:25:44.74                                                    
         Average:    17:08.95                                                    
   2 St Paul's Episcopal Schoo    51    2    4    7    9   29   30               
      Total Time:  1:26:18.59                                                    
         Average:    17:15.72                                                    
   3 J.Z. George High School     127    6   21   24   25   51   90   91          
      Total Time:  1:31:15.57                                                    
         Average:    18:15.12                                                    
   4 Pearl High School           146    5   31   32   38   40   42   46          
      Total Time:  1:32:19.77                                                    
         Average:    18:27.96                                                    
   5 St Andrews High School      146   16   18   33   35   44   45   49          
      Total Time:  1:32:31.61                                                    
         Average:    18:30.33                                                    
   6 Madison Central HS          147   10   13   15   47   62   64   67          
      Total Time:  1:31:44.89                                                    
         Average:    18:20.98                                                    
   7 Meridian High School        211   17   22   39   56   77   83   85          
      Total Time:  1:35:10.66                                                    
         Average:    19:02.14                                                    
   8 Corinth High School         228   34   37   48   52   57   61   65          
      Total Time:  1:35:51.13                                                    
         Average:    19:10.23                                                    
   9 Jackson Prep                287   27   53   63   69   75   88   89          
      Total Time:  1:37:42.53                                                    
         Average:    19:32.51                                                    
  10 Starkville High School      292   28   43   71   74   76   93   94          
      Total Time:  1:38:17.44                                                    
         Average:    19:39.49                                                    
  11 Ridgeland High School       298    8   55   70   78   87  107  109          
      Total Time:  1:38:39.40                                                    
         Average:    19:43.88                                                    
  12 Northwest Rankin            308   36   59   60   72   81  100  101          
      Total Time:  1:38:56.53                                                    
         Average:    19:47.31                                                    
  13 New Hope High School        324   19   68   73   80   84   86   96          
      Total Time:  1:39:50.05                                                    
         Average:    19:58.01                                                    
  14 South Panola High School    360   41   50   66   92  111  112  113          
      Total Time:  1:45:06.94                                                    
         Average:    21:01.39                                                    
  15 Caledonia                   433   54   82   95   98  104  105  106          
      Total Time:  1:48:01.56                                                    
         Average:    21:36.32                                                    
  16 Houston High School         437   26   79  108  110  114  115  118          
      Total Time:  1:53:36.85                                                    
         Average:    22:43.37                                                    
  17 Northeast Lauderdale        459   58   97   99  102  103  116  117          
      Total Time:  1:50:46.58                                                    
         Average:    22:09.32                                                    


SOUTH REGION INDEX