Results courtesy arkansasrunner.com
Course: 5000 meters
64 degrees, fair skies, 13 mph winds
HIGHLIGHTS:
Conway jr Markus Pearson, "just" 37th in state 7A last year, earned individual honors in 16:34.01. Russellville jr David Norris (17:23.40) and soph Michael Allen (17:23.77) grabbed 2nd and 3rd.
Conway boys, ranked AR#2 and a South Region bubble team, scored a convincing win with 5 in the top 15 for 48 points. Bryant, AR#5 ranked, took silver with 81.
Cabot sr Emily Carpenter, the #4 state 7A returnee, crossed the finish line in 19:42.67 for her second win of the young season. Her jr teammate Marissa De La Paz clocked 20:04.31 for 2nd, fueling AR#4 ranked Cabot's team title with 52 points. Bryant, ranked AR#3, followed with 69.
AR#4 Cabot won the team title (holding plaque, champ Emily Cabot (left) and runner-up Marissa De La Paz)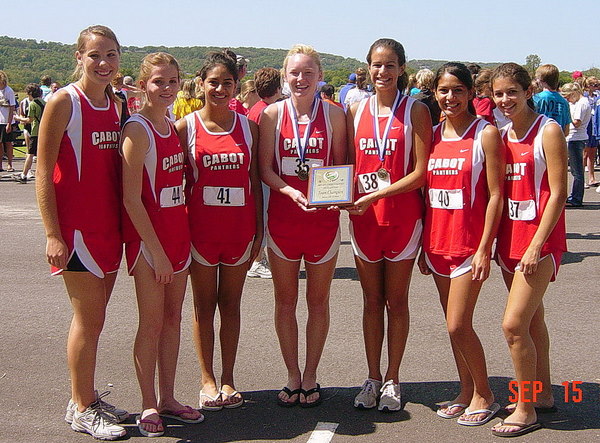 photo courtesy De La Paz family

RESULTS:



BOYS INDIVIDUALS



Place XC Pt.5K SR Boys               Grade  Team                       Pace/M        Time
===========================================================================================
   1     1   Pearson, Markus           11th  Conway                       5:20    16:34.01
   2     2   Norris, David             11th  Russellville                 5:36    17:23.40
   3     3   Allen, Michael            10th  Russellville                 5:36    17:23.77
   4     4   Mays, Caleb               12th  Arkadelphia                  5:37    17:27.63
   5     5   Fuoco, Joey               12th  Bryant                       5:39    17:32.57
   6     6   Sanders, Coby             11th  Heber Springs                5:40    17:34.52
   7     7   Tully, Alex               11th  LR Catholic                  5:40    17:35.72
   8     8   Earnest, Tabaris          11th  Conway                       5:41    17:39.17
   9     9   Marchman, Chris           10th  Sheridan                     5:41    17:39.90
  10     10  Earnest, Tataris          11th  Conway                       5:42    17:41.10
  11     11  Norman, Blake             12th  Cabot                        5:43    17:45.39
  12     12  Tucker, Brendon           10th  Cabot                        5:44    17:49.40
  13     13  McAdoo, Todd              12th  Bryant                       5:45    17:50.87
  14     14  Friant, Matthew           10th  Conway                       5:46    17:54.79
  15     15  Woods, Matthew            11th  Conway                       5:48    18:01.50
  16     16  Weimann, Cody             12th  Beebe                        5:49    18:05.24
  17     17  Evans, Luke               10th  Conway                       5:51    18:10.80
  18     18  Fiser, Cody               12th  Bryant                       5:53    18:15.42
  19     19  Santiago, James           11th  Cabot                        5:53    18:15.76
  20     20  Brodt, Adam               12th  Conway                       5:53    18:17.36
  21     21  De La Paz, Jacob          12th  Cabot                        5:54    18:20.23
  22     22  Harrison, Josh            12th  Bryant                       5:56    18:25.20
  23         Warneke, Morgan           9th   Conway                       5:57    18:29.11
  24     23  Higgs, Ben                12th  Bryant                       5:58    18:30.26
  25         Brewster, Hunter          10th  Conway                       5:59    18:33.39
  26         Sunde, David              11th  Episcopal Collegiate         5:59    18:33.74
  27         Bryant, Jordan            11th  Conway                       5:59    18:34.37
  28     24  Engle, Davian             12th  Heber Springs                5:59    18:35.84
  29     25  Dodd, Devin               11th  Russellville                 6:00    18:36.27
  30     26  Armstrong, Aaron          11th  Cabot                        6:00    18:38.17
  31     27  Neblett, Spencer          10th  LR Christian                 6:01    18:40.02
  32         Deaton, Max               11th  Central AR Christian         6:01    18:41.46
  33     28  Parker, Caleb             10th  Sheridan                     6:03    18:46.01
  34     29  Blake, Quentin            11th  Sheridan                     6:04    18:50.42
  35     30  Miskin, Daniel            11th  LR Catholic                  6:06    18:56.42
  36     31  Freeman, Scott            12th  Sheridan                     6:06    18:57.19
  37     32  Becton, Briar             11th  Cabot                        6:07    18:58.05
  38     33  Womack, Grant             11th  LR Catholic                  6:07    18:58.87
  39     34  Helms, Alec               10th  Arkadelphia                  6:07    18:59.60
  40         Washington, Dominique     12th  Watson Chapel                6:07    19:00.26
  41     35  Clark, Jacob              10th  Bryant                       6:07    19:00.59
  42     36  Chapman, Jonathan         10th  Bryant                       6:09    19:04.31
  43     37  Brinlee, Dillan           11th  Mena                         6:09    19:05.69
  44         Adami, Preston            12th  Bryant                       6:10    19:08.63
  45     38  Wingfield, Chase          10th  LR Christian                 6:10    19:09.33
  46     39  Norris, Michael           11th  Russellville                 6:11    19:13.82
  47     40  Stoeckel, Alex            12th  Russellville                 6:13    19:17.12
  48     41  Bryant, Michael           11th  Heber Springs                6:13    19:17.82
  49     42  Samuels, Desean           12th  Hot Springs                  6:15    19:25.07
  50     43  Overturf, Regan           10th  Mena                         6:17    19:29.09
  51         Slaughter, Kyle           12th  El Dorado                    6:17    19:29.65
  52     44  Priorie, Anthony          10th  Russellville                 6:17    19:30.10
  53     45  Atkinson, Larry           11th  Hot Springs                  6:18    19:32.45
  54     46  Baka, Aaron               11th  Benton                       6:18    19:32.81
  55     47  Tate, Jason               11th  Heber Springs                6:18    19:33.70
  56     48  Hill, Austin              11th  Heber Springs                6:18    19:34.58
  57     49  Summers, Josh             12th  Vilonia                      6:20    19:40.72
  58     50  Baxley, Bo                10th  Benton                       6:20    19:41.16
  59         Pultro, Nick              12th  Bryant                       6:21    19:42.56
  60     51  Mitchell, Daniel          12th  Hot Springs                  6:21    19:43.99
  61     52  Mosler, Travis            11th  North Little Rock            6:21    19:44.35
  62     53  Snider, Bo                10th  Hot Springs                  6:21    19:44.68
  63     54  Jackson, John             11th  Lakeside                     6:22    19:46.67
  64         Daniels, Tyler            12th  El Dorado                    6:22    19:47.24
  65     55  Tamo, Sam                 12th  LR Catholic                  6:23    19:49.14
  66     56  Pierce, Benson            12th  Cabot                        6:24    19:52.49
  67     57  Stage, Michael            12th  Vilonia                      6:24    19:53.56
  68     58  Rogers, Daron             11th  Murfreesboro                 6:26    19:58.94
  69     59  Teed, John                10th  Arkadelphia                  6:27    20:01.17
  70     60  Weeks, Travis             10th  Beebe                        6:27    20:01.87
  71         Santiago, Jared           12th  Cabot                        6:28    20:03.53
  72         Scroggin, Kerry           10th  Conway                       6:28    20:05.05
  73     61  Morton, Ryan              11th  Nashville                    6:29    20:07.00
  74     62  Diaz, Jorge               11th  Hot Springs                  6:29    20:08.48
  75     63  Whitehurst, Justin        9th   West Side Greers Ferry       6:30    20:09.02
  76         Howard, Logan             10th  Bryant                       6:30    20:09.67
  77         Brewer, Christopher       10th  Conway                       6:30    20:10.18
  78     64  Pruitt, Nathan            10th  Vilonia                      6:30    20:10.70
  79     65  Schnebelen, Kyle          12th  Vilonia                      6:31    20:13.21
  80         Norris, Devon             10th  Bryant                       6:31    20:15.13
  81         Bates, Cameron            11th  El Dorado                    6:32    20:16.23
  82     66  Lykins, Ben               10th  Russellville                 6:32    20:18.40
  83     67  Clem, Stephen             11th  Lakeside                     6:32    20:18.95
  84     68  Walker, Billy             10th  Sheridan                     6:34    20:22.61
  85     69  Evans, Nathan             11th  Beebe                        6:34    20:22.91
  86         Cox, Jeremy               12th  Bryant                       6:34    20:23.90
  87     70  Sutton, Nathan            12th  Sheridan                     6:35    20:25.83
  88         Howerton, Seth            11th  Bryant                       6:35    20:27.23
  89     71  Romine, Levi              11th  Mena                         6:36    20:28.25
  90         Hall, Daniel              11th  Bryant                       6:36    20:30.50
  91     72  Barnes, Alex              11th  North Little Rock            6:37    20:31.35
  92     73  Lyra, Josh                10th  Vilonia                      6:38    20:36.95
  93         Klaus, Colton             10th  Bryant                       6:39    20:37.44
  94     74  Strong, Jordan            12th  Sheridan                     6:39    20:38.38
  95         Tucker, Daniel            10th  Bryant                       6:39    20:39.73
  96     75  Wilkerson, Alex           11th  LR Catholic                  6:40    20:40.24
  97     76  Kinley, Clayton           12th  LR Christian                 6:40    20:40.68
  98     77  Prislovsky, Garrett       11th  West Side Greers Ferry       6:41    20:44.17
  99         Spiller, Alex             11th  Trinity Christian            6:41    20:44.59
  100        Garcia, Erick             11th  Drew Central                 6:41    20:45.32
  101    78  Greene, Brandon           10th  Heber Springs                6:41    20:46.27
  102        Webb, Tyler               10th  Bryant                       6:41    20:46.98
  103    79  Brown, Chris              11th  Nashville                    6:42    20:49.29
  104    80  Gerard, Jay               10th  North Little Rock            6:43    20:51.04
  105    81  Smith, Cody               12th  Hamburg                      6:44    20:54.22
  106        Capps, Colton             12th  Central AR Christian         6:44    20:54.68
  107        Barnes, Brandon           12th  Bryant                       6:44    20:55.33
  108        Riba, Jacob               12th  Sheridan                     6:45    20:56.57
  109        Hill, Matt                10th  Bryant                       6:45    20:57.46
  110    82  Smith, Bradley            12th  Vilonia                      6:45    20:58.09
  111        Cathcart, Aaron           11th  Bryant                       6:45    20:58.61
  112        Allen, Remell             11th  Bryant                       6:46    21:00.44
  113    83  Burkett, Chip             10th  Mena                         6:46    21:00.84
  114        Bates, Jaron              11th  El Dorado                    6:46    21:01.26
  115    84  Synco, Geoffrey           10th  Murfreesboro                 6:47    21:03.06
  116    85  Maynard, Anthony          10th  Murfreesboro                 6:47    21:03.91
  117    86  Crump, Caleb              10th  Beebe                        6:47    21:04.64
  118        Persinger, Drew           11th  Bryant                       6:49    21:08.64
  119    87  Morrow, Jonathan          11th  Nashville                    6:49    21:09.15
  120        Pitts, Jake               10th  Batesville                   6:49    21:09.90
  121        Vangilder, Tyler          10th  Russellville                 6:49    21:10.32
  122        Hopkins, David            12th  Prescott                     6:49    21:11.15
  123    88  James, Ryan               11th  West Side Greers Ferry       6:50    21:13.24
  124    89  Thompson, Adam            11th  LR Catholic                  6:50    21:14.47
  125    90  Thompson, Dakotah         12th  North Little Rock            6:52    21:18.05
  126        Pultro, Jacob             11th  Bryant                       6:52    21:20.33
  127        Rice, Remington           10th  LR Hall                      6:54    21:25.31
  128    91  Keeling, Tyler            10th  North Little Rock            6:54    21:26.80
  129        Membreno, Steven          10th  Magnolia                     6:55    21:28.88
  130    92  Fitzpatrick, Sean         9th   North Little Rock            6:55    21:29.58
  131    93  Cothren, Micah            11th  Heber Springs                6:56    21:30.77
  132        Hughes, Cody              10th  Bryant                       6:57    21:35.61
  133    94  Massey, Danny             12th  Hamburg                      6:59    21:40.87
  134        Knight, Douglas           11th  Heber Springs                7:00    21:42.15
  135    95  Organista, Daniel         11th  Nashville                    7:00    21:42.85
  136        Lindsley, Levi            10th  Bryant                       7:00    21:44.37
  137    96  Madero, Freddie           10th  Hamburg                      7:00    21:45.04
  138        Roberts, Duncan           11th  Trinity Christian            7:00    21:45.56
  139    97  McCullough, Ethan         10th  Vilonia                      7:01    21:47.33
  140    98  Williams, Donaldwayne     11th  Mena                         7:01    21:47.87
  141        Hall, Wayne               10th  Bryant                       7:02    21:49.70
  142        Ellis, Zach               10th  Heber Springs                7:02    21:50.68
  143    99  House, Cody               10th  North Little Rock            7:02    21:51.12
  144   100  Sonheim, Will             11th  Arkadelphia                  7:02    21:51.61
  145        Rhodes, Stoney            11th  Magnolia                     7:03    21:52.53
  146   101  Borst, Beau               12th  Mena                         7:03    21:52.91
  147   102  Smith, Noah               12th  West Side Greers Ferry       7:03    21:53.98
  148        Walker, Cody              9th   Sheridan                     7:04    21:55.58
  149   103  Hexamer, Jeremiah         12th  Mena                         7:04    21:56.30
  150        Bryant, Daniel            11th  Cabot                        7:04    21:56.65
  151   104  Brzozowski, Drew          10th  LR Christian                 7:04    21:57.09
  152        Vega, Ken                 10th  Bryant                       7:04    21:57.51
  153        Ryan, Stanley             9th   North Little Rock            7:04    21:57.96
  154   105  Bailey, Evan              12th  West Side Greers Ferry       7:05    21:59.78
  155   106  Mahan, Logan              12th  LR Christian                 7:06    22:01.16
  156        Dalton, Nathan            10th  Russellville                 7:06    22:02.42
  157        McMillan, Mason           11th  North Little Rock            7:06    22:03.49
  158        Maynard, Reid             10th  Cabot                        7:06    22:03.96
  159   107  Gentry, Josh              12th  West Side Greers Ferry       7:07    22:05.40
  160        Walker, Rashad            12th  North Little Rock            7:07    22:06.15
  161        Saterfield, Trevor        10th  Mena                         7:08    22:08.15
  162   108  Walker, Kyle              10th  Benton                       7:08    22:08.44
  163   109  Wright, Delan             10th  Benton                       7:08    22:09.08
  164   110  Crifasi, Nick             10th  LR Catholic                  7:09    22:10.41
  165   111  Shiver, Reed              10th  Hot Springs                  7:09    22:12.93
  166        Bohannan, Chance          10th  North Little Rock            7:10    22:14.95
  167   112  Hennington, Caleb         10th  Hamburg                      7:10    22:15.39
  168        Johnson, Mitch            11th  LR Catholic                  7:10    22:16.64
  169        Palmer, Trenton           11th  Bryant                       7:11    22:19.26
  170        Caldwell, Cody            12th  Magnolia                     7:12    22:21.99
  171        Gilliam, Gage             11th  Cabot                        7:13    22:23.89
  172        Donham, Sam               10th  Sheridan                     7:13    22:24.76
  173   113  Davis, J. R.              11th  Hamburg                      7:13    22:25.13
  174        Vidal, Moises             10th  Gurdon                       7:14    22:26.20
  175   114  Day, Michael              12th  Lakeside                     7:14    22:26.95
  176   115  Russell, Ian              10th  Benton                       7:15    22:30.86
  177        Bishop, Tyler             10th  Batesville                   7:16    22:32.59
  178        Herbert, Steven           11th  Cabot                        7:16    22:33.93
  179        Cameron, Patrick          10th  North Little Rock            7:17    22:36.83
  180   116  Hood, Adam                9th   West Side Greers Ferry       7:18    22:39.79
  181        VanPelt, James            10th  North Little Rock            7:19    22:41.39
  182        Allen, Brandon            10th  Sheridan                     7:19    22:41.91
  183   117  Olivo, Vaughn             12th  Beebe                        7:19    22:42.46
  184        Madison, Collin           11th  Trinity Christian            7:20    22:45.50
  185   118  Barber, Tate              10th  LR Christian                 7:20    22:45.83
  186   119  Shelman, Corey            11th  Benton                       7:20    22:46.23
  187   120  Sharpe, Cameron           11th  Lakeside                     7:20    22:46.64
  188        Griffin, Ben              12th  Bryant                       7:21    22:48.02
  189   121  Allen, Tommy              11th  Arkadelphia                  7:22    22:52.88
  190        Gregory, Colton           10th  Batesville                   7:23    22:56.48
  191        Ford, Alex                10th  Bryant                       7:27    23:06.37
  192        Crider, Alex              11th  Mena                         7:27    23:06.74
  193   122  Stearns, Barrett          11th  LR Christian                 7:28    23:11.11
  194        Miller, Joel              10th  Mena                         7:28    23:11.82
  195   123  Forner, Drew              11th  Benton                       7:30    23:17.46
  196   124  Lowery, Casey             10th  Murfreesboro                 7:32    23:23.80
  197        Smith, Zach               10th  Batesville                   7:33    23:25.06
  198        Smith, George             12th  West Side Greers Ferry       7:36    23:35.28
  199   125  Jackson, Michael          12th  Beebe                        7:36    23:36.72
  200        Mullis, John              12th  Heber Springs                7:38    23:40.77
  201        Pinedo, Richard           11th  Cabot                        7:40    23:49.84
  202        Worley, Joe               10th  Central AR Christian         7:43    23:56.08
  203        ONeal, Jon                10th  Vilonia                      7:43    23:57.13
  204   126  Welch, Cody               11th  Hamburg                      7:45    24:03.72
  205        Tang, Dong                10th  North Little Rock            7:48    24:12.89
  206        Hardin, Cody              11th  Benton                       7:49    24:17.50
  207        Smith, Christian          10th  Cabot                        7:50    24:18.51
  208        Ginn, Ethan               11th  Bryant                       7:52    24:25.13
  209   127  Rowe, Jeremy              11th  Lakeside                     7:52    24:26.75
  210        Moss, Taylor              11th  LR Hall                      7:54    24:30.62
  211        Block, John               9th   North Little Rock            7:56    24:37.28
  212        Plemmons, Eric            10th  Conway                       7:57    24:40.97
  213   128  Risner, Colby             11th  Murfreesboro                 7:59    24:47.44
  214        Ramirez, Luis             12th  North Little Rock            8:01    24:52.28
  215   129  Spakes, Matt              10th  Lakeside                     8:01    24:52.63
  216   130  Poe, Ben                  11th  Arkadelphia                  8:06    25:09.84
  217        Jones, Calvin             10th  Conway                       8:08    25:14.03
  218        Mitchell, Dillon          10th  Morrilton                    8:09    25:17.46
  219        Leach, Shawn              10th  Mena                         8:10    25:22.13
  220   131  Garland, Stephen          12th  Arkadelphia                  8:12    25:26.43
  221        Dearmond, Phillip         10th  Heber Springs                8:16    25:39.19
  222   132  Puente, Jose              10th  Nashville                    8:19    25:48.06
  223        Anderton, Dylan           12th  Heber Springs                8:25    26:08.30
  224        Thompson, Dustin          10th  North Little Rock            8:38    26:46.60
  225        Gandy, Lucas              10th  Mena                         8:45    27:10.32
  226   133  Moffitt, Kai              11th  Murfreesboro                 8:52    27:31.34
  227        Williams, A. J.           10th  Watson Chapel                8:57    27:45.33
  228   134  Holt, Amari               11th  Beebe                        9:14    28:38.98
  229        Ramirez, Francisco        11th  North Little Rock            9:29    29:26.42
  230        Byrd, Trenton             9th   LR Hall                      9:40    30:01.14



BOYS TEAMS



Place     Score    Team                    SR Boys 5K                  Pace/M         Time
============================================================================================
   1         48     Conway
                                       1    Pearson, Markus               5:20     16:34.01
                                       8    Earnest, Tabaris              5:41     17:39.17
                                       10   Earnest, Tataris              5:42     17:41.10
                                       14   Friant, Matthew               5:46     17:54.79
                                       15   Woods, Matthew                5:48     18:01.50
                                       17   Evans, Luke                   5:51     18:10.80
                                       20   Brodt, Adam                   5:53     18:17.36
   2         81     Bryant
                                       5    Fuoco, Joey                   5:39     17:32.57
                                       13   McAdoo, Todd                  5:45     17:50.87
                                       18   Fiser, Cody                   5:53     18:15.42
                                       22   Harrison, Josh                5:56     18:25.20
                                       23   Higgs, Ben                    5:58     18:30.26
                                       35   Clark, Jacob                  6:07     19:00.59
                                       36   Chapman, Jonathan             6:09     19:04.31
   3         89     Cabot
                                       11   Norman, Blake                 5:43     17:45.39
                                       12   Tucker, Brendon               5:44     17:49.40
                                       19   Santiago, James               5:53     18:15.76
                                       21   De La Paz, Jacob              5:54     18:20.23
                                       26   Armstrong, Aaron              6:00     18:38.17
                                       32   Becton, Briar                 6:07     18:58.05
                                       56   Pierce, Benson                6:24     19:52.49
   4        109     Russellville
                                       2    Norris, David                 5:36     17:23.40
                                       3    Allen, Michael                5:36     17:23.77
                                       25   Dodd, Devin                   6:00     18:36.27
                                       39   Norris, Michael               6:11     19:13.82
                                       40   Stoeckel, Alex                6:13     19:17.12
                                       44   Priorie, Anthony              6:17     19:30.10
                                       66   Lykins, Ben                   6:32     20:18.40
   5        165     Sheridan
                                       9    Marchman, Chris               5:41     17:39.90
                                       28   Parker, Caleb                 6:03     18:46.01
                                       29   Blake, Quentin                6:04     18:50.42
                                       31   Freeman, Scott                6:06     18:57.19
                                       68   Walker, Billy                 6:34     20:22.61
                                       70   Sutton, Nathan                6:35     20:25.83
                                       74   Strong, Jordan                6:39     20:38.38
   6        166     Heber Springs
                                       6    Sanders, Coby                 5:40     17:34.52
                                       24   Engle, Davian                 5:59     18:35.84
                                       41   Bryant, Michael               6:13     19:17.82
                                       47   Tate, Jason                   6:18     19:33.70
                                       48   Hill, Austin                  6:18     19:34.58
                                       78   Greene, Brandon               6:41     20:46.27
                                       93   Cothren, Micah                6:56     21:30.77
   7        200     LR Catholic
                                       7    Tully, Alex                   5:40     17:35.72
                                       30   Miskin, Daniel                6:06     18:56.42
                                       33   Womack, Grant                 6:07     18:58.87
                                       55   Tamo, Sam                     6:23     19:49.14
                                       75   Wilkerson, Alex               6:40     20:40.24
                                       89   Thompson, Adam                6:50     21:14.47
                                      110   Crifasi, Nick                 7:09     22:10.41
   8        253     Hot Springs
                                       42   Samuels, Desean               6:15     19:25.07
                                       45   Atkinson, Larry               6:18     19:32.45
                                       51   Mitchell, Daniel              6:21     19:43.99
                                       53   Snider, Bo                    6:21     19:44.68
                                       62   Diaz, Jorge                   6:29     20:08.48
                                      111   Shiver, Reed                  7:09     22:12.93
   9        308     Vilonia
                                       49   Summers, Josh                 6:20     19:40.72
                                       57   Stage, Michael                6:24     19:53.56
                                       64   Pruitt, Nathan                6:30     20:10.70
                                       65   Schnebelen, Kyle              6:31     20:13.21
                                       73   Lyra, Josh                    6:38     20:36.95
                                       82   Smith, Bradley                6:45     20:58.09
                                       97   McCullough, Ethan             7:01     21:47.33
   10       318     Arkadelphia
                                       4    Mays, Caleb                   5:37     17:27.63
                                       34   Helms, Alec                   6:07     18:59.60
                                       59   Teed, John                    6:27     20:01.17
                                      100   Sonheim, Will                 7:02     21:51.61
                                      121   Allen, Tommy                  7:22     22:52.88
                                      130   Poe, Ben                      8:06     25:09.84
                                      131   Garland, Stephen              8:12     25:26.43
   11       332     Mena
                                       37   Brinlee, Dillan               6:09     19:05.69
                                       43   Overturf, Regan               6:17     19:29.09
                                       71   Romine, Levi                  6:36     20:28.25
                                       83   Burkett, Chip                 6:46     21:00.84
                                       98   Williams, Donaldwayne         7:01     21:47.87
                                      101   Borst, Beau                   7:03     21:52.91
                                      103   Hexamer, Jeremiah             7:04     21:56.30
   12       348     Beebe
                                       16   Weimann, Cody                 5:49     18:05.24
                                       60   Weeks, Travis                 6:27     20:01.87
                                       69   Evans, Nathan                 6:34     20:22.91
                                       86   Crump, Caleb                  6:47     21:04.64
                                      117   Olivo, Vaughn                 7:19     22:42.46
                                      125   Jackson, Michael              7:36     23:36.72
                                      134   Holt, Amari                   9:14     28:38.98
   13       351     LR Christian
                                       27   Neblett, Spencer              6:01     18:40.02
                                       38   Wingfield, Chase              6:10     19:09.33
                                       76   Kinley, Clayton               6:40     20:40.68
                                      104   Brzozowski, Drew              7:04     21:57.09
                                      106   Mahan, Logan                  7:06     22:01.16
                                      118   Barber, Tate                  7:20     22:45.83
                                      122   Stearns, Barrett              7:28     23:11.11
   14       385     North Little Rock
                                       52   Mosler, Travis                6:21     19:44.35
                                       72   Barnes, Alex                  6:37     20:31.35
                                       80   Gerard, Jay                   6:43     20:51.04
                                       90   Thompson, Dakotah             6:52     21:18.05
                                       91   Keeling, Tyler                6:54     21:26.80
                                       92   Fitzpatrick, Sean             6:55     21:29.58
                                       99   House, Cody                   7:02     21:51.12
   15       428     Benton
                                       46   Baka, Aaron                   6:18     19:32.81
                                       50   Baxley, Bo                    6:20     19:41.16
                                      108   Walker, Kyle                  7:08     22:08.44
                                      109   Wright, Delan                 7:08     22:09.08
                                      115   Russell, Ian                  7:15     22:30.86
                                      119   Shelman, Corey                7:20     22:46.23
                                      123   Forner, Drew                  7:30     23:17.46
   16       435     West Side Greers Ferry
                                       63   Whitehurst, Justin            6:30     20:09.02
                                       77   Prislovsky, Garrett           6:41     20:44.17
                                       88   James, Ryan                   6:50     21:13.24
                                      102   Smith, Noah                   7:03     21:53.98
                                      105   Bailey, Evan                  7:05     21:59.78
                                      107   Gentry, Josh                  7:07     22:05.40
                                      116   Hood, Adam                    7:18     22:39.79
   17       454     Nashville
                                       61   Morton, Ryan                  6:29     20:07.00
                                       79   Brown, Chris                  6:42     20:49.29
                                       87   Morrow, Jonathan              6:49     21:09.15
                                       95   Organista, Daniel             7:00     21:42.85
                                      132   Puente, Jose                  8:19     25:48.06
   18       479     Murfreesboro
                                       58   Rogers, Daron                 6:26     19:58.94
                                       84   Synco, Geoffrey               6:47     21:03.06
                                       85   Maynard, Anthony              6:47     21:03.91
                                      124   Lowery, Casey                 7:32     23:23.80
                                      128   Risner, Colby                 7:59     24:47.44
                                      133   Moffitt, Kai                  8:52     27:31.34
   19       482     Lakeside
                                       54   Jackson, John                 6:22     19:46.67
                                       67   Clem, Stephen                 6:32     20:18.95
                                      114   Day, Michael                  7:14     22:26.95
                                      120   Sharpe, Cameron               7:20     22:46.64
                                      127   Rowe, Jeremy                  7:52     24:26.75
                                      129   Spakes, Matt                  8:01     24:52.63
   20       496     Hamburg
                                       81   Smith, Cody                   6:44     20:54.22
                                       94   Massey, Danny                 6:59     21:40.87
                                       96   Madero, Freddie               7:00     21:45.04
                                      112   Hennington, Caleb             7:10     22:15.39
                                      113   Davis, J. R.                  7:13     22:25.13
                                      126   Welch, Cody                   7:45     24:03.72




GIRLS INDIVIDUALS



Place  XC Pt. SR Girls 5K              Grade  Team                      Pace/M          Time
==============================================================================================
   1      1    Carpenter, Emily          12th  Cabot                       6:21      19:42.67
   2      2    De La Paz, Marissa        11th  Cabot                       6:28      20:04.31
   3      3    Setzler, Erika            10th  Conway                      6:34      20:24.86
   4           Kelch, Jordan             10th  Arkadelphia                 6:40      20:42.13
   5      4    Bounds, Kaitlin           10th  Russellville                6:50      21:12.37
   6      5    McAtee, Reilly            11th  Cabot                       6:50      21:14.21
   7           Sisson, Bailey            10th  Vilonia                     6:53      21:23.58
   8           Haynes, Alex              11th  Trinity Christian           6:54      21:26.71
   9      6    Canady, Tai               10th  Morrilton                   6:57      21:33.04
  10      7    Gavin, Rachael            12th  Batesville                  6:59      21:39.20
  11      8    Wilson, Kelsie            11th  Batesville                  7:02      21:51.87
  12      9    Coker, Sara               12th  Bryant                      7:04      21:57.08
  13           Brock, Taylor             12th  Beebe                       7:04      21:57.60
  14      10   Bates, Lennon             12th  Bryant                      7:05      21:59.28
  15      11   Nehus, Kayla              10th  Mount St. Mary              7:06      22:02.61
  16           Carroll, Emily            10th  Melbourne                   7:06      22:03.36
  17      12   Hairston, Brittany        11th  Bryant                      7:07      22:05.79
  18      13   Robson, Emily             10th  Cabot                       7:08      22:08.44
  19      14   Powers, Madeline          12th  LR Christian                7:08      22:09.81
  20           Patterson, Alex           12th  Des Arc                     7:10      22:14.77
  21      15   Gregory, Olivia            9th  Mount St. Mary              7:12      22:21.32
  22           Patterson, Courtney        9th  Des Arc                     7:14      22:26.84
  23      16   Craig, Elizabeth          11th  LR Christian                7:14      22:28.17
  24      17   Bradley, Jessica          10th  Batesville                  7:16      22:32.28
  25      18   Wirzfeld, Sam             12th  Bryant                      7:17      22:35.29
  26           Overton, Toni              9th  Des Arc                     7:19      22:41.09
  27      19   Ridenhour, Allison        10th  Russellville                7:19      22:42.47
  28           Lehman, Haley             11th  Harding Academy             7:19      22:44.51
  29      20   Moore, MKenna             12th  Bryant                      7:21      22:48.23
  30      21   Krug, Elizabeth           10th  Heber Springs               7:22      22:51.71
  31      22   Alewelt, Ashley           10th  Mount St. Mary              7:23      22:54.70
  32      23   Darland, Nicole           12th  Bryant                      7:23      22:55.47
  33      24   Ward, Rebekah             10th  LR Christian                7:23      22:56.76
  34           Embrey, Alison            12th  Beebe                       7:24      22:59.39
  35      25   Parker, Emily             12th  LR Christian                7:25      23:01.32
  36      26   Pham, Krystal             10th  Batesville                  7:28      23:09.31
  37           Parchman, Kimberly        11th  Des Arc                     7:28      23:11.52
  38      27   Norris, Jessica           12th  Russellville                7:29      23:12.79
  39           Baskin, Blair             11th  Episcopal Collegiate        7:29      23:14.37
  40      28   Fleming, Lola             11th  Bryant                      7:30      23:15.35
  41      29   Anderson, Nikki           12th  Heber Springs               7:30      23:15.75
  42           Ragni, Olivia             11th  Arkadelphia                 7:30      23:18.97
  43      30   Verser, Chelsey           12th  Heber Springs               7:32      23:23.13
  44      31   Williams, Nicole          10th  Cabot                       7:35      23:31.20
  45      32   Brodt, Jennifer            9th  Conway                      7:35      23:32.62
  46      33   Rogers, Keri              10th  Batesville                  7:36      23:34.48
  47      34   Emerson, Cierra           11th  Watson Chapel               7:37      23:37.56
  48      35   Nehus, Lauren             12th  Mount St. Mary              7:37      23:39.48
  49           Porter, Karlee            10th  Bryant                      7:37      23:39.98
  50      36   Taylor, Jordan            11th  Mount St. Mary              7:38      23:41.52
  51           Speake, Mikayla           11th  Bryant                      7:39      23:44.21
  52      37   Taber, Kiplin             11th  Conway                      7:39      23:45.12
  53      38   Magness, Haley            10th  West Side Greers Ferry      7:39      23:45.44
  54      39   Gotcher, Audrey           11th  Russellville                7:39      23:45.90
  55      40   Castro, Megan             10th  Cabot                       7:40      23:46.40
  56      41   Crifasi, Maggie           11th  Mount St. Mary              7:40      23:48.81
  57      42   Harris, Katie             11th  Conway                      7:41      23:51.37
  58      43   Standridge, Margaret Anne 10th  Conway                      7:42      23:54.46
  59      44   Carter, Sarah             12th  Cabot                       7:46      24:06.31
  60      45   Burrus, Brooke            10th  Morrilton                   7:47      24:08.81
  61           Williams, Brittany        12th  North Little Rock           7:48      24:11.29
  62      46   Cesarski, Kaylin          10th  Batesville                  7:48      24:12.92
  63      47   Janota, Andrea            10th  Conway                      7:48      24:13.84
  64           Hodge, Courtney           10th  Bryant                      7:49      24:14.93
  65      48   Murray, Emily             10th  Russellville                7:50      24:20.99
  66      49   Hagans, Caitlin           12th  LR Christian                7:51      24:21.60
  67           Mountcastle, Kristen      10th  Lakeside                    7:52      24:25.22
  68           Fisher, Jennifer          10th  Central AR Christian        7:52      24:26.62
  69      50   Lawrence, Laurie          10th  Conway                      7:54      24:32.15
  70      51   Dixon, Katie              10th  Heber Springs               7:56      24:36.43
  71      52   High, Paisley             12th  LR Christian                7:56      24:38.94
  72      53   McMullin, Kirbi           10th  Batesville                  7:57      24:39.21
  73      54   Etzkorn, Lindsey          12th  West Side Greers Ferry      7:58      24:43.70
  74           Welch, Willow             12th  Sheridan                    8:00      24:49.72
  75           Randolph, Kayla           10th  Bryant                      8:00      24:50.76
  76           Gault, Linda              11th  Cabot                       8:01      24:53.11
  77           ONeal, Caitlin            10th  Hamburg                     8:01      24:54.39
  78      55   Adams, Kate               11th  Morrilton                   8:01      24:54.96
  79      56   Pursley, Claire           11th  Mount St. Mary              8:02      24:55.52
  80           Gault, Tammy              11th  Cabot                       8:02      24:56.50
  81           Hill, Diane               11th  Benton                      8:02      24:56.96
  82           Shepard, Jessica          10th  Bryant                      8:02      24:57.73
  83           Morehead, Tori            12th  Gurdon                      8:03      24:58.72
  84      57   Moore, Shantell           12th  Watson Chapel               8:04      25:01.93
  85           Mosley, Natalie           10th  North Little Rock           8:08      25:13.93
  86           Alley, Lisa               11th  Central AR Christian        8:11      25:24.51
  87      58   Buchholtz, Callie         12th  LR Christian                8:13      25:31.78
  88           Winkelman, Hannah         12th  LR Christian                8:16      25:38.34
  89           Neff, Sarah               11th  LR Christian                8:16      25:40.93
  90           Neblett, Alisha           12th  LR Christian                8:17      25:42.06
  91      59   Jones, Chloe              11th  West Side Greers Ferry      8:17      25:42.90
  92           Garrett, Rachel           10th  Episcopal Collegiate        8:17      25:43.16
  93           Brown, Brittany           10th  Nashville                   8:18      25:45.51
  94           Lieblich, Jessica         11th  Central AR Christian        8:21      25:54.07
  95           Morrison, Courtney        10th  Lakeside                    8:21      25:54.81
  96           Campbell, Jessica         10th  Vilonia                     8:21      25:55.17
  97           Gentry, Katherine         11th  Mount St. Mary              8:22      25:59.87
  98           Beane, Kimberly           12th  LR Christian                8:23      26:00.79
  99           Stoner, Haley             11th  Conway                      8:23      26:02.30
  100          Toomer, Andrea             9th  Mount St. Mary              8:24      26:03.55
  101     60   Powell, Amy               10th  Heber Springs               8:25      26:08.89
  102     61   San, Amy                  12th  Heber Springs               8:27      26:12.94
  103          Kelly, Amber              10th  Arkadelphia                 8:27      26:13.90
  104          Brown, Stephanie          12th  Beebe                       8:29      26:20.40
  105     62   Knapp, Bailey             10th  Morrilton                   8:32      26:28.85
  106     63   James, Nashia             10th  Watson Chapel               8:33      26:33.61
  107          Ragland, Jessica          10th  Vilonia                     8:34      26:35.54
  108     64   Lee, Whitney              12th  Watson Chapel               8:35      26:38.96
  109     65   Johnson, Taquiala         12th  Watson Chapel               8:35      26:39.25
  110     66   Smith, Megan              10th  West Side Greers Ferry      8:39      26:52.90
  111          Lewis, Kaylie             10th  North Little Rock           8:41      26:57.67
  112     67   Avery, Kayla              11th  Russellville                8:48      27:19.31
  113          Dover, Jessica            10th  Cabot                       8:49      27:20.74
  114     68   Eubanks, Stephanie        10th  Drew Central                8:49      27:22.10
  115          Beadle, Sarah              9th  Mount St. Mary              8:51      27:27.57
  116     69   Garcia, Elia              11th  Drew Central                8:53      27:33.01
  117          Lee, Rachel               12th  Mount St. Mary              8:56      27:42.78
  118     70   Lee, Brittney             12th  Watson Chapel               8:57      27:45.85
  119     71   Barnette, Andra           11th  Drew Central                8:58      27:50.46
  120     72   Dourlain, Ashley           9th  West Side Greers Ferry      9:05      28:11.19
  121          Chambers, Kimberly        10th  Nashville                   9:06      28:13.82
  122          Willbanks, Kayla          11th  Sheridan                    9:07      28:17.15
  123     73   Hughes, Carnesha          12th  Watson Chapel               9:08      28:20.00
  124     74   Mays, Rebecca             12th  Heber Springs               9:13      28:35.34
  125     75   Smith, Jessica            11th  Camden Fairview             9:15      28:43.01
  126          Changose, Kirstin         10th  LR Christian                9:16      28:45.54
  127          Jones, Tara                9th  LR Hall                     9:16      28:46.64
  128          Sanford, Navy             10th  Cabot                       9:17      28:48.63
  129     76   Bewley, Claire            10th  Russellville                9:17      28:49.60
  130          VanLandingham, Molly      11th  Mount St. Mary              9:22      29:05.97
  131     77   Ferguson, Ashley          10th  Morrilton                   9:24      29:10.32
  132          Greer, Lauren             11th  Russellville                9:29      29:26.08
  133          Jones, Autum              11th  Sheridan                    9:30      29:27.19
  134          Pinkerton, Maria          10th  Bryant                      9:31      29:32.95
  135          Brooks, Sarah             10th  Bryant                      9:31      29:33.27
  136          Valdez, Jalena            11th  Conway                      9:33      29:38.70
  137          Wilson, Rhianne           10th  Conway                      9:36      29:48.57
  138          Spiller, Alicia           11th  Trinity Christian           9:37      29:51.62
  139          Madrid, Katherine         10th  Gurdon                      9:42      30:05.63
  140          Palacios, Deisy           12th  Gurdon                      9:44      30:13.49
  141     78   Ferguson, Nichole         10th  Camden Fairview             9:54      30:42.55
  142     79   Scott, Jasmin             11th  Camden Fairview             9:55      30:46.78
  143     80   Pearson, Diana            10th  West Side Greers Ferry      9:56      30:48.99
  144          Thomas, Audra             10th  Vilonia                     9:59      30:58.07
  145          Hansen, Briahna           12th  LR Christian                9:59      30:59.22
  146     81   Holt, Christine           11th  Camden Fairview            10:00      31:00.90
  147     82   Jenkins, Chantal          10th  Camden Fairview            10:00      31:01.21
  148          Hollensworth, Lilli       10th  Benton                     10:02      31:07.36
  149     83   Tavares, Jasmine          10th  Camden Fairview            10:16      31:50.65
  150          Smith, Madison            10th  Bryant                     10:36      32:54.60
  151     84   Garcia, Gregoria           9th  Drew Central               11:04      34:21.47
  152     85   Maggard, Jessica          12th  Drew Central               11:47      36:34.81
  153     86   Garcia, Ammie             10th  Drew Central               11:51      36:47.77




GIRLS TEAMS



  Place       Score   Team                SR Girls 5K                 Pace/M         Time
==========================================================================================
    1          52     Cabot
                                      1   Carpenter, Emily              6:21     19:42.67
                                      2   De La Paz, Marissa            6:28     20:04.31
                                      5   McAtee, Reilly                6:50     21:14.21
                                     13   Robson, Emily                 7:08     22:08.44
                                     31   Williams, Nicole              7:35     23:31.20
                                     40   Castro, Megan                 7:40     23:46.40
                                     44   Carter, Sarah                 7:46     24:06.31
    2          69     Bryant
                                      9   Coker, Sara                   7:04     21:57.08
                                     10   Bates, Lennon                 7:05     21:59.28
                                     12   Hairston, Brittany            7:07     22:05.79
                                     18   Wirzfeld, Sam                 7:17     22:35.29
                                     20   Moore, MKenna                 7:21     22:48.23
                                     23   Darland, Nicole               7:23     22:55.47
                                     28   Fleming, Lola                 7:30     23:15.35
    3          91     Batesville
                                      7   Gavin, Rachael                6:59     21:39.20
                                      8   Wilson, Kelsie                7:02     21:51.87
                                     17   Bradley, Jessica              7:16     22:32.28
                                     26   Pham, Krystal                 7:28     23:09.31
                                     33   Rogers, Keri                  7:36     23:34.48
                                     46   Cesarski, Kaylin              7:48     24:12.92
                                     53   McMullin, Kirbi               7:57     24:39.21
    4         119     Mount St. Mary
                                     11   Nehus, Kayla                  7:06     22:02.61
                                     15   Gregory, Olivia               7:12     22:21.32
                                     22   Alewelt, Ashley               7:23     22:54.70
                                     35   Nehus, Lauren                 7:37     23:39.48
                                     36   Taylor, Jordan                7:38     23:41.52
                                     41   Crifasi, Maggie               7:40     23:48.81
                                     56   Pursley, Claire               8:02     24:55.52
    5         128     LR Christian
                                     14   Powers, Madeline              7:08     22:09.81
                                     16   Craig, Elizabeth              7:14     22:28.17
                                     24   Ward, Rebekah                 7:23     22:56.76
                                     25   Parker, Emily                 7:25     23:01.32
                                     49   Hagans, Caitlin               7:51     24:21.60
                                     52   High, Paisley                 7:56     24:38.94
                                     58   Buchholtz, Callie             8:13     25:31.78
    6         137     Russellville
                                      4   Bounds, Kaitlin               6:50     21:12.37
                                     19   Ridenhour, Allison            7:19     22:42.47
                                     27   Norris, Jessica               7:29     23:12.79
                                     39   Gotcher, Audrey               7:39     23:45.90
                                     48   Murray, Emily                 7:50     24:20.99
                                     67   Avery, Kayla                  8:48     27:19.31
                                     76   Bewley, Claire                9:17     28:49.60
    7         157     Conway
                                      3   Setzler, Erika                6:34     20:24.86
                                     32   Brodt, Jennifer               7:35     23:32.62
                                     37   Taber, Kiplin                 7:39     23:45.12
                                     42   Harris, Katie                 7:41     23:51.37
                                     43   Standridge, Margaret An       7:42     23:54.46
                                     47   Janota, Andrea                7:48     24:13.84
                                     50   Lawrence, Laurie              7:54     24:32.15
    8         191     Heber Springs
                                     21   Krug, Elizabeth               7:22     22:51.71
                                     29   Anderson, Nikki               7:30     23:15.75
                                     30   Verser, Chelsey               7:32     23:23.13
                                     51   Dixon, Katie                  7:56     24:36.43
                                     60   Powell, Amy                   8:25     26:08.89
                                     61   San, Amy                      8:27     26:12.94
                                     74   Mays, Rebecca                 9:13     28:35.34
    9         245     Morrilton
                                      6   Canady, Tai                   6:57     21:33.04
                                     45   Burrus, Brooke                7:47     24:08.81
                                     55   Adams, Kate                   8:01     24:54.96
                                     62   Knapp, Bailey                 8:32     26:28.85
                                     77   Ferguson, Ashley              9:24     29:10.32
    10        283     Watson Chapel
                                     34   Emerson, Cierra               7:37     23:37.56
                                     57   Moore, Shantell               8:04     25:01.93
                                     63   James, Nashia                 8:33     26:33.61
                                     64   Lee, Whitney                  8:35     26:38.96
                                     65   Johnson, Taquiala             8:35     26:39.25
                                     70   Lee, Brittney                 8:57     27:45.85
                                     73   Hughes, Carnesha              9:08     28:20.00
    11        289     West Side Greers Ferry
                                     38   Magness, Haley                7:39     23:45.44
                                     54   Etzkorn, Lindsey              7:58     24:43.70
                                     59   Jones, Chloe                  8:17     25:42.90
                                     66   Smith, Megan                  8:39     26:52.90
                                     72   Dourlain, Ashley              9:05     28:11.19
                                     80   Pearson, Diana                9:56     30:48.99
    12        377     Drew Central
                                     68   Eubanks, Stephanie            8:49     27:22.10
                                     69   Garcia, Elia                  8:53     27:33.01
                                     71   Barnette, Andra               8:58     27:50.46
                                     84   Garcia, Gregoria             11:04     34:21.47
                                     85   Maggard, Jessica             11:47     36:34.81
                                     86   Garcia, Ammie                11:51     36:47.77
    13        395     Camden Fairview
                                     75   Smith, Jessica                9:15     28:43.01
                                     78   Ferguson, Nichole             9:54     30:42.55
                                     79   Scott, Jasmin                 9:55     30:46.78
                                     81   Holt, Christine              10:00     31:00.90
                                     82   Jenkins, Chantal             10:00     31:01.21
                                     83   Tavares, Jasmine             10:16     31:50.65


SOUTH REGION INDEX