Boys: 5000 meters
Girls: 4400 yards
No times provided in results
81 degrees, mostly cloudy, 74% humidity
HIGHLIGHTS:
Little Rock Catholic jr Alex Tully, the #12 state 7A returnee, broke the tape. He was followed by jr Marcus Pearson, who led his Conway team to a 70-point total, good for team gold. Lake Hamilton was the closest pursuer, scoring 80, while Fayetteville earned bronze with 103.
Cabot sr Emily Carpenter, 6th in state 7A last year, won the girls race, ahead of Pulaski jr Ashley Miess, 4th in state 5A.
In girls team action, Fayetteville took top honors with 50 points. Bryant was team runner-up with 78 and Cabot finished 3rd with 91.
PHOTOS:
Girls start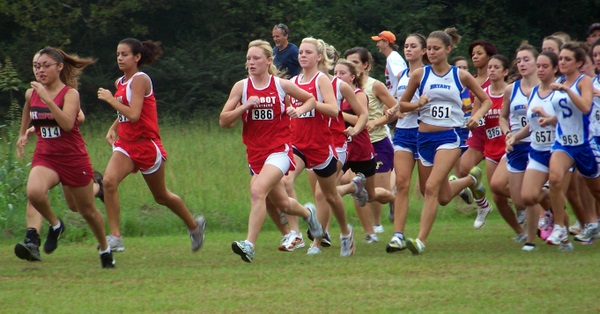 Gold to Cabot sr Emily Carpenter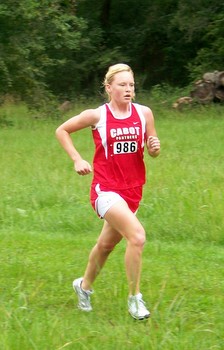 photos courtesy Otrea Robison



RESULTS:

Ouachita Baptist University	Hy-Tek's MEET MANAGER 8:59 AM 9/10/2007 Page 1		
2007 Bob Gravett Cross Country Invitational - 9/8/2007	
Ouachita Baptist University	


TOP INDIVDUALS

Event 4 Boys 5k Run CC High School Boys	
=======================================================================
     Name 		  Year 	School 			Finals Points
=======================================================================
  1 Tully, Alex 		Catholic High Sc 		1
  2 Pearson, Marcus 		Conway High Schol 		2
  3 Cooper, Tristan 		Hot Springs High 		3
  4 Gerber, Amos 		Lake Hamilton Hi 		4
  5 Mills, David 		Lake Hamilton Hi 		5
  6  Moutos, Chris 		Pulaski Academy 		6
  7 Simkins, Austin 		Fayetteville Hig 		7
  8 Tucker, Brendon 		Cabot High School 		8
  9 Ortiz, Javier 		De Queen High Sc 		9
 10 McAdoo, Todd 		Bryant High School 		10
 11 Godwin, Kevin 		Lake Hamilton Hi 		11
 12 Earnest, Tabaris 		Conway High Schol 		12
 13 Marchman, Chris 		Sheridan High Sc 		13
 14 Earnest, Tataris 		Conway High Schol 		14
 15 Dominguez, Mario 		De Queen High Sc 		15
 16 Mays, Caleb 		Arkadelphia 			16
 17 Norman, Blake 		Cabot High School 		17
 18 Higgs, Ben 			Bryant High School 		18
 19 Heatherington, Alex 	Fayetteville Hig 		19
 20 Bryant, Jordan 		Conway High Schol 		20
 21 Arbuthnot, Drew 		Fayetteville Hig 		21
 22 Woods, Matthew 		Conway High Schol 		22
 23 Hammer, Mickey 		Marshall High Sc
 24 Parada, Jorge 		De Queen High Sc 		23
 25 Welmann, Cody 		Beebe High School 		24
 26 Turpen, Ethan 		Lake Hamilton Hi 		25
 27 Evans, Luke 		Conway High Schol 		26
 28 Martinez, Jesus 		Central Arkansas
 29 Lawrence, Evan 		Fayetteville Hig 		27
 30 Friant, Matthew 		Conway High Schol 		28
 31 Walters, Daniel 		Fayetteville Hig 		29
 32 Fuoco, Joey 		Bryant High School 		30
 33 Baker, Levi 		Fayetteville Hig 		31
 34 Adami, Preston 		Bryant High School 		32
 35 Fiser, Cody 		Bryant High School 		33
 36 Brodt, Adam 		Conway High Schol
 37 Byrd, Thomas 		Lutheran High Sc 		34
 38 Kelsay, Hubbell 		Lake Hamilton Hi 		35
 39 Cruz, Omar 			De Queen High Sc 		36
 40 Garcia, Daniel 		De Queen High Sc 		37
 41 Santiago, James 		Cabot High School 		38
 42 Neblett, Spencer 		Little Rock Chri 		39
 43 Helms, Alec 		Arkadelphia 			40
 44 Armstrong, Aaron		Cabot High School 		41	
 45 Clamon, Phillip 		Lake Hamilton Hi 		42
 46 Ross, Ben 			Catholic High Sc 		43
 47 Hawes, Kevin 		Green County Tec 		44
 48 Arora, Devin 		Fayetteville Hig 		45
 49 Burns, Judd 		Beebe High School 		46
 50 Warneke, Morgan 		Conway High Schol

Boys - Top Team Scores
=================================================================================
Rank 	Team 				Total 	1   2   3   4   5  *6  *7  *8  *9
=================================================================================
1 	Conway High Schol 		70 	2   12  14  20  22  26  28
2 	Lake Hamilton High Schol 	80 	4   5   11  25  35  42  49
3 	Fayetteville High School 	103 	7   19  21  27  29  31  45
4 	De Queen High School 		120 	9   15  23  36  37  47  67
5 	Bryant High School 		123 	10  18  30  32  33  48  55


Event 3 Girls 4400 Yard Run CC High School Girls	
=======================================================================
     Name 		  Year 	School 			Finals Points
=======================================================================
  1 Carpenter, Emily 		Cabot High School 		1
  2 Miess, Ashley 		Pulaski Academy
  3 DeLaPaz, Marissa 		Cabot High School 		2
  4 Burch, Gena 		Fayetteville Hig 		3
  5 Setzler, Erika 		Conway High Schol 		4
  6 McAtee, Reilly 		Cabot High School 		5
  7 Clardy, Hannah 		Arkansas Baptist
  8 Kelch, Jordan 		Arkadelphia
  9 Sisson, Bailey 		Vilonia High School 		6
 10 Copeland, Torrie 		Green County Tec 		7
 11 Hairston, Brittany 	Bryant High School 		8
 12 Patterson, Alex 		Des Arc High School		9
 13 Plummer, Kira 		Fayetteville Hig 		10	
 14 Mashie, Helen 		Fayetteville Hig 		11
 15 Haynes, Alex 		Trinity Christia
 16 Thomanson, Jane 		Fayetteville Hig 		12
 17 Darland, Nicole 		Bryant High School 		13
 18 Hogue, Millie 		Fayetteville Hig 		14
 19 Bates, Lennon 		Bryant High School 		15
 20 Powers, Moadeline 		Little Rock Chri 		16
 21 Cheadle, Carmon 		Fayetteville Hig 		17
 22 Coker, Sara 		Bryant High School 		18
 23 Patterson, Courtney 	Des Arc High School 		19
 24 Brock, Taylor 		Beebe High School
 25 Craig, Elizabeth 		Little Rock Chri 		20
 26 Parker, Emily 		Little Rock Chri 		21
 27 Martinez, Paola 		De Queen High Sc 		22
 28 Ward, Rebekah 		Little Rock Chri 		23
 29 Wirzfeld, Sam 		Bryant High School 		24
 30 Blackburn, Ashley 		Green County Tec 		25
 31 Ragni, Olivia 		Arkadelphia
 32 Overton, Toni 		Des Arc High School 		26
 33 Hill, Kalin 		Genoa Central Hi 		27
 34 Moore, M'Kenna 		Bryant High School 		28
 35 Brogden, Anne Marie 	Green County Tec 		29
 36 Speake, Mikayla 		Bryant High School 		30
 37 Parchman, Kimberly 	Des Arc High School 		31
 38 Keil, Katie 		Lutheran High Sc
 39 Vincent, Mandi 		Lake Hamilton Hi 		32
 40 Roach, Britny 		Lake Hamilton Hi 		33
 41 Embrey, Alison 		Beebe High School
 42 Roussell, Ashli 		Central Arkansas
 43 Seals, Rachel 		Genoa Central Hi 		34
 44 Tatum, Jayce 		De Queen High Sc 		35
 45 Standridge, Margaret-Ann 	Conway High Schol 		36
 46 Purifoy, Kelsey 		Genoa Central Hi 		37
 47 Fleming, Lola 		Bryant High School
 48 Hodge, Courtney 		Bryant High School
 49 Janota, Andrea 		Conway High Schol 		38	
 50 Bennett, Brittani 		Cabot High School 		39

Girls - Top Team Scores
=================================================================================
Rank 	Team 				Total 	1   2   3   4   5  *6  *7  *8  *9
=================================================================================
1 	Fayetteville High School 	50 	3   10  11  12  14  17  52
2 	Bryant High School 		78 	8   13  15  18  24  28  30
3 	Cabot High School 		91 	1   2   5   39  44  49  59
4 	Little Rock Christian HS 	121 	16  20  21  23  41  50  53
5 	Green County Tech High Sc 	146 	7   25  29  42  43  51  54


South Region Index