The MileStat.com Elite Track Gala has grown greatly from its first year into becoming one of the top high school post-season meets on the East Coast. The meet will feature some outstanding athletes including National champions, All-Americans, Footlocker finalists, and state champions. The events will definitely be spectator and track enthusiast friendly with the level of competition as well as some unique and exciting events as part of the meet.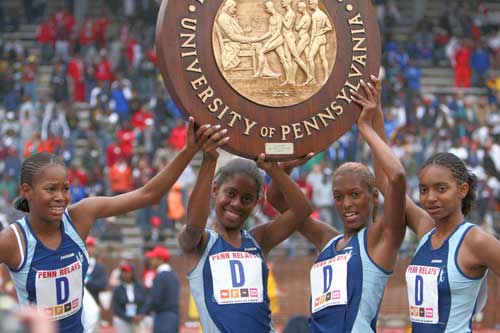 The featured event of the Gala will be the All-Star distance medley relay as the evening's final running event. The distance medley relay for the girls will have two stacked Virginia All-Star teams looking to push a team of stars from one high school in Eleanor Roosevelt of Maryland as the Blazin' Raiders (club name) are gunning for the high school national record in the event of 11:33.42 set by Bay Shore High School of New York in 2004 at Nike Outdoor Nationals. The Raiders just missed setting the high school national record in the 4x800 meter relay (8:50.40) at the Penn Relays in April with a thrilling US #2 all-time performance of 8:51.19. At next week's Nike Outdoor Nationals, Eleanor Roosevelt's focus will be on other relay events and claiming multiple national titles as they have done in past Nike Outdoor and Nike Indoor national meets rather than time. However, at this weekend's Gala, their top girls focus is on the DMR and the record.



Meet management is glad to have them and assist them on their record attempt with two outstanding All-Star distance medley relays to push them along. One team will be comprised of only Group AA girls, while the other will be the "A" team with a three girls from AAA and one star from Group AA in 1600 meter anchor leg in Catherine White.



The relay with White will have three talented legs to set her up for either a chase after Eleanor Roosevelt anchor Marika Walker or position to pull along Walker. White has a best of 4:51 for 1600 meters. The anchor for the 2004 Bayshore team split a 4:50. Running opening leg for the Virginia "A" team All-Stars is Midlothian sophomore Paige Johnston, the Virginia 3A state champion indoors for 1000 meters (2:54) and outdoors for 800 meters (2:13). Johnston will be competing in the relay fresh, so the Virginia girls should definitely get on a good start with her. In between Johnston and White will be Lee-Davis senior Rachel Butler and Westfield junior Tasia Potasinski. Butler, who is tuning up for US Junior Nationals competition as the 400 meter leg, who has split 56 seconds numerous times and also won the open 400 meter dash in 56.75 at the Dogwood Track Classic in April. Potasinski, one of the top half milers in Virginia, ran on the state champion 4x800 meter relay last Friday for Westfield with a 2:16 third leg split. Potasinski has a personal best of 2:14.67 this spring. Quite talented crew to push the Raiders to a national title with three milers with bests of 4:51, 5:01, and 5:01 and Miss Versatile as their 400 leg with a 56 second 400 and 42 second 300 meter hurdles under her belt.

The Group AA girls team will be just as competitive and looking to push ER along to the record with the likes of Cate Berenato, Alisha Royal, Christina Lee (pictured above by David Fleenor), and Laura Rapp (pictured above by David Fleenor). Berenato will be running the 1200 meter leg and the Blacksburg senior was the 2A state champion indoors for 1000 meters with a 2:58 best. Royal, a William Byrd sophomore, will be dropping down to 400 meters after competing in the steeplechase earlier and looks to split under 60 seconds. Potomac Falls freshmen star Christina Lee has had an amazing spring as a ninth grader with a best of 2:18 for 800 meters, while last weekend at the AA State Championships finished as a state runner-up to Catherine White in the 1600 meter run with an all-time best of 5:01.48. Meanwhile, Rapp was a tick behind Lee in third place at the AA State Meet, but will be taking the baton from Lee as the 1600 meter leg for the Group AA girls with her 4:59.24 best in the event as she looks to run under five minutes again in the exciting relay format.



The DMR for the girls had been modified from its original intentions as a race to have the best from each classification and regions in Virginia go head to head to see who really had the best runners in Virginia. Now it has become a matchup to see if two Virginia All-Star teams can reallly give one of the nation's top track programs in Eleanor Roosevelt all they can handle for 4000 meters. However, the boys' race has stayed true to its core with a total of six All-Star relays from AAA's Central, Eastern, Northern, and Northwest Region as well as teams comprised of the very best in Group AA and A. Breaking up the AAA classification by regions has made the relay race into a more wide open and even playing field to give the two relays from the small schools in AA and A a decent shot at taking home the win.



Pride will be on the line in the final event of the meet with athletes who have never competed together and are use to racing against each other as fierce rivals. Many of these individuals are excited to be part of a team as some come from teams, who they are the big fish in a small pond and rarely get the opportunity to be part of relay glory.



The early favorites in the event appear to be the Group AA boys as two athletes who battled down to the wire for the 800 meter state title last weekend in Harrisonburg between Will McLaughlin of Heritage and Peter Dorrell of Blacksburg (pictured above by David Fleenor) will be hoping to score a win for the Group AA crowd as the final two legs in the event. Dorrell won an amazing three state titles last Saturday in the 3200, 1600, and 800 meter races. He will be AA's anchor on the 1600 meter leg with his 4:15 best. Jamestown senior Andrew Mearns will open up things for the AA squad in the 1200 meter leg. Mearns recorded his 4:15 1600 meter best on the same track at Sports Backers Stadium in May at the Southern Track Classic. Ronquis Posey is the man to try and keep AA ahead of the AAA regionals teams on the 400 meter leg including a 45 second splitting Sean Holston for AAA's Northern Region team. Posey won the 2A state title in the 400 and 200 meter dash last weekend in 49.03 and has broken 49 seconds this spring. McLaughlin will be one of the top 800 meter legs in the DMR with a 1:54 best in his state runner-up finish to Dorrell last Saturday.



There should be great parity in the race though and several teams are looking to be in good position to make a run at the Group AA boys. Especially when four of the relays feature 1600 meter anchor legs capable of going well under 4:20 with Northern Region's Mike Spooner of West Springfield, Eastern Region's Eddie Judge of Cox, Central Region's Ben Dejarnette of Atlee, and Group A's Nathan Brame of Radford. Seven of the state's top ten ranked milers are featured in the DMR relay with times all at 4:16 or faster.




Spooner (pictured above by Ted Plunkett) has the leading time among the anchors at 4:13 as the West Springfield senior will not to have to dig down as deep as he has on past relays for West Springfield to bring his team from behind with the likes of the Robert E. Lee duo of Josef Tessema and Sean Holston on the front end of the relay as the 1200 and 400 meter legs. Tessema gives the Northern Region two 4:16 or faster milers on the relay as Tessema has had a stellar spring including a victory over Spooner at their district championships. Tessema and Spooner will be looking to earn a victory together on Saturday night. Usually the 400 meter leg has little impact on the outcome of the results of a DMR with the least amount of time to be gained or loss compared to the other three legs, but when a relay posses the likes of Nike Indoor Nationals 200 and 400 meter champion Sean Holston, time is definitely going to be gained. Holston could easily gain four or more seconds for the Northern Region squad as he has split under 46 seconds on two occassions this spring in 4x400 meter relay action along with his 46.47 best, which was recorded at Sports Backers Stadium for the Southern Track Classic. Holston will be doubling back from the 200 meter dash earlier in the evening and look to roll without the 1/8 inch spike limitations that prevented many athletes at last Saturday's AAA State Meet from posting the times which they had hoped for.

Both Spooner and Atlee's Ben Dejarnette (pictured above by John Herzog) will be racing their anchor legs fresh, which will be only be advantageous for both the Northern Region and Central Regions squads having the leg which has to cover the most ground as the most well rested. Dejarnette has continued to develop as one of the state's top milers only as a sophomore with a 4:16 best this spring, which at the time was the nation's third fastest among sophomores. Dejarnette will look to better that time with his split on anchor as he should have some great milers to run with and chase after. Michael Saunders of Hanover, who defeated Dejarnette for the Capital District title last month in the 800 meter run for a personal best time of 1:57.23, will be handing off to his fellow district runner in Dejarnette as the 800 meter leg. Saunders has really shined in the half mile this spring in converting up from the sprints indoors. Opening up for the Central Region will be Hermitage's Kieran Lee, who beat out Saunders last weekend to the line to win a slower section of the 800 meter run at the AAA State Meet in a personal best time of 1:56.95. Lee, who will be competing in the steeplechase roughly four hours earlier, will be the key leg if he can double back and keep the Central Region close as he hands off to 400 meter leg Michael Quash, a sub 50 quarter miler from Douglas Freeman.



Watchout for the Eastern Region though as they possess the AAA state 1600 meter champion in Eddie Judge (pictured above by John Herzog) as well as two of Western Branch's top studs in Daniel Nix and Javanti Sparrow as the middle legs of the race. If 1200 meter opening leg Blaine O'Reilly of Gloucester with a 4:25 1600 meter best this spring can keep in contact with the other legs that he will be going up against then Nix, Sparrow, and Judge could take care of the rest to possibly pull off the upset of the meet with an Eastern Region squad, usually considered the weakest of the four AAA regions in the distances, taking home a victory to the Tidewater area. Nix has ran some incredible 400 meter legs for Western Branch's 4x400 meter relay (3:14 best this spring) and been clocked in at around 47 seconds. Sparrow, the 500 meter state champ indoors and state runner-up last weekend in the 400 meter dash to Holston, has the range to run up to 800 meters and will show many what he can do on Saturday evening. Judge claimed his first state title last weekend and will be doubling back from a great 1500 meter race several hours earlier in the meet. Judge showed at Dogwood his ability to double twice at the same distance as he finished second in the 1600 meter run with a time of 4:17 after anchoring his Cox team to a DMR win in a much shorter time span than he will have Saturday between the two races.


The underdogs in the race will be the Northwest Region and Group A boys teams, but they still should put up great times regardless with the talent on their rosters. It will be exciting to see what kind of performances these "All-Stars" can muster. Better be there at Sports Backers on Saturday night to see a national record assault as well as some of Virginia's top individuals put together to form monster relays. After all, the price of admission is $0 with the exception of the $3 parking charge due the Richmond Braves game next door at the Diamond.
All-Star DMR Lineups
Girls:
Virginia "A" Team
1200m - Paige Johnston (Midlothian)
400m - Rachel Butler (Lee-Davis)
800m - Tasia Potasinski (Westfield)
1600m - Catherine White (Westfield)
Virginia "AA" Team
1200m - Cate Berenato (Blacksburg)
400m - Alisha Royal (William Byrd)
800m - Christina Lee (Potomac Falls)
1600m - Laura Rapp (Heritage-Lynchburg)
Boys:
Central Region Team
1200m - Kieran Lee (Hermitage)
400m - Michael Quash (Douglas Freeman)
800m - Michael Saunders (Hanover)
1600m - Ben Dejarnette (Atlee)
Eastern Region Team
1200m - Blaine O'Reilly (Gloucester)
400m - Daniel Nix (Western Branch)
800m - Javanti Sparrow (Western Branch)
1600m - Eddie Judge (Cox)
Northern Region
1200m - Josef Tessema (Robert E. Lee)
400m - Sean Holston (Robert E. Lee)
800m - Brian Blincoe (Falls Church)
1600m - Mike Spooner (West Springfield)
Northwest Region
1200m - Eric Hoepker (Battlefield)

400m - Brice Mathews (Potomac)
800m - Joey Murray (Stafford)
1600m - Zack Williams (Forest Park)
Group AA
1200m - Andrew Mearns (Jamestown)
400m - Ronquis Posey (Brunswick)
800m - Nick McLaughlin (Heritage-Leesburg)
1600m - Peter Dorrell (Blacksburg)
Group A
1200m - Jakob Maidens (Lebanon)
400m - Ronald Coles (Goochland)

800m - Will McLaughlin (Goochland)
1600m - Nathan Brame (Radford)