Press-release meet summary
-
Ken Charnock photos:
Boys Invite
-
Girls Invite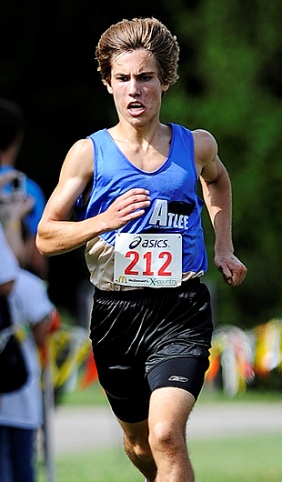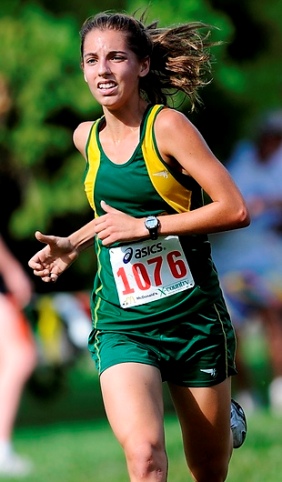 Maymont Invitational Division winners Ben Dejarnette and Megan Marisco. Photos Ken Charnock
US#14/SE#3 Tatnall DE girls over US#4/SE#1 Collins Hill GA
Other titles to Jamestown boys, Ben DeJarnette, Megan Marisco
by Mike McCormick, Sportsbackers.org

Richmond, VA – After strong but not stellar finishes in the McDonald's X-country Festival at Maymont last year, Ben Dejarnette and Megan Marisco returned this year to win it all.
Dejarnette, a senior at Atlee High School in Mechanicsville, VA, won the boys' invitational division with a time of 15 minutes and 40 seconds against top-ranked runners from throughout the Southeast region. Andrew Colley, a senior at Jamestown High School, was second (15:42) and Kyle Satterwhite, a senior at Western Albemarle, was third (15:59).
"I took the lead on the downhill at two and a half miles," said Dejarnette, who finished 11th last year. "And I was able to hold it on a painful uphill."
In the boys' team events, the Colley-led Jamestown runners beat nationally ranked the Collins Hill, of Georgia, (138 points) and Medina, of Ohio, boys with a point total of 109. Also showing well was Broughton (181 points), of North Carolina, who finished third ahead of Medina (194 points).
The McDonald's X-country Festival at Maymont had signed up over 386 teams representing 128 schools from 10 states and the District of Columbia, for a total of 3,099 runners, an all-time record.
Girls' invitational division winner Junior Megan Marisco, of Glenvar High School in Salem, Virginia won handily in 17 minutes 55 seconds over Senior Amanda Winslow, of Collins Hill (18:22); while last year's winner Junior Kathleen Lautzenheiser, of Midlothian (18:31) was third.
"This is the biggest meet we've been in," said Marisco, who was 20th at last year's McDonald's X-country Festival at Maymont. "I was surprised I won."
Delaware's Tatnall School (69 points) won the girls' team in a tie-breaker over Collins Hill (69 points) while Blacksburg, of Virginia, was third with 116 points. "As a team they ran their best race of the season today," said Tatnall coach Lauren DiGennaro.