54th Bishop Loughlin Games - Girls
First big meet of the season
Sat-Sun, Dec. 15-16, 2007 - The New Balance Track and Field Center at The Armory, NY NY

Highlights | Results
Picking up where they left off last summer

World Youth Games stars Price, Krais and Mohammed spark Saturday fireworks
photos by John Nepolitan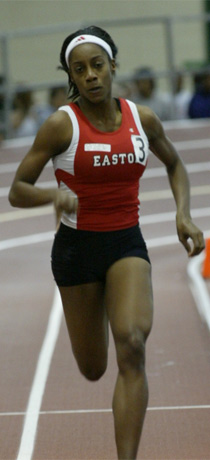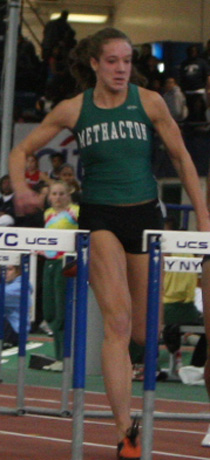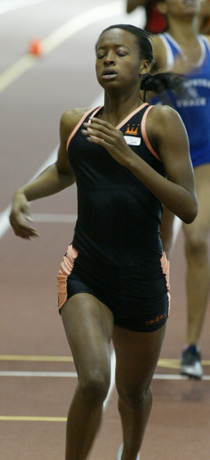 Chanelle Price PA, Ryann Krais PA and Dalilah Mohammed NY, stars at last summer's IAAF World Youth Games, picked up where they left off in July, with Saturday wins at the Bishop Loughlin Games. Photos John Nepolitan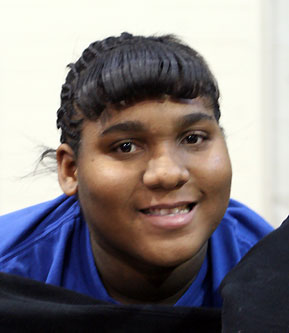 Outstanding Performers

Track – Chanelle Price (Easton Area, Pa) winner of the 1000m

Field - Vanessa Stewart (North Babylon, NY) winner of the Shot Put (right)
Highlights
Easton PA sr

Chanelle Price

splits 29.9-63.0-1:37.1-2:12.1 in the 1000m and wins in 2:47.85, #6 all-time (a new meet and PA state record)
Roslyn NY soph

Emily Lipari

, a week removed from her Foot Locker Finals 6th, pulls away from Kristin Reese (Carmel NY) over the final 200 to win the 2-mile in 10:43.49
IAAF World Youth Games 400 Hurdle champion

Dalilah Mohammed

(Benjamin Cardoza NY) comes from behind and a slow opening 400 to take the 600 in 1:32.38. Mohammed would come back to anchor Cardoza to the 4 x 800 win as the girls' meet started to wind down.
NIN Pentathlon champ

Ryann Krais

(Eagleville PA) first takes the 55 mHH crown in 8.04 then returns to the track to win her 300 m heat in 40.33 (one of 47 heats) and qualify for the final. Krais would later place 3rd in the 300 final.
Ogechi Nwaneri (Chatham NJ) runs 6.99 to equal the meet record in taking 1st in the 55m Dash.
North Shore NY soph Brianna Welch jumps to the lead with 350 meters remaining to win the first major mile title of the season with a 4:59.27 clocking over defending champ Caitlin Lane (Greenwich NY sr)
Nadonnia Rodriguez (Boys & Girls NY) blasts off the line in lane 5 and rides the track's gentle turns to a 38.73 win (a time that would have finished last season as the #2 time in the US), defending her Loughlin Games title.
In the preliminary of the shot put, Vanessa Stewart (North Babylon NY so), who had only thrown 41-11.05 last spring, threw a huge 44-08.25, breaking the meet record of 43-03.25. The throw would be good enough to hold on for the win. Stewart had already thrown 42-10.50 this season.
Jen Clayton (Suffern NY) teams with her sister Janelle, the winner of the high jump (5-06), to come from 4th at the final exchange and take the 4 x 200 in 1:45.53.
Coming from behind was also the story of the 4 x 400, as 300 meter winner Nadonnia Rodriquez (Boys & Girls NY) overtakes Eleanor Roosevelt MD to win the final track event in 3:54.09.
Results



Girls 2 Mile Run

PL. FIRST NAME LAST NAME TEAM Time

1. Emily Lipari Roslyn 10:43.49
2. Kristen Reese Carmel 10:49.31
3. Susan Aahn War Melville 10:50.86
4. Claire Hardwick Holy Names 11:05.23
5. Roxanne Henningson Greenwich Cn 11:19.41
6. Emily Fung Greenwich Cn 11:21.12


Girls 55m Hurdles

PL. FIRST NAME LAST NAME TEAM Time

1 Ryann Krais Methacton 8.04
2 Samantha Sharpton Woodrow W 8.26
3 Torrie Saunders Annapolis 8.30
4 Janice Jackson Medgar Evers 8.321
5 Briana Barlow New Brunswick 8.329
6 Elizabeth Mott New Rochelle 8.35
7 Ashley Hendrix Uniondale 8.38
8 Avery Evans Pine Plains 8.41


Girls 55m Dash

PL. FIRST NAME LAST NAME TEAM Time

1. Ogechi Nwancri Chatam 6.99^^
2. Dominique Booker I. Conception 7.08
3. Jessica Tongue Annapolis HS 7.22
4. Ruth Hurt Hentage 7.24
5. Shevenna Rowe Tilden 7.27
6. Assunte Johnson Camden 7.30
7. Briana Barlow New Brunswick 7.36
8. Melissa Cuddle Canarsie 7.40

^^ EQUALS MEET RECORD


Girls 1000m

PL. FIRST NAME LAST NAME TEAM Time

1 Chanelle Price Easton Area 2:47.85**
2 Emily Menges Garden City 3:00.01
3 Monique McKenzie Tilden 3:01.00
4 Maddie Adams Garden City 3:01.87
5 Nayamta Roberts-Smith Colonie 3:02.64
6 Century Williams SJP 3:04.26

** NEW MEET RECORD


Girls 600m Run

PL. FIRST NAME LAST NAME TEAM Time

1 Dalhia Muhammed Cardoza 1:32.38
2 Charlene Lipsey Hempstead 1:33.73
3 Shaniel hambers Chester 1:34.47
4 Emily Carrollo Pope John 1:34.48
5 Meagan Gillespie Boys & Girls 1:35.76
6 Doris Anyanwu ERHS 1:36.05


Girls 1 Mile Run

PL. FIRST NAME LAST NAME TEAM Time

1 Brianna Welsh North Shore 4:59.27
2 Caith Lane Greenwich Cn. 5:01.33
3 Sarah McCurdy Bay Shore 5:05.31
4 Allison Lee Cardoza 5:12.24
5 Lauren Recchia Holy Nmaes 5:13.19
6 Lycia Montefuslo Levittown 5:21.08


Girls 300m Dash

PL. FIRST NAME LAST NAME TEAM Time

1 Nadonna Rodgrigues Boys and Girls 38.73
2 Ijeoma Iheame C. Rock South 39.74
3 Ryan Krais Methacton 39.75
4 Dominique Booker Immaculate Conc. 39.94
5 Elizabeth Mott New Rochelle 39.94
6 Jen Clayton Suffern 41.65


Girls 3200m Relay

PL. TEAM Time

1 Cardoza 9:27.52
2 Bronxville 9:32.26
3 Ward Melville 9:37.78
4 Ursuline 9:39.77
5 Graden City 9:41.37
6 Roosvelt 9:49.57


Girls 800m Relay

PL. TEAM Time

1 Suffern 1:45.53
2 Medgar Evers 1:45.71
3 Woodrow Wilson 1:46.21
4 Camden 1:46.39
5 Jackson Memorial 1:47.83


Girls 1600m Relay

PL. TEAM Time

1 Boys and Girls 3:54.09
2 E. Roosevelt 3:56.65
3 Chester 4:00.83
4 Midwood 4:07.11
5 Suffern 4:11.72
6 Elmont 4:14.14


Girls Long Jump

PL. FIRST NAME LAST NAME TEAM DIS

1 Alexis Easterling Woodlands 18' 0"
2 Ashley Hendrix Uniondale 17' 8.75"
3 Jen Clayton Suffern 17' 1.5"
4 Kia Allen Bergtraum 17' 0"
5 Nadina Turner Colonie 16' 8.25"
6 Antonia Armstrong Robeson 16'3.5"


Girls Shot Put

PL. FIRST NAME LAST NAME TEAM DIS

1 Vanessa Stewart North Babylon 44' 8.25"
2 Brieanna Kennedy Caravel 42' 4.75"
3 Shannon Watt Jackson 40' 5"
4 Deanna Knapp Middletown 36' 7.5"
5 Ashley Clasen SWR 35' .75"
6 Symmone Fisher Longwood HS 34' 5.25"


Girls Triple Jump

PL. FIRST NAME LAST NAME TEAM DIS

1 Ashley Ramsey 37' 6"
2 Alex Johnson Molloy 36' 10.5"
3 Kelly Burke Cranford 36' 6.5"
4 Aiesha Chislom New Rochelle 36' 5.5"
5 Michelle Eherhart Clarsktown S. 36' 2.5"
6 Stephanie Barnes Bay Shore 35' 6.75"


Girls High Jump

PL. FIRST NAME LAST NAME TEAM DIS

1 Janelle Clayton Suffern 5' 6"
2 Lauren McGrath SWR 5' 4"
3 Brittany Brown Pelham HS 5' 2" Tie
3 Theresa Kennedy Holy Nmaes 5' 2" Tie
5 Ashleish Whitfield Kellenberg 5' 2"
6 Avery Faeth Sommers 5' 0" Tie
6 Leigh Dannhauser Bronxviille 5' 0" Tie


Girls Pole Vault

PL. FIRST NAME LAST NAME TEAM DIS

1 Melissa Meggiolaro Lippany Park 11' 0"
2 Tory Worthen Tottenville 11' 0"
3 KL Markson West Milford 10' 0"
4 Aly Rofrano Sayville 10' 0"
5 Lori Renoos Clarkston S 10' 0"
6 Brook Kholer Hunterdon Cn 9' 6"


Final Team scores:

Pl. Team Points
1 SUFFERN 15
2 CARDOZA 14
3 BOYS AND GIRLS 13
4 METHACTON 9
5 COUNCIL ROCK 8


Bishop Loughlin Games Index