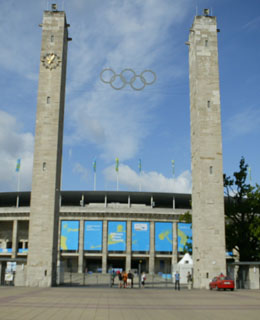 Photo Gall

eries


Aug 15 (M Shot, M 100 Trials, W 400 and Steeple Trials, W 10,000 final)

Aug 16 (M 100 final WR, W 800 trials, 400 semi,
M 400 IH semi among others)

Aug 17 (W Steeple final, M 1500 semi, W 800 semi, M 10,000 final, W 400 IH semi)

Aug 18 (M 200 semi, W HJ prelim, W 400 final,
M 400 IH final, W 400 IH semi, W 1500 1st
round)

Aug 19 - (M 400 semi, M 200 Semi, W 200
1st round, W Discus prelim, M Decathlon day 1,
M 1500 final, W 800 final)

Aug 20 - (M 5000 heats, M 200 final, M HH Final,
End of Dec, W High jump, W 200 semi, M PV
premil, M 800, W 400 IH)

Aug 21 - (W 1500 semi, M 800 semi, M high
jump, W 200 final, m 400 final)

Aug 22 - (M Long Jump, M Pole Vault, M 4 x 400,
W 5000, w 4 x 100)

Aug 23 - (M Javelin, M 5000, W 1500, M&W 4 x
400, M 800)


Berlin 2009 spike bag contest - Winners announced

There is nothing better for a track fan to do then see the best compete on the biggest stage - this summer that stage is in Berlin and the

12th IAAF World Championships

. Dyestat Metro's John Nepolitan is in Germany and will be posting reports from track side, behind the scene and around town so keep on checking back to a look at life at the World Champs and photos from Berlin.

Matt McCue catches up with Dyestat Alum Sanya Richards - includes a link to her video blog from Berlin

TEAM USA UPDATE including many Dyestat Alumni

Official IAAF Site including schedule and results

Track Action Photo Galleries



John Nepolitan's Travel Blog & Photos



Day 1 - Hit the Ground Running - Landing in Berlin and some of the basic groundwork for a great trip.

Day 2 - A look at the Stadium - A chance to look around the stadium and the Olympic Park area

Day 3 - Last chance to play tourist - A look around the once divded city and a short history lesson

Day 4 - Opening day of competition - A good day for the USA, will there be DQ's in the womens 10k? And putting another photographer in his place. Photo gallery included

Day 5 - 9.58 = WOW - A new World Record, a huge lens and a dead Ipod - race video included

Day 6 - American Record for Jenny Barringer - A visit to the Berlin Sports Museum, Lagat the team leader, Bekele dominates once again

Day 7 - Double Gold for the USA - Sanyan Richards gets her major championship, Clement repeats, and what kind of hours do we keep?

Day 8 - Wall of sound at the Olympic Stadium - Men's discus rocks Olympic Stadium, Lagat gives a tactics lesson, feeling comfortable in the German capitol

Day 9 - Bolt strikes again - A packed house, 19.19 WR, a star is hurt and 2 friends advance to the semi, and a greta high jump battle

Day 10 - Rain rain go away - Computer problems, rough and tumble 800's, Women match men in 1500, and 2 gold medals by Dyestat Alum

Day 11 - Two only two - Phillips and Hooker only need two jumps, but for different reasons, more US relay troubles, and being track side.