Jillian Smith Penn Relays update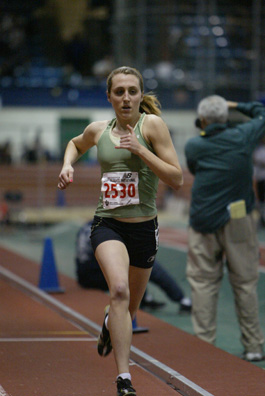 April 14, 2009 - Southern Regional coach Brian Zatorski left the door open to the possibility that his All-America senior miler, Jillian Smith, could compete at the 115th Penn Relays and anchor her team's distance medley relay, which would be favored to win the Championship of America race if Smith runs.

Smith suffered a hip flexor injury on Saturday at the Comet Relays in Hackensack. Smith was running the 4x1,600 relay when she pulled herself out of the race.

``She is feeling better each day,'' Zatorski said. ``While she is not 100 percent just yet, I am cautiously optimistic that she will be running at Penn.''

Zatorski said last Saturday that he would keep Smith off the track for a solid two weeks if it weren't for Penn.




Jillian Smith questionable for Penn Relays



April 11, 2009 -All-American Jillian Smith of Southern Regional (NJ), who anchored her team to the 4x800-meter and distance medley relay titles at the Nike Indoor Nationals last month in Boston, suffered a hip flexor injury while running the 4xmile relay at the Comet Relays today in Hackensack.

Smith went through the 800 mark in 2:21 before walking off the track. Southern coach Brian Zatorski called the injury a strained muscle and said Smith's status for the Penn Relays, April 23-25 in Philadelphia, is up in the air.

``There is certainly some doubt about whether Jill will be able to run at Penn,'' said Zatorski, who said the hip has been nagging his star runner off and on since the Nike Indoor Nationals a month ago. ``We don't know the severity of the injury right now, so I don't want to speculate, but Jill won't run at Penn unless she's 100 percent healthy. If it weren't for the Penn Relays, I'd shut her down right now for two weeks. We'll wait and see how she is in a day or two and evaluate things.''

The Michigan-bound Smith is a two-time national individual champion (Nike Indoor mile and Nike Outdoor 800 in 2008). At the Nike Indoor Nationals last month, Smith split 4:44.7 for 1,600 to bring Southern across first in the DM in a US all-time No. 2 and NJ record 11:41.12, and she ran 2:06.5 as the anchor on the 4x800 that won in 8:54.11, also U.S. all-time No. 2 and a NJ record.