115th Penn Relays





Thu.-Sat., April 23-25, 2009

Franklin Field, Philadelphia PA




Southern Regional (NJ) 2nd in DMR and Shelby Greany (Suffern, NY) 3rd in 3000 meters





3000 Meter Race Video

-

DMR Race Video





BY RICH BEVENSEE



PHILADELPHIA, April 23, 2009 – Jillian Smith said she wasn't disappointed with her team's performance in the distance medley relay at the 115th Penn Relays last night before 24,315 at Franklin Field.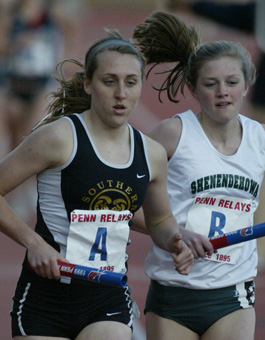 But the fact that Smith's Southern Regional NJ team went into the race as an overwhelming favorite to win its second title in three years and finished in second place certainly won't mesh with the legacy Smith wanted to leave behind here.

Tatnall DE won its first DMR title in 11:49.37 and Southern, which received a gutsy mile anchor of 4:53.8 from Smith, placed second in 11:58.74.

Metro teams which placed in the top 10 included Shenendehowa NY, third in 12:06.26; Saratoga Springs NY, sixth in 12:13.27; Hopewell Valley NJ, eighth in 12:16.16; and Haddonfield NJ, ninth in 12:16.20.

``I don't know if it's a disappointment not winning,'' Smith said. ``We're happy we came into a big race and finished second.''

Just last month, Southern (Photo left - Jillian Smith moves into 2nd - photo by John Nepolitan) won the DMR title in a state indoor record 11:41.12 at the Nike Indoor Nationals last month in Boston. That time was five seconds faster than any of the qualifying times for the rest of the Penn field.

Smith, who set the meet record for the fastest high school girls' mile split last season (4:42.1), received the baton in seventh place and facing a 15-second deficit. She calmly and evenly picked off runners until she was in second place with one lap remaining.

Tatnall's six-second lead at that point proved too large to overcome.

``I was just trying to catch as many people as I could,'' Smith said. ``On the last lap, I saw how much she (Tatnall's anchor) was ahead of me and I guess I let that get in my head.''

Southern also had a lineup which differed from when it won indoors last month. Michelle Simmons, who ran the 400 leg indoors, ran on a 4x400 relay team earlier in the day and Elissa Knight took over the 400 leg for the distance medley.

Chelsea Cox ran the race-opening 1,200 leg in 3:43.4, Knight covered 400 meters in 1:01.2, and Erin Horleman split 2:20.2 for 800 meters.

``If anything, this will give us more incentive to work harder,'' Smith said. ``I don't know if we had our best four runners that we would have won. They (Tatnall) had some good runners out there today.''

Smith closes her career at Penn with quite a resume. Two years ago she led off Southern's distance medley with a 1,200 split of 3:33.6, No. 2 all-time at Penn and the meet's fastest American split, to help her team claim its first Championship of America title. Last spring she carried her team from eighth place to fourth with a mile anchor split of 4:42.1, a meet record.

South Brunswick finished fourth in the DMR in 12:09.77, a Middlesex County record. The team broke its own record of 12:26 which it ran earlier this season.

Voorhees senior Lanie Thompson, looking for her first victory against top-flight competition, fell short of her goal and finished fifth in the 3,000 in 9:51.72.

Stephanie Morgan of Barnesville, Ohio, won the title in 9:31.32. She won the mile last season in a meet-record 4:41.22, and became the first girl in meet history to win both events. Shelby Greany (Suffern, NY) hung in 2nd for most of the race behind Emily Jones (Bromfield, Ma) before Morgan passed both with less than 150 meters to go.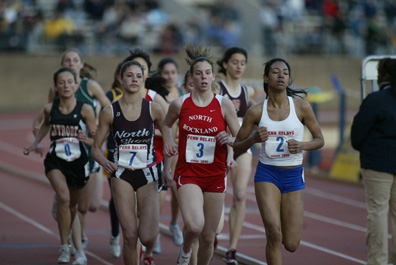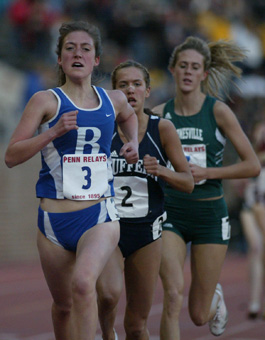 Emily Gamboli and Charlene Lipsey lead the chase pack in the Mile Emily Jones leads Shelby Greany and Stephanie Morgan in the 3k
(photo by John Nepolitan) (photo by John Nepolitan)