115th Penn Relays


Thu.-Sat., April 23-25, 2009
Franklin Field, Philadelphia PA



Friday






Vena upstages the stick handlers



HIGHLIGHTS | VIDEOS - DMR - 3000 - Mile | PHOTOS Nepo's Boys Action - Nepo's Girls Action - Nepo's Metro 4x8 Girls -
Nepo's Metro 4x1 Boys Trials - Nepo's Metro 4x8 Boys Trials - Davey's Field Events - Davey's Running Events
DYESTAT ELITE LISTS: Finals - Prelims | DS METRO STORIES - Friday Notebook - Boys 4 x 800 Trials - Vena rewrites recordbooks - Boys DMR



Vena US#1 72-02.50 sets 4 records; ER girls 2nd in 4x1; surprises in boys distance finals



By SteveU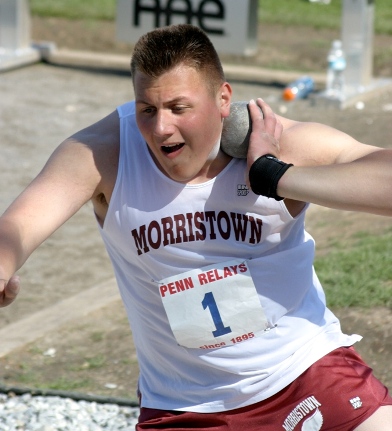 It takes a lot for a field event mark to upstage the relays in a meet that in the entire world of track and field literally epitomizes the discipline of racing with the stick.

But Friday afternoon at The 115th Penn Relays, Nick Vena (photo at right, Pat Davey) did just that.

With his fourth throw of the boys shot put, the Morristown NJ soph took an already great series into the stratosphere with a US#1 72-02.50 throw and his amazing story to a new level of mythology. Of course, he broke another slew of records. No surprise that two of them were the national soph mark, and age-16 mark, but he also took down the meet and NJ state marks (see box).

Friday, of course, was the day for the trio of girls Championship of America relays, plus the boys mile, 3k, and DMR. For the girls, Eleanor Roosevelt MD, having made just one final in this year's Relays, couldn't quite beat Vere Tech JAM's 45.10, but they ran very well in improving their US-leading mark down to 45.24, #17 all-time and the best ever for a school outside of California and Texas. The other two girls Championship of America trophies went to Edwin Allen in 8:44.06 (4x800) and 3:41.25 (4x400), respectively.

All three boys distance races were surprising in their outcomes. Upper Dublin PA, the best team in the host state and the US leader at one point indoors, ran down favored West Windsor Plainsboro North NJ in the final 150 meters for a 10:08.48 championship. The heralded come-from-behind bid on the DMR anchor leg by indoor multi-record setter Robby Andrews resulted in a 4:06.2 leg and third-place finish by his team.

Canadian Jeremy Rae blasted out to a big lead in the first 400 of the mile and while 3:47 1500 star Gavyn Nero of Trinidad and Tobago never threatened, Rae withstood a late charge by Brett Johnson NJ to win with a Penn record 4:08.14.

Most surprising of all, Foot Locker champ and NSIC double champ Solomon Haile MD was sapped of his strength and speed by severe allergy problems and saw three runners pass him in the last 200 of the 3000 as Robert Micikas PA won in 8:23.84.

But nothing could match what Vena did.

The Morristown NJ soph has been the talk of the sport from a year and a half, but there were admittedly points where the gradual improvements and new class records of the modest star lessened in news impact simply because of their frequency. But not this one. Not at Penn Relays. This was huge.


| | | | |
| --- | --- | --- | --- |
| Vena Record Set | Old Record-holder | Mark | Year |
| National Sophomore | Kevin Bookout OK | 68-10.75 | 2000 |
| National 16-year-old | Arnold Campbell LA | 71-10.25 | 1983 |
| New Jersey State | Kevin DiGiorgio NJ | 69-08.25 | 1997 |
| Penn Relays Meet | J.J. Grant of Liverpool (N.Y.). | 67-03 | 1985 |
Vena became the second ever to win the Penn in consecutive years. His series started with throws of 69-07.50, 70-05.75 and 70-04.50. The second throw was his first outdoor 70-footer after he went 70-05 indoors.

For his series Friday, Vena actually used the same shot he won Penn with last year, which had been sitting in a crate at his house – unused at all in 2009.

In front of an estimated crowd of 500 on the athletic fields outside the stadium, Vena started out with his best outdoor throw of the season and kept going. "After my first throw," he said, "I just tried to keep correcting the little things I was doing wrong on each throw after that and I was able to really get my technique down and things turned out great."

Regarding the big one, he said, "It had so much height and was right down the middle and it just kept going." He ended the series with two fouls as he pressed a bit to see if he could go any further.

"It was an unbelievable day,'' he concluded. "Everything came together and I had the best series of my career.''

Beyond the local and Penn angles, Vena's throw continues an incredible year in the boys shot. Four athletes have now thrown further than 71 feet outdoors, and another indoors. There had never been more than two in a single year before. But while fellow 71-footers Hayden Baillio, Stephen Saenz, and Mason Finley are all seniors, Vena is just a soph. It's now truly reasonable for him and track fans around the country to think that he could break what is considered by many the greatest of high school records: The 81-03.50 by Michael Carter TX in 1979.

Even Vena, who has resisted speculation on this type of thing, offered, "I like to get it within five or six feet (this year)."




Roosevelt's weekend ends with a loss … but a fast one



The girls of Eleanor Roosevelt MD will not have the fondest memories of this weekend. Two years ago they won both the 4x400 and 4x800 relays. Last year, they repeated in the 4x400 and set an incredible USR in finishing 2nd in the 4x800.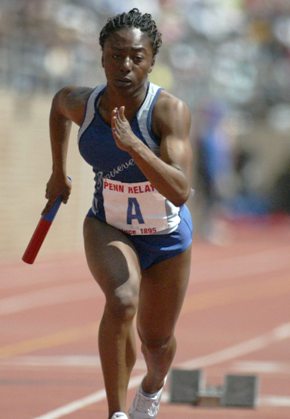 This year, they didn't win anything or set any records. But the 4x100 quartet of Abidemi Adenikinju (photo at right, John Nepolitan), Aurieyall Scott, Jenea McCammon, and Afia Charles had nothing to hang their heads about Saturday. After the crushing disappointment of failing to even qualify for the 4x400 Championship of American, the ER 4x100 crew – including three of the 4x4 girls – bounced back in style. Yes, they finished 2nd to Vere Tech's 45.10 winner, but their 45.24 was a new standard of excellence for the school and for any school outside the powers from the aforementioned states.

The quartet started fast in lane 6 and had good passes and was right there the whole way. But Vere Tech edged ahead from the end of the third leg and through the fourth leg and Charles – really a 400 runner who is a upperclassman leader and anchors all the relays – just didn't have quite the wheels.

But the girls wore smiles afterward, knowing they had run well and redeemed themselves enough to feel some peace.

"I think we did good and I'm proud of all of us," said Charles. "We were really hoping for 44.9, but we'll take this for now."

Charles added that the previous day, after they missed a chance to defend their 4x400 title, "was the worst feeling ever." She said that the feeling was that maybe the sequence of out-of-state meets the team has run during the season had resulted in a lot of pressure and it situation where it was hard to continue to reload after each trip. She also had kind words for other Maryland teams that made the sprint relay finals, like Oxon Hill MD in the 4x400 and Elizabeth Seton in the 4x100. "The 4x400 will be hard to watch, but I congratulate the teams from Maryland that made the finals. I'm proud of them."




Upper hand for Upper Dublin



With a best entry time more than seven seconds up on the rest of the field, the boys DMR looked like West Windsor Plainsboro North's race to win … or lose. But the New Jersey squad, owner of two 10:07 clockings indoors, did not have really any of the legs they needed to get a decent lead to anchor Jim Rosa … and the anchor did not have his best race, either.

Of course, some team always has an unexpectedly big PR in this race and Friday, it was Upper Dublin PA's turn. A one-time US leader indoors and PA state champ, they hung with WWPN all the way, with anchor Mike Palmisano (photo below, John Nepolitan) sticking with Rosa like glue and having plenty left for a great kick finish. The 10:08.48 victory gave Pennsylvania three Penn DMR titles in a row.

Joe Rosa gave WWPN the lead after the 1200 leg, but his 3:07.4 was less than half a second up on Don Bosco NJ's Rob Molke, with Upper Dublin's Matt Lorenzo close behind at 3:08.6. On the 400 leg, Leonte Carroo gave Bosco the lead with his 50.3, just edging ahead of WWPN's Sean Reed (50.6), while Upper Dublin drew closer on the fastest 400 leg of the race, 50.0 for Chris Melton. Then WWPN's Tyler Corkedale and Upper Dublin's Paul Reilly pretty much battled to a standoff, at 1:55.2 and 1:55.3, but gained five seconds on Bosco as it looked like a two-team race.

Jim Rosa led for more than three laps, but was never able to shake Palmisano. When it came time to kick, it was no contest as the senior gained 2.6 seconds in the last half lap.

"We felt we had a chance if we all had very good days," said Palmisano. "We've had our minds on this race for a long time. All four of us ran cross-country (including 400 man Melton)."

800 man Reilly added, "We knew we had a chance if we gave it our all," and then said they key going in was what his teammate Lorenzo had to do. And what was that, the leadoff man was asked? "I had to lead off like I used to lead off," he said with a smile.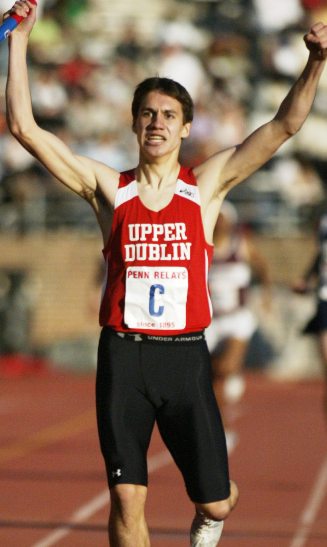 On the other hand, there was a lot of disappointment in the WWPN camp. "We were capable of going faster, but we didn't do it today,'' said Joe Rosa. "Our first three legs could have all run faster and given Jim a bigger cushion, but we didn't do it."

Meanwhile, the subplot was Robby Andrews, and whether he could produce one of those legendary anchors that could get a team from the middle of the pack to the title – or at least extremely close. The 2-time indoor national record-setter – 1000 and 800 – had a solid start, let his pace lag a bit in the middle, then produced a 56.5 final lap to finish with a 4:06.2 and pick off several teams, finishing within 1.5 seconds of second place. The 10:12.78 was 18 seconds better than the team's entry mark.

"I think I relaxed a little too much in the middle 800, but I picked it back up and just started going after as many as I could on that last quarter," he said. "I came here looking to run my fastest time and help our team get a medal."




Rae rolls to record



As talented as Jeremy Rae is, did anyone foresee him gapping a field like this and winning by more than four seconds?

The Fort Erie, Ontario, Canada standout got a big lead early in his NSIC win, too. But this was a better field, including 3:47 1500 man Gavyn Nero of Trinidad and Tobago. But no one wanted any part of a fast pace, designed for not just a win but a great time, and Rae put 30 meters on the field in the first lap.

Nero stayed back in the pack and no one else – not Brett Johnson NJ or Drew Shields IN, both sub-4:10 runners – were willing to go. Rae hit 61 and 2:04 and looked like a runaway winner.

In the third lap, though, it began to look like Rae may have been the foolish one, as he let the tempo slow to 65 and the field come back to him. With 300 to go, Johnson was closing fast and looked like he was ready to fly by the Canadian.

But Rae gathered himself and began a kick that he had in the bank and with 150 left, Johnson was spent. Shields would pass him with a solid finish, but the runner-up time of 4:12.34 was more than four seconds behind the winning 4:08.13.

Rae was ecstatic, not just wanting the win, but hoping to break Matt Centrowitz's Relays record – which he did by a quarter-second. "It was my first outdoor race of the year, but I was ready," he said. "The plan was to go out and hold 61s as long as possible.

"I slowed down a little too much the third lap," he added, "but I knew I would have a good finish. I wanted to go under 60 the last lap and I did."

Shields, meanwhile, ran 4:09 as a junior and had a great finish to his XC season (7th at NXN and 4th at Foot Locker), but took it very light indoors, running only one low-key race. Still, he wished he'd given Rae more of a battle early. "If I could do it again I'd get out a little faster," he said, "and I'd focus a little more. At one point I was third behind Brett, and the next thing I know I was sixth."

Shields said he was not prepared for the long waiting period in the paddock and it took him a few laps to really work his tempo up. "I knew who Rae was but I didn't know what he looked like until he had that big lead. I might have been more aggressive on the second lap and not let him get so far ahead."




Micikas, three others, stun Haile



There were few races at The Relays with a heavier favorite than Solomon Haile in the 3000. The big question was whether the Sherwood MD sr was ready and willing to open it up early and go for a great time in, say, the 8:10 range, or whether he would wait until later with more of a run-to-win strategy and settle for something around 8:20.

The race started out with 67-69 pace and it became more and more apparent with each passing lap that Haile wasn't going for that really fast time. As 1600 passed in 4:34, it seemed certain that a big move would come at any moment, but it didn't, and the pace went 69-70 for the next two laps. When the bell hit at 7:25, Haile was going to have to win with a kick, something he's rarely had to employ. Right with him were two Pennsylvania runners, Ben Furcht and Robert Micikas, and New Yorker Bobby Andrews. Haile edged in front, but barely. Finally, with just under 200 to go, the move came – from everyone else.

Micikas, Furcht, and Andrews all exploded past the Foot Locker champ, who had no response. Micikas, who won the PA State Indoor 3k in 8:35.58, kicked best and was rewarded with an 8:23.84 – a PR by nearly 12 seconds – and a most unexpected Relays watch.

I'm still not thinking straight," the Crestwood PA sr said a few minutes later. "I can't believe it. This is my first year to be seriously racing. It's just not that big in my corner of the state. I did more mileage and more strength training this winter and I got more serious."

It's a testament to how much work he did do that the 4:34 first mile seemed "a little too slow" to him. "I just focused and made sure I was in good position for the last 400, 200 meters. I tried to stay relaxed. When I get nervous my muscles get tense.

"I didn't expect to get out there and beat him (Haile). Once I saw him within reach in the last 100 meters, I figured I might as well go for it."

Meanwhile, Haile was pretty miserable after the effort – but not mentally or emotionally. A swollen red nose and a congested voice made it clear, even before he had revealed his ailment, that he wasn't his healthy self.

"I've been sick the past two weeks," he said with a rueful smile. "Allergies. My nose runs, my throat is dry … Before the race, I had two minds … to run the race or not. I decided to give it my best shot."

Haile added that he hadn't practiced the latter part of the week to try and rest up, but said he knew once he got going that he wouldn't be able to push the pace as he normally would like to. He admitted the same thing happened last year during this season, apparently during a heavy pollen time in the area, but he had forgotten what happened then and did not really prepare for the onset again.

Still, it was clear that Micikas, Furcht, and Andrews were all ready to run PRs and race hard. It's worth noting that for all of his success at 5K, on the track and off, Haile's PR for 2M is still above 9:00 and his 3k time Friday was actually a PR. Haile also said he planned to "avenge" the loss at outdoor nationals.

---
Friday Highlights
Girls 4x400 COA - Edwin Allen JAM 3:41.25 with anchor Ristanna Tracey (54.1) passing Holmwood JAM's (3:41.72) and Manchester JAM's (3:41.76) runners in the last 100 meters.
Boys 3000 - Robert Micikas PA 8:23.84 topples pre-race favorite Solomon Haile MD, who faded to fourth in the last 200 meters. Micikas was not mentioned in previews despite his Pennsylvania indoor title in the 3000. Video
Boys Mile - Canadian Jeremy Ray wins in record time: 4:08.14, with Drew Shields IN second. Video
Boys DMR - Upper Dublin PA 10:08.40 surprises West Windsor Plainsboro North NJ 10:11.28 and Manalapan NJ 10:12.78. Robby Andrews runs 4:06.2 anchor for Manalapan - Video
Boys SP - Morristown NJ soph

Nick Vena

launched a US#1 72-02.50 SP on his 4th throw to set US sophomore, US age-16, New Jersey State, and meet records - Video
Girls 4x100 - The

Eleanor Roosevelt

MD girls finished 2nd to Vere Tech JAM's 45.10 after qualifying first yesterday, but clocked a US#1 45.24, #17 all-time US. It was Vere Tech's 15th title and broke Edwin Allen JAM's two-year streak.
Boys JT - Central Dauphin PA sr Justin Shirk PA unleashed a US#1 220-03 javelin throw.
Boys 4x800 - Morris Hills NJ wins small schools and qualifies fastest overall for Championship of America at 7:47.13. Indoor USR-setters Albemarle VA take large schools in 7:49.39, 2nd overall.
Boys 4x100 - Calabar JAM, with the best timing coming into the meet, led 4x100 qualifying and took the large schools division in 41.18. Hubert Morrison JAM took the small schools at 41.68. Altoona Area PA was the only non-Jamaican team to make the Championship of America with 42.17.
Girls DT - Butler NC sr Aslynn Halvorson set a new meet record in the discus with 161-08
Girls 4x800 - Edwin Allen JAM moved up from 3rd last year and beat defending champion Holmwood Tech JAM, 8:44.06-8:47.00. The top US prep team was Garden City NY, 4th at 9:11.90.