NEW YORK STATE CHAMPIONSHIPS




Cicero North Syracuse HS, Cicero, NY




June 12 & 13, 2009



Dyestat Metro on site with John Nepolitan




10 Story lines reviewed





by John Nepolitan




Heading into this past weekend's New York State meet there were 10 major story lines the fans were told to keep an eye on. Here is a look at how those turned out and a few other hot items from two days of action.

Will Shelby Greany (Suffern, NY) lower her national record? – The Providence bound runner ended her high school steeple career as the national record holder, but it will be the time she posted at the Cornwall Steeplefest that will stand as the national mark and state record. Greany did go after a sub 6:30 clocking taking the lead from the first step and pushed all the way to the line, but it was not to be. A short time later in the boys 3000 event Michael Kiley (Chaminade) started out in mid pack and slowly moved up and then pull away for not only the win but a new US #1 with a 9:13.92. This mark is sure to come under attack when previous #1 Joe Whelan (Hamburg) returns to the event in the coming weeks.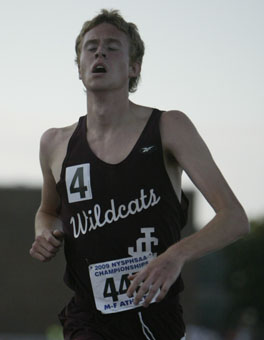 Will it take sub 9:00 to win the boys 3200? – Chris Stogsdill (Marcecllus) let it be known that he was looking to run 8:48 in the 3200 with a plan to run 66 second laps. After opening with a 63 second first lap the Iona bound Stogsdill settled into running laps of 66 – 67. Behind the leader Joe Martinez (Johnson City) was leading the chase pack which slowly lost members as the laps went by. Lap after lap Stogsdill stayed on pace passing though laps of 63.8 - 2:10.4 - 3:17.1 - 4:24.4 - 5:32.6 - 6:40.5 - 7:52.9. With 1 lap to go Stogsdill still had a 4 second lead, but as soon as he hit the back straight his advantage began to disappear. With just under 200 meters to go first Martinez then John Muller (Arlington) would catch the early leader with Martinez (photo left by John Nepolitan) going on for the win and a sub 9 clocking of 8:57.60 with Muller crossing 2nd in 9:00.60. Stogsdill would hold on for 4th in 9:08.84. The early pace may have cost Stogsdill his goal and the state championship, but he has to be given credit for going for broke.

Girls 1500 - In all her previous 1500 races Megan Patrignelli (Monroe Woodbury) had sat behind the early leader and then kicking away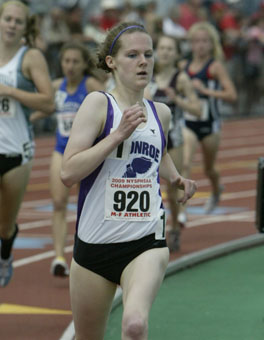 over the final 250. In all of those previous races it was Ailsing Cuffe (Cornwall) who had taken up the pacing chores. In Cicero the form book would be thrown out the window. Patrignelli (photo right by John Nepolitan) , who will run xc for the first time this fall, jumped to the front and never gave up the lead. Cuffe would never get to the front and by the time there was just 1 lap to go Patrignelli was alone at the front, but charging hard was Emily Lipari (Roslyn), who the night before had kicked past Cuffe to win her 3rd straight 3000 title. Lipari would pull away from the rest of the field over the final lap, but would lose a few ticks of the clock to the leader. Not only wpould Patrignelli win the state championship, but her 4:25.65 would be the

3rd fastest time in the USA

in 2009. With these two, and a cast of others, returning next year the 1500 indoors and out will again be a featured event.

NY vs NJ – The New Jersey Meet of Champs produced 4 US #1, 12 Metro #1's, 160 Dyestat elites, 386 Metro elites. The New York State meet only had 1 US #1 and only 8 Metro #1's, but it did have 254 Dyestat elites and 532 Metro elites. A closer look at how the two state meets compared.

Girls 800 – The Division races on Friday were almost treated like trial heats with Charlene Lipsey (Hempstead) winner of Division I and Phyllis Frances (McAuley) winner of Division II running just fast enough to win. Lipsey was pushed a little harder needing 2:09.75 to hold off Emily Menges (Garden City) in 2nd at 2:10.84. The Federation the next day had very little shock how it played out with Lipsey jumping to the front and passing 400 in 63.3 with Francis 1 second back and Menges between the two. Lipsey would go on to win in 2:08.67 with Francis closing, but ending up 2nd in 2:10.03.

Boys 800 – The big expected showdown in Friday's Division I final never really took shape as it seemed that Terrance Livinsgton (Great Neck South) and Zavior Brown (Pine Bush) were the only two interested in racing. Livingston would win the Divisional title in 1:52.64 to Brown's 1:53.13. Not advancing to the Federation final on Saturday would be Eric Fontanez (Hilton), but he would leave Cicero with a Division and Federation championship winning the high jump.
In the Federation final on Saturday, once again Livingston would jump to the front, but this time Brown, Tyler Stewart (Colonie) and Lyle Hayward (Nyack) would stay close. Brown would be the only one able to stay with Livingston's early pace of 54.76. Coming off the final turn Brown would try to swing wide and pass Livingston, but the defending state champ would hold on for a 1:50.32-1:50.69 win and a new meet record.

Boys 4 x 800 – After having twice run under 7:50 this season local boys Liverpool were favored to win the long relay and that is what they did. Once they got to the lead half way through the 2nd leg, there was no stopping them from going onto a 7:44.66 win lowering their already

Metro #2

.
It would take to the half way point before the Shenendehowa girls would be able to get to the front of their 4 x 800 race, but once there they would pull away for a 9;01.00

Metro #1

win

Can Alex Hatz reclaim the Metro #1 in the 1600? –

YES

. Hatz went right to the front of the race and pushed through laps of 62.8, 2:06.08, and 3:07.27 before crossing the line in a new

Metro #1

4:06.11 (passing 1500 in 3:51.89). Behind Hatz, Chris Carrington (North Rockland) powered home to a personal best 4:11.97 for 2nd

Boys sprint relays – Sheepshead Bay came into the weekend as the top seed, but without normal lead off man Darryl Bradshaw nursing a slight leg injury they had to settle for 2nd behind Edison Tech in the Division final on Friday. Things would change on Saturday for Sheepshead first with John Thomas winning the Federation 400 final after losing the Division I race the day before to Jonathan Santana of Edison Tech. Lining up 1 lane outside Edison in the final of the 4 x 100 Sheepshead Bay grabbed the lead early and held off a fast closing Edison for the 4 x 100 championship, Bradshaw is expected to return next week in Greensboro where he and his Sheepshead Bay team mates will try to retain their NON championship. After Randy Paterson pulled up 50 meters into the Federation 400 race it did not look good for Newburgh's chances in the final event of the day the 4 x 400. Holy Trinity would be up front early, but by the final hand off Newburgh was in front and pulling away for the Federation win.

Upstate vs Downstate in the girls shot – Simple story, Melissa Kurzdorfer (Lancaster) is the dominate thrower in New York. The Lancaster junior took all the gold medals available to her – 4. Divisional wins in the shot and discus and Federation wins in both as well. While she did not improve on her state qualifying 48' 3.25"

Metro #1

in the shot, her 158' 9" toss in the discus makes her

#1 in the Metro region and #11 in the USA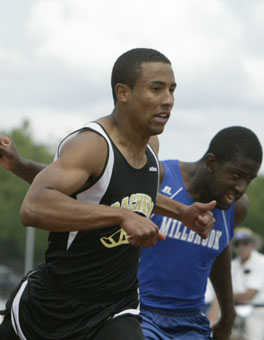 Award stand – Anthony Quezada(Sachem North) was not even supposed to be in Cicero. He had not finished out of the money at his state qualifier, but after Miles Lewis (Middle Country) pulled out of the 100 that moved Quezada (photo left by John Nepolitan) up and on the bus to the state meet. Making the most of his opportunity Quezada first won the Divisional title and then the Federation 100 title.
Jenn Clayton first jumped 20' 6.25" to win the Divisional long jump title on Friday, but she strained her hamstring in the process. In the Federation final at the end of the day Saturday after both Patricia McNish (Manhasset) and Ashley Mahlmeister (Sidney) each jumped 19' 4.75 and 19' 6", Clayton stepped on the runway and jumped a Metro #1 20' 7" to win the Federation title