BOYS MEET OF CHAMPIONS REWIND



BY JIM LAMBERT



PHOTO GALLERIES - Winners Gallery - Boys Action Gallery - Girls Action Gallery



JUNE 5, 2009



SOUTH PLAINFIELD, N.J. - Between the one man bomb squad that is Nick Vena, the epic record runs by Liam Tansey and Robby Andrews, the sparkling double by Clayton Parros and the remarkable amount of young depth in the distance races, yesterday's boys Meet of Champions may have been the greatest in the 41 year history of the meet.

Here's a look at what took place at Frank Jost Field.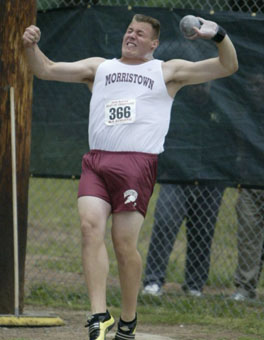 BOMBS AWAY

Nick Vena (photo left by John Nepolitan) had his second straight shot put title wrapped up and already had smashed the meet record. But he wasn't content.

He had one final throw and wanted to make it his best of the competition.

It was much more than that.

With the crowd buzzing in anticapation, Vena didn't dissappoint when the 6-4, 270-pound sophomore from Morristown sent the 12-pound ball soaring into the sky. It was obvious it was going to be his best throw of the day as it crashed down to the gravel well beyond the 70-foot mark.

When the tape measure was finally stretched out, the official called out the mind-boggling numbers, 72-8, sending the crowd into a frenzy.

Vena's 72-8 easily broke the meet mark of 68-11 set in 1997 by Kevin DiGiorgio of Bayonne -- which he bettered on five of his six throws -- and his own state record of 72-2½ set in April. It is also the No. l throw in the nation this season and tied Vena for No. 4 on the all-time U.S. list.

But that is not all.

After his shot put triumph, Vena hustled over to the discus and came through again, this time sending the saucer 173-1 on his final throw to overtake Anthony Stroffolino of Southern Regional in Manahawkin, who took second with a 171-0.

``Yeah, it was a great day,'' Vena said. ``I really didn't expect to win the discus because I don't really practice it that much. So it was pretty thrilling to win both.''

Vena is just the eighth boy in the 41-year history of the meet to win the shot and discus at the same Meet of Champions.

Vena, who an incredible five throws over 70 feet in the shot put, wasted no time breaking the meet mark.

After a 68-8 ½ on his first throw, Vena took down the meet mark of 70-11 ½ on his second attempt. He followed that up with a 71-8¼ on his final throw of the trials.

Vena's first two throws in the finals were 71-1 and 70-8 before his epic bomb of 72-8.

Vena's longest throw of the meet came right after Chris DiLorenzo of Seton Hall Prep in West Orange had a school-record 61-10 on his last throw. DiLorenzo capped a remarkable comeback from surgery on his throwing (left) shoulder. The crowd gave DiLorezno a nice ovation, which had an affect on Vena.


``The crowd got me going a little,'' Vena said. ``But I was angry before that last throw because I really didn't like the throw I had (70-8) before that. I am never really satisfied. I always want to improve, so I always want my last throw to be my best throw. I knew that one was a bomb.''

Vena's 72-8 landed just a couple feet from the back of the throwing area, which is 75 feet away.

Because of how close Vena's getting to sending the shot completely out of the throwing area, South Plainfield site director Bill Milone has already said he plans to extend the throwing area before next season to accommodate Vena.

Vena, who has improved his personal best from 67-10¼ as a freshman to 72-8, remains on track to become the first boy in M of C history to win four straight titles in any event.

``I will just keep working to get better and better,'' said Vena, who overtook Stephen Saenz of Rio Grande City, Texas (72-6 1/2) as the national leader. ``There are always things with my technique I can improve on that will help me throw further.''

Scary thought.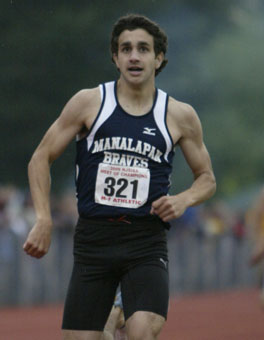 THE GREAT EIGHT

Robby Andrews (photo left by John Nepolitan) came to put on a show, and the senior at Manalapan delivered in spectacular fashion.

In a race he dedicated to the late Jason Walton of Hillsborough, Andrews used his trademark big wheels over the final 200 meters to put the finishing touches on a blistering meet record victory of 1:48.66 in the 800-meter run.

Andrews' time is the second fastest in state history (but is the fastest ever by a N.J. runner in a high school only race), is the No. 1 time in the nation this season, and the 28th fastest time ever run in U.S history.

As Andrews came blasting down the final straightaway, the crowd at Frank Jost Field rose to its feet, and when he hit the finish line, the crowd exploded in pure amazament.

Although Andrews fell just short of the state record of 1:48.56 set by John Marshall of Plainfield in 1981, he did break Marshall's meet mark of 1:49.5, also set in 1981. Marshall's 1:48.56 came when he competed at the Pan American Junior Championships where he ran against college freshman.

``I wanted to get that state record,'' said Andrews. ``But I can't complain. I wanted to run fast and I did that. It's my last race in New Jersey and I never won a big outdoor title before, so this means a lot to me.''

Andrews ran with a heavy heart, thinking of Walton, who won this race as a junior last year. Walton died last July when he was struck by a train.

Andrews ran with stickers on his spikes with the letters, JW, on them.

``This was for Jason,'' said the Virginia bound Andrews. ``He was on my mind tonight and I'm thankful I could win this race for him. He's been on my mind a lot. I don't want anyone to forget him''

Andrews, the national indoor record holder in both the 800 and 1,000, sat on the shoulder of Morris Hills senior Lucas Clyne for the first lap, which Clyne went past in 53.5. Andrews grabbed the lead with 300 to go as he ran 53.9 for the last 400. Clyne fought back on the backstretch to stay on Andrews' heels, but then with 200 to go, Andrews went to his vicious kick and went on to the historic victory.

``He (Clyne, fifth in 1:53.29) gave me everything I could handle,'' said Andrews. ``I knew I had a little something left for my kick and I'm glad I did because I needed it.''

Andrews, who led a remarkable nine runners under 1:54, got a big surprise as he was recvering from his record run when Marshall, who now coaches at Seton Hall University, walked over to Andrews and presnted him with the gold medal for finishing first.

``That was an incredible performance by an incredible runner,'' said Marshall. ``It was never a matter of if he'd get my meet record, but by how much would he break it by. ``I'm glad I was here to see it.''

Andrews was touched by the gesture.

``That was incredible,'' said Andrews,``I am honored that he did that. It's something I'll never forget.''

Andrews will now focus his attention on one of high school track's biggest barriers, a sub 4-minute mile, which he will make an attempt at when he lines up aganst some of the best in the nation at the Portland Track Festival in Oregon on June 13.

Only four high school runners have ever broken four minutes.

Can Andrews become ftthe fifth?

I wouldn't put anything past him right now.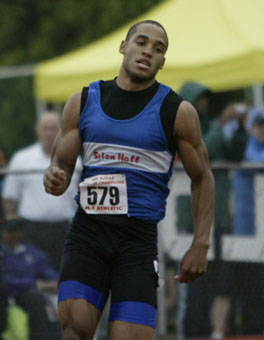 PARROS SIZZLES

Clayton Parros (photo left by John Nepolitan) came in search of his first outdoor M of C title. He left with two.

And he did so in sensational fashion.

The senior from Seton Hall Prep in West Orange won the 200 and 400-meter runs, making him just the third runner in meet history to pull off that double.

Parros got some revenge in the 400-meter run when he beat defending champion Isaiah Gill of Plainfield to win in 46.79, No. 4 in meet history at Frank Jost Field in South Plainfield. Gill was second in 47.80 and state freshman record holder Najee Glass of St. Peter's Prep was third in 48.57.

Last year, Parros was second to Gill, 47.16 to 47.36.

Parros was favored in the 400 based on the 46.63 (No. 6 in the nation this season) he ran at the Essex County Championships), but he still had to prove to himself he could beat Gill.

``He (Gill) got a great start, but I started catching up just before the 200 and then started kicking it in,'' said Parros. ``I felt him on me still, but then on the last 100 I felt myself pulling away and knew I was going to win. It was a great moment. Something I've always dreamed of.''

But did he ever dream of winning two titles.

``I thought I had a chance at it,'' said Parros. ``But I knew it would be tough.''

In order to join Curt McIntire of Bridgeton (1992) and Reuben McCoy of Winslow (2004) as the only boys to double in the 200-400, Parros had to get past Tejay Johnson of Egg Harbor. Johnson won the 100 earlier in the meet record in 10.67, edging the No. 1 seed James Brown of Glassboro, who also ran 10.67.

A little over an hour later, Parros used a strong move around the turn to get the lead for good on his way to victory in 21.31 to complete the remarkable sprint double. Parros' time is No. 7 in meet hsitory since the event was changed from 220 yards to 200 meters in 1979

Johnson was second for the second straight year in 21.41. Gill was third in 21.54.

Johnson was the top seed based on the 21.30 he ran to win the state Group 4 title.

Looking at last week (Non Public A) when I had five races in one day, I knew I was strong,'' said Parros. ``If I got the right rest, I could do ok today.

``I have never been in a 200 competition with two guys faster than me (Gill is the other),'' said the North Carolina-bound Parros. ``I got out pretty good. Then they got a little ahead. Around the turn I started lifting and powering and got the lead with 50 to go and I was able to hold on.''

Parros said it was the perfect ending to his N.J. high school career, which was certianly one of the best in state history.

``I've been waiting for this moment for a long time,'' said Parros, left Friday morning for the University of New Mexico where he'll compete in Saturday's 34th Great Southwest Classic on a 4x400 All-Star team. ``I've always wanted to win one of these and get two is just incredible. I feel like I needed this to compete my career.''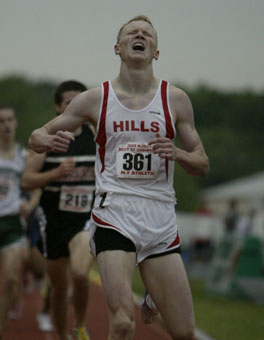 RED HOT FOUR LAPPER

Liam Tansey (photo left by John Nepolitan) had a lot of thoughts racing through his head.

The Morris Hills senior was on the final lap of the biggest race of his life and couldn't help but think about what winning the 1,600-meter run would mean to him and how hard he worked to get to this moment.

``I thought about the training I had done and how I'd always dreamed of winning at the Meet of Champions,'' said Tansey. ``I was on the last lap and knew that this was the moment I have been waiting my whole life for. I had to just go with everything I had.''

He sure did.

Tansey responded by completing the greatest race in meet history.

Tansey blasted a 59.8 final lap as he overtook Morris County rival Pat Schellberg of Delbarton with 300 meters to go. With victory assured, Tansey then turned his attention to racing the clock and the history book.

``I wanted to go as fast as I could,'' said Tansey.

He did.

Tansey hammered his way down the final straightaway, stopping the clock in a mind-numbing 4:08.11, which smashed the meet record of 4:09.03 set last year by Brett Johnson of Ocean City.

Tansey's time is No. 10 in state history, No. 2 in the nation this season and a new Morris County record.

As Tansey was recovering from his historic race, he received several handshakes and high fives, including one from one of the best milers in state history, Kevin Byrne, who graduated from Paramus Catholic in 1977.

``To have guys like that come up to me is just unbelievable,'' said Tansey, who is headed to Columbia. ``It's really unbelievable to think that I've run faster than anyone ever has at this meet. Of all the great runners who have run at this meet, to be the fastest is just amazing to me.

Tansey said he had a feeling he was ready for a big one.

``I knew after running the 4:14 at the state Group 3 meet that I was ready to go faster because it felt so comfortable,'' said Tansey. ``This was just a dream come true. The race went perfectly.''

Joe Rosa of West Windsor-Plainsboro set a brisk pace by hitting the 400 in 59.9. Rosa also led at 800 in 2:03.2 before Schellberg took over at 1,200, which he ran past in 3:07.8.

``Rosa has guts to run like that,'' said Tansey. ``He made the race fast and I just tried to stay close until that last lap and then just go with everything I had.''

Tansey's splits were 61.0, 63.3, 63.9 and 59.8.

``I wouldn't say I felt comfortable the whole race,'' said Tansey. ``On the last lap when I saw the clock on that final straightaway, I just told myself to hurry. When I crossed the line, it was the best feeling I've ever had.''

Tansey's victory led the fastest 1,600 field in meet history across the line as a record 10 runners broke 4:15 and a record 15 were under 4:20.

And six of the top 11 were underclassmen, led by junior Colin Baker of Haddonfield, second in 4:09.30 and Schellberg, also a junior, who was third in 4:10.07.

Baker's runner-up time is faster then 39 of the 41 winning times at the M of C. Also of note is the 14th place finish by Stephen Ellwood of Windsor Windsor North in 4:19.05, which gives West Windsor North four runner on its team that have craackd 4:20 this season.

Here are the top 15 finishers.


Event 3  Boys 1600 Meter Run
================================================================
 Meet Metric: @ 4:09.03  6/4/2008    Brett Johnson, Ocean City                 
  Meet Yards: # 4:10.6h  1976        Steve O'Connell (Mile), Millburn          
       State: $ 3:59.8h  1967        Marty Liquori (Mile), Essex Catholic      
    Name                    Year School                  Finals 
================================================================
  1 Liam Tansey               SR MORRIS HILLS           4:[email protected] 
  2 Colin Baker               JR HADDONFIELD            4:09.30# 
  3 Pat Schellberg            JR DELBARTON              4:10.07# 
  4 Curtis Richburg           JR WEST ORANGE            4:11.07  
  5 Xavier Fraction           SR WASHINGTONTWP          4:11.07  
  6 Ryan Garvin               SR LENAPE                 4:11.15  
  7 Tyler Corkedale           SR WWIND-P NORTH          4:11.66  
  8 Robert Molke              SR DON BOSCO              4:12.52  
  9 DJ Thornton               JR UNION CATHOLIC         4:13.97  
 10 Ben Potts                 SO HADDONFIELD            4:14.14  
 11 Joe Rosa                  SO WWIND-P NORTH          4:15.03  
 12 Maximillian Sparshatt     SR RUMSON-FAIR HAVE       4:15.37  
 13 David Berger              SR CHERRY HILL EAST       4:16.52  
 14 Stephen Ellwood           SR WWIND-P NORTH          4:19.05  
 15 Miles Schoedler           SO OCEAN CITY             4:19.55 


110 HURDLES

Josh Evans made some history for Irvington and got some redemption by winning the 110 hurdles in 14.09. Evans became the first M of C boys' champion from the Essex County school and erased the memory of his second-place finish last year in the same event.

Evans, who will play football at the University of Florida, recovered from his slow start and caught Kyle Robinson of Matawan by the fifth hurdle on his way to winning.

``This is what I needed to finish off my career,'' Evans said. ``I did this for myself and my coach and the people of Irvington who wanted me to finally bring home a gold.''

400 HURDLES

Chris Whyte of Rahway won the 400 hurdles in 52.29, but did not feel completely fulfilled because No. 1 seed Tim Carey of Washington Township fell over the second hurdle, ending all suspense as Whyte won the race fairly handily.


``I was looking forward to running against him since he had the fastest time in the state (52.10) and was the top seed,'' said Whyte, who also ran 47.1 anchoring Rahway's second-place 4x400 relay. ``But with him way behind I just concentrated on what I had to do to get the win. It's pretty amazing to see how far I've come. Last year I was way behind in this race and I couldn't imagine what it would be like to run as fast as the guys ahead of me. And now I am running that fast. I felt like I was visualizing my own progress over the lasat year while I was running.''

Whyte felt bad for Carey.

``The same thing happened to me at the Penn Relays and it's as an awful feeling,'' said Whyte. ``I wish it never happpened to him. It would have been a great race.''


POLE VAULT

It took three attempts, but when Justin Amezquita of Gov. Livingston in Berkeley Heights finally cleared the opening height of 13-6, he felt the pressure was off.

``If you ask any pole vaulter, getting the first one is the hardest. I'm looking at 13-6 with my third attempt and my heart was in my throat," said Amezquita, who went on to win at 15-0, two inches shy of his state season best of 15-2 set at the East Coast Relays.

Amezquita, a junior, was also battling a sore right quad muscle, but received treatment from noted sports chiropractor, Dr. Bill Bonsall, recently and said he felt fine coming into the M of C.

``After I got the 13-6, I was able to clean up on my next attempts, I got 14 feet on my second attempt and 14-6 on my first. I was doing good at that point," Amezquita said. ``Then I was having fun. The key for me was getting 15 feet on my first attempt. Once I did that, I knew it would be hard for somebody to beat me."

Amezquita also snapped a pole on a warmup attempt and went to a different pole that forced him to shorten his run.

``At 13-6, we were pretty worried," Gov. Livingston coach Pete Festante said. ``He was two feet over on his first two attempts, but coming down on the bar. He hasn't practiced in a month because of his injuries. What he did was pretty amazing."

LONG JUMP

The disappointment of finishing third in the triple jump provided Bloomfield's Stefon Williams with all the incentive he needed when it came time to compete in the long jump.

Williams, a senior, used that motivation to win the long jump with a leap of 23-0.

Ahead in the triple jump with a leap of 47-2¼ going into the final round, Williams was surpassed by Ryan Chance of Kingsway of Woolwich and Chris Rountree of Haddon Heights in the final round and had to settle for third.

"I definitely had to make up for it in the long jump because people like to rub it in," Williams said. "The 23-0 was good. It wasn't what I wanted, but it got the job done. The competition was good here today."

Williams' best long jump this season was the 23-2 he achieved at the East Coast Relays.


YOUNG GUNS STAR IN 3,200

Jim Rosa of West Windsor-Plainsboro North was the heavy favorite to win, and he did not disappoint, taking control early and steadily moving away to win in 9:03.69.
Rosa led a 1-2-3 finish for sophomores as Mike Mazzaccaro of Christian Brothers in Lincroft (9:07.65) and Jeremy Elkaim of Livingston (9:07.66) finished 2-3 as a record eight runners dipped under 9:10.
Five of the top seven finishers and 10 of the top 18 were underclassmen.
Rosa is the second straight sophomore to win the 3,200. Tyler Udland, now a junior at Millburn, won last year. Udland missed the race this year because of a back injury and the flu.
Winning a M of C title became a goal of Rosa's early this season, even though he is only a sophomore.

"I started thinking about this meet at the beginning of the year," Rosa said. "A few weeks ago my coach handed me an index card and it read state champion. From there I put the card in my running log and it was something I looked at a lot."

As the favorite, Rosa said he took a conservative approach not to let any of the other runners go out too fast and "reel" him in. From a comfortable position Rosa pushed ahead, and built his lead through the first 1,600 meters.

Rosa ran 4:25.2 for the final 1.600 as he continued to push ahead with strength and stamina that nobody else in the field could match as he steadily pulled away.

"This is just awesome," Rosa said. "I was happy with the weather, not too hot, and I was happy with my time."
Here is the top 18


Event 11  Boys 3200 Meter Run
================================================================
 Meet Metric: @ 8:56.14  6/7/2006    Craig Forys, Colts Neck                   
  Meet Yards: # 9:02.0h  1976        Bob Amitrani  (2-Mile), Cranford          
       State: $ 8:52.0h  1979        Charles Logan (2-Mile), Bernards          
    Name                    Year School                  Finals 
================================================================
  1 Jim Rosa                  SO WWIND-P NORTH          9:03.69  
  2 Mike Mazzaccaro           10 CHRISTIAN BROTHE       9:07.05  
  3 Jeremy Elkaim             SO LIVINGSTON             9:07.06  
  4 Mike Franklin             SR WEST MORRIS MEND       9:07.66  
  5 Taro Shigenobu            12 RIDGEWOOD              9:08.91  
  6 Dave Forward              JR SHAWNEE                9:09.27  
  7 Dave Oster                JR VERONA                 9:09.67  
  8 Todd Campbell             SR CINNAMINSON            9:09.80  
  9 Leighton Spencer          SR DON BOSCO              9:11.45  
 10 Mike Bowden               SR NORTH.BURLINGTON       9:12.60  
 11 George Galasso            SR HOLMDEL                9:15.32  
 12 Jonathan Vitez            JR HADDONFIELD            9:16.31  
 13 Nicholas Lachman          JR ROBBINSVILLE           9:16.62  
 14 Sam Macaluso              JR WWIND P SOUTH          9:17.04  
 15 Mark Leininger            SR COLTS NECK             9:18.00  
 16 Joe Kotran                11 TOMS RIVER NORTH       9:19.94  
 17 Kevin Foy                 SR WWIND P SOUTH          9:22.61  
 18 Aaron Leskow              11 TOMS RIVER NORTH       9:22.67


100 DASH

Despite a stumble at the start, junior Tejay Johnson of Egg Harbor won the 100-meter dash in 10.67.

He won with a lean over James Brown of Glassboro, who also was clocked in 10.67.
It was a mild upset, as Brown had run a 10.47, No. 6 in state history, and was coming off a 10.66 in winning the Group 1 championship. Johnson's previous best was a 10.74 in winning Group 4.

Johnson, a junior, was thrilled with the victory.

``I got off to a horrible start and the guys next to me got off to great starts," said Johnson, who ran second to Clayton Parros of Seton Hall Prep in the 200. ``But the key to me to winning is always coming on strong. It felt good to win against this competition.''

HIGH JUMP

Glenn Scheideler of Randolph was going up against a pair of seven footers and was the underdog.

But after finishing second at the indoor M of C, Scheideler, who set a Morris County record of 6-10 ¼ when he won the North Jersey, Section 1 Group 4 title, finally won his first M of C title when captured the event on misses at 6-8. Montez Blair of Timber Creek was second foir the second straight year on missses. Drew Kanz of Seneca, who has made 7-1 this season, was third at 6-6.

JAVELIN

Senior Kevin Steimle of Mahwah captured the javelin title with a throw of 194-7. He outdistanced second-place Andrew Pierce of Cumberland, who threw 191-5.

Steimle was the favorite coming into the meet after setting the meet record at the Group 3 championships last week with a 209-5.

4x400 RELAY

Plainfield's 4x400 relay team of Daniel Woods, Tristan Simms, Stephon Knox and Isaiah Gill took first in 3:16.35 to avenge a loss at the last month's Union County Championships, where Rahway broke the meet record.

Just before the race, the four runners decided to switch Gill to anchor without telling their coach, Payton Hines. Gill came around in a blazing 46.4 as he ran down Chris Whyte of Rahway on the final straightaway.

``I just wannted to pace myself at first," said Gill. "I felt we had I when I came around the final turn. I took off the last 100. This feels great."

Plainfield's splits on its bfirst three legs were 49.3 for Woods, 51.4 for Simms and 48.9 for Knox.