Metro staff Favorite 5
As the 2008-2009 high school competition year draws to a close,

the Metro staff members

who spend a great deal of their time at meets to look back over the last twelve months and select their five favorite events, moments, match-ups, interactions, observations, confrontations or celebrations.

The things that stood out, stayed with them,

stuck to memory

long after the coverage was over and the headlines had faded. The only catch was that

they had to actually have been there.

Stunned by Anna Jelmini's throws double at her California sectional, but heard about it on the internet like almost everyone else? Doesn't count. Head spinning when you got word of Albemarle's 4x800 battle against Morris Hills, but you were covering a meet elsewhere in the country? Not good enough. Five favorites you

saw with your own eyes

.

So, without further ado… a week's worth of moments we were "in the house" to see.
Part 2 | Jim Lambert

Albemarle vs. Morris Hills at the Penn Relays.
After getting beaten soundly by Albemarle of Virginia in its two indoor meeting (
Millrose
and
Nike Nationals
) in the 4x800, Morris Hills
NJ vowed to make things much closer in Round 3. It not only did that, but Morris Hills helped orchestrate a race for the ages, an epic Clash of Titans that will be certainly be talked about for years to come .
Everyone knew that the Albemarle Va vs. Morris Hills NJ showdown in the
4x800-meter relay Championship of America race
had the potential for a very fast time. But this was ridiculous as the two juggernauts staged an instant classic as they produced the greatest 4x800 ever run in U.S. high school history, and one of the most dramatic and breathtaking battles ever seen over the 115 year history of the Penn Relays.
Liam Tansey
of Morris Hills and
Anthony Kostelac
of Albemarle were dueling side-by-side with 300 meters to go on the anchor leg as they not only raced each other, but the clock as 47,904 sun-roasted fans rose to their feet on April 25 at Franklin Field, knowing they were witnessing history.
Kostelac, a junior who was named the MVP of the meet for relay events based on his 1:49.4 split (No. 4 in meet history), finally got by Tansey with about 175 to go and refused to give up the lead as he brought Albemarle across the line first, stopping the clock in a mind boggling 7:30.67 to smash the U.S. national high school record.
Tansey, who split 1:50.65 (tied for No. 12 in meet history) was a couple strides behind, bringing Morris Hills across second in 7:31.60, also faster than the previous national mark of 7:32.89 set in 2002 by Auburn of Washington as both teams shattered the meet record of 7:35.89, set in 1990 by St. Jago of Jamaica. Morris Hills also shaved nearly eight seconds off the N.J. record of 7:39.54 set in 2005 by Colts Neck

Robby Andrews' historic four lapper at NSIC.



Once he took down the national indoor record in the 1,000 with a 2:22.28 at the New Balance Collegiate Invitational at the New York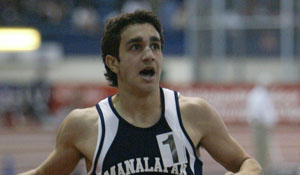 Armory on Feb. 7 (breaking the mark of 2:23.68 set in 2001 by Alan Webb), Andrews knew he was capable of becoming the first sub 1;50 four lapper in U.S. indoor history. But it didn't look like it would happen after the senior at Manalapan hit the 200 mark in 28.1 and 400 in just 56.2 at the National Scholastic Indoor Championships on March 15 at the New York Armory. But then Andrews began to crank it up, blasting a 26.6 third lap (1:22.8 overall).

``When I saw the clock at, I started thinking about 1:50,'' said Andrews. ``I knew I'd have to run the fastest 200 of my life to do it, so I just went for it with everything I had.''

With the crowd roaring in anticipation, Andrews kept pouring it on down the backstretch of the final lap , digging down one final time for an extra gear as he blasted around the final turn and headed for the finish line. With about 15 meters left, Andrews stared down the clock, watching it turn to 1:46, then 1:47, 1:48 and then bang, he stopped the digits at a mind-bending 1:49.21 as he finished off a sizzling 26.4 last 200.
That's right, 1:49.21.

Numbers under 1:50 have never been flashed up on a high school clock anytime, anywhere indoors for a four lap race as Andrews turned in the greatest 800 performance in U.S. High School history, crushing the national indoor record of 1:50.55 set by Michael Granville of Bell Gardens CA, which had stood since March 12, 1995 when Granville won the NSIC title as a junior at the Carrier Dome in Syracuse NY.





Nick Vena's bombs at the NJ Meet of Champions



Everytime Vena stepped into the shot put circle, a jammed packed crowd would buzz in anticaption of seeing the Morristown NJ
sophomore do something extraordinary. And the 6-4, 270-pound Vena almost always delivered.

Vena had several sensational moments, like his meet record and state record heave of 72-2 ½ to win his second straight title at the Penn Relays in Philadelphia in April, and went over 70 feet on numerous other occasions.

But Vena's greatest moment came on June 5 at Frank Jost Field in South Plainfield at the NJSIAA Meet of Champions.
After a 68-8 ½ on his first throw, Vena took down the meet mark of 70-11 ½ on his second attempt. He followed that up with a 71-8¼ on his final throw of the trials.

Then after throws of 71-1 and 70-8 in the finals, Vena unloaded an epic bomb of 72-8 on his final attempt, sending the crowd into a frenzy.
Vena's 72-8 easily broke the meet mark of 68-11 set in 1997 by Kevin DiGiorgio of Bayonne -- which he bettered on five of his six throws -- and his own state record of 72-2½ set at Penn. It also stood up as the No. l throw in the nation for the season and tied Vena for No. 4 on the all-time U.S. list.
Vena's five 70-plus foot throws is one of the greatest shot put series' in U.S. history and prompted meet officials to plan on expanding the 75 foot throwing area by next season to accommodate Vena.

Vena, who has improved his personal best from 67-10¼ as a freshman to 72-8, remains on track to become the first boy in M of C history to win four straight titles in any event.
But that's not all.

After his shot put triumph, Vena hustled over to the discus and came through again, this time sending the saucer 173-1 on his final throw to overtake Anthony Stroffolino of Southern Regional in Manahawkin, who took second with a 171-0.

Vena is just the eighth boy in the 41-year history of the Meet of Champions to win the shot and discus at the same Meet of Champions.





West Windsor-Plainsboro North tears up Holmdel



West Windsor North knew it had to come up with a monumental effort to dethrone defending champion Don Bosco Prep at the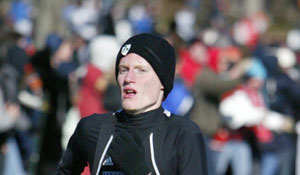 NJSIAA Cross-Country Meet of Champions last November, 22. It did even better than that, producing a performance for the ages.
West Windsor North, No. 19 nationally at the time, ripped apart the Holmdel Park layout with course-record average of 16:14.4 to capture the team title, 41-59 over runner-up and then No. 7 ranked Don Bosco Prep.
Don Bosco, which saw its chances of repeating damaged when three of its runners fell in a big pileup about 300 meters into the race.
Don Bosco suffered its first loss to a New Jersey team since it finished second to Jackson at the 2006 M of C. It had beaten West Windsor North when it finished first and West Windsor North was fifth in the Eastern States Championship race at the Manhattan Invitational on Oct. 11 at Van Cortlandt Park in the Bronx.
Leading the charge for West Windsor North were its sensational sophomores, twins Joe and Jim Rosa. Joe finished second to Tyler Udland of Millburn in 15:47 and Jim was sixth in 16:01.
But the race was won at the back of the pack for West Windsor North, where senior Ryan Sleeper, 19th in 16:21, senior Tyler Corkedale, 26th in 16:26, and senior Anthony Lee, 36th in 16:37, all ran personal bests to give the Mercer County school a five-runner average of 16:14.4. That broke the course record of 16:15.6 set by Christian Brothers Academy in 2005.
Sleeper dropped 45 seconds from the previous week's Group 3 race, when he was the team's No. 6 runner, while Corkedale came down seven seconds and Lee sliced 17 seconds off his group time.
West Windsor North went on to win the Nike Northeast Regional title by four points over runner-up Don Bosco Prep, 71-75, and edged Don Bosco again at the Nike National Championships on a sixth-runner tiebreaker to place fifth with Don Bosco sixth.





Solomon Haile takes Manhattan by storm.

Haile came to the Bronx, N.Y with just one thing in mind last Oct. 11. And he got it in sizzling fashion. Haile, who moved to the United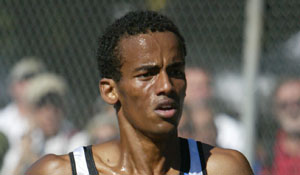 States from Ethiopia in October of 2007, tore apart the legendary Van Cortlandt Park 2.5-mile layout with an eye-popping 12:06.7 to smash the course record while capturing the boys E Division title at the 36th Manhattan
Invitational.

Haile, a senior at Sherwood High School in Maryland, broke the course mark of 12:10.6 set in 2006 by Tommy Gruenewald of Fayetteville-Manlius.

Haile said he had a plan and stuck to it.

``I came here to break the record and knew I'd have to push pretty hard by myself the last part of the race to get it,'' said
Haile, the 5-K Nike national champion indoors and outdoors last year. ``I was at 10 flat at two miles and I knew I could run
under 2:10 for that last half. It's great to have a record like this. I'm very proud to have done this.''

Haile's performance shouldn't have come as a shock. After all, he did run 14:38 on the track in the spring of 2008 in the 5-K.
Haile's victory at Manhattan proved to be a springboard toward much bigger wins on the trails. He returned to the Bronx to win the Northeast Regional, and capped an undefeated season by winning the Foot Locker National title in San Diego.


All photos by John Nepolitan

Metro Favorite 5 Index