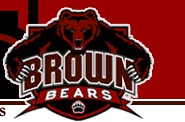 Brown Invitational





US #1's in boys DMR, weight throw, boys and girls 3k's highlight weekend action





Friday and Saturday, January 2 & 3, 2009 - Brown University, Providence, RI






Results - Boys Day 1 - Day 2- Girls - Day 1 - Day 2
courtesy of Platt Syestems
200 meter flat track




Day 1 Highlights



Westerly RI burned a nation-leading 10:27.91 DMR in the boys seeded section, with Foot Locker finalist Andrew Springer reportedly 4:18.5 on the anchor leg ...
... which should be enough to carry the day, right? But in the unseeded section, East Greenwich was lurking and sprang a new

US#1 10:25.25 DMR

. East Greenwich was hardly unheralded, as they sported New Englands' 1-3 finishers Mark Feigen (3:08) and Nick Ross (4:16) in the 1200 and 1600 spots.

US #1

in the boys weight throw by Minisink Valley's (NY)

Alec Faldermeyer

with a throw of

74' 1.5

"
Day 2 Highlights
US #1's

in both the boys and girls 3000 meters are top marks of day 2.

Andrew Springer

(Westerly, RI) is an easy winner crossing the line in 8:27.21 and

Molly Pezullo

(Burnt Hills) claims gold in 10:11.54
Saratoga Springs completes a sweep of the girls distance relay's dominating the 4 x 800 a day after winning the championship DMR
Burnt Hills (NY) gets a second win in the girls distance events when Sam Roecker takes the girls mile in 5:04.10.
Sheepshead Bay(NY) dominates the boys sprint events having gold medal winners in the 55 – Ayo Isijola (6.53) and HH – Darryl Brandshaw(7.48). The pair return to the track later to run legs on the winning 4 x 200 team(1:31.67)
Half Hollow Hills West (NY) repeats as winners in the 4 x 800 crossing in a swift 8:02.30
Sean Atkinson (Nazareth, NY) takes a tight 500m race in a swift 1:05.49
Boys - Day 1
Boys High Jump Relay 3 per team
==========================================================================
    Name                    Year School                  Finals           
==========================================================================
Finals
  1  2709 Higgins, Brandon       Bourne                 6-02.00      1.87m 
  2  1657 Kehrer, Greg        SR Colonie                6-02.00      1.87m 
  3  1965 Obemeata, Shioma    SR Iona Prep Sc           6-00.00      1.82m 
  4  1458 Capista, Scott      SR Bishop Hendr           6-00.00      1.82m 
  4  1641 Colello, Nick       JR Colonie                6-00.00      1.82m 
  6  2615 Daley, Jordan       SR uniondale              5-10.00      1.77m 
  6  2120 Edwardsen, Tyler    SR Ledyard High           5-10.00      1.77m 
  6  2629 Parker, Blaze       SR uniondale              5-10.00      1.77m 
  6  1430 McNicholas, Mike    SR Bergen Catho           5-10.00      1.77m 
  6  2502 Carey, Kevin        SR South Kingst           5-10.00      1.77m 
 11  2527 Durkin, Jack        JR St. Johns Pr           5-07.00      1.70m 
 11  2523 Byman, James        JR St. Johns Pr           5-07.00      1.70m 
 11  1585 Pearce, Daniel      JR Chariho                5-07.00      1.70m 
 11  1579 Innocent, Jacob     SO Chariho                5-07.00      1.70m 
 11  1477 Marzilli, Evan      SR Bishop Hendr           5-07.00      1.70m 
 11  2539 Mostone, Alex       SR St. Johns Pr           5-07.00      1.70m 
 11  2626 Mott, Justin        SR uniondale              5-07.00      1.70m 
 11  1842 Flaherty, Brian     JR Fairfield Pr           5-07.00      1.70m 
 11  1658 Leonardo, Mike      SR Colonie                5-07.00      1.70m 
 11  1426 Leonard, Bill       JR Bergen Catho           5-07.00      1.70m 
 21  1937 Barton, Rich        JR Iona Prep Sc           5-04.00      1.62m 
 21  2105 Washington, Tyler   JR La Salle Ins           5-04.00      1.62m 
 21  2149 Smith, Tylor        SO Ledyard High           5-04.00      1.62m 
 21  1682 Faucher, Dylan      SR Cumberland H           5-04.00      1.62m 
 --  2549 Carballiera, Micha  SO St. Joseph b                NH            
 --  1460 Collins, Andre      JR Bishop Hendr                NH            
 --  2710 Epps, Joe              Bourne                      NH            
 --  1849 Marrotta, Frank     SO Fairfield Pr                NH            
 --  1841 Dougherty, Kevin    SR Fairfield Pr                NH            
 --  2569 Tufano, Joseph      SR St. Joseph b                NH            
 --  2545 Alcasid, Charles    SO St. Joseph b                NH            
 --  2711 Tagger, Larry          Bourne                      NH            
 --  2085 Legare, Chris       SR La Salle Ins                NH            
 --  2067 Coughlin, Eamonn    SO La Salle Ins                NH            
 --  1952 Hefferon, Jack      JR Iona Prep Sc                NH            
 --  1688 Kavanaugh, Patrick  SR Cumberland H                NH            
 --  1589 Spears, Makius      SR Chariho                     NH            
 --  2522 Thomas, Ryan        SO South Kingst                NH            
 --  2144 Saccomano, Sam      SR Ledyard High                NH            
 --  1433 Wade, Chris         SR Bergen Catho                NH            
 
Boys Pole Vault
==========================================================================
    Name                    Year School                  Finals           
==========================================================================
  1  1297 Crotta, Cole        SR Amity Region          14-06.00      4.41m 
  2  1945 Fellegara, Vince    JR Iona Prep Sc          12-00.00      3.65m 
  2  2177 Brower, Robert      SR Massapequa H          12-00.00      3.65m 
  4  1938 Berg, Michael       SR Iona Prep Sc          12-00.00      3.65m 
 --  2550 Cerciello, Anthony  SR St. Joseph b                NH            
 --  1674 White, Griffin      SR Colonie                     NH            
 
Boys Long Jump Relay 3 per team
==========================================================================
    Name                    Year School                  Finals           
==========================================================================
  1  2624 Mercer, Nathaniel   SR uniondale             21-06.50      6.56m 
  2  1395 Hutchinson, Brando  JR Bay Shore             20-05.25      6.22m 
  3  2629 Parker, Blaze       SR uniondale             20-05.00      6.22m 
  4  1363 Johnson, Emmanuel   SR Amityville            20-04.00      6.19m 
  5  2619 Forsyth, Glen       SO uniondale             20-02.50      6.15m 
  5  1567 Amado, Craig        JR Central High          20-02.50      6.15m 
  7  1399 Moore, Michael      JR Bay Shore             20-00.00      6.09m 
  8  2358 Ryder, Quinn        JR Oliver Ames           19-08.00      5.99m 
  9  2569 Tufano, Joseph      SR St. Joseph b          19-05.00      5.91m 
 10  2120 Edwardsen, Tyler    SR Ledyard High          19-04.50      5.90m 
 11  1840 Dormevil, Kiki      SR Fairfield Pr          19-00.00      5.79m 
 12  2357 Raduazzo, Jon       SO Oliver Ames           18-09.50      5.72m 
 13  1317 Kernan, Brian       JR Amity Region          18-08.75      5.70m 
 14  1404 Roberts, Kadesh     FR Bay Shore             18-08.00      5.68m 
 15  1430 McNicholas, Mike    SR Bergen Catho          18-07.00      5.66m 
 16  2181 Caraciolo, Joe      FR Massapequa H          18-06.00      5.63m 
 17  1360 Gaddy, Lyle         SR Amityville            18-05.00      5.61m 
 18  1293 Casoria, Kevin      SR Amity Region          18-04.00      5.59m 
 19  1498 Alcide, Christophe  SR Bloomfield H          18-02.00      5.53m 
 20  1658 Leonardo, Mike      SR Colonie               18-01.50      5.52m 
 21  1659 Maleval, Pierre     SR Colonie               18-01.00      5.51m 
 22  1364 Sohan, Shivanand    SR Amityville            18-00.00      5.48m 
 22  2207 Spurrell, Mike      SR Massapequa H          18-00.00      5.48m 
 24  1434 Wingate, Ernest     JR Bergen Catho          17-11.50      5.47m 
 25  1703 Verdier, Patrick    JR Cumberland H          17-09.00      5.41m 
 25  2175 Biondo, Jeff        SR Massapequa H          17-09.00      5.41m 
 27  1677 Aikens, Brandon     JR Cumberland H          17-08.50      5.39m 
 28  2146 Shine, Pat          JR Ledyard High          17-08.00      5.38m 
 28  1657 Kehrer, Greg        SR Colonie               17-08.00      5.38m 
 30  1851 Monk, Chris         SR Fairfield Pr          17-07.50      5.37m 
 31  2565 Roberts, Christoph  SR St. Joseph b          17-07.00      5.35m 
 32  1340 Schwartz, Doron     SR Amity Region          17-05.00      5.30m 
 32  1843 Gaines, Miles       FR Fairfield Pr          17-05.00      5.30m 
 32  1511 Gentle, Jonathan    SR Bloomfield H          17-05.00      5.30m 
 35  1569 Nyonton, Wilson     JR Central High          17-04.50      5.29m 
 36  2233 Grant, Brandon      SR Mount St. Mi          17-03.50      5.27m 
 36  2095 Roseboom, Dave      JR La Salle Ins          17-03.50      5.27m 
 38  1421 Go, Adrian          JR Bergen Catho          17-03.00      5.25m 
 39  2234 Greaves, Tesfa      SR Mount St. Mi          17-01.50      5.21m 
 40  1506 Crooks, Dovin       SR Bloomfield H          16-06.50      5.04m 
 41  2130 Jackson, Nate       SR Ledyard High          16-05.00      5.00m 
 42  2085 Legare, Chris       SR La Salle Ins          16-04.00      4.97m 
 43  2570 Vogt, Liam          FR St. Joseph b          16-03.00      4.95m 
 --  1568 Ntow, George        SR Central High                ND            
 --  1688 Kavanaugh, Patrick  SR Cumberland H                ND            
 --  2355 Krempin, Michel     SO Oliver Ames                 ND            
 --  2225 Castillo, Eleicer   JR Mount St. Mi                ND            
 --  2099 Smail, Thomas       JR La Salle Ins                ND            
 
Boys Triple Jump
==========================================================================
    Name                    Year School                  Finals           
==========================================================================
  1  1567 Amado, Craig        JR Central High          43-09.50     13.34m 
  2  1363 Johnson, Emmanuel   SR Amityville            43-05.00     13.23m 
  3  1395 Hutchinson, Brando  JR Bay Shore             41-07.00     12.67m 
  4  1813 Green, Shane        SO Erasmus Hall          41-03.00     12.57m 
  5  1965 Obemeata, Shioma    SR Iona Prep Sc          40-06.00     12.34m 
  6  1364 Sohan, Shivanand    SR Amityville            39-08.00     12.09m 
  7  2569 Tufano, Joseph      SR St. Joseph b          39-06.00     12.03m 
  8  1658 Leonardo, Mike      SR Colonie               38-07.00     11.76m 
 
Boys Shot Put Relay 3 per team
==========================================================================
    Name                    Year School                  Finals           
==========================================================================
  1  1847 Kontra, Brad        SR Fairfield Pr          52-11.00     16.12m 
  2  2590 Jefferys, Errol     SR Transit Tech          49-05.50     15.07m 
  3  2602 Telesford, Michael  SR Transit Tech          49-01.00     14.96m 
  4  1386 Brown, Ed           SR Bay Shore             46-03.00     14.09m 
  5  1572 Asermelly, Antonio  SR Chariho               45-11.25     14.00m 
  6  2675 Intreieri, Mike     SR Westerly              45-02.00     13.76m 
  7  2608 Apple, Cecil        SR uniondale             45-01.50     13.75m 
  8  2514 McLoughlin, Shane   JR South Kingst          44-06.00     13.56m 
  8  1396 Kennedy, Jon        SR Bay Shore             44-06.00     13.56m 
 10  2581 Chad, Delecia       SR Transit Tech          44-05.00     13.53m 
 11  2636 Watson, Jameel      SR uniondale             43-09.00     13.33m 
 12  1615 faboyede, josh      SR classical             43-08.00     13.30m 
 13  2543 Valeri, Andrew      SR St. Johns Pr          43-07.00     13.28m 
 14  2668 Brennan, Kaylan     SR Westerly              43-01.25     13.13m 
 15  2528 Enos, Sean          SO St. Johns Pr          43-00.00     13.10m 
 16  1464 Freeman, Dan        JR Bishop Hendr          42-06.50     12.96m 
 17  1515 Gray, Lamar         SR Bloomfield H          42-04.00     12.90m 
 18  1423 Kloeblen, Brian     JR Bergen Catho          41-04.50     12.61m 
 19  2576 Spelman, John       SR Toll Gate             40-11.00     12.47m 
 20  1961 Murphy, Brendan     SR Iona Prep Sc          40-08.00     12.39m 
 21  1308 Flynn, Chris        SR Amity Region          40-03.75     12.28m 
 22  1400 Moreno, Jon         JR Bay Shore             40-02.75     12.26m 
 23  1427 Mandese, Tom        JR Bergen Catho          40-02.00     12.24m 
 24  2572 Gouviea, Brian      JR Toll Gate             39-10.50     12.15m 
 25  1465 Gama, Mike          SR Bishop Hendr          39-09.75     12.13m 
 26  2676 Liguori, TJ         SR Westerly              39-05.50     12.02m 
 27  1960 Mottola, Teddy      SR Iona Prep Sc          39-04.00     11.98m 
 28  1476 Maloof, Mike        SO Bishop Hendr          39-03.00     11.96m 
 29  2515 Price, Patrick      JR South Kingst          39-01.50     11.92m 
 30  2573 LeClair, Matt       JR Toll Gate             39-01.00     11.91m 
 31  2541 Piatelli, Andrew    SR St. Johns Pr          39-00.00     11.88m 
 32  1962 Murphy, Matt        SR Iona Prep Sc          38-10.50     11.84m 
 33  2070 DeFazio, John       JR La Salle Ins          36-10.25     11.23m 
 34  1575 Edwards, Zack       SR Chariho               36-09.00     11.20m 
 34  1284 Bailey, Stephen     JR Amity Region          36-09.00     11.20m 
 36  1855 Okeefe, Sean        SR Fairfield Pr          36-06.75     11.14m 
 37  1519 Joseph, Allan       JR Bloomfield H          36-05.50     11.11m 
 38  2625 Moodie, Umar        SR uniondale             36-00.00     10.97m 
 39  1499 Alleyne, Jamal      SR Bloomfield H          35-02.00     10.71m 
 40  2075 Field, Nick         JR La Salle Ins          34-11.00     10.64m 
 41  1628 Reynoso, Gustavo    SO classical             33-11.00     10.33m 
 42  1415 Caruso, John        SO Bergen Catho          32-10.50     10.02m 
 43  2072 DeSorbo, Michael    SO La Salle Ins          32-05.25      9.88m 
 44  1312 Heyman, Andrew      SR Amity Region          32-02.50      9.81m 
 45  1846 Inzucchi, Charles   JR Fairfield Pr          31-11.50      9.74m 
 46  1634 Washington, Meko    SO classical             30-01.00      9.16m 
 47  1588 Ryan, Connor        SO Chariho               29-09.50      9.08m 
 --  2507 Grasso, Vincent     SR South Kingst                ND            
 
Boys Weight Throw Relay 3 per team
==========================================================================
    Name                    Year School                  Finals           
==========================================================================
  1  2215 Faldermeyer, Alec   JR Minisink Val          74-01.50     22.59m 
  2  1465 Gama, Mike          SR Bishop Hendr          65-09.50     20.05m 
  3  1706 Simalchik, Stephen  SR Danbury HS            57-05.25     17.50m 
  4  1704 Guider, Robert      SR Danbury HS            55-08.75     16.98m 
  5  1615 faboyede, josh      SR classical             54-08.00     16.66m 
  6  2576 Spelman, John       SR Toll Gate             54-02.50     16.52m 
  7  1386 Brown, Ed           SR Bay Shore             53-10.25     16.41m 
  8  2507 Grasso, Vincent     SR South Kingst          52-00.00     15.84m 
  9  1481 Milder, Max         JR Bishop Hendr          51-11.25     15.83m 
 10  1693 Linback, David      SR Cumberland H          51-10.75     15.81m 
 11  2505 Favreau, Justin     JR South Kingst          51-09.25     15.77m 
 12  2676 Liguori, TJ         SR Westerly              49-08.75     15.15m 
 13  2590 Jefferys, Errol     SR Transit Tech          49-08.25     15.14m 
 14  1478 McConnell, Sean     SR Bishop Hendr          49-06.75     15.10m 
 15  1380 Steele, Remy        JR Barrington H          49-03.75     15.03m 
 16  1627 Pholk, Tim          JR classical             49-02.00     14.98m 
 17  2159 Butler, Mathew      JR Lincoln High          48-05.50     14.77m 
 18  1365 Adams, Wilson       JR Barrington H          47-11.50     14.61m 
 19  2173 Wynne, Raymond      SR Lincoln High          46-07.25     14.20m 
 20  1634 Washington, Meko    SO classical             46-06.75     14.19m 
 21  1324 Moon, Jason         SR Amity Region          45-07.75     13.91m 
 22  1960 Mottola, Teddy      SR Iona Prep Sc          45-04.00     13.81m 
 23  1308 Flynn, Chris        SR Amity Region          44-06.25     13.56m 
 24  2572 Gouviea, Brian      JR Toll Gate             44-03.75     13.50m 
 25  2514 McLoughlin, Shane   JR South Kingst          43-11.50     13.39m 
 26  2575 Rocheleau, Joseph   SR Toll Gate             43-05.75     13.25m 
 27  1396 Kennedy, Jon        SR Bay Shore             42-05.50     12.94m 
 28  1375 Lacerte, Luc        JR Barrington H          41-10.00     12.75m 
 29  2602 Telesford, Michael  SR Transit Tech          41-00.00     12.49m 
 30  1388 Constantin, Mike    SR Bay Shore             40-09.25     12.42m 
 30  2671 Carr, Kyle          JR Westerly              40-09.25     12.42m 
 32  1680 Collins, Brendan    SR Cumberland H          40-04.75     12.31m 
 33  1961 Murphy, Brendan     SR Iona Prep Sc          37-03.00     11.35m 
 34  2168 Leech, Scott        JR Lincoln High          34-07.75     10.56m 
 35  1962 Murphy, Matt        SR Iona Prep Sc          31-11.25      9.73m 
 36  1705 Noble, Tommie       SR Danbury HS            31-06.75      9.62m 
 37  1284 Bailey, Stephen     JR Amity Region          30-10.25      9.40m 
 38  2581 Chad, Delecia       SR Transit Tech          27-09.00      8.45m 
 --  2669 Broccolo, Jake      SO Westerly                  FOUL            
 
Boys Distance Medley Varsity
================================================================
    School                                               Finals 
================================================================
  1 East Greenwich High School  'A'                    10:25.25  
     1) 1728 Feigen, Mark SR            2) 1733 Ross, Nick JR             
     3) 1734 Saunders, Harrison SR      4) 1735 Schaefer, Austin JR       
  2 Burnt Hills-Ballston Lake HS  'A'                  10:43.74  
     1) 1550 Maughan, Scott JR          2) 1541 Fernandez, Chris SR       
     3) 1545 Harlow, Kent SR            4) 1564 Ubriaco, Otis SO          
  3 South Kingstown High School  'A'                   10:52.18  
     1) 2513 McCloskey, Daniel SR       2) 2512 McCloskey, Conor SR       
     3) 2502 Carey, Kevin SR            4) 2519 Stadnick, Shawn SR        
  4 Bishop Hendricken High School  'A'                 10:53.46  
     1) 1462 Desmarais, Jim SR          2) 1489 Sakovits, Alex SR         
     3) 1487 Riordan, Ross JR           4) 1454 Bean, Andy SR             
  5 St. Johns Prep  'A'                                11:03.07  
     1) 2532 Hanlon, Sean SR            2) 2534 Kadich, Jared JR          
     3) 2530 Gallo, Julian SR           4) 2537 Masse, Mike SR            
  6 Bay Shore  'A'                                     11:10.92  
     1) 1397 Mauro, Mike JR             2) 1382 Agosto, Jake SR           
     3) 1398 Millington, Isaiah SR      4) 1411 Vietri, Rob SR            
  7 Nazareth Regional High School  'A'                 11:10.95  
     1) 2282 Candelario, Francisco SR   2) 2287 Samerson, Marcus SR       
     3) 2278 Atkinson, Sean SR          4) 2279 Baptiste, Abayomi JR      
  8 Erasmus Hall Campus  'A'                           11:17.90  
     1) 1825 Rose, Stefan SR            2) 1820 Prince, Joshua JR         
     3) 1822 Quashie, Kino SR           4) 1814 Holder, Jamaal SR         
  9 Burnt Hills-Ballston Lake HS  'B'                 x11:24.14  
     1) 1556 Romeo, Anthony SR          2) 1562 Taylor, David JR          
     3) 1565 Wilk, Chance SR            4) 1555 Pezzulo, Sean JR          
 10 La Salle Institute  'A'                            11:24.71  
     1) 2073 Doran, James JR            2) 2080 Hurley, Denis JR          
     3) 2090 Marois, Anthony SR         4) 2105 Washington, Tyler JR      
 11 Massapequa High School  'A'                        11:26.51  
     1) 2208 Svegliato, Justin JR       2) 2193 King, Billy SR            
     3) 2214 Wong, Eric SR              4) 2209 Valenski, Andrew SO       
 12 Norwich Free Academy  'A'                          11:31.09  
     1) 2327 Miller, Nick SR            2) 2338 Shogren, Austin JR        
     3) 2328 Miner, Tom JR              4) 2341 Spellman, Shane SR        
 13 Amity Regional High School  'B'                   x11:34.31  
     1) 1311 Harrison, James SR         2) 1320 Kwolek, Jeff SR           
     3) 1323 Lauritzen, Kyle SR         4) 1290 Brandt, Asher SR          
 14 Mount St. Michael Academy  'A'                     11:34.61  
     1) 2224 Boryga, Andrew SR          2) 2244 Tyler, Terrence SO        
     3) 2245 Walker, Rajeev JR          4) 2246 Williams, Peyton SR       
 15 Bergen Catholic  'A'                               11:36.02  
     1) 1420 Flynn, Robert SR           2) 1431 Ring, Will SR             
     3) 1413 Bohlin, Tom SR             4) 1429 McNeely, Dan SR           
 16 Kellenberg Memorial HS  'B'                       x11:48.65  
     1) 2028 Seitz, Kevin SR            2) 1996 Ammirati, Kevin SR        
     3) 2017 Mathison, Daniel JR        4) 2021 Nicoletti, Michael SR     
 17 Massapequa High School  'B'                       x11:53.14  
     1) 2205 Roach, Mike JR             2) 2179 Callahan, Robert JR       
     3) 2187 Esposito, Mike JR          4) 2186 Dioguardi, Mike JR        
 18 Sheepshead Bay  'A'                                11:53.39  
     1) 2463 Avonte, Thrower SR         2) 2464 Bennet, Josh JR           
     3) 2487 Medford, Adam SR           4) 2482 Keyvin, Adams JR          
 19 Port Jefferson  'A'                                11:56.48  
     1) 2374 Hirasaka, Kyle SR          2) 2373 Henry, Kevin SR           
     3) 2371 Flanagan, Ryan SO          4) 2376 Johnson, Carll SO         
 20 Ledyard High School  'A'                           12:00.98  
     1) 2121 Esposito, Kevin JR         2) 2144 Saccomano, Sam SR         
     3) 2127 Howie, Kevin SR            4) 2124 Hernandez, Nate JR        
 21 Fairfield Prep  'A'                                12:07.58  
     1) 1850 McLeod, Brendan JR         2) 1866 Stiller, John JR          
     3) 1853 Nayden, Rob SR             4) 1837 Cramond, Tony SR          
 22 Cumberland H.S.  'A'                               12:19.50  
     1) 1696 Morgan, John JR            2) 1685 Ferucci, Jeffry JR        
     3) 1678 Bare, C.J. JR              4) 1681 Connolly, Sean JR         
 23 Transit Tech  'A'                                  12:39.18  
     1) 2603 White, Galonn SR           2) 2599 Shaquille, cummings --    
     3) 2593 Miller, Hussein SR         4) 2589 Jasmin, Jeffery SR        
 24 Norwich Free Academy  'B'                         x12:42.74  
     1) 2321 Gartley, Nick JR           2) 2326 Lorinsky, Michael JR      
     3) 2345 Teixiera, Tom SR           4) 2331 Orourke, Patrick JR       
 25 Mt. Hope High School  'A'                          12:45.61  
     1) 2276 Sooknah, Matt SR           2) 2270 Hamel, Ben JR             
     3) 2272 McCord, Ian SR             4) 2273 Reis, Andrew JR           
 
Boys 4x400 Meter Relay FR/SO
===================================================================
    School                                               Finals  H#
===================================================================
  1 Half Hollow Hills West HS  'A'                      3:43.40   1 
     1) 1901 McCord, Dan SO             2) 1900 Ma, Justin SO             
     3) 1904 Myrtil, Abolias SO         4) 1887 Connor, Justin SO         
  2 Transit Tech  'A'                                   3:43.46   1 
     1) 2600 Smith, Dondre SO           2) 2579 Bailey, Kajeem SO         
     3) 2577 Andre, Hewitt FR           4) 2585 Durosoga, Oluwaseyi SO    
  3 Iona Prep School  'A'                               3:45.77   2 
     1) 1939 Bocherel, Adrien SO        2) 1971 Vallario, Michael SO      
     3) 1946 Ferguson, Ryan SO          4) 1956 Malone, Travon SO         
  4 Colonie  'A'                                        3:52.05   1 
     1) 1665 Roberts-Smith, Nazim SO    2) 1638 Brown, Ed SO              
     3) 1640 Chamberlin, Kyle SO        4) 1663 Nolte, Ryan SO            
  5 Christ the King Regional HS  'A'                    3:52.98   2 
     1) 1593 Ferro, Ricardo SO          2) 1596 Lowry, David SO           
     3) 1597 Nation, Ricardo SO         4) 1599 Pritchett, Darius FR      
  6 Bishop Hendricken High School  'A'                  3:53.65   1 
     1) 1490 Sakovits, Andy SO          2) 1492 Shalkowski, Cameron SO    
     3) 1496 Vuono, Mark FR             4) 1484 Pederzani, Tom SO         
  7 St. Joseph by-the-Sea  'A'                          3:54.79   1 
     1) 2544 Aceto, Vincent SO          2) 2555 Favale, Alec SO           
     3) 2563 Murphy, Christopher SO     4) 2560 LeFosse, Michael SO       
  8 Bergen Catholic  'A'                                3:56.39   3 
     1) 1422 Gray, Tarique SO           2) 1424 Kranjac, Mario SO         
     3) 1414 Bostick, Karl SO           4) 1417 Dilworth, Tyler SO        
  9 Clara Barton High School  'A'                       4:00.20   3 
     1) 1606 Enabulele, Odefe SO        2) 1604 Charles, Ruehl SO         
     3) 1611 Wilson, Akeem SO           4) 1605 Elien, Theod SO           
 10 Massapequa High School  'A'                         4:01.01   3 
     1) 2204 Poole, Brian FR            2) 2178 Buttigieg, Bryan SO       
     3) 2200 Nord, Spencer FR           4) 2185 Deluna, Nick SO           
 11 Bay Shore  'A'                                      4:01.42   1 
     1) 1383 Allison, Karl SO           2) 1390 Crane, Conner SO          
     3) 1392 Goldberg, Dan SO           4) 1404 Roberts, Kadesh FR        
 12 Chariho  'A'                                        4:01.48   3 
     1) 1582 LaPlume, Ian SO            2) 1581 Kilcoyne, Dan FR          
     3) 1570 Almeida, Joe SO            4) 1584 Montague, Garrett SO      
 13 Amity Regional High School  'A'                     4:02.51   2 
     1) 1344 Spencer, Sam SO            2) 1285 Beland, Matthew SO        
     3) 1304 Dunleavy, Jack SO          4) 1336 Sanchez, Jesse SO         
 14 Hope High School  'A'                               4:06.08   4 
     1) 1927 Letourneau, Jacob FR       2) 1929 Moni, Sean SO             
     3) 1922 Dahn, Benjamin FR          4) 1926 Kai, Preston FR           
 15 Burnt Hills-Ballston Lake HS  'A'                   4:06.20   4 
     1) 1533 Chapman, Joe FR            2) 1551 McGuinness, Thomas SO     
     3) 1547 King, Dan SO               4) 1542 Fernandez, Dan FR         
 16 Bishop Ford High School  'A'                        4:08.71   3 
     1) 1437 Boles, Gregory FR          2) 1438 Charles-Green, Keith SO   
     3) 1440 Dundras, Mario FR          4) 1448 Pinero, Johnathan SO      
 17 Port Jefferson  'A'                                 4:14.97   2 
     1) 2377 Keresztes, Andrew FR       2) 2378 Neiman, Ben FR            
     3) 2382 Swords, Sean SO            4)                                
 18 La Salle Institute  'A'                             4:29.18   5 
     1) 2067 Coughlin, Eamonn SO        2) 2092 Masterson, Stephen FR     
     3) 2086 Lentivech, jimmy FR        4) 2089 Loomis, Rob FR            
 19 Saratoga Springs  'A'                               4:29.86   5 
     1) 2408 Moore, Jonathan FR         2) 2400 Heironymi, Matt FR        
     3) 2406 Millar, Calvin GR          4) 2427 Williams, Jonah FR        
 20 Cumberland H.S.  'A'                                4:31.27   5 
     1) 1700 Seaver, Sean FR            2) 1694 MacKenzie, Daniel SO      
     3) 1679 Beauregard, Andrew SO      4) 1691 Kwiatkowski, Alexander SO 
 21 Lincoln High School  'A'                            4:32.23   4 
     1) 2163 Cronan, Connor FR          2) 2162 Conklin, Geoffrey SO      
     3) 2172 Tallo, Thomas FR           4) 2161 Chau, Peter FR            
 22 Erasmus Hall Campus  'A'                            4:34.45   2 
     1) 1813 Green, Shane SO            2) 1818 Morgan, Wayne FR          
     3) 1815 Jackson, Shaquell FR       4) 1810 Clarke, Dominic FR        
 23 Fairfield Prep  'A'                                 4:37.59   4 
     1) 1835 Clark, Dan SO              2) 1859 Roth, Jackson FR          
     3) 1844 Greene, Kevin FR           4) 1831 Agostino, Tyler SO        
 24 Norwich Free Academy  'A'                           4:38.03   5 
     1) 2344 Teixiera, Sam SO           2) 2349 Wesolek, Zak FR           
     3) 2311 Black, Gage SO             4) 2307 Almeida, Antone FR        
 
Boys 1600 Sprint Medley FR/SO
===================================================================
    School                                               Finals  H#
===================================================================
  1 Bishop Hendricken High School  'A'                  3:57.25   3 
     1) 1485 Perrelli, Tom SO           2) 2704 Falcone, Louis            
     3) 1474 Levy, Brian SO             4) 1453 Andraka, Andrew SO        
  2 Transit Tech  'A'                                   3:57.36   1 
     1) 2600 Smith, Dondre SO           2) 2595 Rahiem, Picket SO         
     3) 2579 Bailey, Kajeem SO          4) 2577 Andre, Hewitt FR          
  3 Half Hollow Hills West HS  'A'                      3:58.44   2 
     1) 1901 McCord, Dan SO             2) 1887 Connor, Justin SO         
     3) 1904 Myrtil, Abolias SO         4) 1907 Sammis, Kyle SO           
  4 Christ the King Regional HS  'A'                    4:02.07   3 
     1) 1593 Ferro, Ricardo SO          2) 1597 Nation, Ricardo SO        
     3) 1599 Pritchett, Darius FR       4) 1596 Lowry, David SO           
  5 Iona Prep School  'A'                               4:03.62   1 
     1) 1939 Bocherel, Adrien SO        2) 1946 Ferguson, Ryan SO         
     3) 1971 Vallario, Michael SO       4) 1959 Miller, Justin SO         
  6 La Salle Academy  'A'                               4:05.51   2 
     1) 2060 Valerio, Omar SO           2) 2031 Baptista, Kimani FR       
     3) 2053 Rodin, Joshua FR           4) 2037 Cooney, Michael SO        
  7 Colonie  'B'                                       x4:09.89   2 
     1) 1656 Kalica, Chris SO           2) 1655 June, Jami SO             
     3) 1640 Chamberlin, Kyle SO        4) 1653 Geurds, Tyler SO          
  8 Clara Barton High School  'A'                       4:12.99   3 
     1) 1606 Enabulele, Odefe SO        2) 1604 Charles, Ruehl SO         
     3) 1611 Wilson, Akeem SO           4) 1605 Elien, Theod SO           
  9 Bishop Ford High School  'A'                        4:15.05   3 
     1) 1440 Dundras, Mario FR          2) 1438 Charles-Green, Keith SO   
     3) 1447 Messan, Chad FR            4) 1448 Pinero, Johnathan SO      
 10 Erasmus Hall Campus  'A'                            4:17.18   2 
     1) 1810 Clarke, Dominic FR         2)                                
     3) 1818 Morgan, Wayne FR           4) 1813 Green, Shane SO           
 11 Massapequa High School  'A'                         4:17.19   4 
     1) 2211 Varon, Dan SO              2) 2210 Valerie, John SO          
     3) 2203 Pollick, Nicholas SO       4) 2206 Rose, Patrick FR          
 12 Bay Shore  'A'                                      4:17.38   3 
     1) 1383 Allison, Karl SO           2) 1390 Crane, Conner SO          
     3) 1392 Goldberg, Dan SO           4) 1406 Swain, Nick FR            
 13 Sheepshead Bay  'A'                                 4:18.86   2 
     1) 2466 Boston, Rolyce SO          2) 2480 Jean Claude, Kensy SO     
     3) 2460 Ahadzi, Richmond SO        4) 2490 Rivera, Andre SO          
 14 St. Joseph by-the-Sea  'A'                          4:19.69   1 
     1) 2560 LeFosse, Michael SO        2) 2555 Favale, Alec SO           
     3) 2563 Murphy, Christopher SO     4) 2544 Aceto, Vincent SO         
 15 La Salle Institute  'A'                             4:20.23   5 
     1) 2091 Martinelli, Stephen FR     2) 2082 Kelley, Jimmy FR          
     3) 2078 Glichrest, Peter SO        4) 2067 Coughlin, Eamonn SO       
 16 Port Jefferson  'A'                                 4:20.56   4 
     1) 2378 Neiman, Ben FR             2) 2377 Keresztes, Andrew FR      
     3) 2382 Swords, Sean SO            4) 2371 Flanagan, Ryan SO         
 17 Norwich Free Academy  'A'                           4:21.23   4 
     1) 2330 Morse, Evan FR             2) 2351 Wiencek, Tyler JR         
     3) 2332 Paro, Mitch SO             4) 2314 Cardin, Dan FR            
 18 Cumberland H.S.  'A'                                4:33.01   4 
     1) 1690 Kuchar, Bryan SO           2) 1697 Rei, Ryan FR              
     3) 1689 Keil, Joseph FR            4) 1695 Melargno, Nicholas SO     
 19 Lincoln High School  'A'                            4:35.50   4 
     1) 2163 Cronan, Connor FR          2) 2162 Conklin, Geoffrey SO      
     3) 2172 Tallo, Thomas FR           4) 2171 Sexton, Kyle SO           
 20 Saratoga Springs  'A'                               4:42.49   5 
     1) 2408 Moore, Jonathan FR         2) 2406 Millar, Calvin GR         
     3) 2400 Heironymi, Matt FR         4) 2423 Slein, Matt FR            
 -- Fairfield Prep  'A'                                     DNF   2 
     1) 1843 Gaines, Miles FR           2) 1856 Patrick, Benjamin FR      
     3) 1838 Creta, Alec FR             4) 1836 Corona, Patrick FR        
 -- Colonie  'A'                                             DQ   1 
     1) 1661 Mullen, Jake SO            2) 1645 Dawkins, Tommy SO         
     3) 1665 Roberts-Smith, Nazim SO    4) 1638 Brown, Ed SO              
 
Boys Distance Medley FR/SO
================================================================
    School                                               Finals 
================================================================
  1 Bishop Hendricken High School  'A'                 11:30.85  
     1) 1484 Pederzani, Tom SO          2) 1492 Shalkowski, Cameron SO    
     3) 1453 Andraka, Andrew SO         4) 1479 Meehan, Ryan SO           
  2 Fairfield Prep  'A'                                11:34.85  
     1) 1832 Bennett, Brian SO          2) 1839 Davis, Greg SO            
     3) 1831 Agostino, Tyler SO         4) 1858 Rog, Connor FR            
  3 Massapequa High School  'A'                        11:35.39  
     1) 2180 Callahan, Timmy SO         2) 2181 Caraciolo, Joe FR         
     3) 2185 Deluna, Nick SO            4) 2178 Buttigieg, Bryan SO       
  4 Half Hollow Hills West HS  'A'                     11:43.12  
     1) 1883 Battistelli, John SO       2) 1894 Guido, John FR            
     3) 1885 Brugna, Taylor SO          4) 1890 Fitzgerald, Kyle SO       
  5 Norwich Free Academy  'A'                          11:45.70  
     1) 2322 Hunter, Vos SO             2) 2329 Moran, Chase SO           
     3) 2337 Schaeffer, Emmett SO       4) 2325 Leighton, Ed SO           
  6 Iona Prep School  'A'                              11:48.64  
     1) 1953 Hefferon, Tim FR           2) 1944 Eichberg, Maxx SO         
     3) 1969 Tierney, Patrick FR        4) 1955 Korzelius, Rich SO        
  7 Amity Regional High School  'A'                    11:50.72  
     1) 1285 Beland, Matthew SO         2) 1336 Sanchez, Jesse SO         
     3) 1344 Spencer, Sam SO            4) 1304 Dunleavy, Jack SO         
  8 Bishop Hendricken High School  'B'                x11:51.31  
     1) 1491 Senra, Nick SO             2) 1483 Pasquarelli, Joe SO       
     3) 1466 Gibbons, Sam FR            4) 1496 Vuono, Mark FR            
  9 St. Joseph by-the-Sea  'A'                         11:58.49  
     1) 2547 Brancale, Paul SO          2) 2566 Setteducato, George SO    
     3) 2556 Franco, Tyler FR           4) 2554 Falcone, Christian FR     
 10 La Salle Academy  'A'                              12:08.47  
     1) 2050 Phayre, Sean SO            2) 2041 Girgenti, Joseph FR       
     3) 2056 Simpson, Dylan SO          4) 2048 Mercurio, Matthew SO      
 11 Chariho  'A'                                       12:09.90  
     1) 1582 LaPlume, Ian SO            2) 1581 Kilcoyne, Dan FR          
     3) 1570 Almeida, Joe SO            4) 1584 Montague, Garrett SO      
 12 Burnt Hills-Ballston Lake HS  'A'                  12:13.58  
     1) 1533 Chapman, Joe FR            2) 1551 McGuinness, Thomas SO     
     3) 1547 King, Dan SO               4) 1542 Fernandez, Dan FR         
 13 South Kingstown High School  'A'                   12:16.11  
     1) 2503 Carroll, Joe SO            2) 2510 Lysik, Matt SO            
     3) 2522 Thomas, Ryan SO            4) 2520 Sullivan, Ben FR          
 14 Colonie  'A'                                       12:19.04  
     1) 1666 Sherry, Mike SO            2) 1663 Nolte, Ryan SO            
     3) 1654 John, Greg SO              4) 1652 Geurds, Joe SO            
 15 Port Jefferson  'A'                                12:43.21  
     1) 2371 Flanagan, Ryan SO          2) 2365 Conte, Cole FR            
     3) 2377 Keresztes, Andrew FR       4) 2376 Johnson, Carll SO         
 16 Bay Shore  'A'                                     12:54.75  
     1) 1412 Wind, Kyle SO              2) 1404 Roberts, Kadesh FR        
     3) 1406 Swain, Nick FR             4) 1385 Bonardi, Jack SO          
 17 Lincoln High School  'A'                           13:50.44  
     1) 2160 Capaldi, John FR           2) 2170 Pion, Nick FR             
     3) 2169 Olean, Mathew FR           4) 2165 Drake, Brendan SO         
 -- Saratoga Springs  'A'                                    DQ  
     1) 2402 King, Benjamin FR          2) 2406 Millar, Calvin GR         
     3) 2400 Heironymi, Matt FR         4) 2427 Williams, Jonah FR        
 -- Cumberland H.S.  'A'                                     DQ  
     1) 1701 Sutcliffe, Matthew FR      2) 1692 Legare, Sean SO           
     3) 1687 Healey, Steven SO          4) 1702 Szczerepa, David FR       
 -- Fairfield Prep  'B'                                      DQ  
     1) 1860 Salandra, Rob FR           2) 1836 Corona, Patrick FR        
     3) 1869 Whelan, Michael FR         4) 1862 Schloth, Billy FR         
 
Boys Distance Medley Championship
================================================================
    School                                               Finals 
================================================================
  1 Westerly  'A'                                      10:27.91  
     1) 2684 springer, andrew SR        2) 2681 Phelps, Alex JR           
     3) 2672 Digangi, John SO           4) 2680 Oloughlin, Tim SR         
  2 Amity Regional High School  'A'                    10:41.20  
     1) 1287 Bhatt, Michael SR          2) 1343 Snyder-Spak, Andrew SR    
     3) 1294 Cocco, John JR             4) 1321 Laemel, Ryan JR           
  3 Saratoga Springs  'A'                              10:41.51  
     1) 2398 Goutos, Demetri SR         2) 2410 Mount, Timothy JR         
     3) 2417 Place, Samuel SO           4) 2426 Wegner, Kyle SO           
  4 Bishop Ford High School  'A'                       10:44.59  
     1) 1443 Gilhuley, Paul SR          2) 1435 Almeida, Mark JR          
     3) 1441 Fernandez, Frankelly SR    4) 1442 Gilhuley, Joseph SR       
  5 Iona Prep School  'A'                              10:46.90  
     1) 1950 Halpin, Sean SR            2) 1967 Shepard, Kyle SR          
     3) 1973 Woodson, Tyrae JR          4) 1947 Fuster, Sean SR           
  6 Kellenberg Memorial HS  'A'                        10:47.24  
     1) 2006 Cook, Michael JR           2) 2009 Cosgrove, John SR         
     3) 2029 Senatus, Quesnel JR        4) 2026 Posch, William SR         
  7 Colonie  'A'                                       10:48.60  
     1) 1672 Treadway, Brian SR         2) 1662 Nolan, Ryan SR            
     3) 1650 Emory, Joe SR              4) 1670 Stewart, Tyler SR         
  8 St. Joseph by-the-Sea  'A'                         10:56.33  
     1) 2546 Baio, Michael JR           2) 2564 Oshaughnessy, Sean SR     
     3) 2558 Italiano, Nick JR          4) 2571 Zaccariello, Daniel JR  
BOYS - DAY 2
Event 1  Boys 55 Meter Dash
===================================================================
    Name                    Year School                 Prelims  H#
===================================================================
Preliminaries
  1  2479 Isijola, Ayo        SR Sheepshead B              6.60q  1 
  2  1933 Wento, Matt         SR Hope High Sc              6.65q  2 
  3  1317 Kernan, Brian       JR Amity Region              6.73q  2 
  4  1511 Gentle, Jonathan    SR Bloomfield H              6.74q  3 
  5  2297 Cawley, Will        SR North Kingst              6.74q  2 
  6  2237 McCormack, Winston  JR Mount St. Mi              6.76q  3 
  7  2216 Biah, Ralph         SR Mount Pleasa              6.79q  1 
  8  2461 alexander, naquan   JR Sheepshead B              6.81q  3 
  9  1569 Nyonton, Wilson     JR Central High              6.81   1 
 10  1641 Colello, Nick       JR Colonie                   6.83   1 
 11  2220 Rodriguez, Xavier   SR Mount Pleasa              6.84   1 
 12  1734 Saunders, Harrison  SR East Greenwi              6.97   1 
 13  2634 Townsend, Clayon    SR uniondale                 6.98   2 
 14  2621 John, Travis        SR uniondale                 7.01   3 
 15  2158 Stip, Valentin      FR LFNY                      7.08   3 
 16  1649 Drabik, John        JR Colonie                   7.31   3 
 17  2238 Myrie, Garrick      SR Mount St. Mi              7.31   1 
 
Event 1  Boys 55 Meter Dash
================================================================
    Name                    Year School                  Finals 
================================================================
Finals
  1  2479 Isijola, Ayo        SR Sheepshead B              6.53  
  2  1933 Wento, Matt         SR Hope High Sc              6.65  
  3  1317 Kernan, Brian       JR Amity Region              6.69  
  4  1511 Gentle, Jonathan    SR Bloomfield H              6.75  
  5  2297 Cawley, Will        SR North Kingst              6.76  
  6  2216 Biah, Ralph         SR Mount Pleasa              6.82  
  7  2461 alexander, naquan   JR Sheepshead B              6.83  
  8  2237 McCormack, Winston  JR Mount St. Mi              6.88  
 
Event 2  Boys 55 Meter Hurdles
===================================================================
    Name                    Year School                 Prelims  H#
===================================================================
Preliminaries
  1  2467 Bradshaw, Darryl    SR Sheepshead B              7.71Q  1 
  2  2624 Mercer, Nathaniel   SR uniondale                 7.88Q  3 
  3  2584 Dexter, Bollers     SR Transit Tech              8.24Q  4 
  4  2477 Harris, Lavaughn    SR Sheepshead B              8.25Q  2 
  5  1708 Beaulieu-Jones, Br  SR East Catholi              8.28Q  5 
  6  1357 Zhang, Tommy        SR Amity Region              8.22Q  3 
  7  2605 Allison, Dwight     JR uniondale                 8.26Q  4 
  8  1358 Barrett, Sancho     SO Amityville                8.32Q  5 
  9  2526 Driscoll, Patrick   JR St. Johns Pr              8.32Q  1 
 10  1561 Taylor, Ben         SR Burnt Hills-              9.01Q  2 
 11  2588 Gerald, Michael     SR Transit Tech              8.30q  3 
 12  1523 Myles, Naheem       SR Bloomfield H              8.34q  3 
 13  1366 Braz, Michael       SR Barrington H              8.46q  5 
 14  1362 Johnson, Brian      SR Amityville                8.49q  4 
 15  2044 Isaacson, Max       JR La Salle Aca              8.65   3 
 16  2038 Doyle, Jack         SR La Salle Aca              8.67   1 
 17  2498 Belov, Dennis       SR South Kingst              8.67   4 
 18  2305 Sphar, Mike         JR North Kingst              8.70   5 
 19  1657 Kehrer, Greg        SR Colonie                   8.71   5 
 20  2298 Cheston, Kenny      JR North Kingst              8.92   4 
 21  1659 Maleval, Pierre     SR Colonie                   9.60   4 
 22  2548 Campione, Michael   JR St. Joseph b             10.01   1 
 23  2562 Mirfield, Bobby     SO St. Joseph b             10.01   2 
 --  1265 Noble, mikell       JR AI Prince Te                FS   2 
 
Event 2  Boys 55 Meter Hurdles
===================================================================
    Name                    Year School                   Semis  H#
===================================================================
Semi-Finals
  1  2467 Bradshaw, Darryl    SR Sheepshead B              7.56Q  1 
  2  2624 Mercer, Nathaniel   SR uniondale                 7.70Q  2 
  3  2584 Dexter, Bollers     SR Transit Tech              7.88Q  2 
  4  2477 Harris, Lavaughn    SR Sheepshead B              8.12Q  1 
  5  2588 Gerald, Michael     SR Transit Tech              8.06q  2 
  6  1357 Zhang, Tommy        SR Amity Region              8.21q  2 
  7  1708 Beaulieu-Jones, Br  SR East Catholi              8.26q  1 
  8  1358 Barrett, Sancho     SO Amityville                8.34   1 
  9  1523 Myles, Naheem       SR Bloomfield H              8.35   1 
 10  2526 Driscoll, Patrick   JR St. Johns Pr              8.44   1 
 11  1362 Johnson, Brian      SR Amityville                8.48   2 
 12  1561 Taylor, Ben         SR Burnt Hills-              9.01   2 
 13  2605 Allison, Dwight     JR uniondale                 9.32   2 
 --  1366 Braz, Michael       SR Barrington H                DQ   1 
 
Event 2  Boys 55 Meter Hurdles
================================================================
    Name                    Year School                  Finals 
================================================================
Finals
  1  2467 Bradshaw, Darryl    SR Sheepshead B              7.48  
  2  2624 Mercer, Nathaniel   SR uniondale                 7.56  
  3  2477 Harris, Lavaughn    SR Sheepshead B              8.00  
  4  2584 Dexter, Bollers     SR Transit Tech              8.05  
  5  1357 Zhang, Tommy        SR Amity Region              8.25  
  6  1708 Beaulieu-Jones, Br  SR East Catholi              8.27  
  7  2588 Gerald, Michael     SR Transit Tech              8.52  
 
Event 3  Boys 1600 Sprint Medley Varsity
===================================================================
    School                                               Finals  H#
===================================================================
  1 Amity Regional High School  'A'                     3:44.43   1 
     1) 1340 Schwartz, Doron SR         2) 1357 Zhang, Tommy SR           
     3) 1330 Prince, Andrew JR          4) 1294 Cocco, John JR            
  2 Erasmus Hall Campus  'A'                            3:44.88   1 
     1) 1822 Quashie, Kino SR           2) 1820 Prince, Joshua JR         
     3) 1821 Prince, Nickim JR          4) 1830 Welch, Christopher SR     
  3 Port Jefferson  'A'                                 3:46.16   2 
     1) 2373 Henry, Kevin SR            2) 2366 Damaskos, John Luis JR    
     3) 2380 Sampogna, James JR         4) 2381 Sullivan, Kevin JR        
  4 Westerly  'A'                                       3:49.81   3 
     1) 2681 Phelps, Alex JR            2) 2682 Sanchez, CJ SR            
     3) 2685 Swift, Mike JR             4) 2674 Houssini, Wassim JR       
  5 Massapequa High School  'A'                         3:51.45   2 
     1) 2214 Wong, Eric SR              2) 2177 Brower, Robert SR         
     3) 2193 King, Billy SR             4) 2208 Svegliato, Justin JR      
  6 West Warwick High School  'A'                       3:54.01   3 
     1) 2660 Olivieri, Kenneth SR       2) 2666 St. Pierre, Kyle FR       
     3) 2667 Uthman, Eddy FR            4) 2656 Gjojdeshi, Xhoi JR        
  7 East Catholic High School  'A'                      3:55.11   4 
     1) 1707 Arfanis, Brian SR          2) 1722 Morrison, Tre SO          
     3) 1720 Kosis, Kevin JR            4) 1708 Beaulieu-Jones, Brendin SR
  8 Mount St. Michael Academy  'A'                      3:56.83   5 
  9 Kellenberg Memorial HS  'A'                         3:58.08   2 
     1) 2005 Coffey, Gregory JR         2) 2019 Moncada, Joseph SR        
     3) 2027 Rispoli, Steven JR         4) 2003 Cino, Vincent SR          
 10 Bay Shore  'A'                                      3:59.70   3 
     1) 1384 Blanchard, Brandon SR      2) 1403 Perez, Richard JR         
     3) 1393 Gordon, Kyle JR            4) 1409 Thompson, Tyler JR        
 11 Transit Tech  'A'                                   4:00.68   1 
     1) 2604 Wood, Julian JR            2) 2594 Miller, Judain JR         
     3) 2596 Rollock, Elijah SR         4) 2601 Sykes, Malik SR           
 12 Burnt Hills-Ballston Lake HS  'A'                   4:02.89   4 
     1) 1565 Wilk, Chance SR            2) 1561 Taylor, Ben SR            
     3) 1562 Taylor, David JR           4) 1563 Trolio, Ben SR            
 13 Mt. Hope High School  'A'                           4:02.98   4 
     1) 2264 Allen, Jeff SR             2) 2269 Godek, Jason SR           
     3) 2271 Kmieciak, Jon SR           4) 2274 Silva, Jonathan JR        
 14 Saunders Trades HS  'A'                             4:08.83   5 
     1) 2429 Abramson, Matt SO          2) 2450 Ruiz, Daniel SO           
     3) 2433 Aryeequaye, Rob SO         4) 2430 Adams, Jacob SO           
 15 Saratoga Springs  'A'                               4:09.29   5 
     1) 2413 O'Sullivan, Daniel SR      2) 2384 Accettella, Connor JR     
     3) 2395 Foster, Nate JR            4) 2412 Myers, Ethan SR           
 16 St. Joseph by-the-Sea  'A'                          4:10.67   3 
     1) 2561 Lewis, Patrick JR          2) 2559 Kocurek, Cristian SR      
     3) 2550 Cerciello, Anthony SR      4) 2565 Roberts, Christopher SR   
 17 Chariho  'A'                                        4:11.63   5 
     1) 1576 Gardell, Benjamin SR       2) 1573 deLeon, CharlieShen JR    
     3) 1580 Jacques, Ben SR            4) 1577 Holt, Peter JR            
 18 uniondale  'A'                                      4:12.76   2 
     1) 2616 Dessources, Ernst JR       2) 2620 Fyffe, Derrick SR         
     3) 2636 Watson, Jameel SR          4) 2630 Pierre-Pierre, Randall SR 
 19 South Kingstown High School  'A'                    4:26.48   4 
     1) 2500 Callaghan, Matt SR         2) 2511 Maxwell, Corey SR         
     3) 2517 Sevey, Ben JR              4) 2504 Cicchese, Nick JR         
 20 Ledyard High School  'A'                            4:38.33   5 
     1) 2142 Rabideau, Connor SO        2) 2149 Smith, Tylor SO           
     3) 2143 Rabideau, Dylan SO         4) 2118 Curtin, Sean SO           
 -- Colonie  'A'                                            DNF   1 
     1) 1644 Darling, Barrett SR        2) 1660 McCann, Ishmel SR         
     3) 1646 DiCarmine, Jeremy SR       4) 1672 Treadway, Brian SR        
 -- Nazareth Regional High School  'A'                       DQ   2 
     1) 2278 Atkinson, Sean SR          2) 2283 Codrington, Tyriek SR     
     3) 2287 Samerson, Marcus SR        4) 2279 Baptiste, Abayomi JR      
 
Event 5  Boys 500 Meter Run
===================================================================
    Name                    Year School                  Finals  H#
===================================================================
  1  2278 Atkinson, Sean      SR Nazareth Reg           1:05.49   1 
  2  1670 Stewart, Tyler      SR Colonie                1:05.59   1 
  3  1254 Cowan, Rudy         SR AI Prince Te           1:08.20   2 
  4  2604 Wood, Julian        JR Transit Tech           1:08.39   2 
  5  1603 Cain, Eros          JR Clara Barton           1:08.53   1 
  6  2597 Rollock, Fard       JR Transit Tech           1:08.85   1 
  7  2261 Williams, Casey     SR Mount Vernon           1:09.31   2 
  8  1669 Stephenson, Jake    JR Colonie                1:09.59   1 
  9  2247 Williams, Tyreek    SR Mount St. Mi           1:09.70   1 
 10  1371 Gamache, Matt       SR Barrington H           1:10.24   2 
 11  2564 Oshaughnessy, Sean  SR St. Joseph b           1:10.83   2 
 
Event 6  Boys 800 Meter Run
================================================================
    Name                    Year School                  Finals 
================================================================
  1  2558 Italiano, Nick      JR St. Joseph b           2:01.76  
  2  2596 Rollock, Elijah     SR Transit Tech           2:01.91  
  3  1830 Welch, Christopher  SR Erasmus Hall           2:02.54  
  4  2571 Zaccariello, Danie  JR St. Joseph b           2:03.48  
  5  2532 Hanlon, Sean        SR St. Johns Pr           2:03.59  
  6  2279 Baptiste, Abayomi   JR Nazareth Reg           2:03.61  
  7  2359 Wallek, Adam        SR Oliver Ames            2:04.01  
  8  1608 Heath, Matthew      JR Clara Barton           2:04.83  
  9  2512 McCloskey, Conor    SR South Kingst           2:05.26  
 10  2601 Sykes, Malik        SR Transit Tech           2:05.87  
 11  1672 Treadway, Brian     SR Colonie                2:07.54  
 12  1664 Pestuglicci, Justi  JR Colonie                2:08.21  
 
Event 8  Boys 1 Mile Run
================================================================
    Name                    Year School                  Finals 
================================================================
  1  2295 Serafini, Louis     SR Niskayuna HS           4:26.26  
  2  2587 George, Kameron     SR Transit Tech           4:26.50  
  3  2537 Masse, Mike         SR St. Johns Pr           4:27.06  
  4  1550 Maughan, Scott      JR Burnt Hills-           4:30.64  
  5  2398 Goutos, Demetri     SR Saratoga Spr           4:32.79  
  6  1411 Vietri, Rob         SR Bay Shore              4:34.41  
  7  2047 Mercurio, Connor    SR La Salle Aca           4:35.42  
  8  1463 Doyle, Brian        JR Bishop Hendr           4:35.51  
  9  2209 Valenski, Andrew    SO Massapequa H           4:41.19  
 
Event 9  Boys 3000 Meter Run
================================================================
    Name                    Year School                  Finals 
================================================================
  1  2684 Springer, Andrew    SR Westerly               8:27.21  
  2  2455 Gregorek, Johnny    JR Seekonk HS             8:46.61  
  3  2680 Oloughlin, Tim      SR Westerly               8:51.06  
  4  1564 Ubriaco, Otis       SO Burnt Hills-           8:51.59  
  5  1349 Trofa, Adam         SR Amity Region           8:57.41  
  6  1373 Griffin, Sid        SR Barrington H           9:00.71  
  7  2045 Leazes, Dylan       SR La Salle Aca           9:02.97  
  8  2459 Champagne, Michael  JR Seton Cathol           9:13.09  
  9  1578 Hurley, David       SR Chariho                9:20.54  
 10  1814 Holder, Jamaal      SR Erasmus Hall           9:38.70  
 11  1837 Cramond, Tony       SR Fairfield Pr           9:50.64  
 
Event 11  Boys 4x400 Meter Relay Varsity
===================================================================
    School                                               Finals  H#
===================================================================
  1 Transit Tech  'A'                                   3:30.05   1 
     1) 2597 Rollock, Fard JR           2) 2584 Dexter, Bollers SR        
     3) 2594 Miller, Judain JR          4) 2604 Wood, Julian JR           
  2 AI Prince Tech  'A'                                 3:31.11   3 
     1) 1254 Cowan, Rudy SR             2) 1258 Harrison, Vincent SR      
     3) 1274 Walton, Josh SR            4) 1268 Rodriguez, Chris SR       
  3 Sheepshead Bay  'A'                                 3:31.13   1 
     1) 2462 Allen, Akeam JR            2) 2477 Harris, Lavaughn SR       
     3) 2481 Jones, Dwight SR           4) 2495 Thomas, John JR           
  4 Amityville  'A'                                     3:31.91   1 
     1) 1358 Barrett, Sancho SO         2) 1359 Bernard, Hugh SR          
     3) 1360 Gaddy, Lyle SR             4) 1361 Gaines, Rashim SR         
  5 Nazareth Regional High School  'A'                  3:33.13   2 
     1) 2278 Atkinson, Sean SR          2) 2283 Codrington, Tyriek SR     
     3) 2287 Samerson, Marcus SR        4) 2279 Baptiste, Abayomi JR      
  6 Half Hollow Hills West HS  'A'                      3:33.85   2 
     1) 1882 Aultmann, Demarr JR        2) 1897 Key, Ricky SR             
     3) 1886 Cole, Jerome JR            4) 1913 Yu, Jonathan SR           
  7 Kellenberg Memorial HS  'A'                         3:34.81   2 
     1) 1996 Ammirati, Kevin SR         2) 2029 Senatus, Quesnel JR       
     3) 2006 Cook, Michael JR           4) 2009 Cosgrove, John SR         
  8 Erasmus Hall Campus  'A'                            3:35.41   2 
     1) 1822 Quashie, Kino SR           2) 1830 Welch, Christopher SR     
     3) 1821 Prince, Nickim JR          4) 1820 Prince, Joshua JR         
  9 Bishop Hendricken High School  'A'                  3:35.83   4 
     1) 1487 Riordan, Ross JR           2) 1486 Racca, Matt SR            
     3) 1467 Guadagno, Mike JR          4) 1454 Bean, Andy SR             
 10 uniondale  'A'                                      3:36.92   2 
     1) 2615 Daley, Jordan SR           2) 2621 John, Travis SR           
     3) 2634 Townsend, Clayon SR        4) 2616 Dessources, Ernst JR      
 11 Mount St. Michael Academy  'A'                      3:37.68   1 
     1) 2233 Grant, Brandon SR          2) 2247 Williams, Tyreek SR       
     3) 2235 Harrison, Anthony JR       4) 2243 Rollieson, Jordan JR      
 12 Amity Regional High School  'A'                     3:37.88   3 
     1) 1340 Schwartz, Doron SR         2) 1294 Cocco, John JR            
     3) 1317 Kernan, Brian JR           4) 1343 Snyder-Spak, Andrew SR    
 13 St. Joseph by-the-Sea  'A'                          3:38.61   1 
     1) 2571 Zaccariello, Daniel JR     2) 2564 Oshaughnessy, Sean SR     
     3) 2558 Italiano, Nick JR          4) 2568 Stabile, Michael JR       
 14 Bishop Ford High School  'A'                        3:39.35   4 
     1) 1441 Fernandez, Frankelly SR    2) 1442 Gilhuley, Joseph SR       
     3) 1451 Suarez, Justin SR          4) 1443 Gilhuley, Paul SR         
 15 North Kingstown  'A'                                3:39.84   4 
     1) 2296 Buresh, Andrew SR          2) 2297 Cawley, Will SR           
     3) 2298 Cheston, Kenny JR          4) 2301 Crawford, Troy SO         
 16 Saratoga Springs  'A'                               3:40.95   3 
     1) 2410 Mount, Timothy JR          2) 2422 Seahorn, Mike SR          
     3) 2411 Mulholland, Colin SR       4) 2420 Rafaniello, Stephan JR    
 17 Colonie  'A'                                        3:42.56   2 
     1) 1646 DiCarmine, Jeremy SR       2) 1648 DiNovo, Mike SR           
     3) 1659 Maleval, Pierre SR         4) 1644 Darling, Barrett SR       
 18 Burnt Hills-Ballston Lake HS  'A'                   3:42.73   4 
     1) 1541 Fernandez, Chris SR        2) 1534 Chernesky, Jacob SR       
     3) 1545 Harlow, Kent SR            4) 1565 Wilk, Chance SR           
 19 Hope High School  'A'                               3:42.93   4 
     1) 1917 Caldwell, Willie JR        2) 1914 Akindolie, Isaiah JR      
     3) 1933 Wento, Matt SR             4) 1932 Togbah, Aloysius SR       
 20 Massapequa High School  'A'                         3:43.25   3 
     1) 2177 Brower, Robert SR          2) 2193 King, Billy SR            
     3) 2214 Wong, Eric SR              4) 2179 Callahan, Robert JR       
 21 East Catholic High School  'A'                      3:44.36   6 
     1) 1707 Arfanis, Brian SR          2) 1715 Fritsch, Sean JR          
     3) 1711 Boccia, Joe JR             4) 1720 Kosis, Kevin JR           
 22 Mount Vernon HS  'A'                                3:46.17   3 
     1) 2249 Allen, Justin SR           2) 2261 Williams, Casey SR        
     3) 2263 Winslow, Christopher SO    4) 2257 Moore, Davon JR           
 23 Westerly  'A'                                       3:47.53   5 
     1) 2682 Sanchez, CJ SR             2) 2681 Phelps, Alex JR           
     3) 2672 Digangi, John SO           4) 2674 Houssini, Wassim JR       
 24 La Salle Academy  'A'                               3:51.48   5 
     1) 2061 Zelano, Nicholas SR        2) 2055 Simoes, Daniel SR         
     3) 2032 Bartone, Lucas JR          4) 2044 Isaacson, Max JR          
 25 Saunders Trades HS  'A'                             3:51.52   5 
     1) 2447 Ohia-Enyia, Nnabu JR       2) 2439 Gibbs, Joe SR             
     3) 2433 Aryeequaye, Rob SO         4) 2437 Coverdale, Michael SR     
 26 Bishop Ford High School  'B'                       x3:55.76   6 
     1) 1444 Jackson, Nathanial JR      2) 1435 Almeida, Mark JR          
     3) 1445 Jean-Simon, Radely JR      4) 1452 Thomson, Tommy SR         
 27 Bourne  'A'                                         3:57.63   6 
 28 Bay Shore  'A'                                      3:58.79   5 
     1) 1382 Agosto, Jake SR            2) 1384 Blanchard, Brandon SR     
     3) 1387 Chrisman, Connor JR        4) 1398 Millington, Isaiah SR     
 29 South Kingstown High School  'A'                    4:00.68   5 
     1) 2498 Belov, Dennis SR           2) 2500 Callaghan, Matt SR        
     3) 2516 Schuck, Adam JR            4) 2521 Sweet, Brandon JR         
 30 St. Joseph by-the-Sea  'B'                         x4:08.29   6 
     1) 2565 Roberts, Christopher SR    2) 2559 Kocurek, Cristian SR      
     3) 2557 Galli, Anthony SR          4) 2548 Campione, Michael JR      
 31 Saunders Trades HS  'B'                            x4:33.36   6 
     1) 2445 Marte, Jaime SO            2) 2443 Lazo, Luis FR             
     3) 2442 Klein, Robert FR           4) 2434 Barrera, Henry FR         
 
Event 18  Boys 4x200 Meter Relay Varsity
===================================================================
    School                                               Finals  H#
===================================================================
  1 Amityville  'A'                                     1:33.36   1 
     1) 1359 Bernard, Hugh SR           2) 1360 Gaddy, Lyle SR            
     3) 1363 Johnson, Emmanuel SR       4) 1361 Gaines, Rashim SR         
  2 AI Prince Tech  'A'                                 1:34.85   2 
     1) 1254 Cowan, Rudy SR             2) 1258 Harrison, Vincent SR      
     3) 1265 Noble, mikell JR           4) 1274 Walton, Josh SR           
  3 Bishop Hendricken High School  'A'                  1:36.98   5 
     1) 1454 Bean, Andy SR              2) 1477 Marzilli, Evan SR         
     3) 1467 Guadagno, Mike JR          4) 1486 Racca, Matt SR            
  4 Hope High School  'A'                               1:36.99   1 
     1) 1914 Akindolie, Isaiah JR       2) 1930 Nyanti, Godwin SO         
     3) 1933 Wento, Matt SR             4) 1928 McCants, Tyrece SR        
  5 Burnt Hills-Ballston Lake HS  'A'                   1:37.26   3 
     1) 1534 Chernesky, Jacob SR        2) 1561 Taylor, Ben SR            
     3) 1562 Taylor, David JR           4) 1541 Fernandez, Chris SR       
  6 Half Hollow Hills West HS  'A'                      1:37.39   1 
     1) 1882 Aultmann, Demarr JR        2) 1884 Blumenthal, Mike JR       
     3) 1897 Key, Ricky SR              4) 1913 Yu, Jonathan SR           
  7 Barrington High School  'A'                         1:38.08   5 
     1) 1378 Pezzillo, Jesse SR         2) 1366 Braz, Michael SR          
     3) 1377 Mitchell, Ben SO           4) 1372 Gower, Ryan JR            
  8 Saratoga Springs  'A'                               1:38.33   2 
     1) 2410 Mount, Timothy JR          2) 2422 Seahorn, Mike SR          
     3) 2411 Mulholland, Colin SR       4) 2420 Rafaniello, Stephan JR    
  9 Transit Tech  'A'                                   1:38.75   1 
     1) 2591 King, Jabari SR            2) 2594 Miller, Judain JR         
     3) 2584 Dexter, Bollers SR         4) 2588 Gerald, Michael SR        
 10 uniondale  'B'                                     x1:38.80   1 
     1) 2607 Anderson, Martin SR        2) 2614 Clovis, Mateo JR          
     3) 2623 Mascoe, Sean SR            4) 2617 Dexter, Antoine JR        
 11 Cumberland H.S.  'B'                               x1:39.14   2 
     1) 1677 Aikens, Brandon JR         2) 1684 Ferreri, Brian JR         
     3) 1698 Robison, Josh SR           4) 1686 Gaudette, Justin JR       
 12 St. Joseph by-the-Sea  'A'                          1:40.84   1 
     1) 2565 Roberts, Christopher SR    2) 2546 Baio, Michael JR          
     3) 2570 Vogt, Liam FR              4) 2552 Civitano, Alex SO         
 13 Westwood High School  'A'                           1:42.45   4 
     1) 2693 Cuozzo, John SR            2) 2694 Hill, Jamal SR            
     3) 2691 Clerge, Stephen SR         4) 2696 Liang, Yuanwen JR         
 14 Bay Shore  'A'                                      1:42.50   5 
     1) 1408 Szekalski, Matt SR         2) 1403 Perez, Richard JR         
     3) 1399 Moore, Michael JR          4) 1393 Gordon, Kyle JR           
 15 Chariho  'A'                                        1:43.05   4 
     1) 1579 Innocent, Jacob SO         2) 1583 Louzon, Christopher SR    
     3) 1586 Poston, Bryan JR           4) 1589 Spears, Makius SR         
 16 Nazareth Regional High School  'A'                  1:43.87   4 
     1) 2283 Codrington, Tyriek SR      2) 2288 Scatliffe, Tyler SR       
     3) 2284 Coq, Steven SR             4) 2281 Cadet, Lansky SR          
 17 East Catholic High School  'A'                      1:44.59   5 
     1) 1725 Ssali, Cedric JR           2) 1715 Fritsch, Sean JR          
     3) 1712 Cagna, Nick JR             4) 1714 Fitzgerald, Rob JR        
 18 Fairfield Prep  'A'                                 1:45.57   3 
     1) 1849 Marrotta, Frank SO         2) 1840 Dormevil, Kiki SR         
     3) 1845 Henriquez, David SR        4) 1868 Weisheit, John SR         
 19 Port Jefferson  'A'                                 1:45.84   3 
     1) 2380 Sampogna, James JR         2) 2366 Damaskos, John Luis JR    
     3) 2369 Farrell, Ryan JR           4) 2379 Rincon, Jose SR           
 20 Ledyard High School  'A'                            1:46.37   4 
     1) 2117 Cramer, Zac JR             2) 2133 Johnson, Micah JR         
     3) 2154 Whyte, Dylan JR            4) 2150 Timmerman, Steven JR      
 21 Erasmus Hall Campus  'A'                            1:47.33   5 
     1) 1823 Ramdhan, Dillon JR         2) 1824 Reynold, Mahendra SR      
     3) 1825 Rose, Stefan SR            4) 1816 John, Juavan JR           
 22 Bloomfield HS  'B'                                 x1:47.62   5 
     1) 1529 Wells, Warren JR           2) 1516 Hightower, Kenneth JR     
     3) 1506 Crooks, Dovin SR           4) 1501 Anderson, Andre SO        
 23 Massapequa High School  'A'                         1:47.87   3 
     1) 2175 Biondo, Jeff SR            2) 2207 Spurrell, Mike SR         
     3) 2212 Vitale, Jack SR            4) 2188 Fetzer, Nick SO           
 24 Saunders Trades HS  'A'                             1:52.82   3 
     1) 2454 Torres, Nyrell SO          2) 2440 Kelly, Romel JR           
     3) 2438 Doyley, Steven SO          4) 2444 Lopes, Chris SR           
 -- Bloomfield HS  'A'                                       DQ   2 
     1) 1511 Gentle, Jonathan SR        2) 1525 Prude, Jaquan JR          
     3) 1498 Alcide, Christopher SR     4) 1523 Myles, Naheem SR          
 -- Bishop Ford High School  'A'                             DQ   4 
     1) 1435 Almeida, Mark JR           2) 1439 Corerbell, Trevon JR      
     3) 1445 Jean-Simon, Radely JR      4) 1452 Thomson, Tommy SR         
 -- La Salle Academy  'A'                                    DQ   3 
     1) 2055 Simoes, Daniel SR          2) 2061 Zelano, Nicholas SR       
     3) 2038 Doyle, Jack SR             4) 2044 Isaacson, Max JR          
 
Event 19  Boys 4x800 Meter Relay Varsity
================================================================
    School                                               Finals 
================================================================
  1 Half Hollow Hills West HS  'A'                      8:02.30  
     1) 1889 DeMatteo, Domenick SR      2) 1909 Sferrazza, Nick JR        
     3) 1896 Jamison, Harold SR         4) 1910 Squires, Jared SR         
  2 Transit Tech  'A'                                   8:05.78  
     1) 2596 Rollock, Elijah SR         2) 2597 Rollock, Fard JR          
     3) 2601 Sykes, Malik SR            4) 2587 George, Kameron SR        
  3 Bishop Ford High School  'A'                        8:12.82  
     1) 1441 Fernandez, Frankelly SR    2) 1442 Gilhuley, Joseph SR       
     3) 1443 Gilhuley, Paul SR          4) 1451 Suarez, Justin SR         
  4 Amity Regional High School  'A'                     8:15.02  
     1) 1287 Bhatt, Michael SR          2) 1321 Laemel, Ryan JR           
     3) 1323 Lauritzen, Kyle SR         4) 1343 Snyder-Spak, Andrew SR    
  5 South Kingstown High School  'A'                    8:15.28  
     1) 2513 McCloskey, Daniel SR       2) 2512 McCloskey, Conor SR       
     3) 2519 Stadnick, Shawn SR         4) 2502 Carey, Kevin SR           
  6 Mount St. Michael Academy  'A'                      8:31.99  
     1) 2222 Almonte, David SR          2) 2224 Boryga, Andrew SR         
     3) 2239 Padilla, Danny SR          4) 2245 Walker, Rajeev JR         
  7 Saratoga Springs  'A'                               8:33.07  
     1) 2389 Coolong, Adam JR           2) 2398 Goutos, Demetri SR        
     3) 2417 Place, Samuel SO           4) 2426 Wegner, Kyle SO           
  8 Burnt Hills-Ballston Lake HS  'A'                   8:36.28  
     1) 1545 Harlow, Kent SR            2) 1538 Drapeau, Brent SR         
     3) 1556 Romeo, Anthony SR          4) 1557 Ross, Casey SR            
  9 Sheepshead Bay  'A'                                 8:41.55  
     1) 2463 Avonte, Thrower SR         2) 2464 Bennet, Josh JR           
     3) 2472 Dunn, Marcus SR            4) 2487 Medford, Adam SR          
 10 Bishop Hendricken High School  'A'                  8:43.32  
     1) 1462 Desmarais, Jim SR          2) 1489 Sakovits, Alex SR         
     3) 1461 DaPonte, Alex JR           4) 1475 MacKenzie, Mike JR        
 11 East Catholic High School  'A'                      8:48.73  
     1) 1718 Khalil, John SR            2) 1716 Hannigan-Penda, Michael JR
     3) 1724 Rooke, Tyler SR            4) 1719 Kochanek, Reed JR         
 12 Bay Shore  'A'                                      8:50.15  
     1) 1394 Hogan, Ben JR              2) 1402 Navas, Sebastian SR       
     3) 1397 Mauro, Mike JR             4) 1389 Corcoran, Cody JR         
 13 Westwood High School  'A'                           8:50.42  
     1) 2692 Coyle, Tom SR              2) 2697 Maguire, Ryan SR          
     3) 2699 Odonnell, Patrick SO       4) 2698 McDonald, John JR         
 14 Massapequa High School  'A'                         8:53.84  
     1) 2205 Roach, Mike JR             2) 2187 Esposito, Mike JR         
     3) 2209 Valenski, Andrew SO        4) 2208 Svegliato, Justin JR      
 15 North Kingstown  'A'                                8:55.45  
     1) 2296 Buresh, Andrew SR          2) 2302 Crocker, Travis SR        
     3) 2304 Seites-Rundlett, Zach SO   4) 2306 Stewart, James JR         
 16 St. Joseph by-the-Sea  'A'                          8:56.90  
     1) 2561 Lewis, Patrick JR          2) 2547 Brancale, Paul SO         
     3) 2552 Civitano, Alex SO          4) 2551 Civitano, Adam SO         
 17 East Greenwich High School  'A'                     9:26.16  
     1) 1727 Feigen, Harry JR           2) 1729 Gowell, Matt JR           
     3) 1730 Keene, Andrew JR           4) 1731 Millman, Ryan SO          
 18 Kellenberg Memorial HS  'A'                         9:28.26  
     1) 2024 Paturas, Michael SR        2) 2020 Murolo, Guy SR            
     3) 2022 O-Boyle, Daniel SR         4) 1995 Alexander, Steven JR      
 19 Saunders Trades HS  'A'                             9:49.38  
     1) 2436 Carriero, Devone SR        2) 2437 Coverdale, Michael SR     
     3) 2439 Gibbs, Joe SR              4) 2447 Ohia-Enyia, Nnabu JR      
 20 uniondale  'A'                                     10:18.79  
     1) 2616 Dessources, Ernst JR       2) 2628 Nation, Elliot JR         
     3) 2635 Watkins, Kaleel SR         4) 2614 Clovis, Mateo JR          
 
Event 45  Boys 4x200 Meter Relay Championship
================================================================
    School                                               Finals 
================================================================
  1 Sheepshead Bay  'A'                                 1:31.67  
     1) 2467 Bradshaw, Darryl SR        2) 2479 Isijola, Ayo SR           
     3) 2495 Thomas, John JR            4) 2461 alexander, naquan JR      
  2 uniondale  'A'                                      1:33.39  
     1) 2624 Mercer, Nathaniel SR       2) 2615 Daley, Jordan SR          
     3) 2621 John, Travis SR            4) 2634 Townsend, Clayon SR       
  3 Mount St. Michael Academy  'A'                      1:34.63  
     1) 2232 Francisco, Ariel SR        2) 2233 Grant, Brandon SR         
     3) 2237 McCormack, Winston JR      4) 2238 Myrie, Garrick SR         
  4 Colonie  'A'                                        1:35.93  
     1) 1641 Colello, Nick JR           2) 1662 Nolan, Ryan SR            
     3) 1669 Stephenson, Jake JR        4) 1649 Drabik, John JR           
  5 Mount Vernon HS  'A'                                1:36.33  
     1) 2249 Allen, Justin SR           2) 2261 Williams, Casey SR        
     3) 2250 Carter, Michael SR         4) 2263 Winslow, Christopher SO 
Girls

-

DAY 1



Event 49  Girls Distance Medley Championship
================================================================
    School                                               Finals 
================================================================
  1 Saratoga Springs  'A'                              12:26.25  
     1) 837 Bellon, Brianne JR          2) 839 Borroughs, Amanda SO       
     3) 879 Riley, Michelle JR          4) 863 Hollowood, Colleen JR      
  2 Bay Shore  'A'                                     12:47.78  
     1) 94 Civardi, Olivia SR           2) 122 Silipo, Brittany SR        
     3) 87 Barnes, Stephanie SR         4) 110 Moran, Kim SR              
  3 Westerly  'A'                                      12:50.40  
     1) 1205 lima, Victoria SR          2) 1204 Levcowich, Jill SO        
     3) 1211 Sylvia, Rachelle SR        4) 1198 Dinwoodie, Michon JR      
  4 Shaker High School  'A'                            13:11.38  
     1) 956 Risler, Emma JR             2) 932 Dunn, Zosia JR             
     3) 946 Matan, Meghan SR            4) 961 Sheridan, Melissa SO       
  5 Guilford  'A'                                      13:18.89  
     1) 401 Elliot, Kathleen SR         2) 398 Crabtree, Katherine SR     
     3) 403 Ferrall, Katie FR           4) 412 Villano, Lauren JR         
  6 East Providence  'A'                               13:19.01  
     1) 335 Carmone, Erin SR            2) 336 Costa, Laura SR            
     3) 340 Hurley, Devan JR            4) 341 Monagle, Anne SR 
                               Results                                    
 
Event 24  Girls 1600 Sprint Medley FR/SO
===================================================================
    School                                               Finals  H#
===================================================================
Finals
  1 Toll Gate  'A'                                      4:17.84   1 
     1) 1140 Chace, Samantha SO         2) 1142 Cranston, Lauren SO       
     3) 1145 Lange, lillian FR          4) 1141 Condon, Rylee FR          
  2 Ursuline School  'A'                                4:37.01   1 
     1) 1179 Oshea, Mary FR             2) 1171 Mallinson, Kaitlin SO     
     3) 1166 Golding, Shanel SO         4) 1164 Estrella, Kristel SO      
  3 Colonie Central High School  'A'                    4:40.73   1 
     1) 233 Bacher, Aimee SO            2) 255 Pierce, Jen FR             
     3) 250 Ovalle, Rachel SO           4) 234 Becker, Amy SO             
  4 Saratoga Springs  'A'                               4:42.67   3 
     1) 872 MacDonald, Margaret FR      2) 865 Hungerford, Grace SO       
     3) 849 Driscoll, Taylor GR         4) 883 Ruggles, Sarah SO          
  5 Mount Vernon HS  'A'                                4:46.14   1 
     1) 625 Beccan, Shantay SO          2) 631 Lacey, Amber SO            
     3) 629 Harney, Lexus FR            4) 628 Crump, Vanessa --          
  6 Shaker High School  'A'                             4:54.54   2 
     1) 939 Hayes, Kristi FR            2) 951 Nicol, Emily FR            
     3) 955 Purdy, Colleen FR           4) 929 Deguire, Meg FR            
  7 Farmingdale HS  'A'                                 4:54.80   2 
     1) 386 Wooten, Julia SO            2) 361 Aguirre, Sue SO            
     3) 370 El-Fawel, Lina FR           4) 384 Wiking, Jessica SO         
  8 La Salle Academy  'A'                               4:57.70   2 
     1) 480 Desrosiers, Jaquelyn JR     2) 492 Isherwood, Caitlin SO      
     3) 2705 Farmer, Breana             4) 460 Bowen, Julia SO            
  9 Archbishop Molloy  'A'                              4:58.99   2 
     1) 56 Mayer, Ashley FR             2) 50 Kelly, Lauren FR            
     3) 40 Brown, Catherine FR          4) 57 McCoy, Alanna SO            
 10 Columbia HS (E Greenbush Ny)  'A'                   4:59.20   5 
     1) 288 Schmidt, Katie SO           2) 284 Romer, Alison GR           
     3) 271 Damico, Katie FR            4) 274 DiPreta, Giustina FR       
 11 Sachem North HS  'A'                                5:05.19   3 
     1) 813 Hughes, Jackie SO           2) 798 Castro, Dana SO            
     3) 811 Hegarty, Andrea FR          4) 834 Waka, Lauren SO            
 12 Guilford  'A'                                       5:07.36   4 
     1) 400 DePalma, Erica SO           2) 408 Ryan, Marissa FR           
     3) 405 Jonathan, Sarah FR          4) 397 Anthony, Julia SO          
 13 Notre Dame academy  'A'                             5:07.59   3 
     1) 693 VanPelt, Michelle FR        2) 682 Clark, Natalie FR          
     3) 695 Villanuava, Dannielle SO    4) 678 Bergstrom, Alanna FR       
 14 Bloomfield HS  'A'                                  5:07.99   3 
     1) 149 Estelle, Amber SO           2) 168 Williams, Melinda SO       
     3) 155 Jones, Aissa SO             4) 152 Gayle, Jhodi-Ann SO        
 15 Sachem East High School  'A'                        5:08.89   4 
     1) 755 Ayers, Ashley SO            2) 777 Miller, Lexus FR           
     3) 773 Maloney, Megan FR           4) 770 Lotierzo, Briana SO        
 16 St. Francis Prep  'A'                               5:20.54   4 
     1) 1090 Chaux, Jordan FR           2) 1121 Tufano, Jessica FR        
     3) 1116 Parker, Shaakira FR        4) 1085 Andrade, Cristina SO      
 17 St. Dominic Academy  'A'                            5:29.11   5 
 18 Port Jefferson  'A'                                 5:29.90   5 
     1) 745 Pappalardo, Christa SO      2) 732 Fawora, Andraya SO         
     3) 746 Ross, Katharina FR          4) 731 Colyer, Alli SO            
 19 Erasmus Hall Campus  'A'                            5:39.54   1 
     1) 354 Hamilton, Adjee FR          2) 2716 Burneo, Saphine           
     3) 2717 Bernley, Shanaille         4) 357 Mittelholzer, Hannah SO    
 20 Port Jefferson  'B'                                x5:40.21   5 
     1) 729 Cawley, Catherine FR        2) 741 Konstantinidis, Anastasia F
     3) 739 Jung, Soo FR                4) 730 Cluett, Allison FR         
 21 Mt. Hope High School  'A'                           5:47.40   4 
     1) 658 Sousa, Maggie FR            2) 650 Daniels, Caroline FR       
     3) 643 Alexandre, Jocelyn FR       4) 645 Azar, Maggie FR            
 -- Paul Robeson High School  'A'                           DNF   1 
     1) 709 Delotch, Charmaine SO       2) 715 Johnson, Nacia SO          
     3) 705 Basnight, Quranda FR        4) 706 Blue, Linda FR             
 -- Middle Country NY  'A'                                   DQ   3 
     1) 591 Fay, Amanda FR              2) 595 Freise, Danielle SO        
     3) 590 Espinoza, Karen SO          4) 616 Spitaleri, Justine SO      
 
Event 30  Girls Distance Medley FR/SO
================================================================
    School                                               Finals 
================================================================
  1 Saratoga Springs  'A'                              13:25.15  
     1) 844 Conway, Megan SO            2) 865 Hungerford, Grace SO       
     3) 866 Hungerford, Meredith SO     4) 842 Carr, Madison SO           
  2 Bay Shore  'A'                                     13:29.40  
     1) 101 Gonzalez, Karina SO         2) 104 Jackson, Aasha SO          
     3) 85 Arcuri, Lindsay SO           4) 100 Glynn, Kathyrn SO          
  3 Greenwich Central School  'A'                      13:45.50  
     1) 392 Kuzmich, Cady SO            2) 394 Lapham, Sarah FR           
     3) 389 Edinger, Betsy SO           4) 395 Montague, Madeline FR      
  4 Burnt Hills-Ballston Lake HS  'A'                  13:51.46  
     1) 173 Britton, Haley 8            2) 197 Smith, Meghan SO           
     3) 199 Taylor, Melanie 8           4) 193 Pruyn, Schulyer 8          
  5 Ursuline School  'A'                               13:54.83  
     1) 1179 Oshea, Mary FR             2) 1161 Brittan, Carlie SO        
     3) 1171 Mallinson, Kaitlin SO      4) 1166 Golding, Shanel SO        
  6 La Salle Academy  'A'                              13:57.97  
     1) 495 Kelly, Siobahn FR           2) 475 Coutu, Ashley SO           
     3) 513 Petrie, Katy SO             4) 518 Renzi, Danielle SO         
  7 Shaker High School  'A'                            14:08.37  
     1) 943 Lavender, Kayleigh FR       2) 951 Nicol, Emily FR            
     3) 944 Libruk, Laura FR            4) 924 Burke, Blair SO            
  8 Sachem East High School  'A'                       14:16.23  
     1) 766 Grygo, Krystle SO           2) 767 Hansen, Sarah SO           
     3) 791 Walsh, Megan SO             4) 780 Notarstefano, Melanie FR   
  9 Notre Dame academy  'A'                            14:38.24  
     1) 696 Zdanowicz, Kelly SO         2) 694 VanPelt, Stephanie FR      
     3) 684 Garcia, Pariis FR           4) 685 Henri, Kathrine FR         
 10 Guilford  'A'                                      14:45.61  
     1) 402 Faitsch, Maegan SO          2) 410 Taylor, Emily FR           
     3) 403 Ferrall, Katie FR           4) 413 Williams, Lindsay SO       
 11 Smithfield High School  'A'                        14:45.96  
     1) 996 Poskus, Mallory FR          2) 1001 Siravo, Brianna FR        
     3) 1002 Tellier, Rebecca --        4) 966 Bousquet, Julia FR         
 12 Christ the King Regional HS  'A'                   14:47.49  
     1) 208 McGovern, Katelyn FR        2) 209 Olusoga, Daniella SO       
     3) 203 Bacchus, Phillicia SO       4) 210 Sepulveda, Kelly SO        
 13 Colonie Central High School  'A'                   14:49.34  
     1) 260 Santos, Maleesa SO          2) 235 Bousa, Alicia SO           
     3) 259 Rowland, Casey SO           4) 265 Wunsch, Laura FR           
 14 Archbishop Molloy  'A'                             14:52.78  
     1) 69 Stefanowski, Paulina FR      2) 63 Rey, Stephanie SO           
     3) 53 Loftus, Kathleen FR          4) 49 Hernandez, Ilsen SO         
 15 Sachem North HS  'A'                               15:02.50  
     1) 800 Cipriano, Mary SO           2) 798 Castro, Dana SO            
     3) 809 Gochan, Kelly SO            4) 802 D-Amato, Brianna SO        
 16 St. Dominic Academy  'A'                           15:13.16  
 
Event 32  Girls Long Jump Relay 3 per team
==========================================================================
    Name                    Year School                  Finals           
==========================================================================
  1   256 Plante, Kyle        SO Colonie Cent          16-05.50      5.01m 
  2   642 Yarde, Tanaye       FR Mount Vernon          15-11.00      4.85m 
  3   532 Carty, Wahnetah     SO Ledyard High          15-11.00      4.85m 
  4   962 St. John, Jackie    SR Shaker High           15-09.00      4.80m 
  5   242 Keane, Cassidy      FR Colonie Cent          15-03.50      4.66m 
  6  1115 Murray, Alexis      JR St. Francis           15-02.00      4.62m 
  7   417 Bynoe, Marissa      JR Holliston HS          14-11.00      4.54m 
  8   270 Cullings, Natalie   JR Columbia HS           14-10.50      4.53m 
  9   294 Eure, Gia           SR DePaul Catho          14-10.00      4.52m 
 10   156 Lascelles, Tobiann  JR Bloomfield H          14-09.50      4.50m 
 11   287 Schafer, Nicole     SR Columbia HS           14-08.50      4.48m 
 12   629 Harney, Lexus       FR Mount Vernon          14-07.00      4.44m 
 12   746 Ross, Katharina     FR Port Jeffers          14-07.00      4.44m 
 14   293 Couch, Mikayla      SO DePaul Catho          14-04.50      4.38m 
 15   787 Smith, Samantha     SO Sachem East           14-02.00      4.31m 
 16    90 Brim, Rachel        SO Bay Shore             13-11.50      4.25m 
 17   723 Ramnath, Makesha    SO Paul Robeson          13-11.00      4.24m 
 18   286 Roullier, Meghan    SO Columbia HS           13-10.50      4.22m 
 18  1084 Ahmady, Sheila      SR St. Francis           13-10.50      4.22m 
 18   771 Luchsinger, Lisa    JR Sachem East           13-10.50      4.22m 
 21   264 Walters, Jaimee     FR Colonie Cent          13-09.00      4.19m 
 22   558 Saccone, Emilie     JR Ledyard High          13-08.50      4.17m 
 23   928 Crodelle, Katie     JR Shaker High           13-07.50      4.15m 
 24    45 Giovanazzo, Lisa    SO Archbishop M          13-07.00      4.14m 
 24   923 Brundige, Carly     JR Shaker High           13-07.00      4.14m 
 26   108 Leiva, Wendy        SO Bay Shore             13-06.00      4.11m 
 26   400 DePalma, Erica      SO Guilford              13-06.00      4.11m 
 28   622 Alford, Charleesa   SO Mount Vernon          13-05.00      4.08m 
 29   538 Higgins, Audrey     JR Ledyard High          13-03.00      4.03m 
 30   418 Chaput, Nicole      SO Holliston HS          13-02.50      4.02m 
 31    63 Rey, Stephanie      SO Archbishop M          13-00.50      3.97m 
 32   419 Doyle, Carina       SR Holliston HS          12-10.50      3.92m 
 33   745 Pappalardo, Christ  SO Port Jeffers          12-09.00      3.88m 
 33   724 Spooner, Rochelle   SO Paul Robeson          12-09.00      3.88m 
 35   404 Haggerty, Janel     SR Guilford              12-07.50      3.84m 
 36   740 Kim, Sarah          SO Port Jeffers          12-06.75      3.82m 
 37   290 Beljakovic, Nikol   SR DePaul Catho          12-04.50      3.77m 
 38  1058 Jimenez, Kristina   SR St. Dominic           12-02.00      3.70m 
 39   652 McMullen, Meghan    JR Mt. Hope Hig          12-00.50      3.67m 
 40   154 Harrison, Tiffany   SO Bloomfield H          11-10.50      3.61m 
 41   651 Leary, Emma         JR Mt. Hope Hig          11-09.00      3.58m 
 42   406 Kozal, Logan        SO Guilford              11-08.00      3.55m 
 43   726 Williams, Monique   SO Paul Robeson          11-07.00      3.53m 
 44   660 Verria, Chelsea     SR Mt. Hope Hig          11-04.00      3.45m 
 45   774 Marneris, Athena    SR Sachem East           11-01.00      3.37m 
 46  1100 James, Kimberly     JR St. Francis           10-08.50      3.26m 
 47  1042 Coyle, Anne         SR St. Dominic            9-10.00      2.99m 
 --  1033 Allen, Taylor       SO St. Dominic                 ND            
 --    56 Mayer, Ashley       FR Archbishop M                ND            
 --    95 Cummings, Mariah    JR Bay Shore                   ND            
 --   162 Sharp, Saige        JR Bloomfield H                ND            
 
Event 33  Girls Weight Throw Relay 3 per team
==========================================================================
    Name                    Year School                  Finals           
==========================================================================
  1    77 Heinl, Nicole       SR Barrington H          44-08.00     13.61m 
  2   525 Stowers, Kathryn    SR La Salle Aca          42-11.75     13.10m 
  3   165 Walker, Ashley      SR Bloomfield H          41-01.00     12.52m 
  4  1023 Oakley, Rena        JR South Kingst          40-08.25     12.40m 
  5   515 Power, Brittany     SR La Salle Aca          40-04.25     12.29m 
  6   218 Jones, Amber        SO classical             39-11.25     12.17m 
  7  1151 Procopio, Alexandr  SR Toll Gate             37-01.25     11.30m 
  8  1194 Silvestri, Bianca   SR West Warwick          36-10.50     11.23m 
  9   973 Clark, Amanda       JR Smithfield H          36-01.50     11.01m 
 10   111 Moreira, Elizabeth  SR Bay Shore             36-00.75     10.99m 
 11   976 Elgar, Georgia      JR Smithfield H          35-00.50     10.68m 
 12    79 McFetters, Robyn    SO Barrington H          34-03.50     10.45m 
 13    91 Brown, Cherrice     SR Bay Shore             34-02.00     10.41m 
 14  1196 Turenne, Jerilynn   SR West Warwick          31-09.25      9.68m 
 15    76 Ferreira, Samantha  SR Barrington H          30-11.50      9.43m 
 16   150 Foster, Karina      SO Bloomfield H          29-11.00      9.11m 
 17   487 Foley, Meghan       SR La Salle Aca          28-09.00      8.76m 
 18   223 Leo, Jeanette       JR classical             28-07.00      8.71m 
 19   164 Thomas, Shemika     JR Bloomfield H          28-05.75      8.68m 
 20   103 Holly, Donna        SR Bay Shore             27-10.75      8.50m 
 21  1153 Smith, Catherine    JR Toll Gate             26-06.75      8.09m 
 22   978 Falcao, Amy         JR Smithfield H          25-07.50      7.81m 
 23  1150 Poncin, Meredith    JR Toll Gate             23-11.25      7.29m 
 24  1191 Kelly, Molly        SR West Warwick          23-10.00      7.26m 
 25  1019 Ndiaye, Nafi        JR South Kingst          20-04.50      6.21m 
 --   226 Onye, Angela        JR classical                 FOUL            
 --   426 Biosse, Eliana      JR Hope High Sc              FOUL            
 
Event 34  Girls Triple Jump
==========================================================================
    Name                    Year School                  Finals           
==========================================================================
  1    87 Barnes, Stephanie   SR Bay Shore             37-09.50     11.51m 
  2  1115 Murray, Alexis      JR St. Francis           33-02.00     10.10m 
  3   552 Mueller, Alison     JR Ledyard High          32-07.50      9.94m 
  4   732 Fawora, Andraya     SO Port Jeffers          32-00.50      9.76m 
  5  1175 McDavid, Aeisha     SO Ursuline Sch          31-07.00      9.62m 
 --   558 Saccone, Emilie     JR Ledyard High                ND            
 --   962 St. John, Jackie    SR Shaker High               FOUL            
 
Event 35  Girls High Jump Relay 3 per team
==========================================================================
    Name                    Year School                  Finals           
==========================================================================
  1  1017 Meehan, Shannon     SR South Kingst           5-00.00      1.52m 
  2  1009 Collins, Jenna      SO South Kingst           5-00.00      1.52m 
  2   505 Meleleu, Rachael    SO La Salle Aca           5-00.00      1.52m 
  4   365 Cajou, Jen          SO Farmingdale            4-10.00      1.47m 
  4   369 DeStefano, Kaitlyn  SO Farmingdale            4-10.00      1.47m 
  4   404 Haggerty, Janel     SR Guilford               4-10.00      1.47m 
  4    99 Eiermann, Darleen   JR Bay Shore              4-10.00      1.47m 
  5   527 Thorsen, Margaret   SO La Salle Aca           4-10.00      1.47m 
  5   980 Flood, Erin         SR Smithfield H           4-10.00      1.47m 
  5  1082 West, Morgan        SR St. Dominic            4-10.00      1.47m 
  5   126 Wise, Lindsay       SR Bay Shore              4-10.00      1.47m 
  5   986 Lapierre, Renee     JR Smithfield H           4-10.00      1.47m 
  5   785 Roser, Brittany     SR Sachem East            4-10.00      1.47m 
 14   772 MacEneney, Marissa  JR Sachem East            4-07.00      1.39m 
 14   533 Celotto, Danielle   SR Ledyard High           4-07.00      1.39m 
 14   764 Faulkner, Kristen   JR Sachem East            4-07.00      1.39m 
 14  1007 Brown, Madeline     SO South Kingst           4-07.00      1.39m 
 14   532 Carty, Wahnetah     SO Ledyard High           4-07.00      1.39m 
 14   820 Michta, Kristie     FR Sachem North           4-07.00      1.39m 
 14   793 Alfano, Kristin     JR Sachem North           4-07.00      1.39m 
 21   466 Cafaro, Giovanna    SO La Salle Aca           4-04.00      1.32m 
 21  1100 James, Kimberly     JR St. Francis            4-04.00      1.32m 
 21   947 McCane, Julia       JR Shaker High            4-04.00      1.32m 
 21   950 Nephew, Molly       JR Shaker High            4-04.00      1.32m 
 21   413 Williams, Lindsay   SO Guilford               4-04.00      1.32m 
 21   942 Hughes, Emily       JR Shaker High            4-04.00      1.32m 
 21  1077 Sisk, Sarah         FR St. Dominic            4-04.00      1.32m 
 21  1073 Sabbers, Cecilia    FR St. Dominic            4-04.00      1.32m 
 21   120 Seignious, Mariah   JR Bay Shore              4-04.00      1.32m 
 21   558 Saccone, Emilie     JR Ledyard High           4-04.00      1.32m 
 --   368 Cortez, Frankie     SR Farmingdale                 NH            
 --   400 DePalma, Erica      SO Guilford                    NH            
 --   996 Poskus, Mallory     FR Smithfield H                NH            
 --   805 Fehrenbach, Justin  JR Sachem North                NH            
 --   730 Cluett, Allison     FR Port Jeffers                NH            
 
Event 36  Girls Shot Put Relay 3 per team
==========================================================================
    Name                    Year School                  Finals           
==========================================================================
  1   415 Berg, Emmaline      SR Holliston HS          39-08.50     12.10m 
  2   853 Franco, Haley       SR Saratoga Spr          36-03.75     11.06m 
  3    91 Brown, Cherrice     SR Bay Shore             35-00.25     10.67m 
  4   885 Sephas, Marion      SR Saratoga Spr          33-03.75     10.15m 
  5   765 Grega, Allison      SR Sachem East           32-07.00      9.93m 
  6  1183 Smith, Meg          SR Ursuline Sch          32-03.75      9.84m 
  7   103 Holly, Donna        SR Bay Shore             32-01.75      9.79m 
  8   976 Elgar, Georgia      JR Smithfield H          31-11.50      9.74m 
  9    54 martinez, Andrea    JR Archbishop M          31-08.25      9.65m 
 10   109 Moore, Briana       JR Bay Shore             31-05.75      9.59m 
 10    67 Simonneli, Adara    SR Archbishop M          31-05.75      9.59m 
 12   758 Christiansen, Brit  SO Sachem East           31-03.50      9.53m 
 13   973 Clark, Amanda       JR Smithfield H          30-07.25      9.32m 
 14   226 Onye, Angela        JR classical             30-06.25      9.30m 
 15   218 Jones, Amber        SO classical             29-11.00      9.11m 
 16   164 Thomas, Shemika     JR Bloomfield H          29-07.25      9.02m 
 17   165 Walker, Ashley      SR Bloomfield H          29-01.25      8.87m 
 18   817 Mastrototaro, Nico  SR Sachem North          29-00.50      8.85m 
 19   860 Hartwell, Courtney  SO Saratoga Spr          28-07.50      8.72m 
 19   978 Falcao, Amy         JR Smithfield H          28-07.50      8.72m 
 21   269 Courtwright, Andre  SR Columbia HS           28-07.00      8.71m 
 22   421 Palmatier, Vickie   SO Holliston HS          28-03.50      8.62m 
 23   782 Oro, Lindsay        SR Sachem East           28-01.25      8.56m 
 24   423 Watling, Brittany   JR Holliston HS          27-03.50      8.31m 
 25   704 Angus, Chavaughn    JR Paul Robeson          27-01.25      8.26m 
 26   150 Foster, Karina      SO Bloomfield H          26-08.25      8.13m 
 27   709 Delotch, Charmaine  SO Paul Robeson          26-06.75      8.09m 
 28   799 Cataldo, Kayla      SO Sachem North          26-04.00      8.02m 
 29  1210 Perrin, Allison     -- Westerly              25-05.25      7.75m 
 30   448 Kabongo, Charlene   SR John Bowne            25-03.75      7.71m 
 31    70 Terranova, Cathy    SO Archbishop M          25-02.50      7.68m 
 32  1098 Gordon, Catherine   SR St. Francis           25-01.75      7.66m 
 33   822 Phelan, Christine   SR Sachem North          25-01.00      7.64m 
 34  1182 Reyes, Sarah        SO Ursuline Sch          24-07.50      7.50m 
 35  1203 Lawrence, Rachel    -- Westerly              24-06.75      7.48m 
 36  1051 Hargrove, Brianna   SO St. Dominic           24-01.00      7.34m 
 37   276 Goodell, Joanna     SR Columbia HS           23-11.25      7.29m 
 38  1181 Palmer, Taylor      SO Ursuline Sch          22-11.00      6.98m 
 39   222 Lauro, Catherine    JR classical             22-09.00      6.93m 
 40  1032 Akrisah, Joycelyn   JR St. Dominic           22-03.75      6.80m 
 41  1095 Esposito, Lauren    SR St. Francis           20-11.50      6.38m 
 42   443 Diaz, Alexis        SR John Bowne            20-08.50      6.31m 
 43   275 Foster, Brooke      FR Columbia HS           19-03.25      5.87m 
 44   718 Mc Larty, Khadidra  SO Paul Robeson          18-03.25      5.56m 
 45  1054 Hill, Shakira       JR St. Dominic           17-10.50      5.44m 
 46   446 Hayes, Shaunice     SR John Bowne            17-04.50      5.29m 
 47  1197 Boyle, Liz          FR Westerly              17-01.50      5.21m 
 48  1086 Audain, Jovtina     FR St. Francis           17-00.00      5.18m 
 
Event 37  Girls Pole Vault
==========================================================================
    Name                    Year School                  Finals           
==========================================================================
  1  1178 Nugent, Fiona       SR Ursuline Sch           9-06.00      2.89m 
  2  1177 Murphy, Claire      SO Ursuline Sch           9-00.00      2.74m 
  3    77 Heinl, Nicole       SR Barrington H           9-00.00      2.74m 
 --   491 Harrington, Lexi-T  SR La Salle Aca                NH            
 
Event 40  Girls Distance Medley Varsity
================================================================
    School                                               Finals 
================================================================
  1 Saratoga Springs  'B'                             x12:45.31  
     1) 857 Goutos, Cassandra JR        2) 888 Smith, Madalayne SR        
     3) 892 Treichel, Katie SO          4) 867 King, Sydney SO            
  2 La Salle Academy  'A'                              12:50.29  
     1) 511 Papazian, Emily FR          2) 456 Barrett, Emily SR          
     3) 494 Keating, Molly FR           4) 471 Christensen, Jean SR       
  3 Burnt Hills-Ballston Lake HS  'A'                  12:54.29  
     1) 174 Cameron, Larene SR          2) 183 Gray, Callan SR            
     3) 170 Adams, Kendra SR            4) 186 Herkenham, Carolyn SR      
  4 Colonie Central High School  'A'                   12:58.76  
     1) 258 Rodriguez, Gabby SR         2) 257 Roberts-Smith, Nayamka SR  
     3) 237 Choiniere, Katelyn SR       4) 263 Sherry, Jessica SR         
  5 Ursuline School  'A'                               13:08.64  
     1) 1184 Sullivan, Katie SR         2) 1174 McCarthy, Jackie JR       
     3) 1165 Federle, Madie JR          4) 1178 Nugent, Fiona SR          
  6 Shaker High School  'B'                           x13:16.69  
     1) 945 Martel, Kate SR             2) 927 Coughlin, Christine SO     
     3) 949 Nazarian, Leah SR           4) 964 Wojtusik, Morgan FR        
  7 Greenwich Central School  'A'                      13:20.60  
     1) 392 Kuzmich, Cady SO            2) 389 Edinger, Betsy SO          
     3) 393 Lane, Brittney JR           4) 391 Henningson, Roxanne JR     
  8 Mount Vernon HS  'A'                               13:21.88  
     1) 635 Miller, Julia SR            2) 623 Allen, Myla JR             
     3) 633 McCrae, Michelle JR         4) 624 Avila, Jessica JR          
  9 Farmingdale HS  'A'                                13:31.27  
     1) 374 McKnight, Jackie JR         2) 371 Gennarini, Alessandra SR   
     3) 363 Bonilla, Melissa SR         4) 372 Grzinic, Kelly JR          
 10 La Salle Academy  'B'                             x13:34.77  
     1) 469 Capuano, Caroline SR        2) 467 Capaldi, Daria JR          
     3) 517 Reilly, Meaghan SR          4) 504 McKenna, Colleen JR        
 11 Sachem North HS  'A'                               13:34.81  
     1) 801 Curcio, Stephanie SR        2) 819 Medici, Gina SR            
     3) 835 Wood, Keira SO              4) 826 Romaine, Lindsay SR        
 12 Notre Dame academy  'A'                            13:35.18  
     1) 691 Oconnell, Katie JR          2) 680 Buccellato, Marissa JR     
     3) 679 Bohnenberger, Ashley SO     4) 681 Butler, Kerri FR           
 13 DePaul Catholic High School  'A'                   13:38.32  
     1) 301 Suermann, Ashley SR         2) 296 Kroner, Rene SR            
     3) 302 Trifari, Michelle JR        4) 297 LaGuardia, Alyssa SO       
 14 Burnt Hills-Ballston Lake HS  'B'                 x13:39.92  
     1) 182 DuBois, Kayla SO            2) 178 Cuomo, Amy SR              
     3) 190 Olsen, Lizzie SR            4) 198 Stalker, Rachel SO         
 15 East Greenwich High School  'A'                    13:48.46  
     1) 321 Brannigan, Amanda SR        2) 323 Davis, Allie FR            
     3) 325 Duff, Laura SR              4) 324 Dean, Spencer SR           
 16 South Kingstown High School  'A'                   14:05.44  
     1) 1029 Washburn, Whitney JR       2) 1007 Brown, Madeline SO        
     3) 1027 Spirito, Rachel SR         4) 1021 Nelson, Hope JR           
 17 St. Dominic Academy  'A'                           14:07.44  
 18 Columbia HS (E Greenbush Ny)  'A'                  14:09.66  
     1) 281 Oconnor, Charlotte FR       2) 282 Oconnor, Eliza JR          
     3) 272 DeLisle, Olesya SR          4) 283 Richburg, Jessica SO       
 19 Middle Country NY  'A'                             14:22.08  
     1) 604 Mortak, Kristen SR          2) 602 Lynch, Deanna SR           
     3) 599 Lambert, Sarah JR           4) 583 Bense, Amanda JR           
 20 Mt. Hope High School  'A'                          14:27.21  
     1) 652 McMullen, Meghan JR         2) 655 Rainville, Meghan FR       
     3) 644 Arruda, Nicole SO           4) 654 Pereira, Victoria SO       
 21 St. Francis Prep  'A'                              14:39.09  
     1) 1084 Ahmady, Sheila SR          2) 1117 Reynolds, Amanda SR       
     3) 1123 Vassilatos, Rosie SR       4) 1098 Gordon, Catherine SR      
 22 Ledyard High School  'A'                           14:56.04  
     1) 535 Donahue, Danielle SR        2) 539 Hipplewitz, Rachel SR      
     3) 567 Younger, Kellie SR          4) 536 Erhart, Laura JR           
 23 Greenwich Central School  'B'                     x16:41.02  
     1) 388 Daniels, Sonya JR           2) 387 Cerrone, Rachel JR         
     3) 396 Rich, Kendall SO            4) 395 Montague, Madeline FR      
 -- Sachem East High School  'A'                             DQ  
     1) 783 Paul, Rachael FR            2) 771 Luchsinger, Lisa JR        
     3) 781 Notarstefano, Valerie SR    4) 786 Ryan, Caitlin JR           
 
Event 42  Girls 4x400 Meter Relay FR/SO
===================================================================
    School                                               Finals  H#
===================================================================
  1 Ursuline School  'A'                                4:12.11   1 
     1) 1171 Mallinson, Kaitlin SO      2) 1164 Estrella, Kristel SO      
     3) 1166 Golding, Shanel SO         4) 1179 Oshea, Mary FR            
  2 Toll Gate  'A'                                      4:12.14   1 
     1) 1140 Chace, Samantha SO         2) 1142 Cranston, Lauren SO       
     3) 1145 Lange, lillian FR          4) 1144 Gray, Jordan FR           
  3 Mount Vernon HS  'A'                                4:29.44   1 
     1) 625 Beccan, Shantay SO          2) 622 Alford, Charleesa SO       
     3) 629 Harney, Lexus FR            4) 631 Lacey, Amber SO            
  4 Archbishop Molloy  'A'                              4:31.04   1 
     1) 65 Salas-Ali, Tiana FR          2) 63 Rey, Stephanie SO           
     3) 51 Kelly, Nicole FR             4) 41 Collins, Casey FR           
  5 Paul Robeson High School  'A'                       4:35.92   2 
  6 Bay Shore  'A'                                      4:36.31   1 
     1) 108 Leiva, Wendy SO             2) 101 Gonzalez, Karina SO        
     3) 104 Jackson, Aasha SO           4) 100 Glynn, Kathyrn SO          
  7 Burnt Hills-Ballston Lake HS  'A'                   4:40.02   2 
     1) 173 Britton, Haley 8            2) 177 Cietek, Mackenzie FR       
     3) 199 Taylor, Melanie 8           4) 193 Pruyn, Schulyer 8          
  8 Notre Dame academy  'A'                             4:40.62   2 
     1) 684 Garcia, Pariis FR           2) 693 VanPelt, Michelle FR       
     3) 682 Clark, Natalie FR           4) 685 Henri, Kathrine FR         
  9 Christ the King Regional HS  'A'                    4:41.88   2 
     1) 209 Olusoga, Daniella SO        2) 204 Claiborne, Kendra SO       
     3) 203 Bacchus, Phillicia SO       4) 210 Sepulveda, Kelly SO        
 10 Shaker High School  'A'                             4:47.16   2 
     1) 939 Hayes, Kristi FR            2) 935 Franko, Emily FR           
     3) 951 Nicol, Emily FR             4) 920 Ashley, Melissa SO         
 11 Saratoga Springs  'A'                               4:50.68   3 
     1) 855 Freestone, Brianna SO       2) 851 Ferguson, Morgan SO        
     3) 843 Chartrand, Kaitlyn SO       4) 873 Marino, Danielle SO        
 12 Sachem East High School  'A'                        4:51.81   3 
     1) 770 Lotierzo, Briana SO         2) 767 Hansen, Sarah SO           
     3) 777 Miller, Lexus FR            4) 791 Walsh, Megan SO            
 13 St. Dominic Academy  'A'                            4:51.88   3 
 14 Erasmus Hall Campus  'A'                            4:51.96   4 
 15 Guilford  'A'                                       4:54.21   4 
     1) 407 Morris, ryan FR             2) 409 Sulkowski, Stephanie SO    
     3) 414 Williams, Val SO            4) 406 Kozal, Logan SO            
 16 Bloomfield HS  'A'                                  4:58.00   4 
     1) 152 Gayle, Jhodi-Ann SO         2) 166 Walker, Nicole JR          
     3) 155 Jones, Aissa SO             4) 153 Goodley, Latoya JR         
 17 Columbia HS (E Greenbush Ny)  'A'                   4:59.23   4 
     1) 280 Obrien, Kayla FR            2) 278 King, Stephanie SO         
     3) 285 Romer, Meghan SO            4) 273 DiMura, Nicolette GR       
 18 Farmingdale HS  'A'                                 4:59.50   3 
     1) 379 Slane, Kelly FR             2) 383 Weiss, Jessica SO          
     3) 373 Kennedy, Erin SO            4) 367 Cardona, Andrea FR         
 19 Sachem North HS  'A'                                5:03.00   3 
     1) 811 Hegarty, Andrea FR          2) 813 Hughes, Jackie SO          
     3) 834 Waka, Lauren SO             4) 809 Gochan, Kelly SO           
 20 Middle Country NY  'A'                              5:04.29   3 
     1) 585 Butterworth, Cassandra SO   2) 586 Conklin, Gabby SO          
     3) 606 Murphy, Meaghan SO          4) 600 Langley-Orie, Victoria JR  
 21 La Salle Academy  'A'                               5:15.81   4 
     1) 474 Coughlin, Christine FR      2) 466 Cafaro, Giovanna SO        
     3) 454 Alves, Tiffany FR           4) 488 Fowler, Alexandra FR       
 22 Paul Robeson High School  'B'                      x5:16.18   2 
     1) 712 Green, Ebony SO             2) 726 Williams, Monique SO       
     3) 719 Moore, Jeanea SO            4) 705 Basnight, Quranda FR       
 23 St. Francis Prep  'A'                               5:31.43   4 
     1) 1097 Gilmore, Candice FR        2) 1096 Frobin, Stephanie FR      
     3) 1092 Cox, Andrea SO             4) 1110 McGoldrick, Kristen SO    
 -- Ledyard High School  'A'                                DNF   1 
     1) 551 McCarthy, Jillian SO        2) 541 Johnson, Taylor SO         
     3) 542 Kane, Mariah SO             4) 540 Holland, Bethany SO        
 

GIRLS
DAY 2
Event 21  Girls 55 Meter Dash
===================================================================
    Name                    Year School                 Prelims  H#
===================================================================
Preliminaries
  1    17 Ricks, Klarissa     SO Academy of t              7.41q  1 
  2   910 Ohia-Enyia, Ihiech  SR Saunders Tra              7.43q  2 
  3   626 Bonner, Kenina      SO Mount Vernon              7.61q  2 
  4   750 Ashman, Sherrieann  SO Prospect Hei              7.68q  3 
  5  1022 Norman, Amanda      SR South Kingst              7.70q  3 
  6   636 Mindingall, Shamik  JR Mount Vernon              7.77q  3 
  7  1193 Pierre, Davina      SR West Warwick              7.80q  2 
  8   977 Ezeama, Kimberly    JR Smithfield H              7.81q  2 
  9    75 Caesar, Kerstin     JR Barrington H              7.81   2 
 10   294 Eure, Gia           SR DePaul Catho              7.82   2 
 11   672 LePage, Lauren      SR Norwich Free              7.87   1 
 12   667 Collins, Amanda     SR North Smithf              7.89   1 
 13   985 Krol, Michelle      SR Smithfield H              7.97   3 
 14   923 Brundige, Carly     JR Shaker High               8.00   3 
 15   270 Cullings, Natalie   JR Columbia HS               8.09   1 
 16   267 Balzano, Kailyn     FR Columbia HS               8.14   3 
 17   298 Mickelewski, Katri  SO DePaul Catho              8.70   1 
 
Event 21  Girls 55 Meter Dash
================================================================
    Name                    Year School                  Finals 
================================================================
Finals
  1    17 Ricks, Klarissa     SO Academy of t              7.34  
  2   910 Ohia-Enyia, Ihiech  SR Saunders Tra              7.35  
  3   626 Bonner, Kenina      SO Mount Vernon              7.57  
  4  1022 Norman, Amanda      SR South Kingst              7.65  
  5  1193 Pierre, Davina      SR West Warwick              7.76  
  6   977 Ezeama, Kimberly    JR Smithfield H              7.79  
  7   636 Mindingall, Shamik  JR Mount Vernon              7.80  
  8   750 Ashman, Sherrieann  SO Prospect Hei              7.81  
 
Event 22  Girls 55 Meter Hurdles
===================================================================
    Name                    Year School                 Prelims  H#
===================================================================
Preliminaries
  1   888 Smith, Madalayne    SR Saratoga Spr              8.49Q  1 
  2   256 Plante, Kyle        SO Colonie Cent              8.57Q  2 
  3   456 Barrett, Emily      SR La Salle Aca              9.13Q  4 
  4   434 Jefferies, Stephan  SR Hope High Sc              9.38Q  3 
  5   795 Brennan, Amanda     SR Sachem North              9.59Q  5 
  6   287 Schafer, Nicole     SR Columbia HS               9.32Q  1 
  7   188 McBee, Chelsea      SR Burnt Hills-              9.39Q  4 
  8   122 Silipo, Brittany    SR Bay Shore                 9.42Q  3 
  9   491 Harrington, Lexi-T  SR La Salle Aca              9.62Q  5 
 10  1025 Reilly, Molly       JR South Kingst              9.87Q  2 
 11   732 Fawora, Andraya     SO Port Jeffers              9.54q  1 
 12   763 Eng, Breanna        SR Sachem East               9.65q  4 
 13   339 Haar, Nicole        SO East Provide              9.79q  5 
 14   762 Driscoll, Nicole    SR Sachem East               9.84q  5 
 15   953 Plue, Alyssa        JR Shaker High               9.90   3 
 16    99 Eiermann, Darleen   JR Bay Shore                 9.94   3 
 17  1091 Chen, Jacklynn      SR St. Francis              10.08   4 
 18  1189 Hamada, Jessica     JR West Warwick             10.24   4 
 19   832 Swift, Samantha     SO Sachem North             10.32   2 
 20   587 Durkot, Kelsey      JR Middle Count             10.33   3 
 20   995 Piccoli, Kim        JR Smithfield H             10.33   2 
 22   242 Keane, Cassidy      FR Colonie Cent             10.34   2 
 23   960 Schmidt, Riley      SR Shaker High              10.51   1 
 24  1033 Allen, Taylor       SO St. Dominic              11.24   4 
 25  1039 Ciss, Diarietou     JR St. Dominic              12.39   5 
 
Event 22  Girls 55 Meter Hurdles
===================================================================
    Name                    Year School                   Semis  H#
===================================================================
Semi-Finals
  1   888 Smith, Madalayne    SR Saratoga Spr              8.38Q  1 
  2   256 Plante, Kyle        SO Colonie Cent              8.75Q  2 
  3   456 Barrett, Emily      SR La Salle Aca              9.27Q  2 
  4   434 Jefferies, Stephan  SR Hope High Sc              9.29Q  1 
  5   188 McBee, Chelsea      SR Burnt Hills-              9.31q  2 
  6   795 Brennan, Amanda     SR Sachem North              9.55q  1 
  7   763 Eng, Breanna        SR Sachem East               9.55q  1 
  8   287 Schafer, Nicole     SR Columbia HS               9.60   2 
  9   339 Haar, Nicole        SO East Provide              9.64   1 
 10   491 Harrington, Lexi-T  SR La Salle Aca              9.85   1 
 11   762 Driscoll, Nicole    SR Sachem East               9.98   2 
 12   732 Fawora, Andraya     SO Port Jeffers             10.00   2 
 13   122 Silipo, Brittany    SR Bay Shore                10.12   1 
 14  1025 Reilly, Molly       JR South Kingst             10.21   2 
 
Event 22  Girls 55 Meter Hurdles
================================================================
    Name                    Year School                  Finals 
================================================================
Finals
  1   888 Smith, Madalayne    SR Saratoga Spr              8.26  
  2   456 Barrett, Emily      SR La Salle Aca              9.13  
  3   188 McBee, Chelsea      SR Burnt Hills-              9.29  
  4   256 Plante, Kyle        SO Colonie Cent              9.41  
  5   763 Eng, Breanna        SR Sachem East               9.41  
  6   434 Jefferies, Stephan  SR Hope High Sc              9.55  
  7   795 Brennan, Amanda     SR Sachem North              9.61  
 
Event 23  Girls 1600 Sprint Medley Varsity
===================================================================
    School                                               Finals  H#
===================================================================
  1 Bishop Ford High School  'A'                        4:21.84   1 
     1) 131 DaSilva, Shaniqua SO        2) 142 Williams, Corrine JR       
     3) 130 Brown, Asha SR              4) 135 Goulding, Shanyce SR       
  2 Mount Vernon HS  'A'                                4:26.15   1 
     1) 633 McCrae, Michelle JR         2) 623 Allen, Myla JR             
     3) 632 Litchmore, Tiphany SR       4) 624 Avila, Jessica JR          
  3 Westerly  'A'                                       4:26.60   1 
     1) 1204 Levcowich, Jill SO         2) 1202 Greenstein, Alyssa SR     
     3) 1200 Gencarelli, Kristen SR     4) 1205 lima, Victoria SR         
  4 Norwich Free Academy  'A'                           4:30.95   1 
     1) 676 Sinko, Amy SR               2) 672 LePage, Lauren SR          
     3)                                 4) 671 Kalla, Molly JR            
  5 Bloomfield HS  'A'                                  4:34.23   2 
     1) 146 Carter, Marvline SO         2) 161 Rose, Brittany JR          
     3) 165 Walker, Ashley SR           4) 157 May, Dezarell SO           
  6 Saratoga Springs  'A'                               4:34.67   2 
     1) 877 Reeves, Hannah SR           2) 888 Smith, Madalayne SR        
     3) 889 Soto, Dionna SO             4) 892 Treichel, Katie SO         
  7 Shaker High School  'A'                             4:34.84   1 
     1) 950 Nephew, Molly JR            2) 938 Hall, Christine SR         
     3) 958 Roberts, Kate SR            4) 961 Sheridan, Melissa SO       
  8 South Kingstown High School  'A'                    4:37.72   4 
     1) 1008 Cardareli, Juliana FR      2) 1010 Ethier, Paige FR          
     3) 1028 Straight, Alyssa SO        4) 1029 Washburn, Whitney JR      
  9 Colonie Central High School  'A'                    4:38.23   2 
     1) 252 Papuzza, Brittany JR        2) 266 Zadrozinski, Alyssa SR     
     3) 261 Sarda, Gabrielle SR         4) 231 Abrams, Jessica SR         
 10 Sachem East High School  'A'                        4:41.96   3 
     1) 764 Faulkner, Kristen JR        2) 785 Roser, Brittany SR         
     3) 787 Smith, Samantha SO          4) 783 Paul, Rachael FR           
 11 Barrington High School  'A'                         4:43.21   2 
     1) 80 Moreau, Alysonj JR           2) 81 Palko, Gabe FR              
     3) 83 Wardyga, Jen JR              4) 78 Jones-Pearson, Bianca SR    
 12 DePaul Catholic High School  'A'                    4:45.43   1 
     1) 301 Suermann, Ashley SR         2) 294 Eure, Gia SR               
     3) 302 Trifari, Michelle JR        4) 297 LaGuardia, Alyssa SO       
 13 Academy of the Holy Names  'A'                      4:46.49   2 
     1) 18 Rogers, Kathy SO             2) 20 Scott, Megan JR             
     3) 25 Zegger, Alex FR              4) 1 Allen, Molly FR              
 14 Mt. Hope High School  'A'                           4:49.22   3 
     1) 655 Rainville, Meghan FR        2) 648 Canders, Mari SO           
     3) 646 Cambrola, Emily SO          4) 652 McMullen, Meghan JR        
 15 Amityville  'A'                                     4:49.33   3 
     1) 28 Dankenbrink, MaryEllen JR    2) 33 McAll, Kanisha JR           
     3) 34 Morris, Iyana JR             4) 32 Marcelin, Daphne SR         
 16 Bay Shore  'A'                                      4:58.05   4 
     1) 125 Wiegand, Gabi SR            2) 86 Aromi, Maureen JR           
     3) 95 Cummings, Mariah JR          4) 93 Christie, Shannon JR        
 17 Sachem North HS  'A'                                5:07.22   4 
     1) 799 Cataldo, Kayla SO           2) 823 Piccirillo, Victoria SR    
     3) 833 Vasquez, Christina SR       4) 804 Dutra, Karley JR           
 18 Port Jefferson  'A'                                 5:09.24   3 
     1) 740 Kim, Sarah SO               2) 745 Pappalardo, Christa SO     
     3) 743 Luksich, Patricia JR        4) 728 Bruckner, Amber JR         
 19 St. Raphael Academy  'A'                            5:12.26   5 
     1) 1127 Aka, Rose JR               2) 1131 Charley, Marjay SR        
     3) 1136 Guedes, Britney SR         4) 1134 Durvin, Laura SR          
 20 Saunders Trades HS  'A'                             5:24.75   5 
     1) 902 Eaton, Kalina SO            2) 908 Martin, Shantel JR         
     3) 914 Tenadu, Hannah JR           4) 896 Barrera, Lizbeth SR        
 21 Nazareth Regional High School  'A'                  5:25.70   4 
     1) 664 Lumsden-Wallace, Cherese JR 2) 665 Sebro, Shelby JR           
     3) 662 Exantus, Wilda JR           4) 663 Haynes, Leandra SO         
 22 Ledyard High School  'A'                            5:27.60   5 
     1) 529 Adams, Rachel SO            2) 561 Smith, Ali JR              
     3) 547 Loftis, Ariel JR            4) 559 Scahill, Ashleigh FR       
 23 Middle Country NY  'A'                              5:32.40   4 
     1) 589 Edwards, Chantalle JR       2) 619 Vardishuili, Nino SR       
     3) 596 Gaillard, Farah SO          4) 597 Johanson, Kristina JR      
 24 St. Dominic Academy  'A'                            6:04.37   5 
 -- Farmingdale HS  'A'                                      DQ   4 
     1) 381 Torlincasi, Allie JR        2) 385 Winant, Gina JR            
     3) 364 Bucskowski, Joan SR         4) 372 Grzinic, Kelly JR          
 -- St. Francis Prep  'A'                                    DQ   2 
     1) 1100 James, Kimberly JR         2) 1102 Juin, Shoana JR           
     3) 1091 Chen, Jacklynn SR          4) 1094 Drazevic, Angelika SR     
 
Event 25  Girls 500 Meter Run
===================================================================
    Name                    Year School                  Finals  H#
===================================================================
  1   627 Crump, Breanda      SR Mount Vernon           1:16.37   1 
  2   136 Holland, Malekah    JR Bishop Ford            1:17.49   1 
  3   839 Borroughs, Amanda   SO Saratoga Spr           1:19.82   1 
  4   435 Marrow, Jasmine     SR Hope High Sc           1:19.87   1 
  5   268 Boughtwood, Anna    SO Columbia HS            1:20.73   2 
  6  1211 Sylvia, Rachelle    SR Westerly               1:20.81   1 
  7  1213 Sanders, Marissa    SR Windham High           1:21.45   1 
  8   993 Palumbo, Katie      SR Smithfield H           1:22.27   2 
  9   262 Serrano, Corrinne   SO Colonie Cent           1:22.46   2 
 10   612 Regensberger, Aman  JR Middle Count           1:24.29   2 
 11  1082 West, Morgan        SR St. Dominic            1:24.44   2 
 --   568 Croze, Marion       FR LFNY                       DNF   2 
 
Event 26  Girls 800 Meter Run
================================================================
    Name                    Year School                  Finals 
================================================================
  1    73 Barry, Sarah        JR Barrington H           2:17.05  
  2   879 Riley, Michelle     JR Saratoga Spr           2:20.53  
  3   677 Sullivan, Jaclyn    SR Norwich Free           2:22.84  
  4   635 Miller, Julia       SR Mount Vernon           2:23.31  
  5     8 Isabelle, Laura     JR Academy of t           2:24.37  
  6   676 Sinko, Amy          SR Norwich Free           2:24.44  
 
Event 28  Girls 1 Mile Run
================================================================
    Name                    Year School                  Finals 
================================================================
  1   195 Roecker, Sam        SR Burnt Hills-           5:04.10  
  2  1004 Ginez, Sophia       JR South Brunsw           5:13.98  
  3   670 Hunter, Cassy       JR Norwich Free           5:16.98  
  4   335 Carmone, Erin       SR East Provide           5:23.80  
  5    16 Recchia, Lauren     JR Academy of t           5:31.92  
  6   668 Eagan, Sarah        JR Norwich Free           5:38.72  
  7   569 Grosgogeat, Louise  FR LFNY                   6:32.45  
  8   570 Massoud, Ferial     FR LFNY                   7:16.66  
 
Event 29  Girls 3000 Meter Run
================================================================
    Name                    Year School                  Finals 
================================================================
  1   192 Pezzulo, Molly      SO Burnt Hills-          10:11.04  
  2   857 Goutos, Cassandra   JR Saratoga Spr          10:30.45  
  3   867 King, Sydney        SO Saratoga Spr          10:35.01  
  4   420 Keogh, Rosie        -- Holliston HS          10:39.18  
  5   919 Hartung, Genna      SR Seton Cathol          10:40.45  
  6   786 Ryan, Caitlin       JR Sachem East           10:40.52  
  7    11 Maloy, Catherine    -- Academy of t          10:42.98  
  8   581 Piccoli, Cara       SR Lower Merion          10:45.39  
  9   666 Trant, Chelsea      JR Niskayuna HS          10:50.81  
 10   471 Christensen, Jean   SR La Salle Aca          11:07.66  
 11   263 Sherry, Jessica     SR Colonie Cent          11:09.91  
 12   673 Obrien, Kathleen    JR Norwich Free          11:26.84  
 13   990 Meinertz, Katie     JR Smithfield H          12:19.80  
 
Event 31  Girls 4x400 Meter Relay Varsity
===================================================================
    School                                               Finals  H#
===================================================================
  1 Mount Vernon HS  'A'                                3:59.32   1 
     1) 635 Miller, Julia SR            2) 642 Yarde, Tanaye FR           
     3) 633 McCrae, Michelle JR         4) 627 Crump, Breanda SR          
  2 Bishop Ford High School  'A'                        4:05.35   1 
     1) 131 DaSilva, Shaniqua SO        2) 136 Holland, Malekah JR        
     3) 142 Williams, Corrine JR        4) 135 Goulding, Shanyce SR       
  3 Colonie Central High School  'A'                    4:07.69   1 
     1) 255 Pierce, Jen FR              2) 250 Ovalle, Rachel SO          
     3) 234 Becker, Amy SO              4) 233 Bacher, Aimee SO           
  4 Barrington High School  'A'                         4:10.80   1 
     1) 73 Barry, Sarah JR              2) 75 Caesar, Kerstin JR          
     3) 74 Caesar, Emily JR             4) 82 Siskind, Emily JR           
  5 Bloomfield HS  'A'                                  4:12.11   1 
     1) 154 Harrison, Tiffany SO        2) 157 May, Dezarell SO           
     3) 167 Washington, Samantha SO     4) 162 Sharp, Saige JR            
  6 Academy of the Holy Names  'A'                      4:13.95   2 
     1) 7 Geleta, Rayanne SR            2) 8 Isabelle, Laura JR           
     3) 13 Mohamed, Sherez SR           4) 16 Recchia, Lauren JR          
  7 Burnt Hills-Ballston Lake HS  'A'                   4:14.01   3 
     1) 183 Gray, Callan SR             2) 174 Cameron, Larene SR         
     3) 178 Cuomo, Amy SR               4) 170 Adams, Kendra SR           
  8 Amityville  'A'                                     4:14.93   2 
     1) 26 Blotiau, Emilie SR           2) 30 Jackman, Corine SR          
     3) 34 Morris, Iyana JR             4) 29 Gordon, Ariel JR            
  9 Bay Shore  'A'                                      4:14.97   2 
     1) 87 Barnes, Stephanie SR         2) 99 Eiermann, Darleen JR        
     3) 116 Rowe, Danielle SO           4) 122 Silipo, Brittany SR        
 10 Norwich Free Academy  'A'                           4:17.77   2 
     1) 677 Sullivan, Jaclyn SR         2) 670 Hunter, Cassy JR           
     3) 668 Eagan, Sarah JR             4) 673 Obrien, Kathleen JR        
 11 Westerly  'A'                                       4:19.75   3 
     1) 1211 Sylvia, Rachelle SR        2) 1212 Taglione, Jada JR         
     3) 1205 lima, Victoria SR          4) 1204 Levcowich, Jill SO        
 12 South Kingstown High School  'A'                    4:20.25   3 
     1) 1022 Norman, Amanda SR          2) 1024 Perry, Steffany SR        
     3) 1025 Reilly, Molly JR           4) 1029 Washburn, Whitney JR      
 13 Shaker High School  'A'                             4:20.71   3 
     1) 958 Roberts, Kate SR            2) 938 Hall, Christine SR         
     3) 927 Coughlin, Christine SO      4) 946 Matan, Meghan SR           
 14 La Salle Academy  'A'                               4:21.99   2 
     1) 527 Thorsen, Margaret SO        2) 491 Harrington, Lexi-Taylor SR 
     3) 526 Terry, Amanda JR            4) 456 Barrett, Emily SR          
 15 Mount Vernon HS  'B'                               x4:23.83   2 
     1) 632 Litchmore, Tiphany SR       2) 636 Mindingall, Shamika JR     
     3) 623 Allen, Myla JR              4) 624 Avila, Jessica JR          
 16 Notre Dame academy  'A'                             4:24.91   4 
     1) 686 Kroczynski, Nicolette FR    2) 680 Buccellato, Marissa JR     
     3) 689 Mascali, Katelyn JR         4) 692 Serpe, Dominique SR        
 17 Colonie Central High School  'B'                   x4:27.28   5 
     1) 255 Pierce, Jen FR              2) 250 Ovalle, Rachel SO          
     3) 234 Becker, Amy SO              4) 233 Bacher, Aimee SO           
 18 Columbia HS (E Greenbush Ny)  'A'                   4:27.47   3 
     1) 268 Boughtwood, Anna SO         2) 267 Balzano, Kailyn FR         
     3) 272 DeLisle, Olesya SR          4) 282 Oconnor, Eliza JR          
 19 Middle Country NY  'A'                              4:30.98   3 
     1) 583 Bense, Amanda JR            2) 587 Durkot, Kelsey JR          
     3) 612 Regensberger, Amanda JR     4) 613 Robins, Rachel JR          
 20 Saratoga Springs  'A'                               4:32.06   4 
     1) 892 Treichel, Katie SO          2) 891 Treichel, Alison JR        
     3) 893 Williams, Chloe JR          4) 863 Hollowood, Colleen JR      
 21 Farmingdale HS  'A'                                 4:34.81   4 
     1) 381 Torlincasi, Allie JR        2) 385 Winant, Gina JR            
     3) 371 Gennarini, Alessandra SR    4) 364 Bucskowski, Joan SR        
 22 John Bowne  'A'                                     4:37.83   4 
     1) 446 Hayes, Shaunice SR          2) 449 Mcinnis, Symphony JR       
     3) 445 Dunn, Treshauna SR          4) 447 Hughey, Naomi FR           
 23 Bishop Ford High School  'B'                       x4:38.06   6 
     1) 128 Bennett, Jessica FR         2) 139 Tokponey, Ashia JR         
     3) 138 Nsofu, Mubanga JR           4) 132 Date, Tiffany SR           
 24 Sachem East High School  'A'                        4:42.56   5 
     1) 771 Luchsinger, Lisa JR         2) 772 MacEneney, Marissa JR      
     3) 774 Marneris, Athena SR         4) 764 Faulkner, Kristen JR       
 25 Bourne  'A'                                         4:45.15   4 
 26 St. Dominic Academy  'A'                            4:45.47   6 
 27 Sachem North HS  'A'                                4:46.79   5 
     1) 795 Brennan, Amanda SR          2) 820 Michta, Kristie FR         
     3) 804 Dutra, Karley JR            4) 801 Curcio, Stephanie SR       
 28 Saunders Trades HS  'A'                             4:54.14   6 
     1) 906 lindquist, Amina FR         2) 896 Barrera, Lizbeth SR        
     3) 907 Mall, Sapna FR              4) 913 Rodriguez, Vicki SO        
 29 St. Raphael Academy  'A'                            5:07.30   5 
     1) 1136 Guedes, Britney SR         2) 1134 Durvin, Laura SR          
     3) 1128 Allyn, Alyssa SO           4) 1138 Shottek, Cassie SO        
 30 Mt. Hope High School  'A'                           5:12.14   6 
     1) 651 Leary, Emma JR              2) 653 Panzarella, Chelsea SR     
     3) 648 Canders, Mari SO            4) 649 Carreiro, Alicia SR        
 -- Columbia HS (E Greenbush Ny)  'B'                        DQ   5 
     1) 286 Roullier, Meghan SO         2) 270 Cullings, Natalie JR       
     3) 283 Richburg, Jessica SO        4) 281 Oconnor, Charlotte FR      
 
Event 38  Girls 4x200 Meter Relay Varsity
===================================================================
    School                                               Finals  H#
===================================================================
  1 Hope High School  'A'                               1:50.53   1 
     1) 427 Carto, Lue JR               2) 428 Cheatham, Royal FR         
     3) 436 Quiah, Angie JR             4) 435 Marrow, Jasmine SR         
  2 Prospect Heights Campus  'A'                        1:51.52   1 
     1) 749 Aiken, Kiana JR             2) 752 Hudson, Monique SR         
     3) 753 Russell, Shantal JR         4) 750 Ashman, Sherrieann SO      
  3 Sachem East High School  'A'                        1:53.66   2 
     1) 785 Roser, Brittany SR          2) 762 Driscoll, Nicole SR        
     3) 763 Eng, Breanna SR             4) 771 Luchsinger, Lisa JR        
  4 Smithfield High School  'A'                         1:53.84   1 
     1) 993 Palumbo, Katie SR           2) 985 Krol, Michelle SR          
     3) 977 Ezeama, Kimberly JR         4) 999 Ricci, Erica SR            
  5 Bishop Ford High School  'A'                        1:54.03   2 
     1) 130 Brown, Asha SR              2) 132 Date, Tiffany SR           
     3) 141 Williams, Carlisa SR        4) 129 Boyce, Melenie SR          
  6 Burnt Hills-Ballston Lake HS  'A'                   1:54.45   1 
     1) 170 Adams, Kendra SR            2) 178 Cuomo, Amy SR              
     3) 188 McBee, Chelsea SR           4) 174 Cameron, Larene SR         
  7 Saratoga Springs  'A'                               1:56.50   4 
     1) 885 Sephas, Marion SR           2) 854 Fredette, Kelly SO         
     3) 889 Soto, Dionna SO             4) 877 Reeves, Hannah SR          
  8 Farmingdale HS  'A'                                 1:56.53   3 
     1) 364 Bucskowski, Joan SR         2) 365 Cajou, Jen SO              
     3) 362 Beggen, Cassandra SR        4) 368 Cortez, Frankie SR         
  9 Colonie Central High School  'A'                    1:57.10   3 
     1) 264 Walters, Jaimee FR          2) 242 Keane, Cassidy FR          
     3) 249 Murphy, Kelly FR            4) 248 Melton, Shadijah FR        
 10 Saunders Trades HS  'A'                             1:57.21   2 
     1) 911 Palacios, Dixie SR          2) 910 Ohia-Enyia, Ihiechi SR     
     3) 906 lindquist, Amina FR         4) 902 Eaton, Kalina SO           
 11 Shaker High School  'A'                             1:57.34   3 
     1) 923 Brundige, Carly JR          2) 952 Ogden, Kelly JR            
     3) 928 Crodelle, Katie JR          4) 927 Coughlin, Christine SO     
 12 John Bowne  'A'                                     1:58.79   4 
     1) 446 Hayes, Shaunice SR          2) 445 Dunn, Treshauna SR         
     3)                                 4) 447 Hughey, Naomi FR           
 13 Middle Country NY  'A'                              1:58.83   3 
     1) 598 Kemp, Chloe JR              2) 601 Lewis, Annissa JR          
     3) 602 Lynch, Deanna SR            4) 615 Sealy, Stephanie SR        
 14 Notre Dame academy  'A'                             1:58.98   2 
     1) 683 Davis, Helen JR             2) 680 Buccellato, Marissa JR     
     3) 690 Netrosio, Jenna JR          4) 686 Kroczynski, Nicolette FR   
 15 Sachem North HS  'A'                                1:59.15   4 
     1) 819 Medici, Gina SR             2) 831 Stevenson, Alyssa SR       
     3) 833 Vasquez, Christina SR       4) 795 Brennan, Amanda SR         
 16 South Kingstown High School  'A'                    1:59.20   1 
     1) 1022 Norman, Amanda SR          2) 1025 Reilly, Molly JR          
     3) 1024 Perry, Steffany SR         4) 1018 Miller, Natasha JR        
 17 La Salle Academy  'A'                               1:59.74   3 
     1) 527 Thorsen, Margaret SO        2) 467 Capaldi, Daria JR          
     3) 482 DiPonte, Olga JR            4) 526 Terry, Amanda JR           
 18 Westerly  'A'                                       2:00.67   3 
     1) 1200 Gencarelli, Kristen SR     2) 1202 Greenstein, Alyssa SR     
     3) 1212 Taglione, Jada JR          4) 1199 Frazier, Rachel JR        
 19 St. Francis Prep  'A'                               2:01.31   1 
     1) 1115 Murray, Alexis JR          2) 1084 Ahmady, Sheila SR         
     3) 1100 James, Kimberly JR         4) 1113 Morrice, Melissa JR       
 20 Bay Shore  'A'                                      2:01.86   4 
     1) 125 Wiegand, Gabi SR            2) 86 Aromi, Maureen JR           
     3) 120 Seignious, Mariah JR        4) 126 Wise, Lindsay SR           
 21 Sachem North HS  'B'                               x2:06.63   5 
     1) 832 Swift, Samantha SO          2) 805 Fehrenbach, Justine JR     
     3) 793 Alfano, Kristin JR          4) 822 Phelan, Christine SR       
 22 St. Dominic Academy  'A'                            2:07.28   6 
 23 Sachem East High School  'B'                       x2:08.16   6 
     1) 772 MacEneney, Marissa JR       2) 765 Grega, Allison SR          
     3) 782 Oro, Lindsay SR             4) 758 Christiansen, Brittany SO  
 24 John Bowne  'B'                                    x2:11.46   5 
     1) 451 Soman, Shaunte JR           2) 442 Carty, Michelle JR         
     3) 452 Toussaint, Bianca SR        4) 450 Shields, Yaneece JR        
 -- Ledyard High School  'A'                                 DQ   5 
     1) 548 Loftis, Asia SO             2) 549 Lynch, Morgan FR           
     3) 547 Loftis, Ariel JR            4) 566 White, Chantel FR          
 -- Saunders Trades HS  'B'                                  DQ   6 
     1) 904 Jackson, Bijuan FR          2) 897 Burton, Tkeyah FR          
     3) 915 Torres, Celina SO           4) 912 Perrington, Rebecca JR     
 
Event 39  Girls 4x800 Meter Relay Varsity
================================================================
    School                                               Finals 
================================================================
  1 Saratoga Springs  'A'                               9:42.92  
     1) 837 Bellon, Brianne JR          2) 839 Borroughs, Amanda SO       
     3) 879 Riley, Michelle JR          4) 863 Hollowood, Colleen JR      
  2 Shaker High School  'A'                             9:50.40  
     1) 932 Dunn, Zosia JR              2) 945 Martel, Kate SR            
     3) 949 Nazarian, Leah SR           4) 956 Risler, Emma JR            
  3 Bay Shore  'A'                                     10:07.31  
     1) 94 Civardi, Olivia SR           2) 97 deLyra, Alexa SR            
     3) 110 Moran, Kim SR               4) 113 Odonovan, Megan JR         
  4 Colonie Central High School  'A'                   10:11.62  
     1) 231 Abrams, Jessica SR          2) 237 Choiniere, Katelyn SR      
     3) 263 Sherry, Jessica SR          4) 258 Rodriguez, Gabby SR        
  5 Notre Dame academy  'A'                            10:16.43  
     1) 681 Butler, Kerri FR            2) 679 Bohnenberger, Ashley SO    
     3) 691 Oconnell, Katie JR          4) 692 Serpe, Dominique SR        
  6 Burnt Hills-Ballston Lake HS  'A'                  10:18.53  
     1) 182 DuBois, Kayla SO            2) 198 Stalker, Rachel SO         
     3) 190 Olsen, Lizzie SR            4) 186 Herkenham, Carolyn SR      
  7 East Providence  'A'                               10:23.17  
     1) 335 Carmone, Erin SR            2) 336 Costa, Laura SR            
     3) 337 Costa, Lizzie JR            4) 341 Monagle, Anne SR           
  8 Westerly  'A'                                      10:23.94  
     1) 1198 Dinwoodie, Michon JR       2) 1207 Murphy, Bridgett JR       
     3) 1208 Murphy, Ryan JR            4) 1201 Gingerella, Nicole SO     
  9 La Salle Academy  'A'                              10:24.43  
     1) 511 Papazian, Emily FR          2) 494 Keating, Molly FR          
     3) 504 McKenna, Colleen JR         4) 469 Capuano, Caroline SR       
 10 Sachem North HS  'A'                               10:40.13  
     1) 801 Curcio, Stephanie SR        2) 826 Romaine, Lindsay SR        
     3) 823 Piccirillo, Victoria SR     4) 835 Wood, Keira SO             
 11 St. Dominic Academy  'A'                           10:48.52  
 12 Academy of the Holy Names  'A'                     10:48.75  
     1) 15 Okeeffe, Carolyn SO          2) 19 Rowan, Sarah FR             
     3) 23 Tuffey, Maura JR             4) 2 Apfelbaum, Meredith SR       
 13 Colonie Central High School  'B'                  x10:50.79  
     1) 251 Paeglow, Kate JR            2) 247 Malecki, Jackie FR         
     3) 236 Casile, Maria JR            4) 241 Hilt, Moira JR             
 14 Sachem East High School  'A'                       10:59.10  
     1) 783 Paul, Rachael FR            2) 763 Eng, Breanna SR            
     3) 781 Notarstefano, Valerie SR    4) 762 Driscoll, Nicole SR        
 15 Bay Shore  'B'                                    x10:59.92  
     1) 96 Czaja, Melinda JR            2) 123 Tiedemann, Vicki JR        
     3) 89 Beakes, Lindsey SR           4) 119 Schmidt, Catherine SO      
 16 South Kingstown High School  'A'                   11:12.19  
     1) 1007 Brown, Madeline SO         2) 1027 Spirito, Rachel SR        
     3) 1005 Bates, Suzanne JR          4) 1031 Woodford, Gabby JR        
 17 East Syracuse Minoa  'A'                           11:15.49  
     1) 344 Andrianos, Cara JR          2) 346 Heidelberger, Erica SR     
     3) 347 Steinberg, Megan SR         4) 345 Crandall, Megan FR         
 18 Middle Country NY  'A'                             11:19.52  
     1) 604 Mortak, Kristen SR          2) 599 Lambert, Sarah JR          
     3) 621 Wichrowski, Grace JR        4) 584 Brush, Katie SR            
 19 Farmingdale HS  'A'                                11:31.11  
     1) 363 Bonilla, Melissa SR         2) 372 Grzinic, Kelly JR          
     3) 374 McKnight, Jackie JR         4) 371 Gennarini, Alessandra SR   
 -- St. Dominic Academy  'B'                                 DQ  
 
Event 43  Girls 4x200 Meter Relay Championship
================================================================
    School                                               Finals 
================================================================
  1 Bloomfield HS  'A'                                  1:50.01  
     1) 147 Deer, Chantelle SO          2) 156 Lascelles, Tobiann JR      
     3) 154 Harrison, Tiffany SO        4) 148 Duffus, Nasheane JR        
  2 Academy of the Holy Names  'A'                      1:51.53  
     1) 5 Cooper, Christina JR          2) 13 Mohamed, Sherez SR          
     3) 9 Kennedy, Theresa JR           4) 17 Ricks, Klarissa SO          
  3 Amityville  'A'                                     1:51.75  
     1) 26 Blotiau, Emilie SR           2) 29 Gordon, Ariel JR            
     3) 36 Walker, Davida JR            4) 30 Jackman, Corine SR          
 -- DePaul Catholic High School  'A'                        DNF  
     1) 294 Eure, Gia SR                2) 296 Kroner, Rene SR            
     3) 290 Beljakovic, Nikol SR        4) 298 Mickelewski, Katrina SO    
 -- Mount Vernon HS  'A'                                    DNF  
     1) 626 Bonner, Kenina SO           2) 627 Crump, Breanda SR          
     3) 642 Yarde, Tanaye FR            4) 636 Mindingall, Shamika JR
Northeast Region Index