Mayors Cup Hall of Fame Classic Meet Name





New US #1 for Terrance Livingston (600) and Jermaine Brown (300)





Saturday, January 31, 2009 - Armory Track and Field Center






Results

- Boys - Girls
courtesy of SIRunning.com
200 meter banked Mondo

PHOTO GALLERIES - Winners - Boys Action - Girls Action



Highlights



Terrance Livingston (Great Neck South, NY) arrives late and is put into the 3rd heat then runs a solo US #1 with a time of 1:19.48 after passing through 400 in 51.6 and 500 in 1:05 - #6 ALL TIME USA
After a fast 34.04 in the trials, Jermaine Brown (Medger Evers,NY) runs a US #1 33.78 in the 300 meters

Port Jervis's Sydnie Leroy starts the day with a win in the girls pole vault with a jump of 12' 0"
Sheepshead Bay leads 4 x 200 qualifying with a 1:30.85. The returns to take the final in 1:28.79 over Boys & Girls 1:29.01
Campus Magnet holds off Medger Evers to take the girls 4 x 200 final 1:42.64 - 1:42.85
Shannon Brown (Curtis) holds on for a 4:46.86 win in the 1500
Coming from behind over the last lap, Sean Pohorence (Morris Hills, NJ) to nip Joe Brancale (McKee, NY) in the boys mile
Footlocker Finalist Aisling Cuffe (Cornwall, NY) pulls away over the last half of the 3000 meters to win in 9:58.49
Ending the day Cardozo wins the girls 4 x 400 in 3:51.17 after winning at the Millrose Games the night before. Transit Tech wins the boys final event the 4 x 400 in 3:22.57 - a top 10 time in the USA this season.



Limited entry meet result a 2 US #1's and set the stage for big showdowns



Most weekends at the Armory Track and Field Center in New York feature meets that can best be described as cattle calls sometimes lasting up to 12 or 13 hours with section after section of races. The Mayors Cup/Hall of Fame Classic has a much different feel to it, a limited entry meet that combines an open invitational and a championship meet and the result would be 2 US #1 performances and five other performances that provided the fans with something to cheer about. FULL REPORT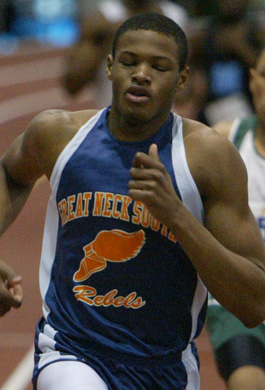 A pair of US #1's

- Terrance Livingstone (Great Neck South,NY) left in the 600 and Jermaine Brown (Medger Evers, NY)
right in the 300m (photos by John Nepolitan)

Northeast Region Index