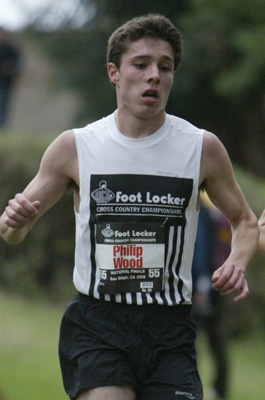 Wood gives verbal to Texas

Longhorns get Pennington star who was a Foot Locker finalist


Jan. 6, 2009 - Phil Wood (photo left by John Nepolitan at the 2008 Footlocker Nationals) of the Pennington School, who competed at the Foot Locker Cross-Country National Champships last month, announced that he's given a verbal commitment to attend the University of Texas in the fall.
Wood, who hails from Yardley, Pa and is the Mercer County record holder in the 3,200, is coming off a great cross country seaon, which he capped by placing 30th at the Foot Locker national championships in San Diego. Wood also finished second in both the Mercer County and the state Prep B Championsips before earning a spot in the Foot Locker national race after finishing fifth at the Northeast Regional Championshsips at Van Cortlandt Park in the Bronx, N.Y.
Wood, who has personal bests of 4:17.89 in the mile and 9:18.76 in the 3,200, will be running in the Invitational Mile this Saturday at the Hispanic Games at the 168th Street Armory in New York. The winner of the mile at the Hispanic Games will received an automatic berth in the 30th Millrose Games, Jan. 30 at Madison Square Garden in New York.