Parros headed to North Carolina
Star sprinter from Seton Hall Prep in NJ gives verbal to attend ACC power
By Jim Lambert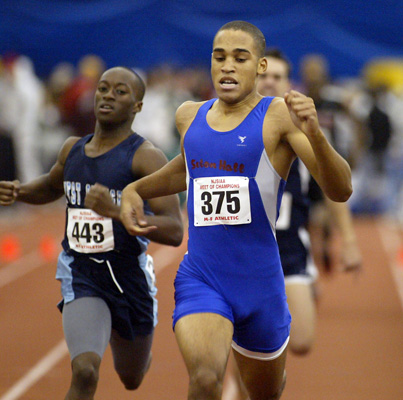 Dec. 16 - Clayton Parros (photo left by John Nepolitan) of Seton Hall Prep in West Orange, N.J., one of the premier sprinters in the country, has given a verbal commitment to attend the University of North Carolina next fall, his coach, Steve Trembley, said today.

Parros said he chose North Carolina over the University of Miami. Those were the only two visits Parros took..

``When I went to Carolina in the middle of November, I just fell in love with the school and the team, and I really liked their assistant coach (Antonio Pettigrew),'' said Parros.

Parros was very impressed by how much faster former NJ star Charles Cox got during his freshman year. Under Pettigrew's watchful eye. Cox, who starred at Monmouth Regional High, won the ACC title last spring in the 400, and ran 45.95 in the one-lapper. That's a full second faster than Cox's personal best in high scshool of 46.95.

``Seeing how much Charles improved in one year working with Pettigrew certainly was a major factor in my decision,'' said Parros. ``Hopefully, I can have the same type of success.''


As a junior last winter, Parros won the 400-meter run at the NJ Meet of Champions and at the Eastern States Championships.

In the spring, Parros placed second in the 400 at the M of C in 47.32 and was eighth in the one-lapper in 47.54 at the U.S. Junior National Championships at Ohio State. He ran his personal best of 47.20 in the preliminary round at Junior Nationals.

Parros, who lives in Bloomfield, is also exceptional in the short sprints.

At the Non-Public A state meet last spring, Parros won the 100 in 10.96 and the 200 in 21.82. In addition to those titles, Parros added his third straight title in the Non-Public A 400 in 47.62, and anchored the winning 4x400 with a split of 46.5.

Parros is very confident that the state indoor record of 47.20 in the 400, set in 2003 by Lance Wigfall of East Orange, will be broken.

``I can safely say that I should get that,'' said Parros.

Parros will open his season on Saturday by running the 600, 300 an 4x400 at the Bishop Loughlin Games at the 168th Street Armory in Manhattan.