New Jersey's finest aim for national records


Parros, Andrews and Smith could challenge some all-time marks at the New Balance Collegiate Invitational
By JIM LAMBERT

They are three of the brightest young stars in their sport, ascending to the top of the high school track and field world with breathtaking performances this season.
But Clayton Parros, Robby Andrews and Jill Smith (photo below by John Nepolitan) are never fully satisfied. They are always looking for new ways to challenge themselves, to test how far they can push their bodies, how fast they can will themselves to run.
One way they can do that is to race against the record book.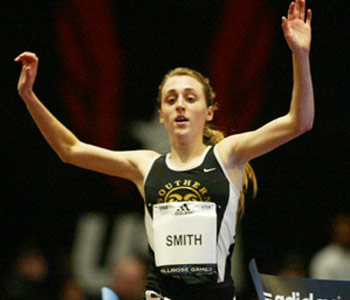 So fresh off their unforgettable races at the 102nd Millrose Games at Madison Square Garden last Friday, Andrews, Smith and Parros will do just that when they step onto the track at this weekend's New Balance Collegiate Invitational at the Armory Track & FieldCenter in New York.
Andrews, a senior at Manalapan, and Smith, a senior at Southern Regional in Manahwakin, who swept the high school miles at Millrose, will be running the 1,000 meters on Friday.
Seton Hall Prep's Parros, who finished a very respectable third at Millrose in a 600-yard race that featured Olympians and former college All-American's, will take the line in the 600-meter run on Saturday at the New Balance meet.
Parros, the fastest schoolboy 400 runner in the nation this season at 47.58, will be aiming for the state and national record of 1:17.9, set in 2005 by Shaquan Brown of Paterson Kennedy.
``It will be interesting to see how close we can get to the national record,'' said Parros of the loaded 600 field. ``I think it's definitely possible that it gets broken, and I even think there could be two guys that could go under it.''
Parros, who is headed to North Carolina next fall, will be lined up against some of the best collection of talent in the country. The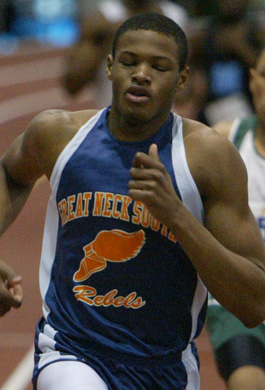 race includes Terrance Livingston (photo right by John Nepolitan) of Great Neck South in New York, and the Hendrix brothers, Anthony and Andrew, of New Bern High School in North Carolina.

Livingston has the fastest time in the nation this season in the 600, running 1:19.48, No. 6 all-time, this past Saturday at the Mayor's Cup/Hall of Fame Classic at the New York Armory.

Anthony Hendrix (1:03.48) and Andrew Hendrix (1:03.71) are ranked 1-2 in the U.S. in the 500. This past Friday, Anthony split 47.7 and Andrew 47.9 for New Bern's 4x400 relay team that ran 3:13.24, No. 2 in U.S indoor history.

``This sure is going to be a fast one,'' said Parros, who ran an unpushed 1:21.56 in the 600 in December. ``With these caliber of athletes, we'll all be pushing eachother to what could be some incredible times. I am so excited.''

Andrews is feeling pretty excited too, especially coming of his breathtaking and dramatic 57.8 final quarter mile as he came from behind to win at Millrose in 4:17.42..

Andrews, headed to Virginia this fall, will be chasing one of the greatest names in the sport in the 1,000, the great Alan Webb. Webb, an Olympian and the high school record holder in the mile indoors and outdoors, owns the national record in five lapper with a 2:23.68, set in 2001.

``That's the whole purpose of running this race,'' said Andrews said of Webb's record. `` I got one of my big goals at Millrose, now I want to go get my second one,'' said Andrews. I'm really not thinking about who else is in the race, I am really just focused on hitting my splits. I feel I can be around 1:25 at 600 and then go 28 something and 28 something for the next two 200's.''

Andrews will be running in a field that includes New Jersey stars Sadiki White of Allentown, Xavier Fraction of Washington, and Liam Tansey of Morris Hills. White, a senior, owns the top time in the nation this season in the 800 with a 1:52.4. Tansey has split 1:53.4 for 800 this winter and has gone 1:23.18 in the 600.

In the girls' 1,000, Smith, who hasn't lost a race on the track since June of 2007, will have one of her stiffest challenges yet. Smith, still undecided on her for college plans, has the top time in the nation this season in the mile (4:51.88 at Millrose) and she ran a jaw-dropping 2:05.4 800 on Southern's national leading 4x800 (9:07.67) on Jan. 25.

She will tangle with the likes of Emily Menges of Garden City (N.Y.) Claudia Francis of Benjamin Cardozo (N.Y.) and her teammate at Southern, junior Chelsea Cox, is also entered.

Francis has the fastest time in the nation in the 1,000 this season (2:53.16) and is No. 2 in the 600 (1:33.89). Lipsey is No. 1 in the U.S. in the 600 (1:32.34), and No. 2 in the 800 (2:09.47). Menges sits at No. 2 nationally in the 1,000 (2:53.42).

Smith has a good shot at the N.J. state record of 2:47.44, which has stood since 1985 when Margaret Scutro of Ridgewood set the mark. The national record is 2:43.40, set in 2005 by current Tennessee star Sarah Bowman of Virginia.

Charlene Lipsey of Hempstead (N.Y.) was orginally entered in the 1000 meters but due to a last minute league conflict was forced to switch to Saturday's 600 meters where she will face US leader Phylis Francis (MacAuley, NY) and US #3 Breanda Crump (Mt Vernon, NY) in what could be a preview of the New York State Championship coming in March.

Relay and weight throw records under attack - by John Nepolitan

While there are many great individual races on tap at the New Balance Collegiate Invitational, the relays and weight throw will provide just as many fireworks. Headlining the relay portion of the meet will be the 4 x 400 team from New Bern (NC). Last weekend the New Bern foursome ran the 2nd fastest 4 x 400 in history with a 3;13.24 clocking on the oversized (283 meters). The national record of 3:13.34 is sure to be under attack. The fastest time ever run indoors by a high school foursome is 3:11.7 by Lincoln, TX in 1970 also run on an oversized track could be within reach. Lining up against New Bern will be Newburgh (3:19.53 ), Abington (3:20.95) Rahway, Fordham Prep and Boys & Girls. In the 4 x 200 New Bern will once again face a strong challenge from five teams from New York that have all dipped under 1:30 this season. Leading the local teams will be Sheepshead Bay who last weekend at the Mayors Cup ran a swift 1;28.79 to nip Boys & Girls 1:29.01 who will also be in the field.

The 4 x 800 may not challenge any records or even the national lead, but when Fordham Prep and Monsignor Farrell face off it will be the 3rd time this season the two schools will go head to head in a major championship. So far it is tied 1 – 1with Farrell taking the important Millrose Trials and Fordham Prep winning last Friday nights CHSAA Millrose Games 4 x 800. Far from a two team race, Transit Tech, Warwick Valley, Bishop Ford, St Joseph Sea, Abington, Chaminade and New Rochelle all will be in contention for the win.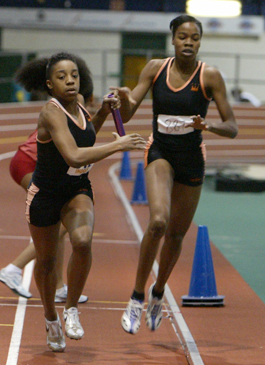 The girls relays are no less powerful and will also feature a team from the south traveling north to take on the metropolitan areas best. Eleanor Roosevelt (Md) will once again be looking to sweep the 3 relay events, but will have to be on the top of their game to win just one. Roosevelt leads the nation in the 4 x 200 with a quick 1:38.27 and will be pressed by Cardozo, Oxon Hill(Md) and Swenson (Pa) and Medger Evers, all with times among the nations' top 8. At twice the distance, 4 x 400, Roosevelt will be the chaser as Cardozo (photo left by John Nepolitan) has a slightly faster time on the season 3:51.55 – 3:53.7. If either team is off their game Newburgh, Medger Evers, Oxon Hill and Mt Vernon could grab the win

Roosevelt is an unknown this season in the 4 x 800, but year after year produces one of the best foursomes in the USA. The that will be looking to knock off Roosevelt will be US #2 Bronxville (9:19.46), former US #1 Villa (9:24.53), always powerful Saratoga Springs, and a number of other New York schools.

While most of the weekends focus will be on the track at the far end of the Armory Track and Field Center will be one of the most exciting field events – the weight throw. Heading the boys field will be the two national leaders Lauren Chambers (Kell, Marietta, GA) and Alec Faldermeyer (Minisink Valley, NY). Chambers has already thrown 59' 11"(outdoor competition) and 58' 4.75"(indoors) and could threaten the national record of 62' 2" by Victroia Flowers (Classical, RI).

The New Balance Collegiate Invitational may only have 12 events for high school athletes on the 2 day schedule, but they could re-write the 2009 and all time national lists.