Johnson gives up hoops, accepts Millrose and Boston Invites
Ocean City senior will let injured foot heal before running first indoor season

Dec. 15


By JIM LAMBERT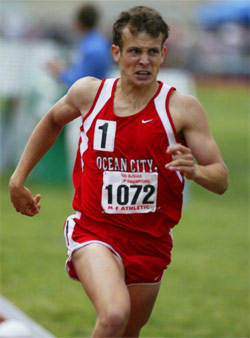 Dec. 15 - Brett Johnson (photo left by John Nepolitan) announced today that his injured foot has forced him to end his basketball career at Ocean City, but he will run indoor track for the first time and has accepted invitations to run in the High School Mile at both the 102nd Millrose Games and the Boston Indoor Games.

The Millose Games will be held on Jan. 30 at Madison Square Garden, and the Boston Indoor Games are scheduled for Feb. 7 at the Reggie Lewis Center.

Johnson, a starting guard on the basketball team last year, sprained his right foot and an ankle ligament while running at the Foot Locker Northeast Regional on Nov. 29 at Van Cortlandt Park in the Bronx, N.Y. Despite the injury, Johnson still managed to finish eighth in that race to qualify for this past Saturday's 40th Foot Locker Nationals in San Diego.

Johnson courageously made it around the 3.1-mile course at Balboa Park, grimacing in pain with each step and limping the entire way on his heavily taped foot. The grit and guts he showed wasn't lost on the huge crowd, which gave Johnson a loud ovation as he made his way down the homestretch toward the finish line. Johnson finished last in the race, but was certainly first in the hearts of the fans.

Johnson, one of the premier milers in the nation, ran 4:08.51 for the mile last spring, the fastest in the nation by an underclassman and No. 6 in the country for the season. Johnson won the NJ Meet of Champions 1,600 last June in a meet record 4:09.03, and was sixth at the Nike Outdoor Championships in the mile in 4:11.22.

With his choice of which sport to compete in now out of his way, Johnson still has one more big decision to make about his future. Which college will he attend?

Johnson is still mulling over offers from Virginia and Kentucky. Virginia first-year coach Jason Vigilante, a native of Morristown, NJ, landed Johnson's buddy and fellow NJ mile star, Robby Andrews of Manalapan, a couple weeks ago.