Shenendehowa boys, Burnt Hills girls supreme at NY Feds





Lipari repeats as girls' champ, Leuchanka cops boys' crown





Saturday, November 15, 2008 - Bowdoin Park, Wappingers Falls NY



Jamie Kempton on site



New York's Capital District flexed its muscles once again Saturday as Shenendehowa captured its third straight boys' title and Burnt Hills-Balston Lake took home its first girls' crown at the 35th annual New York State Federation championships at muddy Bowdoin Park in Wappingers Falls.

Shen's Alex Leuchanka shook off a tenacious Max Straneva of Chenango Valley in the last 250 meters to nail down the individual title, while Emily Lipari of Roslyn broke free from Cornwall's Aisling Cuffe with less than a half-mile left to lock up her second consecutive Federation championship.

The races assembled the top 27 teams and 70 individuals from the state's public, Catholic, New York City public and private/independent schools in one all-class finale. Although a premier team (Fayetteville-Manlius) skipped the race to focus on the Nike Cross Nationals New York Regional Nov. 29 at Bowdoin Park, and a few top individuals bypassed Feds to prepare for the Foot Locker Northeast Regional at Van Cortlandt Park, also Nov. 29, there was still a plethora of talent on display in what has traditionally been one of the marquee events on the New York XC calendar.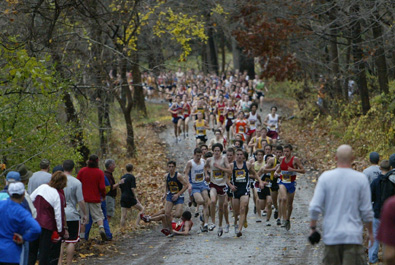 Pre-race rain left the Bowdoin course slick in several spots and a handful of runners took nosedives on the soggier portions of the turf. One of those who fell was Straneva, who went down near the mile mark while running in the lead pack(photo left by John Nepolitan). "I got trampled," said Straneva, who dropped back to ninth or 10th place but caught back up with the leaders within a quarter-mile. His muddied and bloodied right knee and elbow were vivid reminders of the price he paid for the spill.

The sloppy conditions, which slowed times, were not the only impediment the runners had to conquer. The density of the pack – some 250 runners – creates tight confines on the narrower corridors of the Bowdoin layout and puts a premium on maintaining your composure when you're trying to establish running room amid a thicket of arms and legs, not to mention flying spikes.

Some teams and kids respond to the welter of bodies better than others. Of course, those who can get out well and establish a rhythm up front don't have to worry about wading through the masses. Leuchanka and Straneva got out strongly and were among a lead pack at 1 ¼ miles that included Mike Hickey of Pearl River, Bobby Andrews of Shoreham-Wading River, Otis Ubriaco of Burnt Hills and Demetri Goutos of Saratoga. Straneva made a series of surges that splintered the group into a final foursome that included Leuchanka, Goutos and Ubriaco. Coming off the course's final downhill and into the playground area with three-quarters of a mile remaining, Straneva made another surge and this time only Leuchanka went with him.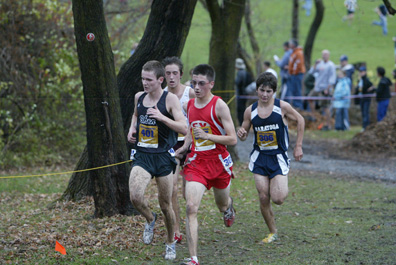 It wasn't until the last 250 meters, emerging from a wooded area into the home straightaway, that Leuchanka finally broke free with a withering kick. He finished 10 meters clear of Straneva in 16:21.8, while Straneva ran 16:23.6.

"Max was the only thing standing between me winning and losing," said Leuchanka. "I didn't care who was in front. I was going to sit behind anyone who was in front and not let them go. After losing by two-tenths of a second last week [at the state class meet], I just wanted to win the race. I didn't care about time."

"I told Alex not to take the lead until after the two-mile point," said Shen coach Mark Thompson. "We didn't need him to press the pace. With about three-quarters of a mile left, I told him, 'Now's the time.' Alex did exactly what he was coached to do. He's extremely coachable, and he's a smart racer. He's been around long enough to know what works best for him."


When Straneva fell, what was his immediate reaction? "Crap! I wanted to win really bad, so I got right back up," said the junior. "It made me more angry." At the end, Leuchanka made his move on a slight dip leading into
the homestretch. "He put on his mean kick. I had a kick, but it wasn't as good as his," Straneva said.

Like Leuchanka, Lipari won the race on the strength of her finishing strength. Like the boys' race, four girls broke away from the rest of the field – Lipari, Cuffe, Danielle Winslow of Queensbury and Shelby Greany of Suffern. After the midway point at the crest of the course's challenging hills, Greany fell back and the same trio that battled for the state Class A title last week at Sunken Meadow State Park were back at it again, this time with the all-encompassing Fed title on the line.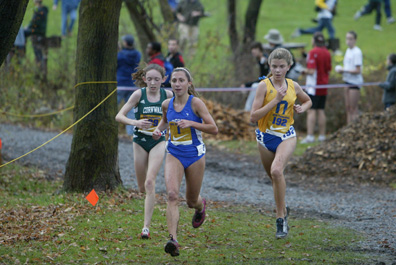 Winslow fell off the back with less than a mile remaining and Lipari and Cuffe dueled on the flat horseshoe loop in the last 1,000 meters. Lipari gained a sliver of daylight before entering the wooded area with about 600 left, then detonated a punishing kick in the last 200 meters to win by almost 20 meters in 18:15.4 to Cuffe's 18:20.5.

"I felt Aisling on my back," said Lipari, a junior who turns 16 on Nov. 19. "After you race someone once, you know what they're going to do and they know what you're going to do. I knew they [Cuffe and Winslow] would go out hard. I was starting to panic a little near the end. I thought if I could pick it up maybe I could pull away a little bit."

Cuffe ran aggressively on the hills and attempted to create some separation before it came down to the final stages, but the sophomore didn't quite have the top-end speed to match Lipari. "My strategy was to try to get the lead on her but halfway through the race I knew that wasn't going to happen," said Cuffe, who finished about the same distance behind Lipari last week at the Intersectionals.



With 800 to go Lipari leads Cuffe and Winslow (photo by John Nepolitan)


Greany wound up sixth and earned a mark of distinction by finishing sixth or better for the fourth straight year, having been fourth in '05, second in '06 and fifth last year.

In the girls' team race, Burnt Hills-Balston Lake scored 69 points to outdistance its close rival and Albany area neighbor, Saratoga, which scored 82. Burnt Hills and Saratoga are ranked a respective 11th and 12th in the most current Harrier national rankings.

Burnt Hills placed two girls before Saratoga's first and four before its third runner. Senior Sam Roecker and sophomore Molly Pezzulo led Burnt Hills finishing fourth and fifth overall. The team's No. 4 runner, Alyssa Drapeau, also ran strongly in finishing 24th overall and 17th in the team scoring.

Burnt Hills coach Shaun Zepf said Roecker and Pezzulo had run tactical races in the state class and sectional meets and this time he "finally let the top two race." He said the team didn't focus on its rivalry with Saratoga. "I don't care about the score," he said. "I tell the girls to ask themselves one question when they're done. Did you give of yourself everything you had? If you can answer yes, that's all I care about."

As expected, Shenendehowa put the boys' field in the rear-view mirror with a commanding performance, scoring 93 points to 151 for runner-up Burnt Hills-Balston Lake. Sophomore Otis Ubriaco's third-place effort spearheaded Burnt Hills. Shoreham Wading-River took third with 157.

Shen coach Mark Thompson saw Burnt Hills as the Plainsmen's closest pursuers. "I thought they didn't have a good state [class] meet and that they would rebound here, so I marked them." Led by Leuchanka and junior Dan Harris (14th), Shen put four in before BH's third and five before its fourth.

"We were a little tired coming off the state meet, it took a lot out of the kids," said Thompson, whose team won the Class AA race last week. "I thought we'd be about 90 percent. But we executed against Burnt Hills."

Thompson said Shen had no intention of skipping the Federation meet to get ready for the NXN New York Regionals back at Bowdoin in two weeks. "There was no way we were going to bypass this one. Anytime you can race here [at Bowdoin], the experience helps. We've been here twice now. We can fine tune what we have to do in two weeks."