The course record is safe for another year, but Lanie Thompson proved that no runner in New Jersey is safe from her.

Spurred by the prospect of taking down the Holmdel Park course record and by the fact that Kingsway junior Chelsea Ley would be in the mix while chasing that goal, Thompson turned the much-talked about duel into a one-runner show.

Thompson (photo right with her trophy - photo by John Nepolitan), the Oregon-bound senior from Voorhees, eluded Ley midway through the second mile and stormed to her second straight title in 17:47 at the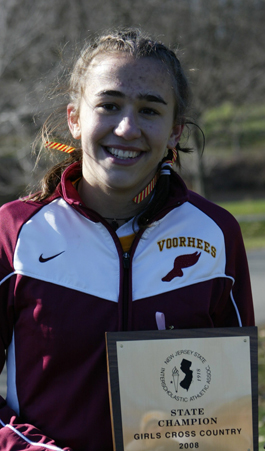 37th NJSIAA Meet of Champions yesterday at frigid Holmdel Park.


Her championship also sparked Voorhees to its second consecutive M of C team title.
Thompson's time ties her with the 2006 champion, Danielle Tauro of Southern Regional in Manahawkin, as the fourth fastest in course history. Ley, who posted a 17:43.1 last month, No. 3 in Holmdel annals, finished second in 18:02.
Left untouched by both runners was the course record of 17:35.5 set in 1983 by Janet Smith of J.P. Stevens.
``It's an honor to be compared to a runner like Danielle,'' Thompson said. ``It's definitely really exciting to win again, but I don't think I can compare the two titles because both races were so different. This year there was more talk about the course record than about who was running.''
Thompson became the state's ninth girl to win back-to-back M of C titles. In fact, since 2003, only three girls have brought home medalist honors – Brittany Sedberry of Ocean City (2003-04), Tauro (2005-06) and now Thompson.
``It's been just amazing to train with her,'' Voorhees coach Justina Cassavell said. ``She's a special kid. I'm looking forward to watching her career after high school.''
Thompson continued her streak of going undefeated against New Jersey competition since she finished seventh in the 2006 M of C. On Saturday she will take her show out of state to the Foot Locker Northeast Regional, at Van Cortlandt Park in the Bronx. The top 10 finishers automatically qualify for the national championships Dec. 13 in San Diego.
Last year Thompson led Voorhees to a second-place finish at the Nike Northeast Regional Championships and a berth in the Nike Team Nationals in Portland, Ore.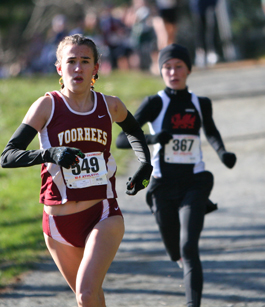 The cold weather – the wind chill pushed the mercury into the low 20s – helped the course record survive another season, but Ley, who has established a style of racing against the clock and stated that the record was her goal this season, changed her original plan and sat on her rival.
It didn't work last week in the Group 3 race – Thompson won in 17:56 and Ley was second in 17:59 – and it didn't work yesterday. Thompson went through the mile in 6:10 with Ley just over her shoulder. The runner from the Gloucester County school pulled even with Thompson midway through the second mile, going downhill into the bowl, but Thompson hit the two-mile mark in 12:00, four ticks ahead of Ley, who never got closer the rest of the way.
Ley was asked why she gave up her plan to chase the clock and the record, and instead chase Thompson, against whom she is now 0-for-13 in head –to-head competition, in cross-country and track combined.
``Coming into big races, it seems like I get discouraged,'' Ley said. ``I really don't know what happened. Melanie took it out and I sat on her. I caught up with her in the bowl, but coming out I just couldn't hang on. I'm still not going to say I'm not going to race the clock. Melanie is just a stronger runner.''
Whether or not Ley chased the clock or Thompson was immaterial to Kingsway coach Christian Lynch, who gave all the credit to the Voorhees star, who now owns four M of C titles, two in cross-country and two in track.
Thompson leads Ley at the 1 mile point (photo by Mike Hickey)
``You would be hard-pressed to find a better competitor in the history of the state than Melanie,'' Lynch said. ``I think she's just a more mentally tough kid. It doesn't matter the time, place or conditions. She's gotten everything she deserves.''
Missing out on erasing Smith's Holmdel record was only a mild disappointment to Thompson, who knew that she needed Ley to run at her typically fast pace to have any shot. Instead, Ley sat back and Thompson, took charge.
``We talked about the record this week and I asked Lanie what she plans to do if Chelsea's not having a good race, so she was ready for that,'' Cassavell said. ``The fact that she was so close (to the record) with a 6:10 first mile is so impressive.''
``I had the record in the back of my head,'' Thompson said. ``I thought I needed 11:50 (for two miles) and I went through in 12-something. I wish I got out in a little less than six minutes for the mile. This was a race I've never run before, because Chelsea never contested me and I led most of the race. I knew Chelsea's capable of popping out a great time any day, so I had to be ready for anything.''
NOTES: Nine runners slipped under 19 minutes this year, making it the first season since 2003 that at least 10 runners didn't break that barrier. In 2004, 10 runners reached under 19, a mark that improved to 14 in 2004, a state-record 15 in 2006, and 12 last season.