PREDICTIONS FOR THE BOYS RACE

Udland and West Windsor-Plainsboro North tabbed to triumph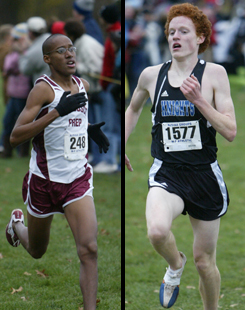 Team: NE#1 West Windsor-Plainsboro North and NE #2 Don Bosco Prep will both run their best races of the season. But when the dust settles, Joe and Jim Rosa will finish in front of Don Bosco's top two and combine for five points or less, and WWN's 3-4-5 will finish between 16:25 and 16:45 as West Windsor North breaks the course record average of 16:15.6 (CBA in 2005) and wins by about 10 points over Don Bosco.
Leighton Spensor (Bosco) and Joe Rosa (WWPN) -photos by John Nepolitan
Individual: The pace will be as brisk as the weather as a group of about six runners will go through the mile in the 5:10 range. Coming out of the bowl, Tyler Udland (pictured right - photo by John Nepolitan) of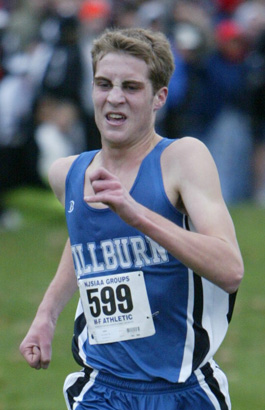 Millburn , Joe Rosa of West Windsor-Plainsboro North, and Doug Smith of Gill St. Bernard's will battle for the lead with Brett Johnson of Ocean City stalking. After hitting the two mile mark in a few ticks under 10:20, Udland will make a big push around the tennis courts and go on to win in about 15:28. Johnson will rally for a runner-up finish in the low 15:30's as a course record five runners break 15:50.