West Windsor-Plainsboro North knew it had to come up with a monumental effort to dethrone defending champion Don Bosco Prep. It did even better than that, producing a performance for the ages.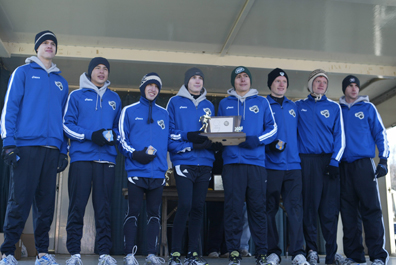 West Windsor North, ranked No. 2 in the state and No. 19 nationally, ripped apart the Holmdel Park layout with course-record average of 16:14.4 to capture the team title, 41-59 over runner-up Don Bosco Prep yesterday at the 37th NJSIAA Meet of Champions.
Don Bosco, which saw its chances of repeating damaged when three of its runners fell in a big pileup about 300 meters into the race, came in ranked No. 1 in the state and No. 7 nationally.
Don Bosco suffered its first loss to a New Jersey team since it finished second to Jackson at the 2006 M of C. It had beaten West Windsor North when it finished first and West Windsor North was fifth in the Eastern States Championship race at the Manhattan Invitational on Oct. 11 at Van Cortlandt Park in the Bronx.
Leading the charge for West Windsor North were its sensational sophomores, twins Joe and Jim Rosa. Joe finished second to Tyler Udland of Millburn in 15:47 and Jim was sixth in 16:01.
But the race was won at the back of the pack for West Windsor North, where senior Ryan Sleeper, 19th in 16:21, senior Tyler Corkedale, 26th in 16:26, and senior Anthony Lee, 36th in 16:37, all ran personal bests to give the Mercer County school a five-runner average of 16:14.4. That broke the course record of 16:15.6 set by Christian Brothers Academy in 2005.
West Windsor North is the first Mercer County team to win a M of C title.
Sleeper dropped 45 seconds from last week's Group 3 race, when he was the team's No. 6 runner, while Corkedale came down seven seconds and Lee sliced 17 seconds off his group time.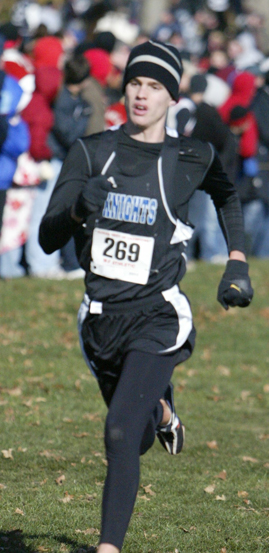 "I had to get back up there to help the team," said Sleeper(photo left by John Nepolitan), who has run rock steady as his team's No. 3 most of the season. "I kept telling myself during the race that I had to stay up there for us to win and that pushed me to run faster and faster."
Joe Rosa said all the credit goes to the pack behind him and his brother.
"When Ryan runs good we run great," Rosa said. "We knew this would be a race that would come down to the pack and our guys ran great back there. They're the reason we won. Don Bosco hasn't lost in a long time in New Jersey and it took everything we had to beat them."
Don Bosco Prep refused to use the major collision that occurred near the top of the opening uphill as an excuse. Don Bosco senior Rob Molke and juniors Howard Rosas and Michael Belgiovine all went down in the heap.
After Molke, who has been the No. 1 or No. 2 runner on his team all season, got tripped up, he got stepped on trying to get back up and went down again. He was nearly dead last in the field of 185 runners when he got to his feet.
Molke made a remarkable recovery. After running past the mile in 5:58, Molke valiantly covered the final 2.1 miles in a blazing 10:27 to finish 24th overall and third for his team in 16:25.
"It's frustrating," Molke said. "But I wasn't about to give up. My team was depending on me and I did the best I could to get back up there. Maybe things could have been different if that didn't happen. But we still ran well (16:25.6 average). But West Windsor ran an unbelievable race and I give them all the credit for winning."
West Windsor North and Don Bosco, having split two meetings this season, will meet again next Saturday at the Nike Northeast Regional Championships in Wappingers Falls, N.Y. At stake is a berth in the Nike National Championship race on Dec. 6 in Oregon.