Udland (15:40) outduels Rosa (15:47) over final half mile to capture crown





Big finish gives Millburn junior the title over the super sophomore





Saturday, November 22, 2008 - Holmdel Park, Holmdel NJ



Jim Lambert



Tyler Udland was staring at a 20-meter deficit. He knew that if he didn't make a move, his chance at victory could slip away.
But Udland refused to let that happen. The junior at Millburn responded to the big surge that Joe Rosa of West Windsor-Plainsboro North made coming out of the bowl portion of the course and reeled him in just after the two-mile mark.
Then, after they traded the lead a few times over the next half mile, Udland finally got a step on Rosa near the 2.5-mile mark an simply hammering the closing downhills on his way to victory in 15:40 at yesterday's 37th NJSIAA/Star-Ledger Meet of Champions at frigid and wind-swept Holmdel Park.
Rosa, bidding to become the first sophomore boy to win an M of C title, was second in 15:47 and Sean Pohorence of Morris Hills took third in 15:51 as Group 3 runners grabbed seven of the top eight places. Brett Johnson of Ocean City, suffering from a stomach virus all week, was never in the hunt and wound up third in 15:57.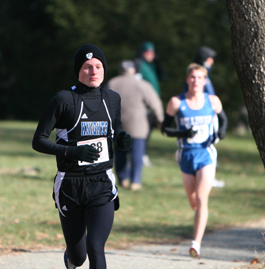 ``Rosa kept putting in surges the whole race, and when he did it coming out of the bowl I had to try to go get him," said Udland. ``If you don't close the gap there, you could run out of time. I had to make a strong move there.''
Udland was just a few strides behind Rosa at the two-mile mark (photo left by Mike Hickey), which Rosa hit in 10:25, and about 25 yards after that, Udland's coach, Jeff Kaye, yelled out some advice to his star. ``His form is breaking,'' Kaye screamed out.
``I heard that, so I decided to keep pushing until I could break him,'' said Udland. At some point, one of us had to break and I'm confident enough in the way I finish my races that I wouldn't be the one to break.''
Udland joined Carlos Martins of Newark East Side (1986) as the only runners from Essex County to win a M of C title,
The race didn't unfold that way many observers expected.
Udland and Rosa hit the first mile together in 5:20 with Pohorence a step behind. Doug Smith of Gill St. Bernard's was fourth in 5:25 with Johnson a few ticks back in 5:30.
That pace was five seconds slower than the first mile split at the Group 3 race last Sunday. In that race, Udland outdueled Johnson over the final 400 to win in 15:36. Johnson was second in 15:41 and Rosa was third in 15:51.
``I was a little concerned that the first mile was slower than lasat week because that would help Johnson use his late speed again,'' said Udland. ``I knew that Rosa would run a better race today, but I was surprised that Johnson wasn't there.''
After the first mile, it was Udland vs. Rosa in a battle for state supremacy.
Rosa made a big push going into the bowl, opening a 20-meterr gap. Udland closed that back up before Rosa made what he was hoping was a race changing move coming out of the bowl.
``Last week I didn't make any moves out there, so today I went out there and tried to run more aggressive,'' said Rosa, who ran a Holmdel sophomore course record 15:38 at the Shore Coaches Invitational on Oct. 4. ``We are both strong runners and I feel the best part of my race is on the uphills, so I tried to get away from him coming out of the bowl. But every time I tried to make a surge, he would answer it. I did all I could, but he's a great runner and ran a great race.''


Udland (shown left holding his winners trophy- photo by John Nepolitan) was obviously ecstatic about his victory.
``The talent in New Jersey is just so incredible that this win is an amazing feeling,'' said Udland. ``And it's going to get even harder with Rosa just being a sophomore. ''
Udland has just two losses this season. Johnson beat him at the Shore Coaches Inviational, 15:44 to 15:48, and he was third at the Manhattan Invitational on Oct. 11 behind Solomon Haile of Maryland, one of the nation's best, and New York star Chris Stogsdill.
But since then, Udland blasted course record at rugged Lewis Morris Park (16:11) at the Northern Hills Conference Championships, and at Brookdale Park (14:58) at the Essex County Championshsips. He also won the North Jersey, Section 2 Group 2 title in 16:09.
After those racesm it wasa obvious that Udland was going to a force to be reckoned with.
``Everything started really coming together the last few weeks, but I really didn't start thinking I could win this until last week,'' said Udland. ``I didn't race Rosa until last week and he was undefeated at the time and every looked at him as the favorite because of how fast he was running. So when I beat him and Johnson that gave me a lot of confidence. That I could do this.''
Udland served notice last spring that he was a star on the rise when he rallied on the final lap to catch Doug Smith right before the finish line to win the 3,200 by less than one second at the Meet of Champions.
And his season isn't over yet.
Udland will be running at the Foot Locker Northeast Regional Championships this Saturday at Van Cortlandt Park in the Bronx. The top 10 finishers at the regional race will earn a trip to San Diego for the national race on Dec. 13.
``Making it nationals is the next goal,'' said Udland. ``Solomon Haile is almost impossible to beat, so I am just looking to make into the top 10 and get to San Diego.''



Notes:


Brett Johnson, who said he's 50-50 on whether he'll run indoors or play basketball, said he will be running at the Foot Locker Northeast Regional at Van Cortlandt Park next Saturday.
Sean Pohorence will be running with his team at the Nike Northeast Regional next Saturday in Wappingers Falls, N.Y., and Robby Andrews of Manalapan, fifth in 15:58, and Doug Smith said there cross country seasons are over.
Smith had a rough race for the second straight year at the M of C. One of the pre-race favorites, Smith faded in the second mile and was never in contention, winding up 54th in 16:49. The senior was third at the M of C as a sophomore in 2006 and ran 15:44 at Holmdel last fall when he won the state Non-Public B title.
After not finishing last year's M of C race when illness forced him out near the midway point, Smith was at a loss to explain his latest M of C disappointment.
``I have no idea what to say,'' said Smith. ``This is my fourth race when it's under 40 degrees and they've all been bad. I had trouble breathing out there and need to get myself checked out because this keeps happening when it's cold. It's very frustrating because most of the guys that finished ahead of me I've beaten on the track by 20 seconds. Nothing seems to be going my way anymore. I need to take some time off.''