Briana Jackucewicz to Harvard





New Jersey star going Ivy



Courtesy of The Star Ledger's Rich Bevensee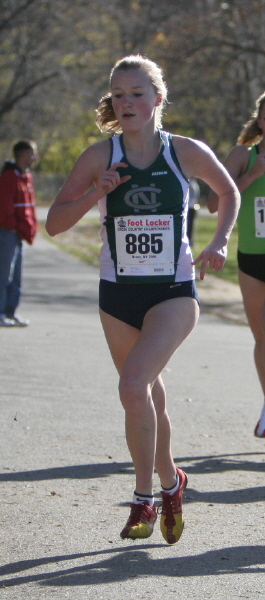 Briana Jackucewicz, the one-time freshman whiz kid from Colts Neck who has endured a career riddled with injury and illness, has found a way to not only recover and return to her old self, but she found an avenue to continue her athletic endeavors as well.
After placing second in the NJSIAA Central Jersey, Group 4 race in 18:44.2 on Saturday at Thompson Park in Jamesburg, Jackucewicz, a senior, announced that she has given a verbal commitment to attend and compete for Harvard.
Jackucewicz visited the famed Boston campus the first weekend of November for her fourth and final college visit, and then called Pennsylvania, Princeton and Villanova to inform them of her plans. She received her early acceptance letter from Harvard on Saturday morning, shortly before she left for Thompson Park.
``What happened for me was I planned four visits, and I could see myself at each and every school,'' she said. ``But when I left Harvard, I had a great feeling. The visit was definitely a good experience. I can't believe I'm going to school and run for one of the top schools in the country.''
Jackucewicz will be one of the favorites to win the state Group 4 crown at the state group championships on Saturday at Holmdel Park.
Jackucewicz burst onto the New Jersey high school running scene as a youth group phenom. She set the national indoor age group record in the 5-K in 2004.
On her first trip around Holmdel Park as a Colts Neck freshman, she led her team with an 18:47, just 10 seconds off the state freshman record set by Haddonfield All-America Erin Donohue in 1997. Jackucewicz went on to win the state Group 3 title (18:21.3) and place third in the Meet of Champions (18:19.3). She qualified for the Foot Locker National Championships by placing seventh at the Northeast Regional (18:00.6) at famed Van Cortlandt Park in the Bronx.
As a sophomore in cross-country, she placed fifth in Group 4 (18:52.3) and sixth in the M of C (18:29.4), and helped lead Colts Neck to a berth in the Nike Team Nationals. Injuries wiped out her outdoor track season.
Jackucewicz returned to Holmdel last fall as a junior, and at the group meet, she ran hurt in order to help her team qualify for the M of C. She placed third in the Group 4 race in 18:47.8 and Colts Neck placed third overall and earned an automatic M of C bid. Jackucewicz did not compete at that M of C, and injuries forced her to miss outdoor track again.