Robby Andrews Commits
to Virginia

Manalapan N.J. star could be joined at ACC school by Brett Johnson



By Jim Lambert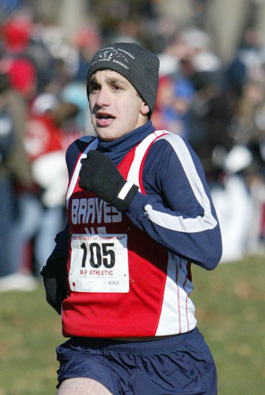 When Robby Andrews (photo left by John Nepolitan) left the campus of Virginia in early October after a recruiting trip, he loved the atmosphere, the track program and the new coach.
But he wanted to make sure there wasn't a better fit for him somewhere else, so the star distance runner at New Jersey's Manalapan High School also took visits to the University of Pennsylvania, Georgetown and Arizona State. He also conisdered running for Marcus O'Sullivan at Villanova. .
But none of those schools overwhelmed him like Virginia, so Andrews decided to make it official over the weekend and verbally commit to the ACC school in Charlottesville, Va.
During his visit, Andrews felt a strong connection with Virginia first-year head coach Jason Vigilante, a native of Morristown, N.J., who helped build the University of Texas into a distance running powerhouse before taking the Virginia job.
``Coach Vig is the biggest reason why I'm going to Virginia,'' said Andrews. ``He is everything you want in a coach and I can't wait to get there and run for him.''
Andrews, know for his monstrous closing kick, will head to Virginia with a very impressive resume.
Last winter he won the New Jersey Meet of Champions 800 title and was second in the mile at the Millrose Games. In the spring, he ran 4:11.65 for 1,600 when he was second to Brett Johnson of Ocean City at the M of C, and was second in the mile at the Penn Relays. He also owns a personal best of 1:52.56 in the 800 from his sophomore year.
Last month, Andrews captured his first state cross-country title when he took first in the Group 4 race in 16:10. He followed that up with a fifth place finish in 15:58 at the NJ Meet of Champions.
Andrews might not be the only New Jersey blue chip recruit headed to Virginia.
There's a good chance that Andrews will be joined at Virginia by his buddy Brett Johnson of Ocean City, who has narrowed his choices to Virginia and Kentucky.
Johnson took his recruiting trip to Virginia the same weekend as Andrews and the two have expressed a desire to run together in college.
Johnson ran a state junior class record 4:08.51 in the mile last spring, and earned a trip to the Foot Locker National Cross-Country Championships this past Saturday when he finished eighth in 15:50.1 at the Northeast Regional Championships at Van Cortlandt Park in the Bronx, N.Y.