Reebok Boston Indoor Games




Reggie Lewis Center, Boston -

Sat

urday, February 7, 2009




Best high school milers in the US and Canada meet in Beantown
by Donna Dye
BOSTON 2/7/09 -- Reebok Boston Indoor Games is part of the Boston scene in the snowy cold of winter. Winter be darned, there are still loads of things to do and see. Boston is one of the oldest cities in the United States. It's filled with the sites and monuments of a dramatic history. As most of us know from our history class, Boston is steeped in Revolutionary War History. The Freedom Trail does a nice job of telling the story.

History also tells us that Boston like other cities in the new world were heavily engaged in trade for a living. They traded in all sorts of things. Of particular note is that Boston was fond of trade in rum and molasses (a by-product of sugar). The Boston-on-Line website tells us that Boston "..... was part of 'triangular trade' in which slaves in the Caribbean grew sugar cane to be shipped to Boston to be made into rum to be sent to West Africa to buy more slaves to send to the West Indies. Even after the end of this practice, Boston continued as big rum producing city - the Great Molasses Flood of 1919 (which killed 21), occurred when a tank holding molasses for rum production exploded."

The point of all of these facts is to say, that when put together: rum, molasses and lots of cheap beans, you get Boston baked beans. And now you know why and how Boston
got its "Beantown" nickname.
The Boston Commons is the oldest park in the country. However, it was not always a park. Throughout history it was used in many ways including grazing cattle and housing troops. It's 50 acres of open area in the center of the city flanked on one side by Beacon Hill. An area on the north side of Beacon Hill is a neighborhood of well-to-do residents and marvelous Brown Stone homes. Businesses, condominiums and more Brown Stones flank the other sides and skyscrapers are all around. The Boston Commons has a nice walk through gardens called The Haffenreffer Walk (prominent Bostonian) with George Washington standing guard.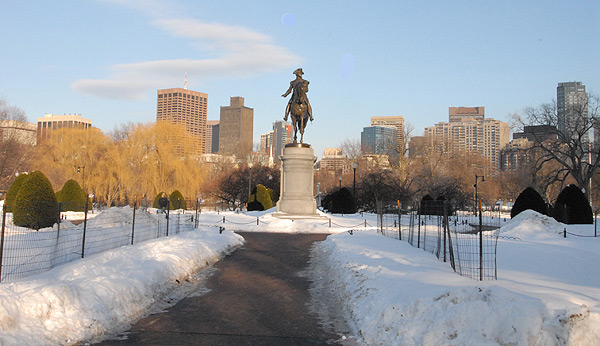 It's also a place for running as you see a few of the High School Milers doing.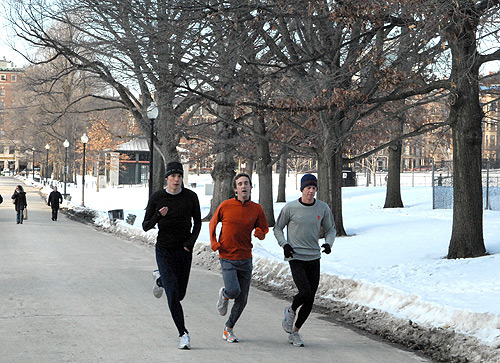 A few streets over are insurance companies in high rise buildings. The Prudential and John Hancock buildings tower over churches and a variety of businesses and shops and hotels. The John Hancock Tower is a 60 story, 790 foot tall building with a bumpy history. From its completion, glass windows have been popping out. When this first happened, the street and sidewalk area around the building were quartered off while a remedy was developed. By changing glass specifications and installation techniques, most of the problem was solved. But as I looked at the building, residents told me that glass still pops out occationally.


As you can see in the picture, the Hancock Building exterior is all glass. This provides a most interesting landscape
to the area from the surrounding buildings that are reflected in the glass.
Here, Holy Trinity across the street is reflected.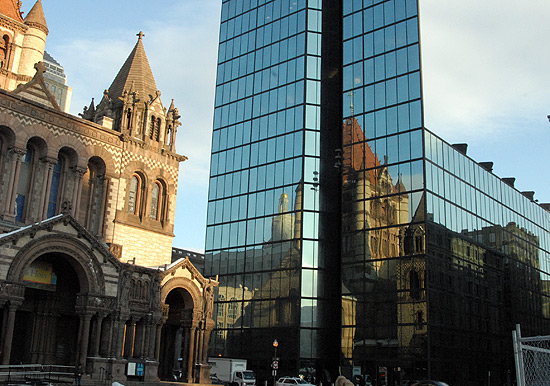 There is a lot more to see and do. But now it's time to move on to the meet.




Crowds gathered inside the Reggie Lewis Track and Field Centre for the 14th year showcase of track and field athletes in Boston. The line up included an impressive array of Olympian and champion athletes. In the middle of this impressive field, was an invitational mile for high school boys and girls.


The Reggie Lewis Center is the scene for the Reebok Boston Games. The Center is named after the local humanitarian and basketball hero, Reggie Lewis, who played collegiate basketball for neighboring Northeastern University (1983-1997) and professionally for the Boston Celtics (1987-1993) before dying young of a heart attack.

Opening in 1995 the Center is an impressive facility situated on the Roxbury Community College campus. It's 70,000 square feet and can seat 3500-5000 people. The track is a 200 meter banked Mondo Super-X Oval with facilities for field events.

The 14th Reebok Boston Indoor Games has become one of the most important meets of the Indoor season. It is part of the Visa Championship Series, which provides competition opportunities and prizes for elite athletes. Since RBIG began in 1996, more than 100 Olympic and World Championship medalists have competed in the event. There have also been 6 world records and 29 national records set here.

In the middle of all of these elite athletes, records and medals is an invitational high school mile for boys and girls. Participation in the meet gives high school athletes an opportunity to observe elite athletes while competing in a prestigious meet.





On the Side with The Wave




The Wave is a fun thing. It says hi to those who couldn't make it: mom, dad, fans and friends. It says I'm having fun.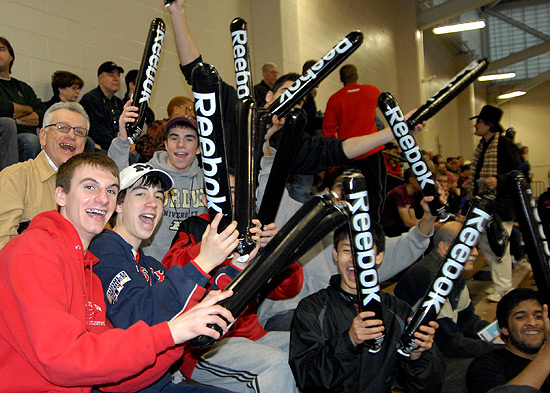 Bring on the Mile!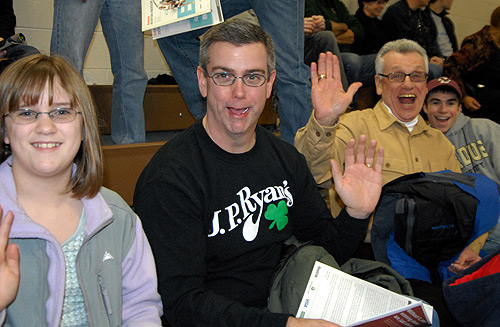 We love this sport!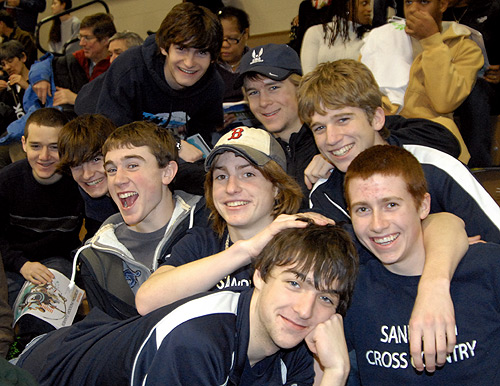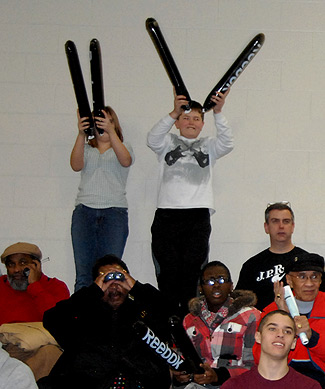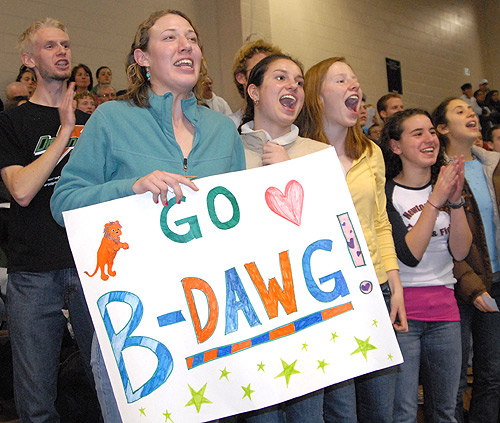 The Mile Winners

| | |
| --- | --- |
| Boys - Mac Fleet CA 4:09.06 | Girls - Jessica Parry CAN 4:51.62 |
| | |
The Girls Mile


All tired out but still smiling: (from left) Stephanie Brown, Emily Lipari, Cory McGee, Amanda Winslow, Brenda Koziara, Alyssa Allison
(front) Shelby Greany and Brianna Welch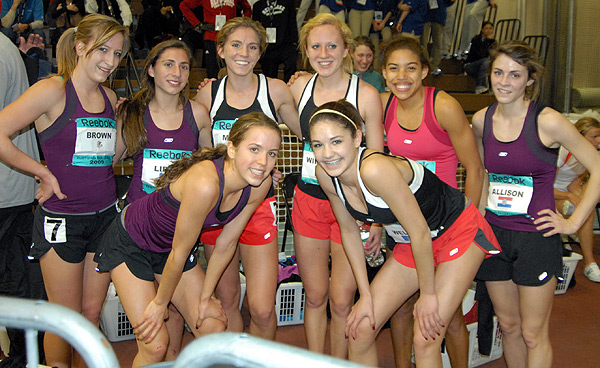 Bridget Dahlberg had lots of fans cheering on the side.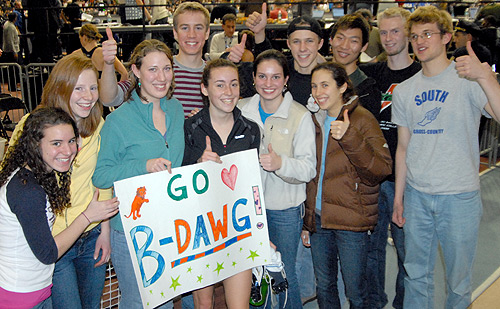 Bridget Dahlberg and mom, Kathleen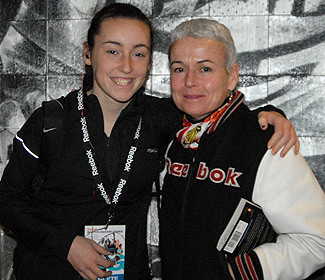 The Boys


| | |
| --- | --- |
| Drew Butler TX catching his breath | Andrew Springer came in 2nd in the dramatic finish. |
| | |
The Woodlands TX guys: Drew Butler, Coach Juris Green and Reed Connor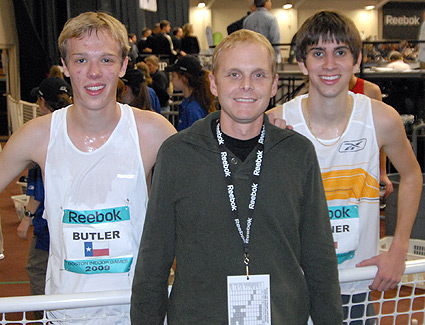 | | |
| --- | --- |
| Collin Jarvis CA with dad, Doug | Zac Ornelas and dad, Andrew |
| | |
| | |
| Trevor Dunbar AK and dad, Marcus | |
| | |
Reebok Boston Indoor Games home page