Indoor Track & Field Championship




New York Armory-New York City
March 13 - 15 2009






Track and Field March Madness at the New York Armory produced an exciting, action packed weekend.

It was the cream of the crop coming together to compete for a 2009 Indoor High School All-American title. What better way for track and field athletes to determine the fastest on the track but at the fast Armory banked track? Or what better way to for throwers to hit the best mark but in at the Armory's biggest and best cage? Or what better way for jumpers to hit their best but at the jump pits at the Armory? Nothing but the biggest and the best at the 2009 NSIC at the New York Armory.

The meet was special for the top six in each event were named Indoor High School All American Athletes. In addition some athles were named All American Academic:

Christine Finkel, Katherine Grzejka, Amber Scott, Curtis Beach, Aaron David Koningsberg, Joseph P. Kassay.



Athletes cames from all over the US and Canada. In fact, there were 2,800 athletes entered with many parents and fans filling the stands above the track. With all of those people screaming and shouting as the action took place, the Armory rocked and the neighborhood braced for another special event at the Armory.

Speaking of the Armory neighborhood, it's a locals kind of thing. Walking around Broadway or 168th You'll find great places and good food at ordinary prices. Of course, those prices still might be high in your hometown. But in New York they are a bargain compared with midtown high tone places. You'll also find national chains mixed in with those local spots. You know like that coffee place and the old hamburger spot.




Take the A, C, or 1 Metro Subway lines to the Armory.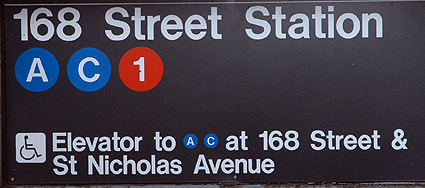 The Armory on 168th Street side.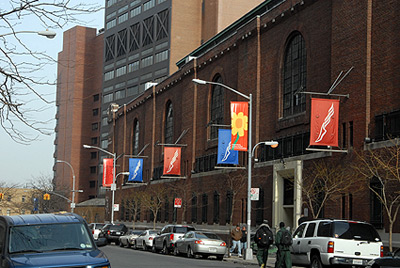 Look south on Broadway from 169th Street.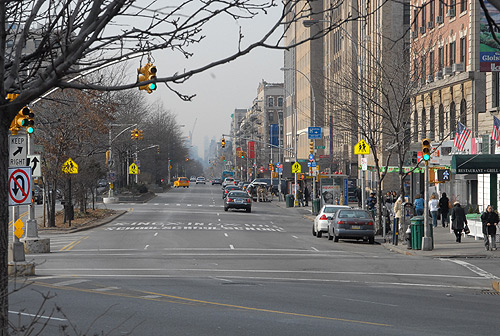 Looking north on Broadway at 169th where St Nicolas breaks away
from Broadway to the right.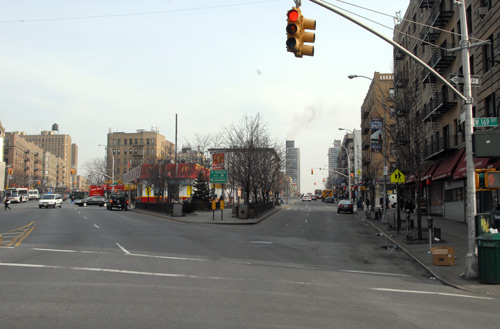 Now it's time to get to the meet.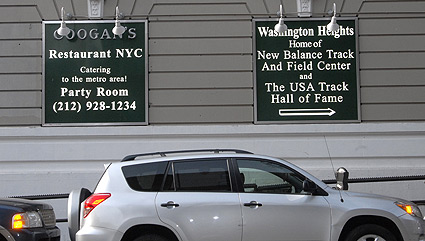 The Meet Scene
Inside the Armory there is daylight, a fast banked track and a video scorebord high above the infield.
Above and around the track is the specator seating. It's a perfect view and an good spot for
coaches, parents and fans to provide a little advice.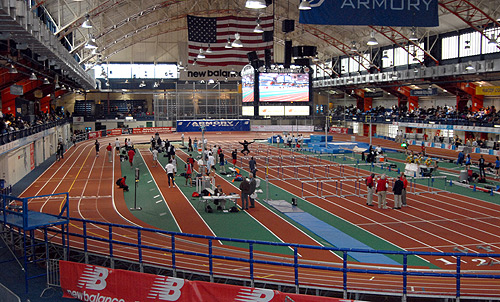 A little advice provided from the balcony seating!



| | |
| --- | --- |
| | Opening Ceremonies |
Academic All-Americans



Christine Finkel (NJ)
Katherine Grzejka (NH)
Amber Scott (NJ)
Curtis Beach (NM)
Aaron David Koningberg (NY)
Joseph P. Kassay (CT)

Celebrities and Olympians at NSIC
RA Vernon, (far left) President of the USATF Metropolitan (MAC) with Olympians at the meet:


Kevin Young, Joanna Hayes and Dan O'Brien

Kevin Young won the gold for the 400m hurdles at the 1992 Olympics; Dan O'Brien won the gold for the decathlon at 1996 Olympics;
Joanna Hayes gold for the 100m hurdles at 2004 Olympics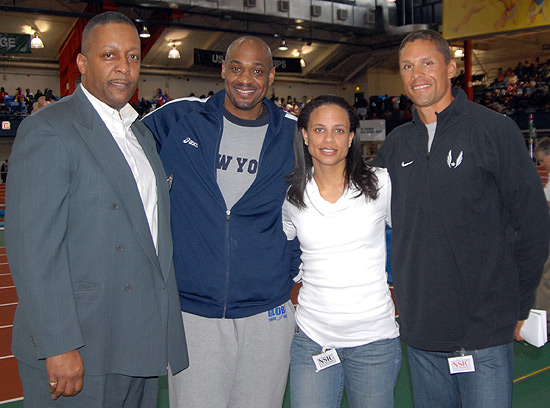 Two of the Most Notable Performers
Robby Andrews (l) and Curtis Beach


Robby set a new National Record in the 800m and Curtis was 2nd all time in the Pentathlon