Egg Nog Mile
The craziness ensues for Egg Nog Mile II
Sac'to CA
Ooooooh yea! It's Egg Nog Mile time!
Where they really do ... leave it ALL on the track!
Photos by Joe Hartman | Results from "Commissioner" Spencer Christy
No description is really needed here!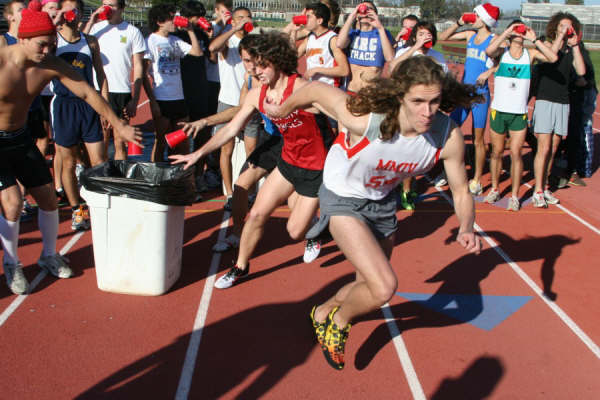 Is Willie Metz racing toward the lead... or toward a restroom!??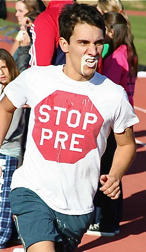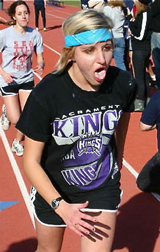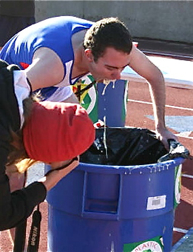 No time for trash talkin'.... but plenty of time for trash depositin'!
By Rich Gonzalez
DyeStatCal Editor
Yes, it certainly was a slow news day. ;-)
With the cross-country season officially in the rear-view mirror and the track and field campaign still a couple of months away, leave
it to Spencer Christy and crew to keep things interesting during the offseason by hosting the Second Annual Egg Nog Mile, sponsored by
Pepto Abysmal. Fifty-five crazy souls turned out to complete the event, which even boasts an official t-shirt that will surely become a
collector's item down the road -- especially those with genuine egg nog stains!
With competitors forced to guzzle down a cupful of egg nog after each lap of the speed/chug challenge, more than a few runners
found themselves 'losing control' along the way. There were many egg-cellent strategies employed, but perhaps none better than that
utilized by Folsom HS alum and current UCLA harrier Jake Matthews, who chose not to return to defend his title! Obviously, he still
had clear memories from last year's experience!
Once the esophaguses emptied and the colons cleared, it was Cal Poly San Luis Obispo's Ryan Cosens who burped and blazed
to victory, taking down Jake's ENM record with a nifty 5:29 performance that left him 26 seconds ahead of first-year participant Mitchell
Milligan, who becomes a local legend and Rookie Of The Year honoree! For the females, Katie Bolce showed the guys a thing or two
about how to gut out a challenge, breaking the female event record with her 7:24 performance, 31 seconds ahead of the next craziest
chick!
The turnout was grand, the weather was great, the t-shirts were a cool, new touch and the times were fast!
The only bad part? Well, we need to wait another 52 weeks before Egg Nog III occurs. Yes, of course, that's a tough proposition
for anyone to stomach.

Results and Joe Hartman's photo album below!
---

Results, courtesy of Spencer Christy.
Heat 1
Place First Last Time Comments
1 Colin Strazzo 6:12
2 Jon Waltman 6:14 Won 400m Race-off (57.94) Against Erik Greggory for Tie Break...5th Overall
3 Chris Heylin 6:30
4 Jeff Lin 6:39 *Fastest Non-Runner
5 Joe Ostini 6:39
6 Chris Brown 6:58 "The Old Guy" (40)
7 Bill Foster 7:24 *
8 Katie Bolce 7:24 First Female Finisher
9 Tom Witt 7:34
0 Karen Ramming 7:55
10 Meghan Enabnit 7:55
11 Andy Smith 7:57
12 Chris Haworth 8:06 16 Minute PR!!!
13 Natasha Brown 8:21
14 Lauren Bridges 8:46
15 Nicole Mendoza 8:47 3:29 PR
16 Evan Adams 9:12
17 Deborah Maier 9:25
18 Sam Diaz 9:25
19 Sara Orofino 9:25
20 Warren Grunwald 9:52 *
21 Allister Cabebe 9:53 *
22 Leeann Hold 10:06
23 Nick Corey 10:21
24 Nathan Spangler 11:37 Negative 2:27 PR
25 Sarah Bartlett 12:34
26 Jennae Steinmiller 12:34
27 Courtney Crosta 12:35
28 Gurp Mann 12:49 He got more on him than in him
29 Alan Huynh 13:15 *
30 Thea Fredrickson 13:53

*Non-runners tagged with asterisks



Heat 2
Place First Last Time Comments
1 Ryan Cosens 5:29 NEW EGG NOG MILE WR!!! Taking down Jake Matthews' 5:47
2 Mitchell Milligan 5:55 Fastest Newcomer
3 Willie Metz 6:08
4 Erik Gregory 6:14 22 Second PR
5 Scott Crawford 6:16
6 Ryan Freitas 6:18 1:21 PR
7 Chris Kigar 6:19 14 Second PR
8 Adam Nacario 6:24
9 Spencer Christy 6:26 1:26 PR
10 Cody Lemons 6:33 57 Second PR
11 Tomas Evangelista 6:58
12 Evan Bornstein 7:16
13 Kyle Edwards 7:21
14 Amjed Aboukhadijeh 7:21
15 Chriss Grimble 7:26
16 Derek Clary 7:40 *
17 Michael Rains 8:09
18 Peter Chester 8:16
19 Nathan Paddeck 8:39
20 Ryan Banworth 8:40
21 John McAnelly 9:17
22 Josh Mercado 9:18
23 Garrett Seawell 10:54 14:13 PR
24 Matt Case 11:30
25 Jonnathan Terry 11:30



Combined First Last Time Heat
1 Ryan Cosens 5:29 2 (Meet record!)
2 Mitchell Milligan 5:55 2
3 Willie Metz 6:08 2
4 Collin Strazzo 6:12 1
5 Jon Waltman 6:14 1
6 Erik Greggory 6:14 2
7 Scott Crawford 6:16 2
8 Ryan Freitas 6:18 2
9 Chris Kigar 6:19 2
10 Adam Nacario 6:24 2
11 Spencer Christy 6:26 2
12 Chris Heylin 6:30 1
13 Cody Lemons 6:33 2
14 Jeff Lin 6:39 1
15 Joe Ostini 6:39 1
16 Chris Brown 6:58 1
17 Tomas Evangelista 6:58 2
18 Evan Bornstein 7:16 2
19 Kyle Edwards 7:21 2
20 Amjed Aboukhadhijeh 7:21 2
21 Bill Foster 7:24 1
22 Katie Bolce 7:24 1 (Girls Meet Record!)
23 Chriss Grimble 7:26 2
24 Tom Witt 7:34 1
25 Derek Clary 7:40 2
26 Karren Ramming 7:55 1
27 Meghan Enabnit 7:55 1
28 Andy Smith 7:57 1
29 Chris Haworth 8:06 1
30 Michael Rains 8:09 2
31 Peter Chester 8:16 2
32 Natasha Brown 8:21 1
33 Nathan Paddeck 8:39 2
34 Ryan Banworth 8:40 2
35 Lauren Bridges 8:47 1
36 Evan Adams 9:12 1
37 John McAnelly 9:17 2
38 Josh Mercado 9:18 2
39 Deborah Maier 9:25 1
40 Sam Diaz 9:25 1
41 Sara Orofino 9:25 1
42 Warren Grunwald 9:52 1
43 Allister Cabebe 9:52 1
44 Leeann Hold 10:06 1
45 Nick Corey 10:21 1
46 Garrett Seawell 10:54 2
47 Matt Case 11:30 2
48 Jonnathan Terry 11:30 2
49 Nathan Spangler 11:37 1
50 Sarah Bartlett 12:34 1
51 Jennaw Steinmiller 12:34 1
52 Courtney Crosta 12:35 1
53 Gurp Mann 12:49 1
54 Alan Huynh 13:15 1
55 Thea Fredrickson 14:30 1