Roetter was alone at the finish last November winning her 2nd straight
Northeast region Foot Locker title at Van Cortlandt Park, New York.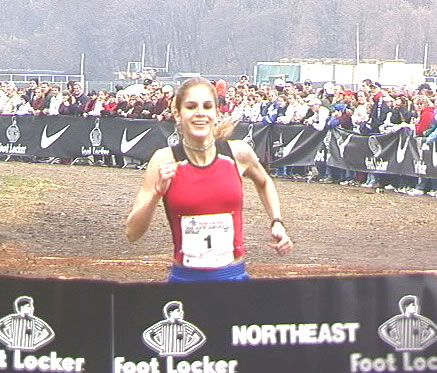 by Walt Murphy
X-Country X-Press
email Walt Murphy to subscribe
8/26/02 -- Natasha Roetter (Lexington, Ma), who finished 4th (2000) and 3rd(2001) at the
last two Foot Locker Cross Country Championships, walked into Duke coach Jan Ogilvie's
office yesterday with her parents (a day before classes started), and
announced that she didn't want to compete at the collegiate level at this
time.
Roetter, the #1 signee of an outstanding recruting class at Duke, was
diagnosed with a stress fracture in June of this year, and did not attend
Duke's preseason cross country camp due to a family illness. "The rest of our
frosh did attend the camp and bonded nicely," said Ogilvie.
Ogilvie continued, "Natasha told me that she has been thinking about this for
several months. We were taken completely by surprise by her decision."
"She said that she would like to do things such as tryout for the
marching band and play intramural basketball. What we want is for
Natasha to enjoy her Duke experience and at this time competing in a
Division I program is not something she wants to do."
"We have left the door open if she wishes to rejoin the team. The
present team is completely committed to achieving our team goals, and
perhaps their enthusiasm will draw her back into the fold at a later
time."