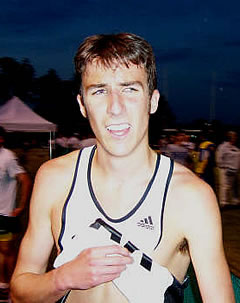 You might call Steve Magness a late bloomer, but what a bloom it is.
A year ago, Magness finished 15th at AOC Raleigh in 4:17.56. Now, in a Texas district meet, Magness won wire to wire in 4:01.58 1600m. Only two high school milers have run faster in recent years, Alan Webb's record 3:53.43 in 2001 and Donald Sage's 4:00.29 in 2000, both in the Prefontaine Classic against world class elite runners.
So how does a time like this come out of district meet in Texas? Well, because only the two 2 advance in the Texas state championship series, and there were two other very good runners in the race: Eric Stanley 4:03.77 and Brian Sullivan 4:11.14. Magness had lost to them last year and did not advance to the regionals, let alone the state meet.
Read more about the amazing senior year of Steve Magness in Steve Underwood's The Posters Champion - the story of "Scuba Steve" Magness.
Steve Magness past performances
Event Mark Meet (c=converted from 1600/3200m)
2003 Outdoor
B-Mile 4:08.51 c 4/26/2003, 5A Region TX, # 1
B-Mile 4:03.08 c 4/12/2003, 5A District TX, # 1
B-800 1:52.7 3/22/2003, Klein Relays TX, # 1
B-2Mile 9:09.96 c 2/14/2003, Kingwood Inv TX, # 1
2002 Outdoor
B-Mile 4:17.56 6/15/2002, AOC National NC, # 15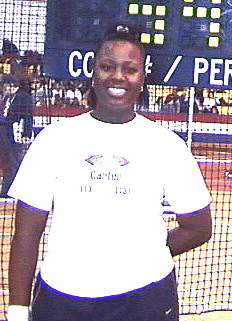 photo by John Dye
It seemed inevitable that Michelle Carter would break the US high school outdoor shot put record, but when it came it was still shocking. In one session in the Texas 4A regionals, she put up the three longest throws ever outdoors: 54-4.5, 53-10 and 53-9.5.
That adds to the indoor record of 54-9.5 that Carter posted at the Nike Indoor Championships in March.
Making the family trophy center even more crowded is the fact that Michelle's dad, Michael Carter, holds the boys outdoor record (81-3.5) and was an All Pro lineman on San Francisco 49ers Super Bowl champion teams.
Michelle Carter past performances
Event Mark Meet
2003 Outdoor
G-DT 153' 11 4/26/2003, 4A Region TX, # 1
G-SP 54' 4.5 USR 4/26/2003, 4A Region TX, # 1
G-DT 154' 7 4/12/2003, 4A District TX, # 1
G-SP 52' 8.5 4/12/2003, 4A District TX, # 1
G-DT 144' 6 4/5/2003, Texas Relays Open TX, # 1
G-SP 52' 10 4/5/2003, Texas Relays Open TX, # 1
2003 Indoor
G-SP 54' 9.5 USR 3/16/2003, Nike Indoor Ch. MD, # 1
2002 Outdoor
G-DT 137' 0 7/28/2002, USATF JO YM/YW NE, # 5
G-SP 51' 1.75 7/28/2002, USATF JO YM/YW NE, # 1
G-SP 49' 2.5 7/15/2002, USATF regional , # 1
G-DT 142' 2 6/21/2002, USA Jr Nationals CA, # 13
G-SP 53' 3.5 6/21/2002, USA Jr Nationals CA, # 3
G-DT 148' 0 6/15/2002, AOC National NC, # 3
G-SP 51' 1 6/15/2002, AOC National NC, # 1
G-SP 53' 0 6/8/2002, Golden West Inv CA, # 1
G-DT 157' 3 5/11/2002, 4A State Meet TX, # 1
G-SP 53' 3.75 5/11/2002, 4A State Meet TX, # 1
G-DT 155' 11 4/27/2002, 4A Reg 2 Denton TX, # 1
G-SP 51' 10.75 4/27/2002, 4A Reg 2 Denton TX, # 1
G-DT 169' 3 4/6/2002, Texas Relays Combo TX, # 1
G-SP 51' 0.75 4/6/2002, Texas Relays Combo TX, # 1
G-SP 52' 10 3/23/2002, Red Oak Inv TX, # 1