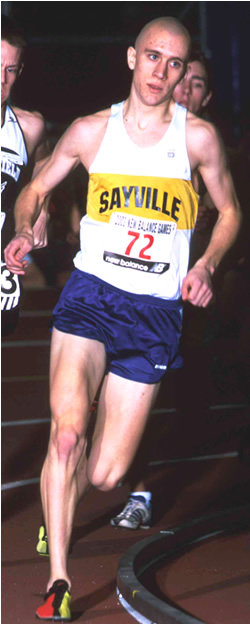 photo by Brian J. Myers, PhotoRun
The same fitness that saved his life has now carried Brian Dalpiaz to the top of the national high school running charts. In late August 2002, Dalpiaz' appendix burst, but he didn't think it was serious until 3 days later when the pain increased and he was taken to the hospital for an emergency appendectomy. Another hour's delay and Dalpiaz would have been dead. He had a fever of 104 degrees and went into shock on the operating table. Dalpiaz told The Harrier magazine later, "Doctors said that if I didn't have a thick walled runner's heart, I might have died anyway."
Dalpiaz returned to competition 6 weeks after the surgery and on November 16, just 12 weeks after his near-death experience, he repeated as New York state cross country champion. He didn't feel he was all the way back, though, so he passed on trying to return to the Foot Locker national finals and started training for indoor track.
In three weeks in January at the New York Armory, Dalpiaz won two miles and one 2-mile to take the US#1 spot in both events in the DyeStat Elite national rankings with times of 4:14.52 and 9:01.92
After Dalpiaz won the Hispanic Games mile, a reporter asked if he was back in top condition. He answered that he was probably 100% fit physically, but not necessarily in confidence. "Running hurts so much you have to have confidence you can overcome it," Dalpiaz said. Two more wins later, Dalpiaz appears to be 100 percent both physically and mentally and eager to see what the rest of his senior year brings.
Brian Dalpiaz past performances
Event Mark Meet
2003 Indoor
B-Mile 4:15.73 MR 1/25/2003, New Balance NY, # 1
B-2Mile 9:01.92 1/18/2003, Stanner Games NY, # 1
B-Mile 4:14.52 1/11/2003, Hispanic Games NY, # 1
B-1000 2:34.3 1/5/2003, Sec 11 crossover-B NY, # 2
2002 Indoor
B-2Mile 9:02.8 3/10/2002, PG-NIC MD, # 3
B-2Mile 9:03.65 2/26/2002, EasternStates NY, # 1
B-Mile 4:22.41 2/1/2002, Millrose Games NY, # 3
B-Mile 4:17.03 MR 1/19/2002, NewBalance Games NY, # 1
B-2Mile 9:03.45 c MR 1/12/2002, StannerGames NY, # 1
B-Mile 4:16.71 MR 1/5/2002, Hispanic Games NY, # 1
2001 Cross Country
15:15 12/8/2001 FL Nationals 13
15:37 11/24/2001 FL NE Seeded 5
15:45 11/17/2001 Federation Meet 1
15:55 11/10/2001 PHSAA Class B 1
15:46 10/27/2001 Sections 1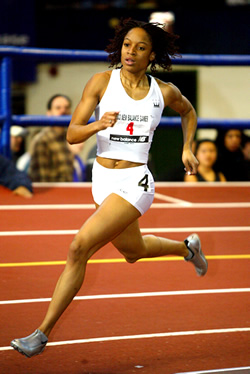 photo by Errol Anderson
Natasha Hastings burst on the national scene two years ago with the fastest freshman indoor times ever at 200 meters (24.38) and 300 meters (39.13). She improved on that as a junior by running a national record 37.77 for 300 meters indoors and the fifth best all time indoor 400 meters (53.56).
Hastings may be even better this year after running cross country to build up her strength. Shana Cox took down her national record for 300 meters at the Bishop Loughlin Games in December while Natasha was running in a different event. Hastings then took aim on a new national record of her own. She entered a special elite women's 500 meters at the New Balance Games with Olympian Jearl Miles Clark for competition. Finishing fourth in this race, Hastings shattered the high school record that had stood for 15 years by running 1:11.84 (1:12.05 Tasha Downing 1987).
Natasha is not all about track. She is also a top student aiming for a sports medicine career and is active in community service programs to help congenitally sick children and the homeless.
"Natasha is every coach's dream of the perfect athlete to coach," says A.P. Randolph girls coach Phyllis Anderson. "She works hard, never has a complaint and gives you 110% everytime she steps onto the track."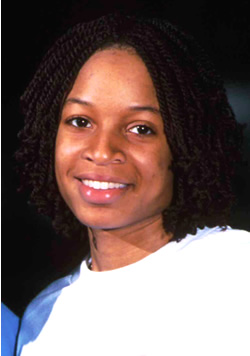 photo by Victah Sailor
Natasha Hastings past performances
Event Mark Meet
2003 Indoor
G-500 1:11.84 USR 1/25/2003, New Balance Games NY, #
G-400 53.80 1/11/2003, Hispanic Games NY, # 1
G-200 24.51 1/11/2003, Hispanic Games NY, # 2
G-300 38.72 1/4/2003, PSAL Open NY, # 1
G-600 1:32.6 12/21/2002, Bishop Loughlin Game NY, # 1
2002 Outdoor
G-400 55.36 7/28/2002, USATF JO Intermed NE, # 5
G-400 53.42 4/13/2002, Arcadia Inv Div CA, # 1
G-200 24.47 +0.2 4/13/2002, Arcadia Inv Div CA
2002 Indoor
G-400 53.56 3/10/2002, NSI NY, # 2
G-400 54.05 3/3/2002, MAC Youth NY, # 1
G-200 24.44 3/3/2002, MAC Youth NY, # 1
G-55 7.11 2/17/2002, PSAL NY, # 2
G-300 37.77 USR 2/10/2002, PSAL Manhattan NY, # 1
G-55 7.08 2/10/2002, PSAL Manhattan NY, # 1
G-400 56.14 1/27/2002, West Point Inv NY, # 1
G-400 55.35 1/5/2002, Hispanic Games NY, # 1
G-200 24.48 1/5/2002, Hispanic Games NY, # 2
G-300 39.32 12/9/2001, PSAL Jim McKay NY, # 1