Nike Indoor Nationals - Landover, Maryland -- March 15 & 16, 2008
by Donna Dye
Part 1 - the scene
Part 2 - on the side
Part 3 - sprints and hurdles
Part 4 - distance
Part 5 - relays
Part 6 - pentathlon and shot put
Part 7 - jumps
The Scene
It's March and time for Track & Field's March Madness.

The cream of the crop flocked to Landover Maryland, in the shadow of the U.S. Capitol,
to participate in the national competition hoping to earn the distinction of being an All American Athlete.
| | |
| --- | --- |
Located in the shadow of Washington D. C., The Prince George's Sports and Learning Complex in Landover, Maryland is home to the 2008 Nike Indoor Nationals. From the highpoints of Landover, you can see the Capitol Dome and the Washington Monument in the distance. Governm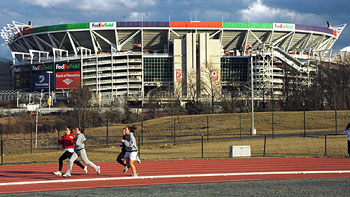 ent dominates the city and the suburbs. The Departments of Agriculture, Health & Human Services and NASA are located in suburbs near the Sports Complex. But the most notable resident of Landover and Sports Complex is the Washington Redskins Football team at the FedEx Stadium.
Agreement to build the FedEx Stadium was no easy task. It took extensive negotiation between Jack Kent Cooke, owner of the Redskins and Prince George's County Maryland. After all was said and done, there was agreement to build the stadium in Landover and to assure that the new stadium and related development would benefit the citizens of the County. The Prince George's Sports and Learning Complex is the result of those efforts.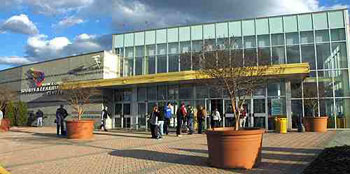 The Complex is located on 80 acres of land and is a mixture of public and privately operated facilities, of which the Wayne Curry Sports and Learning Center is the centerpiece. The Center consists of a fitness center, a gymnastics facility, learning center, aquatics center and a field house which is the site of the Nike Indoor Nationals.
Now On To The Meet

The Wave

The Wave is a fun thing. It says hi to those who couldn't make it: mom, dad, fans and friends.
It says I'm having fun.
DONNA ON THE SIDE at Nike Indoor Nationals 2008
Part 1 - the scene
Part 2 - on the side
Part 3 - sprints and hurdles
Part 4 - distance
Part 5 - relays
Part 6 - pentathlon and shot put
Part 7 - jumps