Donna on the Side at NTN IV
Time to get your dirt on!!!
By Donna Dye
getting shoes | campus run | skits | coursewalk
Nike Team Nationals is the highest level of the sport of high school cross country. Getting to NTN means a reward for a season of hard work, extreme running, dedication and maybe even blood, sweat and tears. And the kids do this all for the promise of a fantastic weekend of fun, goodies, good times, camaraderie with the competition, making new friends and on and on..... This year, rather than rely on rankings, regional qualifying meets were held across the country, leaving little doubt who should be at NTN finals. Fourty-four teams gathered in Portland to determine the champions for 2007.
Portland was ready....the meeting hotel was all decked out to greeting the athletes right from the start.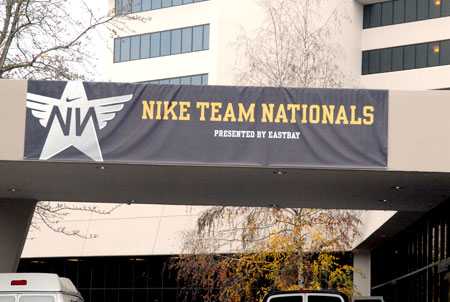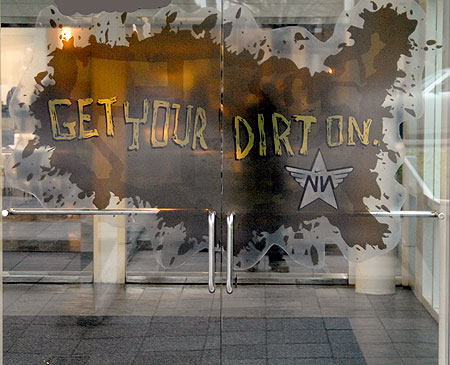 And once inside, team banners hung from the bannisters for yet another greeting.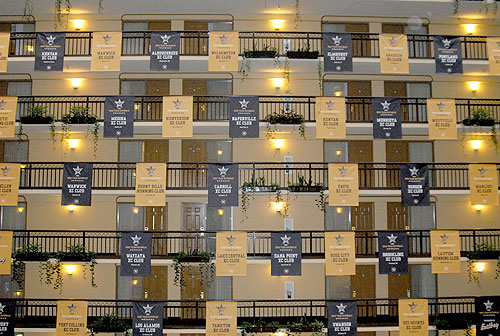 Awesome Hospitality
Except for the races, the activities are held on the Nike campus. The Tiger Woods Center was transformed into NTN headquarters for meeting, hospitality, diinners, and entertainment. A hospitality room overflowed with games, activities, TVs, computers with internet access. Areas were set up for shoe selection and fitting. Snacks were plentiful. It was a glorious good time.
Eastbay's Lauren Jones (r) helps the girls enter for Eastbay's drawing for goodies.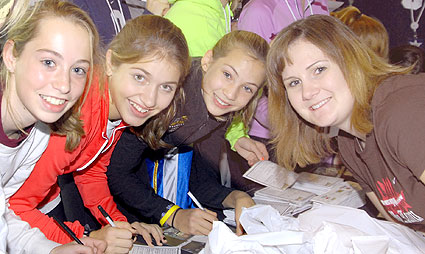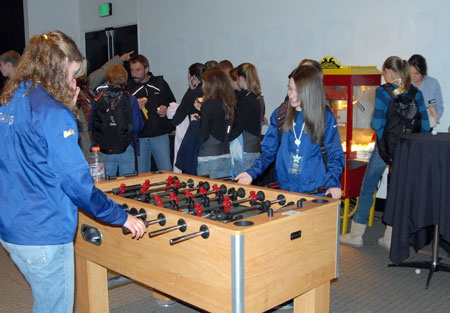 Eastern Mass XC Club MA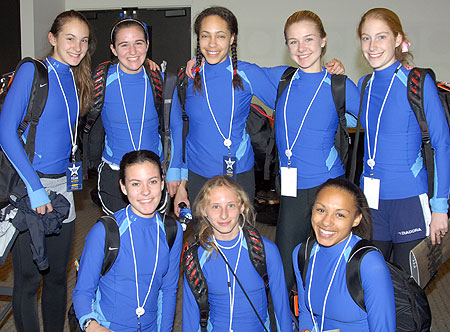 Los Angeles XC Club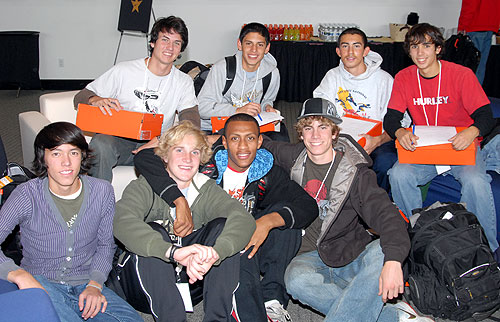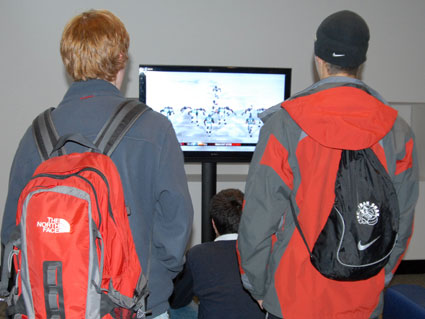 Rogers AR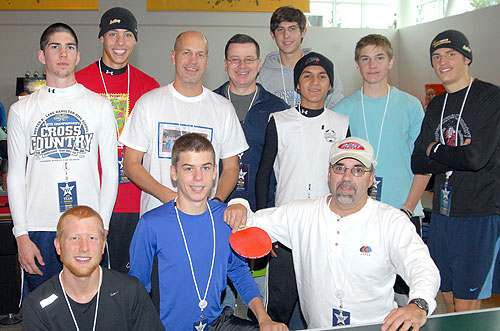 Kinetic NY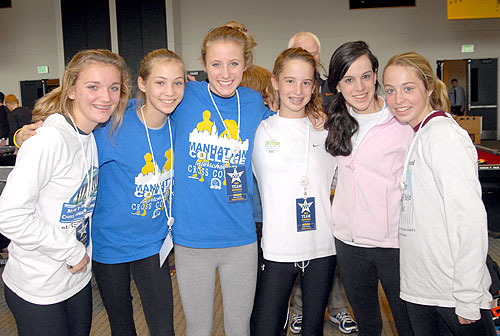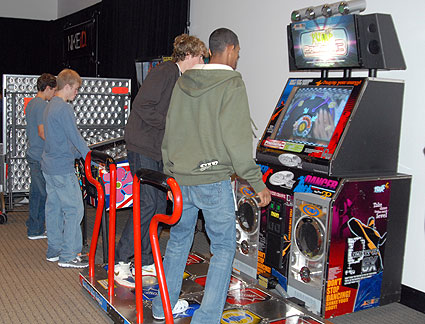 Manlius XC Club NY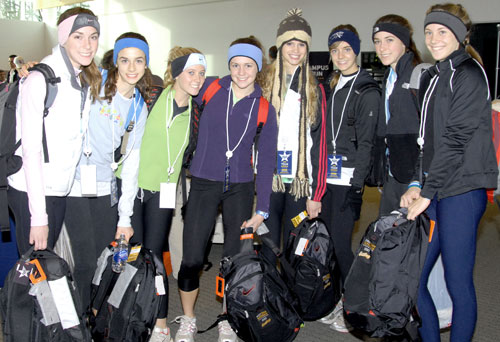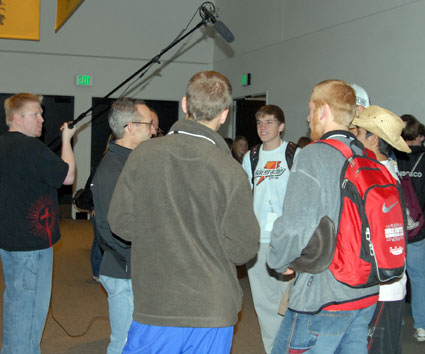 Anaheim XC Club CA

Suwanee XC Club GA

Kenya XC Club

Eastern Mass XC Club MA

Albuquerque XC Club
Warwick XC Club NY
The rest of Warwick XC Club NY
Des Moines XC IA
Brookline XC Club MA
Anaheim XC Club CA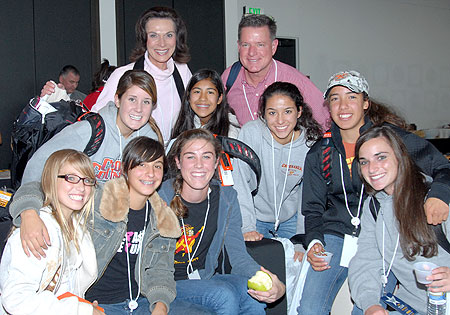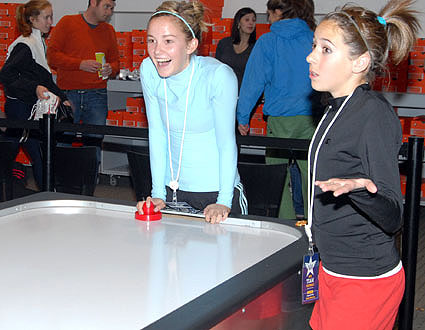 Oak Ridge XC Club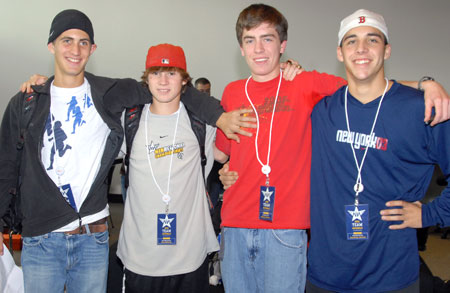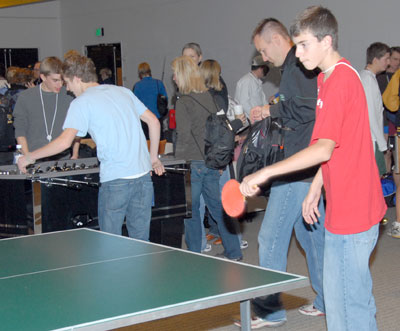 Eastbay Nike Store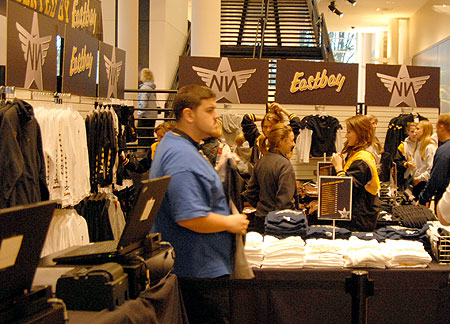 Keller XC Club TX
Burnt Hills XC Club NY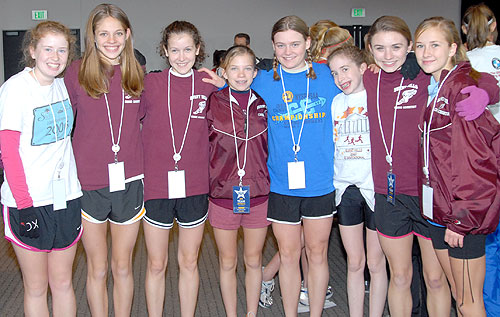 Clifton Park XC Parents Club, NY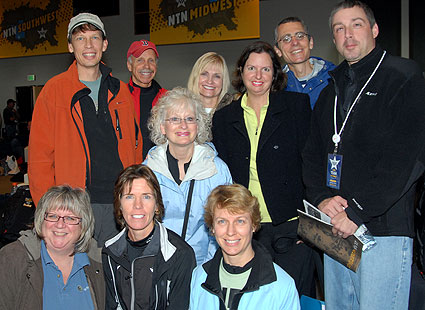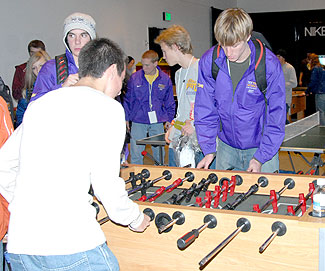 Warwick XC Club, NY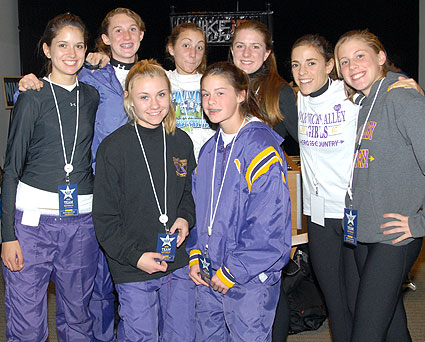 Wilmington XC Club, DE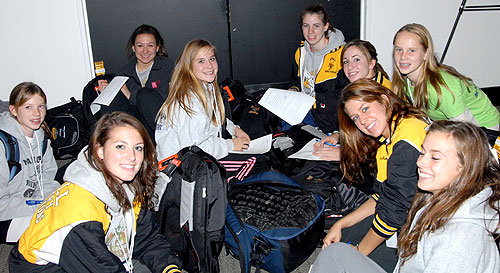 Davis XC Club, UT
Swanson XC Club, KS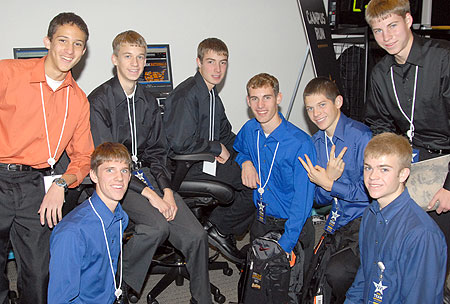 Dinner Hour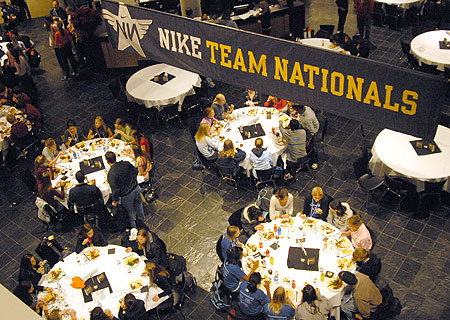 Medina XC Club, OH give a wave.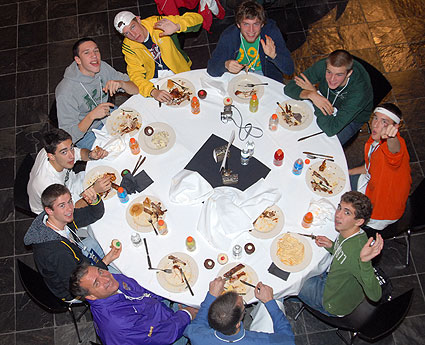 At Nike, it's all about the shoes
Picking out the right one.....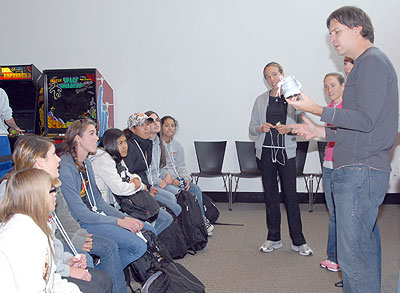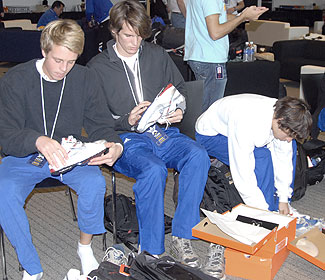 Nike ID's Matt Brenner (blue shirt) walk Dana Hills through selecting Nike IDs.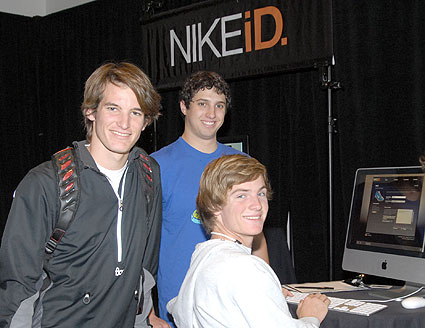 checking out the gear
And then there was the campus run
Teams ran on trails and paths through wooded areas around, the lake and past the elegant white buildings on the beautiful 175 acre campus.
Now on to the skits
Master Announcer, Ian Brooks (l) and Nike's John Truax MC' d the night's "let's get acquainted" entertainment.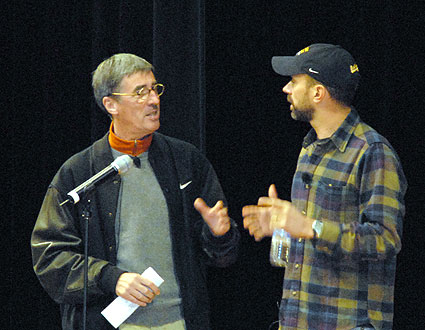 Portland XC Club OR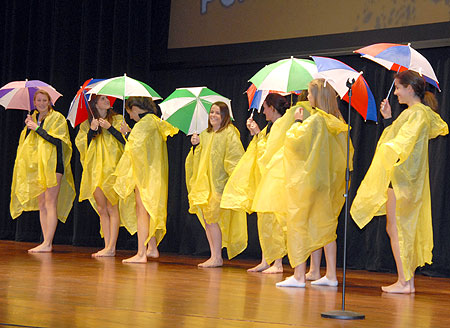 Carroll TX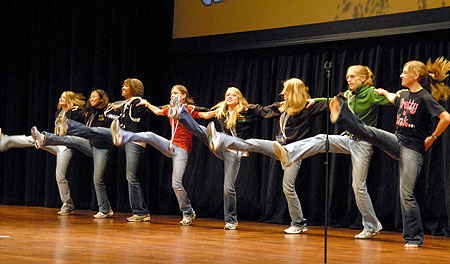 Many clubs brought videos that visually told the story about who they are and where they live and run. Los Alamos XC Club NM present their video.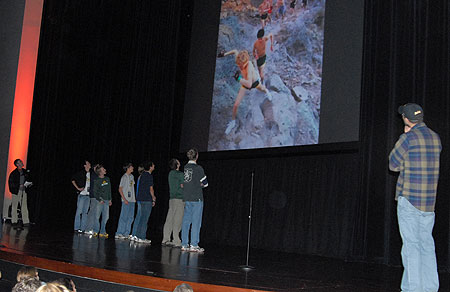 Warwick XC Club NY challenge Nike's John Truax in arm wrestling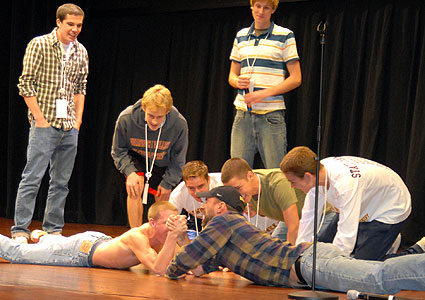 Kenya XC Club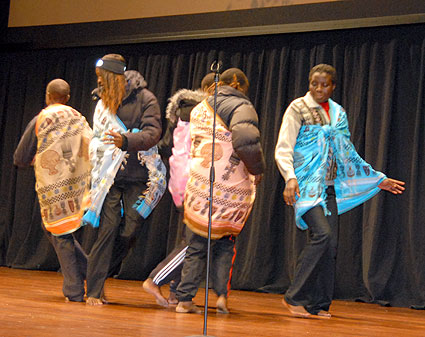 All assembled at Portland Meadows for the course orientation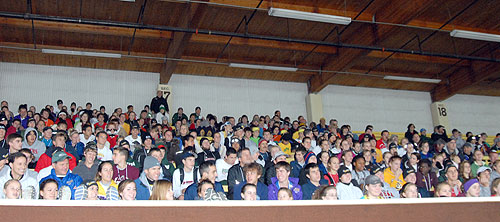 Whoop dee do........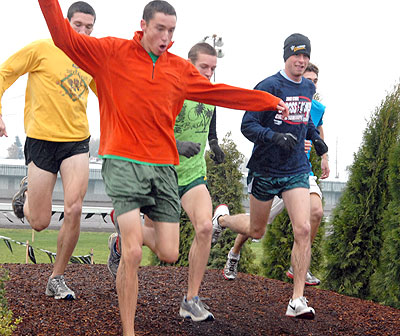 This is what they came for!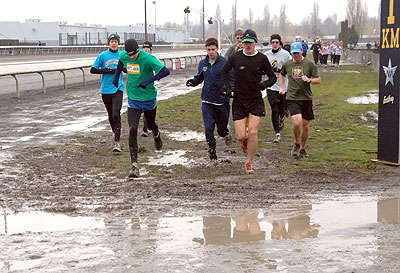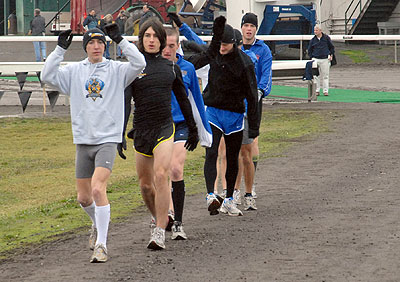 Having gotten splattered with mud .....Anaheim XC Club CA says they're ready.