Nike Indoor Nationals

PG Sportsplex, Landover MD, March 10-11, 2007

DyeStat on-site coverage
Donna on the Side
by Donna Dye
DONNA ON THE SIDE AT NIN
Part 1 - intro
Part 2 - winners
Part 3 - the scene
Part 4 - sprints
Part 5 - distance
Part 6 - relays
Part 7 - jumps
Part 8 - throws
Part 9 - pentathlon
Part 10 - awards and workerbees
Jumps
Triple Jump
Boys
1st Austin Davis
2nd Devon Bond
3rd Kelvin Griffin
4th Roger Mance
5th Roman Dent
6th Emmanuel Overare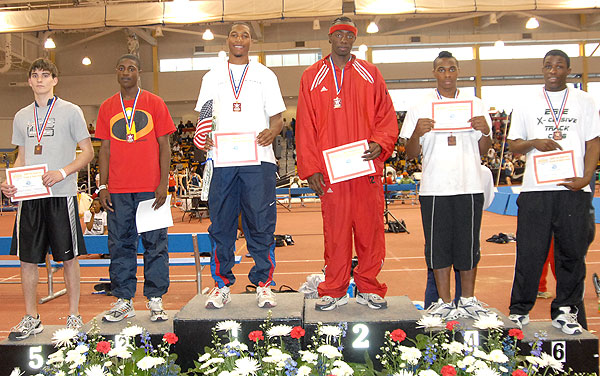 1st Austin Davis NC with dad, Al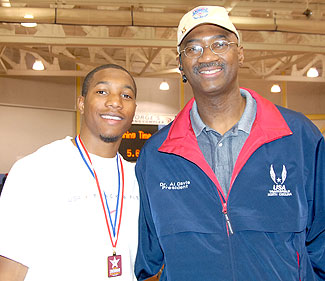 Austin Davis with his family, friends and fan-Mom Wanda, is holding the baby.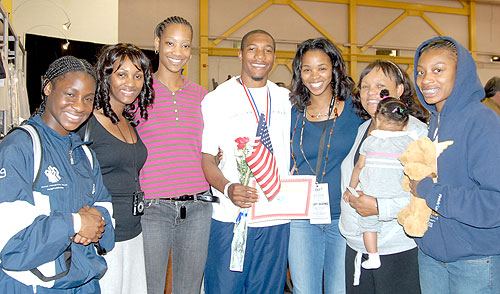 Girls Triple Jump
1st Jamesha Youngblood


2nd Arantxa King
3rd Sherice Walker
4th Stephanie McIntyre
5th Rachel Butler
6th April Sinkler, Gioia, Gabrielle, LaToya James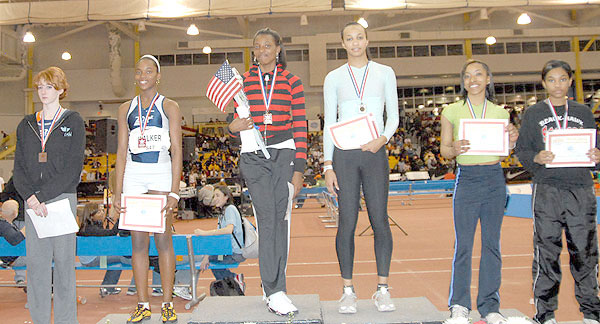 1st Jamesha Youngblood with mom, Linda. Jamesha won both the Triple and Long jumps.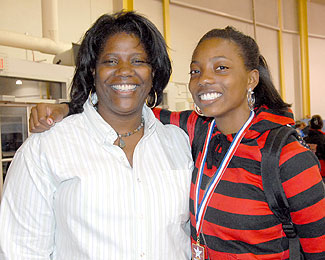 Pole Vault
Boys Pole Vault
1st Maston Wallace


2nd Spencer McCorkel
3rd Hunter Hall
4th Corey Shank
5th Casey Roche and Joseph Farley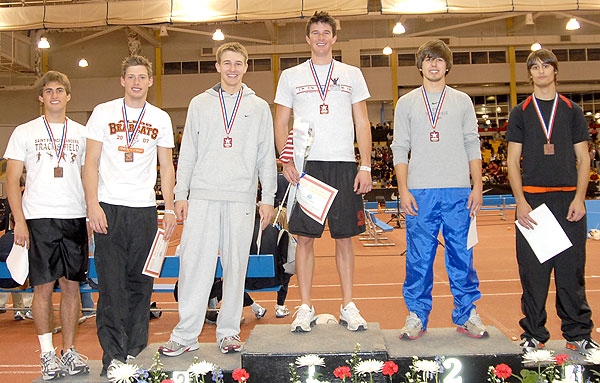 1st Maston Wallace TX with dad Britt--Maston stands by his meet recording setting 17'05.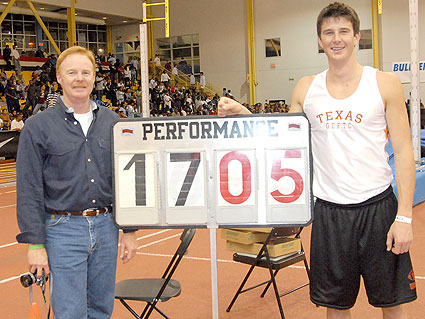 2nd Spencer McCorkel and 1st Maston Spencer--they battled it out all the way.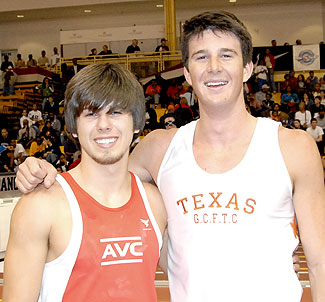 Vaulters at play!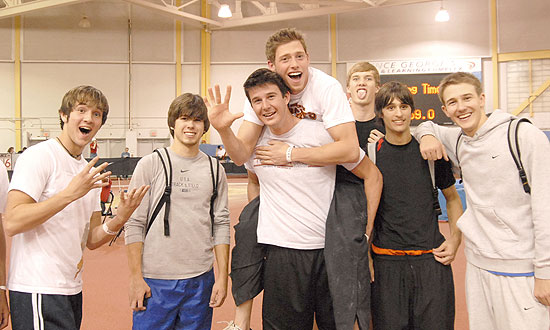 3rd Hunter Hall IN with his parents Alicia and Randy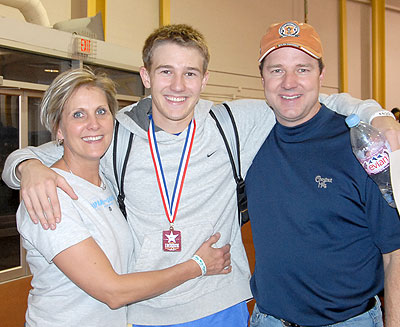 4th Corey Shank IN with his parents Amy and Bob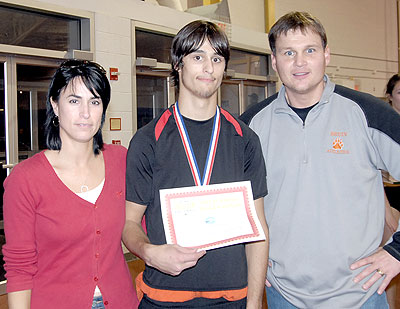 Girls Pole Vault
1st Rachel Laurent

, 2nd Shade Weygandt, 3rd Stehpanie Duffy, 4th Katie Veith, 5th Jessica Doyle, 6th Crissy Finkel and Beki Finn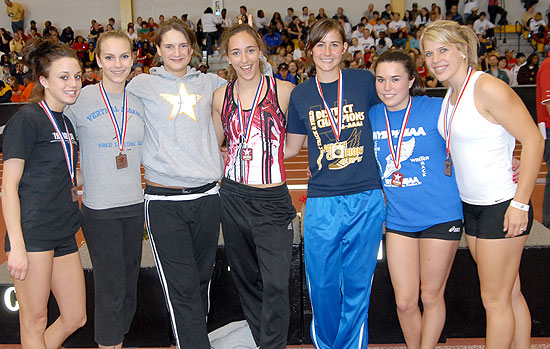 1st Rachel Laurent with her parents, grandparents and coach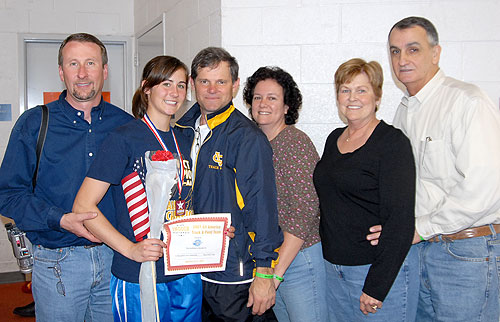 High Jump
Boys
1st Devon Bond
2nd Kurt Poehlman
3rd Christopher Copeland
4th Taylor Hobson
5th Nicholas Wilson
6th James Pittenger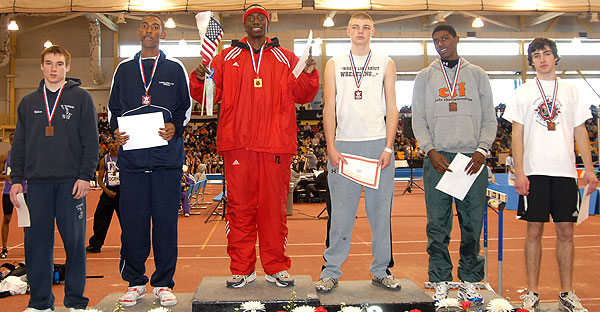 Devon Bond-NJ Trenton Central with his coach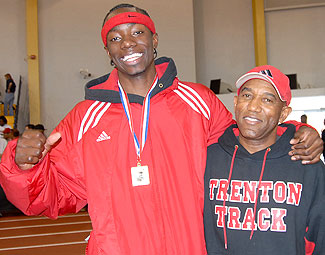 High Jumpers all in a row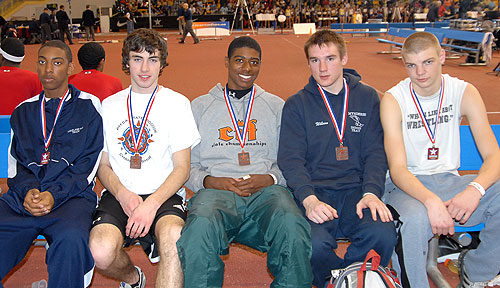 John Dye with Don and Sharon Boyer of Middletown MD. Boyer coached the Dye kids, Derek and Natalie, at Middletown High School in the late 1990s and was coaching Jimmy Harris in the high jump at this meet.
Girls High Jump
1st Patience Coleman NC
2nd Ashley Gatling VA
3rd Alexandra Morgan AL
4th April Sinkler VA
5th Pearl Bickersteth VA, Katelyn Williams OH, Erica Whitby AL and Audrey Gariepy-Bogui MD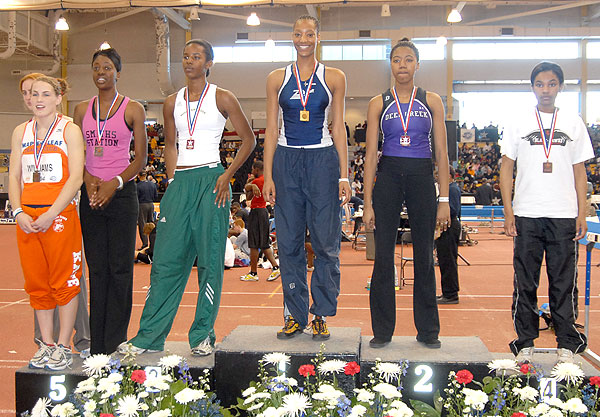 1st Patience Coleman with dad, Major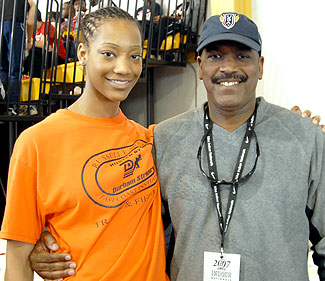 5th Audrey Gariepy-Bogui and her father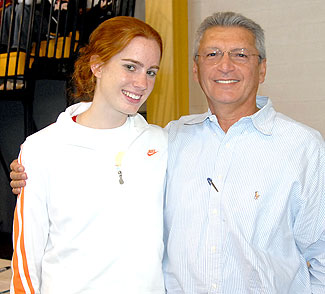 5th Katelyn Williams and her Coach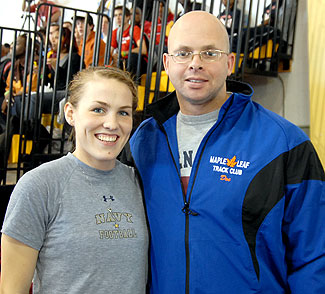 Erica Whitby AL with her coaches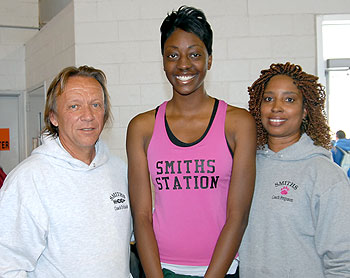 Long Jump
Boys
1st Terry Prentice CA
2nd Rashad Cannon
3rd Jordan McPherson
4th Brendan Ames
5h Edward Turner
6th Reuben Aimes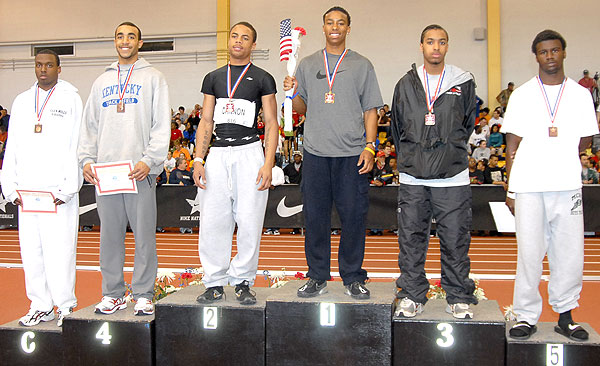 1st Terry Prentice with his parents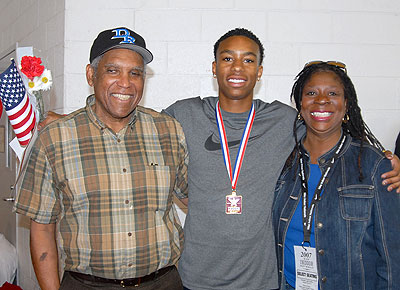 Girls Long Jump
1st Jamesha Youngblood
2nd Shakia Forbes
3rd Karyn Dunn
4th Arantxa King
5th Whitney Jones
6th Ashley Hendrix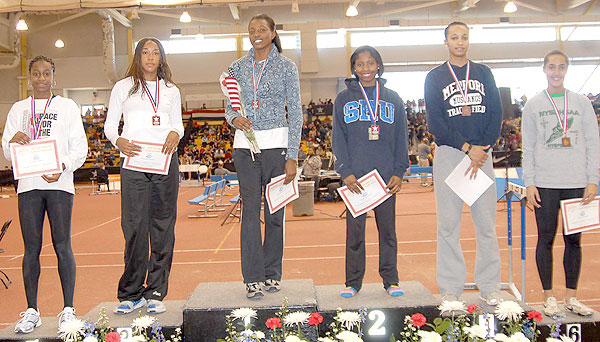 1st Jamesha Youngblood with mom, Linda--Jamesha doubled winning the long and triple jump.