Foot Locker Cross Country




Nov 25 - Dec 9, 2006




a DyeStat

featured meet
steveu's 2006 Foot Locker Favorites
West Girls - Pre-Season
A Tough Road Ahead - If You're Not Jordan,
Mel, or Another Cali Girl
by Steve (steveu) Underwood
Unless you're name is Jordan or Mel, or you're otherwise from California, you're going to have an awfully tough time making it to San Diego this fall.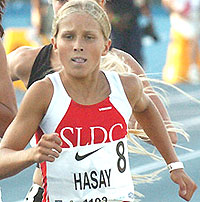 If you've read the national preview for girls on this web site, you already know plenty about Jordan Hasay (right) and Marie Lawrence. Few things are tougher in this sport than for a young female runner to stay on top or keep improving if they've already reached the mountaintop. Ironically, Lawrence provides a good example to Hasay, the Mission Bay CA sophomore and defending FL West and Finals Champ, of being able to do that. While Mel hasn't rise to the very top since beginning her career as with the runner-up finish as a freshman to Katelyn Kaltenbach, neither has she regressed, which has happened to many young stars before her.
No one knows how a girl is going to develop physically beyond her freshman year; how that goes is often impactful, but not always. Jordan is short in stature. However, probably to her benefit, she has a strong, balanced physique, thanks obviously in no small part to her pool work. Between her running, pool, and weight work, Coach Armando Siqueiros has a program that will maximize her potential. A healthy, but burning desire to win should be in Jordan's favor as well, and losing the NON mile may serve as year-long motivation in all her endeavors.
Foot Locker West at Mt. SAC was where the torch seemed to be passed between Lawrence and Hasay, as the freshman put some early-season pacing mistakes behind her with a wonderful mid-race surge – a move that will be hard for anyone in the nation to match. But Jordan may find a different Marie Lawrence the next time she races her.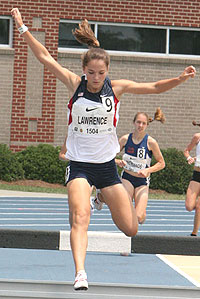 Mel's freshman year, until FL Finals, was marked by deference to her sister, who was a less-talented senior. Collier Lawrence encouraged her sibling to run to her potential instead of letting her win, and finally in San Diego that season, she got the message. But the Reno NV senior was still a perennial runner-up until this spring's NON 2k steeplechase (left), when she unleashed a startling late-race move to wrest the title and national record from Lindsey Ferguson. A week later, she did the same in the 3k steeple at USATF Juniors, despite a wracking fall in an early-race water jump. Clearly, Lawrence is learning to win the big ones, and if she puts that new impetus to work against Hasay this fall, who knows what can happen.
and then there are Tarver, Adamyk, Murakami, Kosinski, Babcock, Andrews
After that, the region is ruled by more Golden State runners … and more, and more, and more …
Obviously, CA always produces a lot of great runners given its size and weather, but last year was very good (10 of top 14) and this fall could be at least 9 of the top 12 or better. Perhaps nothing set the stage more than the incredible 1600 at the CIF Finals this spring, as the top 5 ran 4:45 or better (even without Jordan or Kauren Tarver). Three of those return this fall.
You have to start with someone who wasn't even in the CIF Finals, though, and that's Tarver, the Serrano HS senior. Last winter, the State D2 Champ capped off two great seasons of cross-country when she qualified for the World Junior Cross-Country team to go and compete in Japan. That followed going 6th/16th in her first FL West and Finals races as a freshman, and 4th/5th in the same last fall. At the US Trials in February, it was clear she had even taken a further step since San Diego. But the combination of that long season and a reported nerve problem allowed her to run no faster than 4:55/10:48 in the spring, not enough to make it to the top level in talent-crazy California. Hopefully, she has recovered and is ready to go again.
Who you go with next is even tougher – you've got three sub-4:45 1600 runners who had pretty good XC success last fall, but it was another athlete that is the only CA returnee besides Jordan that's a sub 10:30 (and sub-10:20) runner, and that's Glendora sr Christy Adamyk.
After a fall season that went 4th D1 State, 7th FL West, and 29th FL Finals, Christy went 10:32 or better five times this spring, including a 10:19.83 at Southern Section Masters. She was third behind Hasay and Annie St. Geme at CIF and 3rd behind Mel and Katie Vanatta at Golden West. Finally, at NON, she was a solid 8th in a race that epitomized the race education she's still working on, as she burst out for an early lead. Meshing better pacing with unmistakable talent will take her a long way.
Now about that CIF 1600 that's so influential on the incredible group we have here … The field there took the line with Annie St. Geme the clear favorite and former national champ Nicole Blood probably the next candidate. But despite fine times of 4:43.22 and 4:45.62, they were only 4th and 5th. With big breakthroughs, Christine Babcock (4:41.29), Alex Kosinski (4:42.31), and Shannon Murakami (4:43.04) took the top three. Even though the post-season had yet to start, Cali fans already speculated about the greatness of the 2006-07 campaign.
Of the three, the Oak Ridge sr Kosinski already has a FL Finals appearance to her credit, as she was 8th at the Mt. SAC qualifier and 20th at Balboa. Her track campaign also included a 4:42 full mile for 2nd at Golden West behind Jordan, and a 10:40. She begins the fall with a foot injury, but a recovery should certainly net another berth by December.
Shannon Murakami, the Saugus sr, moved deep into last fall's favorites list with her D1 Finals win in the Golden State with 17:43, beating Katy Andrews and Adamyk, among others. She certainly has a chance to repeat that, for starters. But she was a near-miss at FL West, netting 12th. In track, her breakthrough caught fire with the 4:44/2:11 double at the Southern Section D1 meet.
The real stunner among that group, though, was the 4:41 by Christine Babcock. Although she had displayed a lot of talent and run good times, almost no one had expected the soph to win that race. During the previous fall, she almost pulled off the win over Tarver at D2 state, running 17:38 for 2nd. In both seasons, she bypassed the post-season, leaving followers to wonder if the Woodbridge jr progresses with another great fall whether or not she'll run in December at Mt. SAC.
A sixth California runner really deserves the next spot, and that is Andrews, the La Costa jr. As mentioned, she was D1 runner-up last November to Murakami. She followed up right behind her again in FL West, finishing 13th. She struggled somewhat in track; she hit 4:56/10:54, but didn't place well at the end. Rebounding this fall, though, could put her in San Diego as she's the #9 returnee.
the other states -- Michel and Eddy
While one could go on with Cali runners, there's some other contenders now who need to be acknowledged with their chance of breaking the string. Possibly no one has a better chance than Clackamas OR sr Claire Michel. While she didn't blow away the NW with great times, she wound up the second-best from that part of the region behind Megan O'Reilly WA with her 11th in the final race at Mt. SAC. Her track season was on the quiet side, with a 4A state meet 3k win and a 10:05 best at that distance, but expect her to be in the running for one of the last spots.
Also look for Candace Eddy, the talented Davis HS, UT sophomore. She didn't have a good race in FL West as a freshman, as she tried to extend her early-ending season by several weeks. But her 4:58/10:52 performances in track, including a 5A state meet 1600/3200 sweep, reinforced her talent. Expect a much improved post-season showing this fall.
Then you must really go to CA again, because there's at least two more harriers too good to miss. Mira Costa soph Kevyn Murphy had a spectacular yearling campaign over hill and dale, motoring to 3rd at D2 state and a just-miss 9th at FL West. The only reason she isn't ranked higher is because her track PRs were only 4:57/11:02. But if she makes strides this autumn, she may well pass up some of the other favorites.
And what about Anna Sperry, the Simi Valley sr. who ran "only" 4:46 for 1600 this spring, a time that would be the best in the whole state or better some years? She also clocked 10:38, and that followed her 4th at D2 state and 14 at FL West as a harrier. She's barely below the ultra-elite.
At that point, the breadth of contenders really begins to widen. It's hard to believe these first 12 won't take the eight spots – and none of them are on teams that are top NTN contenders. Three to perhaps follow most closely are Bingham UT sr Kim Quinn, St. Michaels HS (NM) soph Tess Amer, and Bellarmine Prep WA jr. Nichole Cochran. Quinn and Amer were both in the 20s last fall in Dec. at Mt. SAC and has solid track seasons. Quinn really impressed with a 36:28 10k to win among preps at the Energy Solutions jr 10k in her home state.
Amer, along with fellow NM soph Julia Brasher, are probably the best New Mexico threats, a state which usually holds its own among some of its more populated neighbors at FL West. In Washington, there's a big void left by the graduation of O'Reilly, but Cochran's 4:52 1600 talent may make her the best. On the other hand, Katrina Drennen and Kesslee Payne return after each ran 10:43 3200 at state there. Stephanie Felix CA, Stephanie Marcy WA, Patricia Barela AZ, and Lauren Saylor CA were in the top 25 at FL West in 2005 and could also contend.


Foot Locker Favorites - West Girls Top 15 - Pre-Season
| | | | |
| --- | --- | --- | --- |
| Athlete | Last Year: Finals/Reg. | Returning Finals/Region | Comments |
| 1. Jordan Hasay, 2009, Mission Prep HS, CA | 1st/1st W | 1st/1st | Picked up where she left off last fall with dominating track season; great coach is a big plus. |
| 2. Marie Lawrence, 2007, Reno HS, NV | 2nd/2nd W | 2nd/2nd | Steeple success on track could make difference btw 2nd and 1st; Must overcome long track season. |
| 3. Kauren Tarver, 2008, West Serrano HS, CA | 5th/4th W | 3rd/3rd | Extended 2nd great fall season by making World Jr. team for Japan, but lacked big numbers in track. |
| 4. Christy Adamyk, 2007, Glendora HS, CA | 29th/7th W | 13th/4th | Moved up a class with big 10:19 at SS Masters; ran OK in big meets, but may need to temper fast starts. |
| 5. Alex Kosinski, 2007, Oak Ridge HS, CA | 20th/8th W | 11th/5th | After very solid XC campaign, became one of Cali's super milers last spring with 4:42y PR. |
| 6. Shannon Murakami, 2007, Saugus HS, CA | X/12th W | X/8th | Was an FL fave last fall after winning D1 state, but was 12th at FL West. Outstanding 4:43 in spring. |
| 7. Christine Babcock, 2008, Woodbridge HS, CA | X/DNC W | X/X | Her 4:41 CIF 1600 win was one of spring's great stunners, but she also had CC success last fall. |
| 8. Katy Andrews, 2008, La Costa HS, CA | X/13th W | X/9th | Very strong last fall and for most of track before disappointing ending |
| 9. Claire Michel, 2007, Clackamas HS, OR | X/11th W | X/7th | Should be the top runner in the NW; ran very well at FL West last fall, but no little national track experience. |
| 10. Candace Eddy, 2009, Davis HS, UT | X/100th | X/X | Finish at FL West last year not indicative of talent; had outstanding spring in 16 and 32. |
| 11. Kevyn Murphy, 2009, Mira Costa HS, CA | X/9th W | X/6th | Had great just-miss season as freshman in CC; times in track weren't at same level |
| 12. Anna Sperry, 2007, Simi Valley HS, CA | X/14th W | X/10th | Solid, consistent runner in both track and cross; breakthrough with 4:46 1600; missed state |
| 13. Kim Quinn, 2007, Bingham HS, UT | X/28th W | X/19th | Nice 10k at altitude this summer indicates possible move up in CC for good endurance runner |
| 14. Tess Amer, 2009, St. Michaels HS, NM | X/24th W | X/15th | Will battle for top spot in NM with fellow soph Julie Brasher; finished in near-tie with teammate at state CC |
| 15. Nicole Cochran, 2008, Bellarmine Prep HS, WA | X/DNC W | X/X | Tough to pick best in WA after O'Reilly era, but 4:52 1600 may give her the edge |
Honorable Mention (15, in alpha order): Patricia Barela AZ, Julie Brasher NM, Shelly Buckley CA, Elizabeth Coe CA, Sarah Cummings CA, Tara Erdmann AZ, Karleigh Gempler ID, Katie Gilboy MT, Katja Goldring CA, Bridgette Hoenke MT, Stephanie Felix CA, Stephanie Marcy WA, Samantha McMillan UT, Ilsa Paulson OR, Crystal Pitney AK, Lindsay Prescott AZ, Lauren Saylor CA
1. Jordan Hasay, 2009, Mission Prep HS, Arroyo Grande CA
2006 Track: 9:26.32 3k 1st Stanford Open, 1st Arcadia 10:07.56, 1st CIF 10:13.55, 3rd NON 4:42.27y, 1st Golden West 4:42.21y, 1st USATF 3k 9:50.66, 1st Sacramento MOC 4:43.09, CentSect 2:11.50-1st/10:20.69-1st,
2005 CC: 1st FL Finals 17:05, 1st FL West 17:14, 1st D5 State 17:11, 1st Mt. SAC Indiv. Sweeps 16:48 (2.91M), 1st Section 17:02, 1st Clovis (small schools) 17:36, 1st Morro Bay 18:01
2005 Track: 6th JO Youth 9:35.12 (3k), 1st Lompoc Kiwanis 10:33.4y, 1st JO Youth 4:28.61, 1st Cuesta Coll. 4:51.48

2. Marie Lawrence, 2007, West Reno HS, Reno NV
2006 Track: 1st NON 2kST 6:35.63, 1st USATF 3kST 10:15.26, 10th World Jr. 3kST 10:17.84 (10:22.85-6th in semis), 2nd Golden West 10:20.95
2005 CC: 2nd FL Finals 17:19, 2nd FL West 17:38, 1st 4A State 18:28, 1st Mt. SAC Team Sweeps 16:29 (2.91M), 1st Stanford 17:26, 1st Clovis 17:19, 1st Elko 18:04
2005 Track: 1st U.S. Jr. 9:44.85 (3k), 2nd Golden West 4:48.32y
2004 CC: 2nd FLN 17:39, 1st FLW 17:56

3. Kauren Tarver, 2008, West Serrano HS, Wrightwood CA
2006 Track: 4:55.37 3rd SouSectD2, SouSect Masters 4:56.49-7th/10:48.42-8th,
2005 CC: 5th FL Finals 17:40, 3rd USATF Jrs 20:47 (6k), 39th World Jrs. 21:26 (6k), 4th FL West 17:59, 1st D2 State 17:36, 2nd Mt. SAC Team Sweeps 17:02, 1st Woodbridge (3M) 16:37
2005 Track: 2nd SS Masters 4:54.33
2004 CC: 16th FLN 18:28, 6th FLW 18:27

4. Christy Adamyk, 2007, Glendora HS, Claremont CA
2006 Track: 10:19.83 2nd SouSect Masters, Golden West 10:25.35-3rd/4:53.94y-4th, 8th NON 10:32.70y, 3rd CIF 10:31.34, SouSectD1 10:31.93-1st/4:52.59-3rd, 8th Arcadia 10:39.76
2005 CC: 29th FL Finals 18:22, 7th FL West 18:16, 4th D1 State 17:58, 1st Bell Gardens 17:22 (3M), 1st Sierra 18:20, 4th Stanford D1 18:17
2005 Track: 2nd SS Masters 10:36.89, 13th Arcadia 10:52.77y
2004 CC: 12th FLW 18:57

5. Alex Kosinski, 2007, Oak Ridge HS, El Dorado Hills CA
2006 Track: 2nd Golden West 4:42.93y, 2nd CIF 4:42.31, 2nd Arcadia 4:50.14y, 1st Ventura Co. 10:40.36,
2005 CC: 20th FL Finals 18:07, 8th FL West 18:20, 5th D2 State 18:00, 5th Mt. SAC Indiv. Sweeps 17:27 (2.91M), 2nd Stanford D2 18:32, 3rd Clovis 17:38
2005 Track: 1st Sacro Champs 2:11.8, 1st Sacro Champs 4:49.26, 2nd Arcadia 4:53.1y, 1st Wilson Inv. 10:35.68
2004 CC: 20th FLW 19:14

6. Shannon Murakami, 2007, Saugus HS, CA
2006 Track: 3rd CIF 4:43.04 (4:46.03 pre), SouSect Masters 4:45.79-3rd/2:12.45-4th, 3rd Arcadia 4:53.46y, SouSectD1 2:11.30-2nd/4:44.32-1st,
2005 CC: 12th FL West 18:40, 1st D1 State 17:43, 3rd MtSAC Ind. SS 17:08 (2.91M),

7. Christine Babcock, 2008, Woodbridge HS, CA
2006 Track: 1st CIF 4:41.29, SouSect Masters 4:51.98-4th/10:41.97-4th, SouSectD2 10:38.45-1st/4:49.34-2nd, 11th Arcadia 10:43.52 (1st in heat).
2005 CC: DNC FL West, 2nd D2 State 17:38, 2nd Orange Co. 17:01 (3M),

8. Katy Andrews, 2008, La Costa HS, CA
2006 Track: CIF 11:07.42-11th/5:15.69-9th (4:56.32 pre),
2005 CC: 13th FL West 18:42, 2nd D1 State 17:50, 3rd MtSAC Team Sweeps 17:03 (2.91M),

9. Claire Michel, 2007, Clackamas HS, OR
2006 Track: 4A State 1st-10:05.17 3k/10th-4:48.72 1500, 1st Team XO 10:22.45 (3k)
2005 CC: 11th FL West 18:39, 1st 4A State 18:32, 1st Concordia adidas 17:49,

10. Candace Eddy, 2009, Davis HS, UT
2006 Track: 5A State 5:00.88-1st/10:52.76-1st, 1st Davis Inv 4:58.51,
2005 CC: 100th FL West 20:21, 2nd 5A State 18:56 (3M),

11. Kevyn Murphy, 2009, Mira Costa HS, CA
2006 Track: 5th SouSect D2 4:57.61, 17th Arcadia 11:02.69,
2005 CC: 9th FL West 18:24, 3rd D2 State 17:50, 4th MtSAC Sweeps 17:09 (2.91M),

12. Anna Sperry, 2007, Simi Valley HS, CA
2006 Track: SouSect D2 4:46.77-1st/10:38.21-2nd, 1st Ventura Co. 2:13.61,
2005 CC: 14th FL West 18:44, 4th D2 State 17:57,

13. Kim Quinn, 2007, Bingham HS, UT
2006 Track: 5A State 2nd-3200(nta)/4th-1600(nta) – (also won Energy Solutions Jr. 10k 36:28)
2005 CC: 28th FL West 19:08, 4th 5A State 19:03 (3M)

14. Tess Amer, 2009, St. Michaels HS, NM
2006 Track: 3A State 1st-11:24.14/2nd-5:21.72,
2005 CC: 24th FL West 19:04, 2nd 3A State 18:42,

15. Nichole Cochran, 2008, Bellarmine Prep, WA
2006 Track: 4A State 4:52.43-3rd/2:13.20-3rd,
2005 CC: DNC FL West, 5th 4A State 18:36, 5th Danner Inv 18:19,