Foot Locker Cross Country




Nov 25 - Dec 9, 2006




a DyeStat

featured meet
2006 Foot Locker Favorites
West Boys - Pre-Season
Tebo-Cybulski Showdown Probably
Won't Happen in Top-Heavy West
by Steve (steveu) Underwood
If Matt Tebo and Michael Cybulski were both to come to the starting line fresh and ready to race at the Foot Locker West regional at Mt. SAC in December, and both were going to really put it on the line, it would certainly be one of the finest moments in the course's venerated history.
But don't wish too hard.
It's not likely to happen. It's likely that Cybulski will not be there at all. His Royal team in Simi Valley CA is the top-ranked team in the NTN West and should be in Portland that day, barring disaster. That will leave Tebo to decide if he wants to put one up for the record books or just run to win, given that he'll be going for all the marbles the following week.
In any case, no other FL region for boys is more blessed at the top than this one, as Tebo and Cybulski are at least two of the top four runners in the country. Both had good CC seasons last fall, but really made their mark on the track.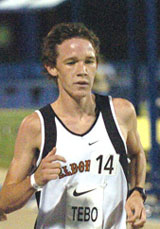 Tebo, an Eldorado NM sr., took 3rd in the mass finish at FL West last fall, then was 16th in San Diego. He's the region's top returnee and 3rd in the nation, by that measure. Looking good, but …
… then in the spring, he elevated his game to become one of the greatest juniors ever on the track. Two runner-up finishes behind AJ Acosta in the season's biggest 8-lappers bookmarked his season. First, he beat the likes of Ben Sitler and the Mercados to take 2nd at the Arcadia 3200 in 8:52.23. Then he outran pretty much everyone who was anyone, except Acosta, in the NON 2-mile. The 8:47.29 he stopped the watch with made him the No. 5 junior in US history for the event.
Tebo appears to be a natural distance runner; he cruised a 30:09 10k at the Energy Solutions race in Utah this summer and doesn't have a blazing mile PR. On the other hand, you don't want to have him at your side with 100-200 meters to go – just ask Evan Jager or the 4-5 finishers at Nike Indoor where he was 3rd in March.
After a stunning 9:02 win at the CIF 3200 as a soph, Cybulski had a "good" fall, but while struggling with some minor injuries didn't really leave his mark. He was 4th at Mt. SAC, 3rd at CIF D1 State, then struggled to 41st at NTN.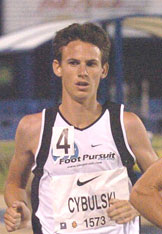 The spring was a different story. He just gave a hint of things to come at Arcadia, anchoring an outstanding 17:19 4xMile, then running in the open mile without being fresh. But his signature was a four-pack of sub-9s (sub-8:56s, really) to end the season that really elevated his status: 8:55.35-8:52.24-8:53.77-8:53.85y. The third effort was a successful defense of his CIF title, beating a doubling-back Acosta in the process. Cybulski had mixed feelings about the last race, though; it was his fastest, but also netted him just 6th in the incredible NON race.
Now he is clearly the man to beat in California, but so is his Royal team – and Cybulski is a team guy all the way. Unless the injury bug bites Royal big time, they are going to be at Portland Meadows the first Saturday in December. Assuming he can slog through the mud better than he did last year, he should get that bonus berth to San Diego. It's a tough double, but Cybulski would like to become the first to win both.
the rest - new blood and a lot of question marks
After this Big Two, there is a lot of room for new blood and a lot of question marks. A very strong senior class left the western states; 10 of the top 11 at FL West 2005 were seniors, as were 23 of the first 30. The track times of some of the lower returnees were vastly better than some of the higher returnees, making it hard to sort things out. When one finally comes to some conclusions, what unfolds looks suspiciously like a California-Washington dual meet.
Chad Hall
Having lost Acosta, Michael Coe, the Mercados, Ben Sitler, and several other good seniors, there are a lack of proven (at the regional/national level) harriers beyond Cybulski. But there are some intriguing candidates to fill the holes, perhaps none more interesting than Chad Hall. Hall's first three seasons were a bit under the national radar compared to older brother Ryan … that is, until he got red-hot at the end of last spring and started racking up the fast times. He had six races between 4:11.67y (Golden West win) and 4:15.91y, plus 8:58-9:08-9:10. On the other hand, he did not impress in either state meet (9:23 and 15:51 in XC) last year. But Hall has the most talent of the remaining contenders.
(note of interest: Whereas in 2000 Ryan was running practically by himself at Big Bear HS, now Chad has a team favored to win CIF D4)
more Californians
Another who due to make a FL West team for San Diego is Mikel Thomas. The Clovis sr. was just two spots from making it (10th) as a soph, but then only 31st last fall, despite a good season. In the spring, he added nicely to his credentials with 8:59 at Arcadia and 9:04 for 4th at CIF. Yes, he's due.
After that, among Californians, you've got to look at the Knight twins from La Sierra. As juniors, Spencer and Dylan were each 4:09 runners, while Spencer also hit 9:07. Dylan was hurt much of last fall and missed the late season, but Spencer was 14th in D1 State, then ran quite well with 21st at FL West.
However, the top Californian returning is actually Eric Avila, a Bonita Vista sr who was 7th in D1 XC, then 12th at FL West. With a best of 9:18 for 3200, however, it's hard to say whether others have moved past him, or if he's just that much better a harrier. Torrence sr Kent Morikawa will be there, too, with 4th D2 and 19th FL West from last fall, then a 9:11 at Arcadia this spring. Avila's old teammate, Austin Jett, hopped over to Eastlake between seasons and ran 4:13 there in the spring.
Several more could move challenge those later spots if any of the above falter, including German Fernandez, the Riverbank jr who amazed with a 15:14 at D4 State (2nd best overall), ran tough at FL West before a late fade, then disappeared during track.
other states
Washington will counter with a fine Class of 2007 that includes Skyline's Matt Frerker, Kentwood's Michael Chinchar, and Seattle Prep's Max O'Donaghue-McDonald. The best from that state, however, may be amazing jr Joey Bywater from Lake Stevens. As a soph, he went from 21st in 4A CC to 9:08, then 9:03 in track at the 4A finals. There, he beat both Frerker and Chinchar with one of the nation's best soph times.
Frerker and Chinchar have plenty of creds, too, however. Frerker was 32nd at FL West last fall after a not-as-good 7th at 4A state. He was 9:05/4:17 at track state. Chinchar was 2nd at 4A state in CC, but only 109th at FL West. He was 9:07/4:16 on the oval, and was also the runner-up to Hall at Golden West in 4:12y.
Meanwhile, O'Donaghue won 3A CC in Washington, then beat Frerker and Chinchar at Border Clash (5th), and wrapped it up with 36th at FL West. He didn't place as well in state track, but did hit 9:12 at district. Mead's Taylor Nepon, the 2nd qualifier to San Diego from NTN last year (after Klotz), also returns and could be in a similar spot again, though he'll have plenty of competition.
So … what about the rest of the states? Oregon may be a little down this year, relatively speaking, after the departure of Kenny Klotz and Issac Stoutenburgh, both finalists last year. Jake Keyser, a Crater HS sr, is likely the best returnee. Josh Frasier, a 4:14 miler, also bears watching from that state, as well as youngsters Nathan Mathabane and Taylor Morgan.
Tucson, Arizona's Victor Zazueta was just behind Avila at FL West last year in 13th, but hasn't backed it up on the track – but maybe he's a CC specialist, too. Wyoming's Paul Burke has run 4:14 and Idaho's Sean Huey was 38th at FL West last year, a top returnee from a "mountain" state. Justin Hedin could be the best from Utah.
Greg Billington - from UK to Mt. SAC
The most fascinating story in the whole West, however, may be an athlete who will likely travel all the way to Mt. SAC from the United Kingdom to compete – again. Greg Billington inspired a lot of "who was that?" comments when he was 16th at FL West last year as a junior. Turns out he's an American living with his family at a US Military base in England, attending a base high school there. Billington's first loves were swimming and triathlon, but his run times caught the attention of coach Ken Bell.
Now Billington hopes to catch the attention of U.S. coaches and hopes to run in college on scholarship. Since his appearance at Mt. SAC last fall, he had a fine winter harrier campaign in England, then ran 14:51 5k, 8:38 3k, and 4:01 1500 on the track.


Foot Locker Favorites - West Boys Top 15 - Pre-Season
| | | | |
| --- | --- | --- | --- |
| Athlete | Last Year: Finals/Reg. | Returning Finals/Region | Comments |
| 1. Matt Tebo, 2007, Eldorado HS, NM | 16th/3rd W | 3rd/1st | Combines 10k endurance, two of best 2M/32s ever for jr., and a sneaky quick kick. Should roll to San Diego |
| 2. Michael Cybulski, 2007, Royal HS, CA | X/DNC W | X/X | Very likely to have NTN date again; had more quality deuces in 06 than anyone; hopes to succeed in NTN/FLF attempt |
| 3. Chad Hall, 2007, Big Bear HS, CA | X/DNC W | X/X | Making his own name vis a vis brother Ryan; lots of fast track times; needs big race CC success |
| 4. Mikel Thomas, 2007, Clovis HS, CA | X/31st W | X/8th | 10th in FL West as soph, just 31st last year, but then 8:59 at Arcadia in spring |
| 5. Joey Bywater, 2008, Lake Stevens HS, WA | X/DNC W | X/X | Rocked the NW with 9:08, then 9:03 at state as a soph; needs big meet XC experience |
| 6. Spencer Knight, 2007, La Sierra HS, CA | X/21st W | X/6th | Another fast miler with lots of good track marks and some good XC experience |
| 7. Matt Frerker, 2007, Skyline HS, WA | X/32nd W | X/9th | Has made jump from youth star to prep elite with 9:05 3200 last spring; best of good sr. class in WA. |
| 8. Greg Billington, 2007, Lakenheath HS, UK (Overseas US Military) | X/16th W | X/4th | Competes at school for US Military kids in U.K.; good race here last year, has improved to 14:51 5k on track. |
| 9. Michael Chinchar, 2007, Kentwood HS, WA | X/109th W | X/X | Bad race at 05 FL West, but mostly good track season included 9:07 3200 at state (3rd) |
| 10. Dylan Knight , 2007, La Sierra HS, CA | X/DNC W | X/X | Missed a lot of 05 XC with injury, came back with great times last spring with twin bro Spencer |
| 11. Eric Avila, 2007, Bonita Vista HS, CA | X/12th W | X/2nd | A stunner of a race at Mt.SAC last Dec., then had decent season in track, but not at level of several below him in CC |
| 12. Kent Morikawa, 2007, Torrence HS, CA | X/19th W | X/5th | After a good FL West race here last fall, progressed to solid 9:11 3200 in track. |
| 13. Max O'Donaghue-McDonald, 2007, Seattle Prep HS, WA | X/36th W | X/10th | Another mostly solid runner from Washington who ran decent here last year and in track |
| 14. Austin Jett, 2007, Eastlake HS, CA | X/125th W | X/X | Not a good race at FL West; then transferred from Bonita Vista to Eastlake and ran 4:13. Former teammate of Avila. |
| 15. Jake Keyser, 2007, Crater HS, OR | X/76th W | X/27th | Could be best OR runner after fine Class of 06 left; 8:42 3k on the track this past spring. |
Honorable Mention (alphabetical order): Hudson Andrews CA, Paul Burke WY, German Fernandez CA, Josh Frasier OR, Justin Hedin UT, Sean Huey ID, Fawad Kahn CA, Nathan Mathabane OR, Taylor Morgan OR, Taylor Nepon WA, Matthew Pertillo CA, Andre Pilavjian CA, Michael Savatierra CA, John Sullivan CA, Rob Webster WA, Victor Zazueta AZ,
1. Matthew Tebo, 2007, Eldorado HS, Albuquerque NM
2006 Track: 2nd NON 8:47.29y, 2nd Arcadia 8:52.23, 4:17.95 17th NON (7th Sect. 2), 1st GSW 1500 4:01.33(A), 5A State(A) 9:07.38-1st/4.18.29-1st, 3rd NIN 9:10.02y
2005 CC: 16th FL Finals 15:32, 3rd FL West 15:42, 15:40(A) 1st 5A State, 15:21(A) 1st Albu. City, 15:37(A) 1st Albu. Acad.
2005 Track: 4th GWI 9:04.93
2004 CC: 16th FLW 16:21

2. Michael Cybulski, 2007, Royal HS, CA
2006 Track: 6th NON 8:53.85y, 1st CIF 8:53.77, 8:52.24 1st SouSectMasters, 8:55.35 1st SouSectD1, 4:10.47 1st Marmonte League, 7th Arcadia 4:16.88y
2005 CC: 41st NTN 17:27, DNC FLW, 3rd D1 State 15:22, 4th MtSAC D1 SS 14:53 (3M), 1st Clovis 15:20, 5th Stanford (3rd American) 15:31
2005 Track: 1st CIF 9:02.57, 2nd Arcadia (seeded) 9:13.44y
2004 CC: DNC FLW

3. Chad Hall, 2007, Big Bear HS, Big Bear, CA
2006 Track: 8:58.42 1st SouSectD4 Pre, 1st Golden West 4:11.67y, 8th NON 4:13.18y (7th Sect. 3), 12th State 9:23.71, 4:10.78 1st SouSectMasters, 4:11.19 1st SouSectD4, 9:08.77 1st SouSectD4, 9:10.49 7th SouSectMasters, 4:12.27, 1st SouSectD4 Pre, 4:15.91y 1st Mt SAC
2005 CC: DNC FL West, 2nd D4 State 15:51

4. Mikel Thomas, 2007, Clovis HS, CA
2006 Track: 8:59.81 8th Arcadia Inv, 4th CIF 9:04.56, 9:08.66 1st Sacramento MOC, Central Section 9:14.25-1st/4:16.39-1st,
2005 CC: 31st FL West 16:27, 2nd D2 State 15:29, 2nd Clovis 15:22
2005 Track: 11th CIF 9:21.64, 9th Arcadia (seeded) 9:20.99y
2004 CC: 10th FLW 16:07

5. Joey Bywater, 2008, Lake Stevens HS, WA
2006 Track: 9:03.97 1st 4A State, District 9:08.71-1st/4:16.58-2nd,
2005 CC: 21st 4A State 16:16, 21st Border Clash 14:37 (4.45k),

6. Spencer Knight, 2007, La Sierra HS, CA
2006 Track: State 4:09.58-3rd/9:20.37-11th, 9:07.09 4th SouSectMasters, 9:12.97 3rd SouSectD1, 4:11.09 2nd SouSectD1, 6th SouSectMasters 4:16.14
2005 CC: 21st FL West 16:21, 14th D1 State 15:45, 5th MtSAC Ind. SS 15:05 (3M)

7. Matt Frerker, 2007, Skyline HS, WA
2006 Track: 4A State 2nd-9:05.70/4th-4:17.70,
2005 CC: 32nd FL West 16:27, 7th 4A State 16:02, 7th Border Clash 14:14 (4.45k)

8. Gregory Billington, 2007, Lakenheath HS, U.K. (overseas military)
2006 Track: 2nd U.K. AAA U-20 Champs 14:51.4, 1st Watford 8:38.10 3k, 1st DODDS U-19 Champs 4:01.82 1500,
2005 CC: 16th FL West 16:11 (In U.K, won Inter-Counties, 3 other major races)

9. Michael Chinchar, 2007, Kentwood HS, WA
2006 Track: 4A State 3rd-9:07.78/2nd-4:16.16, 2nd Golden West 4:12.02y, 23rd NON 4:21.20y, 1st District 9:16.08, 8:37.52i 3k 5th UW Open,
2005 CC: 109th FL West 17:01, 2nd 4A State 15:51, 11th Border Clash 14:21 (4.45k)

10. Dylan Knight, 2007, La Sierra HS, CA
2006 Track: 4:09.88 1st SouSectD1, 4th State 4:12.26, 5th SouSect 4:15.29, 9th Arcadia 4:27.66y
2005 CC:

11. Eric Avila, 2007, Bonita Vista HS, CA
2006 Track: 7th Golden West 9:18.00, 1st Mesa League 9:21.94, 4th Mt. Carmel 4:21.81,
2005 XC: 12th FL West 16:05, 7th D1 State 15:31

12. Kent Morikawa, 2007, Torrance HS, CA
2006 Track: 9:11.16 14th Arcadia, 9:13.37 9th SouSectMasters,
2005 CC: 19th FL West 16:12, 4th D2 State 15:39

13. Max O'Donaghue-McDonald, 2007, Seattle Prep HS, Seattle, WA
2006 Track: 9:13.18 17th Arcadia, 1st District 9:12.66, 3A State 6th-4:20.81/4th-9:19.39,
2005 CC: 36th FL West 16:31, 1st 3A State 15:54, 5th Border Clash 14:13 (4.45k),

14. Austin Jett, 2007, Eastlake HS, CA
2006 Track: 6th CIF 4:13.49, 2nd SD SectMasters 4:13.70,
2005 CC: 125th FL West 17:08, 24th D1 State 15:58,

15. Jake Keyser, 2007, Crater HS, OR
2006 Track: 4th 4A State 8:42.37 3k,
2005 CC: 76th FL West 16:51, 8th 4A State 16:30, 17th Border Clash 14:31 (4.45k),