Foot Locker Cross Country




Nov 25 - Dec 9, 2006




a DyeStat

featured meet
steveu's 2006 Foot Locker Favorites
National Girls - Pre-Season
They'll Be Chasing Jordan, Mel, and Danielle
Jordan Hasay CA

by Vic Sailer / PhotoRun


Marie Lawrence NV

by John Dye


Danielle Tauro NJ

by John Dye

by Steve (steveu) Underwood
If you're a guy, and you manage to qualify for Foot Locker Finals as a junior, AND you can manage to get in the top 20 – well, your chances to place really, really high as a senior are pretty good. The last few years bear that out.
If you're a girl, well, welcome to the jungle. Because of the various factors that contribute to girls being able to rise to championship levels at younger ages (we won't go into them here), your task is significantly tougher if you're trying to move up in the ranks. And rarely will that be tougher than in 2006.
That's because you've got a defending champion and a three-time national runner up, in dynamo Jordan Hasay and rock-solid Marie Lawrence, that will be stopped by nothing short of an earthquake. And it's also because there are plenty of returnees down the list that will be very, very difficult to pass. The world of girls cross-country is not often one of linear progression. And it's doubly tough when you've got young stars that show strong signs of being impervious to the pratfalls of early success.
Jordan Hasay
Take Jordan Hasay. First, she had a freshman CC campaign for Mission Bay Prep CA that not only showed incredible talent and drive, but also a capacity to learn from mistakes. Jordan Phase I was a girl who liked to bolt to the front and run as hard as she could, as long as she could. But after a heavily-scrutinized DNF at Stanford, Jordan Phase II evolved. At Foot Locker West and FL Finals, that was a girl who ran steadily and patiently with the leaders, then uncorked a devastating mid-race move that crushed even the best competition.
Second, Hasay had a track campaign that showed no signs of dropping off. She ran a US#1 10:07 3200 to win Arcadia, took the CIF 3200 over tough Annie St. Geme, and was beaten only in one of the tougher miles in national history by St. Geme and Danielle Tauro – and the mile (though Jordan loves it) is probably not her best distance.
What that loss WILL do, however, is probably intensify Hasay's hunger for success this fall. Jordan HATES to lose as much as any athlete out there, and she appears to have the fine coaching and family support to channel that competitive desire in a positive way.
In short, don't bet against Jordan this fall.
Marie Lawrence
There's another maxim that can't be ignored, however. That is "Don't forget about Mel."
In the history of FL Finals, no one has had a more outstanding career than Marie (Mel) Lawrence without getting a national title. In successive years, Katelyn Kaltenbach, Aislinn Ryan, and Hasay have kept her off the top of the medal stand. When Jordan denied her last fall, Mel still seemed pleased with her effort and runner-up finish. She was a picture of grace and humility, or maybe of the utmost patience.
After another great run at Golden West this spring, though, and another runner-up finish (to another fantastic freshman, Katie Vanatta), the jr (now a sr) from Reno NV stopped settling for 2nd. Inspired by a statement by her coach, she wowed the country with a come-from-behind national record 2k performance at NON, upsetting USR-holder Lindsey Ferguson. Then she overcame a brutal dive at a water jump to win USATF Juniors. Welcome to the new and improved Marie Lawrence. If Mel can display the same verve in San Diego come December, Jordan will have a fight on her hands.
Danielle Tauro
And then … and then … you can't leave Tauro out of the national championship discussion, either, despite the fact that success as a miler doesn't necessarily translate into harrier championships. But after Danielle knocked her mile down to 4:43 in that great 2005 NON race, she returned in the fall and dominated New Jersey all season. After a solid, measured 5th-place run at FL Northeast, she thoroughly impressed with her 6th at FL Finals.
Following that, of course, was a glorious spring 2006 that featured all manner of amazing heroics at Millrose, NIN, Penn, NON, and USATF Juniors. There's no question that neither Hasay nor Lawrence want Danielle within shouting distance with 400 to go. Tauro's challenge, in turn, will be to match Mel's withering pace or Jordan's mid-race surge. The drama will be worth watching, that's for sure.
One can't discuss the prospects of Tauro or Lawrence, however, without mentioning the extended track season each of them endured, which ended in the just-completed World Juniors in Beijing. One surmises that both girls, not needing to be in top form before November, will be able to take a break and get some base training in. But how each deals with this factor will certainly impact their showings this fall. Each also competes on teams that could be NTN factors, so stay tuned.
after the big 3
The rest of the top ten (and beyond) is where you see a better chance for movement. This is where the new prodigies, last year's solid finishers, and last year's not-quites will battle for the rest of the All-American spots … or maybe better.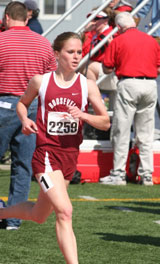 Allison Eckert
Performances the previous spring at 3200/2M are often a good indicator, and Allison Eckert is at the top of the podium among returnees in that department. After a disappointing 32nd in San Diego last fall, this half of Sioux Falls Roosevelt's great twin duo (with Krista) had an outstanding track season highlighted by a super 10:19 3200 in a solo effort and a solid 10:25.90y for 6th at NON. She also had to overcome an early-season car accident to make it to San Diego at all. Also holding 2004 NTN experience, Eckert is a very seasoned runner ready to make her final XC mark.
The best bet for a newcomer high in the FL ranks is Katie Vanatta of Ralston Valley HS, CO. The extremely talented sophomore raced on a limited schedule at the state level last fall, shutting it down before FL Midwest, and most of this past spring. But then came her national coming-out party – a sterling 10:16.18 3200 Golden West triumph over Lawrence and several other older standouts. Vanatta's for real and if she's healthy and at the line in San Diego, she will be at least a top-five factor.
That brings us to the #6 spot and one of the bigger question marks this fall, West Serrano HS, CA jr Kauren Tarver. There's been no question that Tarver has been one of the steadiest and finest harriers in the nation the past two falls, with placings of 16th and 5th at Balboa her freshman and sophomore years. But this winter she extended things all the way to USATF Cross-Country, where she was rewarded with an even-better performance, 3rd, to make the World Junior team in Japan. Her track season, however, may have suffered for it as her best showing was a 4:55 1600 (then DNF in state prelims). If Kauren can rebound at least to her level of last fall, she, too, will be in at least a hunt for top five.
Beyond Tarver is a mix of solid distance runners and some of last spring's outstanding milers who are also savvy over hill and dale.


Foot Locker Favorites - National Girls Top 30 - Pre-Season
| | | | |
| --- | --- | --- | --- |
| Athlete | Last Year: Finals/Reg. | Returning Finals/Region | Comments |
| 1. Jordan Hasay, 2009, Mission Prep HS, CA | 1st/1st W | 1st/1st | Picked up where she left off last fall with dominating track season; great coach is a big plus. |
| 2. Marie Lawrence, 2007, Reno HS, NV | 2nd/2nd W | 2nd/2nd | Steeple success on track could make difference btw 2nd and 1st; Must overcome long track season. |
| 3. Danielle Tauro, 2007, Southern Regional HS, NJ | 6th/5th NE | 4th/2nd | How will her spring as a magical miler translate to XC? And like Mel, she had a long track season. |
| 4. Allison Eckert, 2007, Sioux Falls Roosevelt HS, SD | 32nd/6th MW | 15th/2nd | Combines fine spring (10:19 & 10:25y at NON top non-senior) and both NTN and FL experience. |
| 5. Katie Vanatta, 2009, Ralston Valley HS, CO | X/DNC MW | X/X | Great but out-of-spotlight freshman campaign until 10:16 at Golden West; Now she looks to handle next step. |
| 6. Kauren Tarver, 2008, West Serrano HS, CA | 5th/4th W | 3rd/3rd | Extended 2nd great fall season by making World Jr. team for Japan, but lacked big numbers in track. |
| 7. Catherine White, 2007, Northside HS, VA | 11th/6th S | 7th/3rd | Shows up and runs solid in all the big races; this could be her season as sr. to move up a step. |
| 8. Christy Adamyk, 2007, Glendora HS, CA | 29th/7th W | 13th/4th | Moved up a class with big 10:19 at SS Masters; ran OK in big meets, but may need to temper fast starts. |
| 9. Emily Reese, 2008, Chamblee HS, GA | 15th/8th S | 8th/4th | Consistent star skipped track post-season and has had long summer to build on credentials. |
| 10. Alex Kosinski, 2007, Oak Ridge HS, CA | 20th/8th W | 11th/5th | After very solid XC campaign, became one of Cali's super milers last spring with 4:42y PR. |
| 11. Betsy Bies, 2007, Yankton HS, SD | 10th/2nd MW | 6th/1st | Had an outstanding fall with NTN and FL success, but did not progress in track this past spring. |
| 12. Shannon Murakami, 2007, Saugus HS, CA | X/12th W | X/8th | Was an FL fave last fall after winning D1 state, but was X at FL West. Outstanding 4:43 in spring. |
| 13. Kathy Kroger, 2009, Independence HS, TN | 16th/4th S | 9th/2nd | The south's top freshman followed up the fall with solid 4:51/10:42 track campaign sans nationals. |
| 14. Caitlin Lane, 2008, Greenwich HS, NY | 31st/3rd NE | 14th/1st | Missed most of spring with injury, but NE's top returnee is back, now at new school ready to race. |
| 15. Cassandra Schenck, 2007, Mantua Crestwood HS, OH | X/12th MW | X/5th | With teammate Bridget Franek graduated, senior could be state's best; made fine progress in spring. |
| 16. Christine Babcock, 2007, Woodbridge HS, CA | X/DNC W | X/X | Her 4:41 CIF 1600 win was one of spring's great stunners, but she also had CC success last fall. |
| 17. Ashley Higginson, 2007, Colts Neck HS, NJ | X/26th NE | X/20th | A key contender last fall ready to move up; Highlight of spring was big 3k win at Penn in 9:40. |
| 18. Emily Borsare, 2007, McIntosh HS, GA | X/18th S | X/9th | Takes no backseat to Reese as part of GA's "Emilies"; 11th and 18th last two FL Souths; 10:33 on track |
| 19. Liz Deir, 2007, Honeoye Falls HS, NY | 19th/8th NE | 10th/4th | Kind of a quiet spring, but this upstater loves CC above all else. |
| 20. Krista Eckert, 2007, Sioux Falls Roosevelt HS, SD | X/26th MW | X/15th | Wasn't quite at twin sister's level for much of XC and track, but that could change with a good summer. |
| 21. Hannah Davidson, 2008, Saratoga HS, NY | 36th/9th NE | 17th/5th | Led traditional power at times last fall, then not as strong in spring. Can she rebound as clear Toga leader? |
| 22. Jackie Drouin, 2007, Collins Hill HS, GA | X/11th S | X/5th | Slightly overshadowed by rep of "Emilies," but has been best in GA at times. Could be her year in South. |
| 23. Ashley Brasovan, 2009, Wellington HS, FL | X/16th S | X/7th | Led South rankings and ruled Fla. last fall, but got caught too far back at FL South. Can she bounce back? |
| 24. Lindsay Anderson, 2008, Leeds HS, ND | 25th/7th MW | 12th/3rd | Griak helped propell her to great season in XC last fall; NON showing was disappointment, though. |
| 25. Alexandra Banfich, 2008, Culver Acad., IN | 35th/8th MW | 16th/4th | More of a harrier, but was IN's finest in track. Strength might help her move up. |
| 26. Briana Jackucewicz, 2009, Colts Neck HS, NY | 37th/7th NE | 18th/3rd | Coming off injury to team with Higginson again as top NE duo; potential defined by 16:43 indoor USR. |
| 27. Shelby Greany, 2009, Suffern HS, NY | 38th/10th NE | 19th/6th | One of two left from Suffern's incredible track relay teams; edged graduated McKenna out for last spot last fall. |
| 28. Emily Infeld, 2008, Cleve. Hts. Beaumont HS, OH | X/14th MW | X/7th | Known most for tough middle distance racing, OH jr is solid over hill and dale, too. |
| 29. Katy Andrews, 2008, La Costa HS, CA | X/13th W | X/9th | Very strong last fall and for most of track before disappointing ending |
| 30. Aurora Scott, 2008, Chesapeake VA | 9th/3rd | 5th/1st | This is the place we're holding for talented jr. until it's learned if she will compete this fall. No races in spring. |
1. Jordan Hasay, 2009, Mission Prep HS, Arroyo Grande CA
2006 Track: 9:26.32 3k 1st Stanford Open, 1st Arcadia 10:07.56, 1st CIF 10:13.55, 3rd NON 4:42.27y, 1st Golden West 4:42.21y, 1st USATF 3k 9:50.66, 1st Sacramento MOC 4:43.09, CentSect 2:11.50-1st/10:20.69-1st,
2005 CC: 1st FL Finals 17:05, 1st FL West 17:14, 1st D5 State 17:11, 1st Mt. SAC Indiv. Sweeps 16:48 (2.91M), 1st Section 17:02, 1st Clovis (small schools) 17:36, 1st Morro Bay 18:01
2005 Track: 6th JO Youth 9:35.12 (3k), 1st Lompoc Kiwanis 10:33.4y, 1st JO Youth 4:28.61, 1st Cuesta Coll. 4:51.48

2. Marie Lawrence, 2007, West Reno HS, Reno NV
2006 Track: 1st NON 2kST 6:35.63, 1st USATF 3kST 10:15.26, 10th World Jr. 3kST 10:17.84 (10:22.85-6th in semis), 2nd Golden West 10:20.95
2005 CC: 2nd FL Finals 17:19, 2nd FL West 17:38, 1st 4A State 18:28, 1st Mt. SAC Team Sweeps 16:29 (2.91M), 1st Stanford 17:26, 1st Clovis 17:19, 1st Elko 18:04
2005 Track: 1st U.S. Jr. 9:44.85 (3k), 2nd Golden West 4:48.32y
2004 CC: 2nd FLN 17:39, 1st FLW 17:56

3. Danielle Tauro, 2007, Southern Region HS, Manahawkin NJ
2006 Track: 1st NON 4:39.25y, 1st USATF 1500 4:24.53, 5th-H1 World Jr 1500 4:24.16, 1st Penn 4:48.51y, 1st Millrose 4:51.89yi, NJ MOC 1st-4:49.17/1st-2:10.88
2005 CC: 6th FL Finals 17:41, 5th FL Northeast 17:55, 1st NJ MOC 18:03, 1st NJ Group X 18:05, 1st Shore Conf. 17:52, 1st Ocean Co. 17:34, 1st Shore Coaches 18:29
2005 Track: 3rd NON 4:43.07y, 1st NJ MOC 4:47.55, 1st Shore Conf. 2:10.81, 1st Section 10:43.01
2004 CC: 13th FLNE 18:48

4. Allison Eckert, 2007, Roosevelt Sioux Falls HS, Sioux Falls SD
2006 Track: 10:19.74 1st Wood Relays, 6th NON 10:25.90y,
2005 CC: 32nd FL Finals 18:29, 6th FL Midwest 17:42, 2nd State 15:06 (4k), 15th Griak 19:17, 2nd Conference 14:33
2005 Track: 4:54.98 1st Yankton LC, 2nd Golden West 10:27.13
2004 CC: 22nd FLN 18:35, 7th FLMW 18:17, 13th NTN 19:07

5. Katie Vanatta, 2009, Ralston Valley HS, CO
2006 Track: 1st Golden West 10:16.18, 4A State 4:56.08-1st/10:40.66-1st
2005 CC: 1st 4A State 18:08, 1st Martin Inv. 17:49

6. Kauren Tarver, 2008, West Serrano HS, Wrightwood CA
2006 Track: 4:55.37 3rd SouSectD2, SouSect Masters 4:56.49-7th/10:48.42-8th,
2005 CC: 5th FL Finals 17:40, 3rd USATF Jrs 20:47 (6k), 39th World Jrs. 21:26 (6k), 4th FL West 17:59, 1st D2 State 17:36, 2nd Mt. SAC Team Sweeps 17:02, 1st Woodbridge (3M) 16:37
2005 Track: 2nd SS Masters 4:54.33
2004 CC: 16th FLN 18:28, 6th FLW 18:27

7. Catherine White, 2007, Northside HS, Roanoke VA
2006 Track: NON 10:32.14y-7th/4:53.09y-6th (1st Sect. 2), 2nd NIN 10:32.27y, 4th USATF 3k 9:55.80, 3rd Penn 3k 9:49.20, NIN
2005 CC: 11th FL Finals 17:53, 6th FL South 17:19, 1st 2A State 17:49, 2nd Fork Union 17:09 (3M), 1st Metro 18:07
2005 Track: 3rd NON (sect. 1) 10:45.06y, 4th NON (sect. 1) 4:56.03y
2004 CC: 1st FLS (fr.-soph. race) 18:33

8. Christy Adamyk, 2007, Glendora HS, Claremont CA
2006 Track: 10:19.83 2nd SouSect Masters, Arcadia, Golden West 10:25.35-3rd/4:53.94y-4th, 8th NON 10:32.70y, 3rd CIF 10:31.34, SouSectD1 10:31.93-1st/4:52.59-3rd, 8th Arcadia 10:39.76
2005 CC: 29th FL Finals 18:22, 7th FL West 18:16, 4th D1 State 17:58, 1st Bell Gardens 17:22 (3M), 1st Sierra 18:20, 4th Stanford D1 18:17
2005 Track: 2nd SS Masters 10:36.89, 13th Arcadia 10:52.77y
2004 CC: 12th FLW 18:57

9. Emily Reese, 2008, Chamblee HS, Atlanta GA
2006 Track: 4A State 4:52.25-1st/10:33.34-1st,
2005 CC: 15th FL Finals 17:57, 8th FL South 17:22, 1st 4A State 18:49, 1st Clara Bowl 17:38, 2nd Boling Park 17:49, 1st Alexander 17:56, 2nd Furman 19:02
2005 Track: 2nd JO Int. 4:32.06 (1500), 1st 4A State 4:54.74, 3rd JO Int. 9:52.52, 1st 4A State 10:39.74
2004 CC: DNC FLS

10. Alex Kosinski, 2007, Oak Ridge HS, El Dorado Hills CA
2006 Track: 2nd Golden West 4:42.93y, 2nd CIF 4:42.31, 2nd Arcadia 4:50.14y,
2005 CC: 20th FL Finals 18:07, 8th FL West 18:20, 5th D2 State 18:00, 5th Mt. SAC Indiv. Sweeps 17:27 (2.91M), 2nd Stanford D2 18:32, 3rd Clovis 17:38
2005 Track: 1st Sacro Champs 2:11.8, 1st Sacro Champs 4:49.26, 2nd Arcadia 4:53.1y, 1st Wilson Inv. 10:35.68
2004 CC: 20th FLW 19:14

11. Betsy Bies, 2007, Yankton HS, Yankton SD
2005 CC: 2nd FL Midwest 17:29, 1st NTN 19:24, 1st USATF Dakotas 16:59, 1st State 14:36, 1st Yankton Tri-Meet 13:31, 1st Yankton 13:44, 1st Kobernick 14:12
2005 Track: 2nd State 10:45.59, 2nd Sioux City 10:10.73 (3k), 2nd Acola Relays 4:58.5
2004 CC: 15th FLMW 18:38, 15th NTN 19:08

12. Shannon Murakami, 2007, Saugus HS, CA
2006 Track: 3rd CIF 4:43.04 (4:46.03 pre), SouSect Masters 4:45.79-3rd/2:12.45-4th, 3rd Arcadia 4:53.46y, SouSectD1 2:11.30-2nd/4:44.32-1st,
2005 CC: 12th FL West 18:40, 1st D1 State 17:43, 3rd MtSAC Ind. SS 17:08 (2.91M),

13. Kathy Kroeger, 2009, Independence HS, Franklin TN
2006 Track: 10:33.02 1st Region, 3A State 4:51.93-1st/10:42.48-1st,
2005 CC: 16th FL Finals 17:57, 4th FL South 17:16, 1st 3A State 17:32 (3M), 1st Region 17:51 (3M), 1st Metro Champs 17:59 (3M)
2005 Track: (none)
2004 CC: (none)

14. Caitlin Lane, 2008, Greenwich HS, Ganesvoort NY
2005 CC: 31st FL Finals 18:27, 3rd FL Northeast 17:52, 2nd NYRR CC 18:21, 1st Adriondack JO Int. 17:01 (3M), 11th Saratoga Classic 17:04 (3M), 6th Dartmouth 19:54, 39th Great American (Coll.) 18:28
2005 Track: 1st JO Int. 9:37.09 (3k), 3rd Boston HP 4:27.84 (1500m)
2004 CC: 38th FLN 19:50, 6th FLNE 18:19, 12th NTN 18:59

15. Cassandra Schenck, 2007, Mantua Crestwood HS, OH
2006 Track: NON 10:36.65y-10th/4:56.72y-10th (4th Sect. 2), 2nd Penn 3k 9:45.59, D2 State 4:57.76-2nd/10:50.45-2nd
2005 CC: 12th FL Midwest 18:06,