Foot Locker Cross Country




Nov 25 - Dec 9, 2006




a DyeStat

featured meet
steveu's 2006 Foot Locker Favorites
South Girls - Pre-Season
Shuffle at the Top in the South:
Exit Nichole Jones, Re-enter Aurora Scott
by Steve (steveu) Underwood
.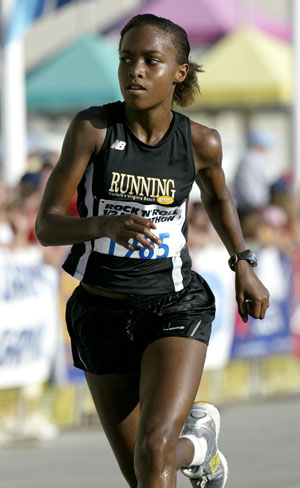 The appearance at the top of the South individual rankings, and the list of Foot Locker contenders from that region, took two dramatic swings in late August. First, it was rather suddenly learned that defending FL South Champ Nichole Jones had graduated a year early from Westfield TX and had already enrolled at Baylor to compete for the Bears. After winning in Charlotte, Jones had a disappointing FL Finals in 2005, but came back and won the NIN 2-mile and ran 10:25/4:44 in Texas this past spring. She's missed in the HS ranks, but surely welcomed in the Big 12.
Suddenly, the best returning runner was Aurora Scott, but until a few weeks ago, no one knew what the Oaktree Academy VA soph was up to. To the knowledge of virtually all of those normally in the know, she hadn't competed since finishing 9th at Foot Locker Finals last fall.
And since Scott has no team to run with at little Oaktree Academy, information is a little harder to come by (which has been true of Jones, as well). Attempts to contact coach or family were unsuccessful, but finally some late summer road race results popped up – including a victorious PR 17:08 at a Virginia 5k and a 1:18 half marathon, first local finisher and only 7 minutes behind the winner, at the Virginia Beach Rock 'n Roll (right, photo by PhotoRun) .. That's enough to say, hey, we better pencil this girl in. She's been that good over hill and dale.
So begins an interesting list of the South's best harriers. Four returnees from this region from San Diego are expected to return full strength, as are as a healthy handful of other national class performers who haven't made it yet. Nine of the next 11 runners after Scott have run 10:42 or faster for 3200 meters. This should definitely be an above-average year for the South.
Scott is in a bit of an unusual situation, according to Brandon Miles of va.milesplit.com, the SE NTN Regional Editor. She attends Oaktree Academy in Chesapeake, as a private school "umbrella" for parents that homeschool their kids. Previously at Western Branch HS as a freshman, Scott made FL Finals and won two state track titles. But since Oaktree is neither a state public or private school member, she is unable to compete in HS sanctioned events. Last fall, she competed unattached in collegiate races as well as road races to prepare for FL South, and will likely follow a similar schedule this fall.
Scott did get to race (and beat) VA prep standouts Catherine White and Rachel Rose at Fork Union last fall, however, and ran 17:36 in the college Great American race. In any case, she consistently gets it done and clearly has the best stats in the region.
Catherine White, Emily Reese, Kathy Kroger return
But the rest of the region is not without some great, great national class runners who want to push for the top ten this fall. The previous FL Finalists are Roanoke (Northside HS) VA sr Catherine White VA, Chamblee GA jr Emily Reese GA, and soph Kathy Kroger of Independence HS of Franklin TN. Each, no doubt, has plans of trying to win FL South and move up high into the national top ten.
White, as much as any runner in the country, seemingly, shows up at all the big races and while maybe not as spectacular as some others, puts in solid performances. This seemed true during all of both track seasons. After her 11th in San Diego last fall, she was 2nd (NIN) and 7th (NON) in the deuce in the two Nike meets. With improved pacing, she has become very consistent.
Kroger didn't run the national track meets, but quietly put together a spring campaign that rivaled most of the region's best in quality. She hit a PR 10:33 in her region meet, then fashioned a 4:51/10:42 state double to sweep two 3A titles there. She beat White in the FL South race, but lost to her at Finals. With the experience of her freshman year behind her, Kroeger is eager to show she belongs among the nation's ultra-elite.
Another who eschewed the national meets to get a good start on her summer base was Reese. After making her first impression nationally with the FL races, she notched an impressive state meet 4:52/10:33 double in GA, beating the state's other famous "Emily," Emily Borsare of Peachtree City. Georgia, incidentally, could have three finalists this year, in Reese, Borsare, and Jackie Drouin of Collins Hill HS. Drouin was 11th in FL South and Borsare 18th (but 11th as a soph). Both ran very well on the track, with Borsare narrowly losing to Reese at state, but hitting 10:31 in another meet. Drouin clocked 10:38 to win the 5A state (the Emilies are in 4A), and 4:54y at Taco Bell.
Ashley Brasovan
While White, Reese, and Kroeger have firm credentials, it could also be Wellington FL soph Ashley Brasovan who actually provides the toughest comp for Aurora Scott, or who could even win the region. Brasovan swept through Florida like a hurricane last fall as a freshman, ranking first in the region while going unbeaten in the state and beating everyone. But in the massive crowd and narrow trails at McAlpine for FL South, she got caught too far back early and couldn't make up ground, taking 17th. She had a fairly quiet spring, but still hit 10:36. CC is her sport, though, and indications are that she's in superb shape with a late summer 5k under 17.
the others
The next seven are all strong contenders to make it to San Diego, if not necessarily having the top creds of the others. But look out for Cory McGee, the Pass Christian MS freshman who would have made it to San Diego last fall if they allowed 8th-graders. She was somehow entered in the seeded race last fall, even though she was supposedly ineligible, so suffering a "DQ" through no fault of her own despite a great 17:19 for 7th. She confirmed her immense talent with a 4:49y win in the NSIC mile, battled mono later in the spring, but now is back and ready to race for a berth.
The region's biggest revelation in the spring, however, was surely Kaylyn Christopher, now a Preston WV senior. After a fall that was solid in her state but off the national radar, she not only pushed through 11:00 in the spring for 3200, but all the way to a 10:33 state record. She stumbled in her national debut at NON, but will be back this autumn as a clear FL Finals contender.
With the loss of Nichole Jones, as well as the expected departure of seniors Brooke Upshaw and Miranda Walker, there is a national class void in Texas – but Samantha Means should be primed to step through. The McKinney North sr. surprised some with her 14th at FL South last fall, then followed it up with a 10:38 this spring. Brooke's sister Tara will be a soph at Southlake. While her spring wasn't as impressive, she had a great race in Charlotte last fall for 19th.
There are many other good contenders for the final spots. From Tennessee, White Station sr Rita Jorgensen was 17th last fall, then had a good spring. But look out for Virginia Hine from the Volunteer State, too, as she nipped Jorgensen three times at state last spring. In Virginia, Albemarle sr Rachel Rose is another prime contender, coming off a year where she mostly ruled the 3A class in state.
In Florida, also watch for Holy Trinity soph Kayla Hale and Cypress Bay soph Emilie Amaro. They were 24th and 32nd last fall at FL South, respectively, and each has had some great moments on the track, including a 10:39 for Hale, and fine races at NIN and NON for Amaro. Alabama's best looks like Jennifer Dunn, who was 21st at FL South last fall, though Elizabeth Molen and others could have a say of who's best.


Foot Locker Favorites - South Girls Top 15 - Pre-Season
| | | | |
| --- | --- | --- | --- |
| Athlete | Last Year: Finals/Reg. | Returning Finals/Region | Comments |
| 1. Aurora Scott, 2008, Chesapeake VA | 9th/3rd S | 5th/1st | After missing spring action, 2-time FL Finalist has proven she's fit and ready to race. |
| 2. Catherine White, 2007, Northside HS, VA | 11th/6th S | 7th/3rd | Shows up and runs well in all the big races; this could be her season as sr. to move up a step. |
| 3. Emily Reese, 2008, Chamblee HS, GA | 15th/8th S | 8th/4th | Consistent star skipped track post-season and has had long summer to build on credentials. |
| 4. Kathy Kroger, 2009, Independence HS, TN | 16th/4th S | 9th/2nd | The south's top freshman followed up the fall with solid 4:51/10:42 track campaign sans nationals. |
| 5. Emily Borsare, 2007, McIntosh HS, GA | X/18th S | X/9th | Takes no backseat to Reese as part of GA's "Emilies"; 11th and 18th last two FL Souths; 10:33 on track |
| 6. Jackie Drouin, 2007, Collins Hill HS, GA | X/11th S | X/5th | Slightly overshadowed by rep of "Emilies," but has been best in GA at times. Could be her year in South. |
| 7. Ashley Brasovan, 2009, Wellington HS, FL | X/16th S | X/7th | Great Fla. CC season, disappointment at FL South, solid in track; moves up if she shows early fall 05 dominance |
| 8. Cory McGee, 2010, Pass Christian HS, MS | X/"7th" S | X/"4th" | Proved herself in FL South last fall as DQ'd 8th-grader, then with great 4:49y NSIC win; Mono later in spring |
| 9. Kaylyn Christopher, 2007, Preston HS, WV | X/DNC S | X/X | Stunned WV with state record 10:33 after big improvement in spring; Could get rare FL Finals bid for state |
| 10. Samantha Means, 2007, McKinney North HS, TX | X/14th S | X/6th | Followed up great FL South race last fall, with some good deuces in spring; should be best in TX |
| 11. Rita Jorgensen, 2007, White Station HS, TN | X/17th S | X/8th | Good FL South race last fall, solid track season; will face tough comp. in state |
| 12. Kayla Hale, 2009, Holy Trinity Episcopal, FL | X/24th S | X/13th | Another great FL freshman last year; fine 10:39 really moved her up in ranks |
| 13. Rachel Rose, 2007, Albemarle HS, VA | X/DNC S | X/X | Very solid, consistent runner that dominates 3A in VA. |
| 14. Jennifer Dunn, 2008, Austin HS, AL | X/21st S | X/11th | Been a leader in AL for more than two years; should be class of 6A |
| 15. Emilie Amaro, 2008, Cypress Bay HS, FL | X/32nd S | X/19th | Not super at FL South last year, but awesome flrunners.com race and showings at NIN, NON back up high rank |
Honorable Mention (15, in alpha order): Rachel Buser WV, Caitlin Chitwood AL, Kaylan Comer VA, Callan Fike NC, Sarrah Hadiji VA, Virginia Hine TN, M.C. Miller VA, Elizabeth Molen AL, Amber Riley WV, Jillian Rosen TN, Kimberly Spano NC, Kristy Tobin VA, Maggie Traylor FL, Tara Upshaw TX, Lacey Wright AL
1. Aurora Scott, 2008, Oaktree Academy, Chesapeake VA
2006 Track: None known
2005 CC: 9th FL Finals 17:49, 3rd FL South 17:15, 13th Great American Univ. ROC 17:36, 1st Jingle Bell 16:55 (road), 1st Norfolk St. 17:32, 1st Fork Union 16:47 (3M)
2005 Track: 1st (Freshmen) NON 4:54.08y, 3rd JO Int. 4:32.10 (1500), 2nd USATF Reg. 9:45.32 (3k), 1st 3A State 10:50.83
2004 CC: 26th FLN 18:51, 7th FLS 17:43

2. Catherine White, 2007, Northside HS, Roanoke VA
2006 Track: NON 10:32.14y-7th/4:53.09y-6th (1st Sect. 2), 2nd NIN 10:32.27y, 4th USATF 3k 9:55.80, 3rd Penn 3k 9:49.20, 2A State 5:05.81-1st/10:49.52-1st, Taco Bell 4:54.22y-1st/10:43.12-2nd,
2005 CC: 11th FL Finals 17:53, 6th FL South 17:19, 1st 2A State 17:49, 2nd Fork Union 17:09 (3M), 1st Metro 18:07
2005 Track: 3rd NON (sect. 1) 10:45.06y, 4th NON (sect. 1) 4:56.03y
2004 CC: 1st FLS (fr.-soph. race) 18:33

3. Emily Reese, 2008, Chamblee HS, Atlanta GA
2006 Track: 4A State 4:52.25-1st/10:33.34-1st, 1st Mobile MOC 4:57.50y,
2005 CC: 15th FL Finals 17:57, 8th FL South 17:22, 1st 4A State 18:49, 1st Clara Bowl 17:38, 2nd Boling Park 17:49, 1st Alexander 17:56, 2nd Furman 19:02
2005 Track: 2nd JO Int. 4:32.06 (1500), 1st 4A State 4:54.74, 3rd JO Int. 9:52.52, 1st 4A State 10:39.74
2004 CC: DNC FLS

4. Kathy Kroeger, 2009, Independence HS, Franklin TN
2006 Track: 10:33.02 1st Region, 3A State 4:51.93-1st/10:42.48-1st,
2005 CC: 16th FL Finals 17:57, 4th FL South 17:16, 1st 3A State 17:32 (3M), 1st Region 17:51 (3M), 1st Metro Champs 17:59 (3M)

5. Ashley Brasovan, 2009, Wellington HS, Wellington FL
2006 Track: 1st 4A State 10:44.99, Holy Trinity Classic 1st-10:36.4/2nd-5:07.3, 2nd Royal Palm Beach 10:40.49, 2nd Region3 11:02.25,
2005 CC: 16th FL South 17:45, 1st 4A State 17:47, 1st Great American Seed. 17:33, 1st flrunners.com 17:07, 1st Holy Trinity 17:37
2005 Track: 5:04.55 (1500), 10:41.13 (3k)
2004 CC: DNC

6. Emily Borsare, 2007, McIntosh H.S., Peachtree City GA
2006 Track: 10:31.44 1st Westminster 5-Way, 12th NON 10:41.77y, 4A State 10:33.36-2nd/4:58.01-2nd,
2005 CC: 18th FL South 17:47, 17:00 1st Region, DNF State, 2nd Clara Bowl 17:41, 1st Boling Park 17:45, 2nd Alexander 18:02
2005 Track: 5:02.85 1st McEachern, 10:51.14 1st McEachern
2004 CC: 11th FLS

7. Jackie Drouin, 2007, Collins Hill HS, GA
2006 Track: 5A State 4:55.86-1st/10:38.04-1st, 15th (8th Sect. 3) NON 5:00.39y, 1st Mobile MOC 10:49.32y, Taco Bell 4:54.33y-2nd/2:16.54-1st,
2005 CC: 11th FL South 17:37, 1st 5A State 18:30, 1st Region 17:53, 1st Furman Inv 18:51, 10th Great Am ROC 18:36,

8. Cory McGee, 2010, Pass Christian HS, MS
2006 Track: 1st NSIC 4:49.32y, 4A State 2:20.27-1st/5:20.82-1st/11:58.00-1st, 2nd Mobile MOC 2:14.07,
2005 CC: "7th" FL South 17:19 (not elig. for FL Finals), 1st 4A State 14:53,

9. Kaylyn Christopher, 2007, Preston HS, WV
2006 Track: Gazette Relays 1st-10:33.02/1st-5:02.05, 3A State 2:16.38-1st/5:00.18-1st/10:55.52-1st, NON 11:25.96y, 1st Erickson Inv 4:58.18,
2005 CC: DNC FL South, 2nd 3A State 18:42,

10. Samantha Means, 2007, McKinney North HS, TX
2006 Track: 4A State 10:38.45-2nd/5:11.43-3rd, 1st TX Relays 10:47.48, 4th Jesuit Sheaner 5:03.96,
2005 CC: 14th FL South 17:43, 3rd 4A State 11:29,

11. Rita Jorgensen, 2007, White Station HS, TN
2006 Track: 3A State 4th-4:53.74/4th-11:10.13/2nd-2:13.24, 2nd Mobile MOC 4:59.18y,
2005 CC: 17th FL South 17:46, DNC(?) 4A State, 2nd Region8 17:48 (3M), Section4 10:57.50-2nd/5:02.50-2nd,

12. Kayla Hale, 2009, Holy Trinity Episcopal HS, FL
2006 Track: 1A State 2nd-5:04.97/1st-11:00.32, 2nd Holy Trinity 10:39.9, 3rd Royal Palm Beach 10:54.44, 1st Tampa DistCarn 5:02.96,
2005 CC: 24th FL South 17:58, 1st 1A State 18:30, 2nd Holy Trinity Classic 18:10, 6th flrunners.com Inv. 18:27,

13. Rachel Rose, 2007, Albemarle HS, VA
2006 Track: 3A State 1st-10.50.73/3rd-5:00.50, 1st Dogwood 10:45.52, 2nd SouTrkClass 11:01.39y,
2005 CC: DNC FL South, 1st 3A State 17:58, 1st Octoberfest 17:59, 3rd Fork Union 17:36 (3M),

14. Jennifer Dunn, 2008, Austin HS, AL
2006 Track: 6A State 2nd-5:05.72/2nd-10:59.02,
2005 CC: 21st FL South 17:56, 2nd 6A State 18:04,

15. Emilie Amaro, 2008, Cypress Bay HS, FL
2006 Track: 4th NIN 10:47.55y (1st Sect2), 18th NON 10:51.36 (1st Sect1), 4A State 2nd-5:01.68/2nd-10:57.39, Region3 4:56.91-2nd/10:59.82-1st,
2005 CC: 32nd FL South 18:15, 2nd 4A State 18:29, 3rd flrunners.com Inv. 17:37,