Foot Locker Cross Country




Nov 25 - Dec 9, 2006




a DyeStat

featured meet
steveu's 2006 Foot Locker Favorites
Northeast Girls - Pre-Season
Tauro Leads Deep, Deep List of Returnees -
22 of last year's top 28 girls are on hand.
by Steve (steveu) Underwood
If you're a girl racing at Foot Locker Northeast the last Saturday in November, and in the running for one of those last tickets to San Diego, you might look around yourself halfway through the race and think, "What the heck?"
(okay, you might use a word a little stronger than heck)
"There's Shelby Greany and Hannah Davidson," you might say to yourself, "and Amanda Marino and Caroline Schultz. All of these girls were here last year. Did I go back in time?"
Nope. You're in the right place. But it's Act II of virtually the same play. Of the top 28 girls who ran Foot Locker NE last fall, 22 are back in school now and expected to take another crack at it. Oh sure, there are some big vacancies at the very top. Gone are Empire State queens Nicole Blood and Aislinn Ryan, who have dominated here, as well as perennial standout Lindsey Ferguson.
But check out the finishers between 7th and 28th, inclusive. Eighteen of those 20 girls are coming back, with 14 of them being seniors. You think most of them won't be laying it ALL on the line for one last chance to head west? Yes, the cast will be mostly the same, but it will be tougher, oh yes.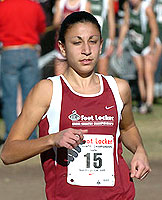 Danielle Tauro is solid #1
There are 10 spots available for San Diego, but you better figure on nine. That's because only severe injury or illness could have a chance to stop Southern Regional NJ sr Danielle Tauro from claiming the top spot. In fact, if you remember the way she came back from being hospitalized last winter to anchor her team's winning DMR at NIN, illness may not be a hindrance either.
Before there was Danielle Tauro, the magical miler of 2006, there was Danielle Tauro who dominated Jersey up and down last fall. With Amanda Marino, Bri Jackucewicz, and Ashley Higginson chasing her, this was no easy feat. After capping it off with the state Meet of Champions victory, Tauro ran a measured 5th at FL NE, then turned on the afterburners in San Diego to get 6th and top everyone in her region except Ryan. (left, photo by John Dye)
Of course then came the track season that started with the amazing come-from-behind wins at Millrose and NIN, continued through Penn and the Jersey campaign, and concluded with NON and USATF Jr's victories, earning her a trip to Beijing for the World Juniors. (photo by John Dye at Nike Outdoor Nationals)
With that endless season behind her, expect Danielle and her coach to roll out the carpet slowly this fall, and get a break and some base in before things get hot in late October. It will be a challenge to come back and lead the region this fall, but this girl has overcome obstacles before.
Tauro's definitely favored to win at Vanny November 25, then. But who's next? And who will take those last nine spots? Five more San Diego returnees could be toeing the line, but given what's taken place since last fall, it's not that easy. Let's take a look at why:
The Injured: Both Caitlin Lane and Bri Jackucewicz had wonderful FL NE races in 2005, taking 3rd and 7th with clutch performances. Neither ran well in San Diego, taking 31st and 37th. Unfortunately, for both, it was going to get worse before it'd get better. Lane, then the sophomore and former Saratoga runner coached by her dad and running for "Fast Lane" in NY, missed most of the spring with injury. Jackucewicz, the Colts Neck NJ freshman, was similarly plagued, struggling through most of the season with times well off her best.
Along with coming back from injury, both also have the history of having run so well, so young. Both were middle-school standouts, with Jackucewicz even setting a national indoor 5k record of 16:43 in 2004. Neither has an easy road back, but if they get healthy, they're favorites to qualify. Lane is back in prep racing now, having enrolled in and part of a new Greenwich HS squad.
Hannah Davidson

The New Leaders: Saratoga jr Hannah Davidson and Suffern soph Shelby Greany have each spent time as young, but important cogs in major programs. While each has led her team on the XC course, both also had special seniors to look up to in Lindsey Ferguson and Kara McKenna, respectively. Now they find themselves in positions of leadership on teams that will struggle to maintain their former level.

Davidson, 9th in FL NE, then 36th in the finals last year, had a tough time finding her rhythm last spring, though she did get her 3k time down to 9:47. Earlier in the fall, there had been races where she was the clear leader and looked on her way to creating a real name for herself. Now, with not just Ferguson gone but some other seniors, there will no longer be national championship expectations on Saratoga. Davidson's pace will be hers to set.

Shelby Greany


photos by John Dye
After edging McKenna for the final FL Finals spot last fall, Greany had the joy of being a part of Suffern's amazing record-setting DMR, 4xMile, and 4x800 teams this spring. She will be the team leader this year.
The Teammates: Saratoga has had multiple qualifying teammates in recent years, and Suffern almost did last fall. Colts Neck NJ and Hilton NY could join the ranks of the elite duos this time. We've already mentioned Colts Neck's Jackucewicz, but rivals know they will have Ashley Higginson to contend with, too. The senior struggled a bit as a junior late last fall, dropping to 26th by FL NE. But she had a pretty strong track season, with a career highlight coming with her victorious 9:42.07 3k romp at Penn (right, photo by Open Photo) , followed by 10:38 in the New Jersey MOC (3rd, 1st non-senior) and 10:43y at NON. She will hope to help Bri get back to full strength while getting faster herself this fall. Then there's always that Forys guy on the boys team for inspiration … left, Jackucewicz photo by John Dye.

All Hilton has to do for inspiration is look at The Harrier's The Harrier's Super 25 national XC team rankings. The NY school is perched atop the rankings and the favorite to defend their NTN title this fall. But this school lead duo of seniors Allison Sawyer and Caroline Schultz could go for the double again this year. Last year, they were 13th and 14th, respectively, at Vanny, just 10 seconds out of qualifying. Sawyer, especially, is already showing she could well be in the top handful of individuals this fall. But if one or both raced here and qualified, would they do the Portland-San Diego double? Of course it's been done, but done well by very few. And with the New York schedule, there's no break after state for these girls.
The Rodney Dangerfields: These are girls with credentials that, you guessed it, get no respect … okay, so maybe it's that they weren't all on the top 30 of a certain national list a few days ago, and the subsequent response. Let's take a closer look at the rest of the key contenders:
Amanda Marino, now a senior at Jackson NJ, was the 2nd best runner in Jersey most of last fall, chasing Tauro to the line in races that culminated in her runner-up spot at the MOC. The Colts Neck duo beat her at Eastern States, then she beat Higginson, but not Jackucewicz at FL NE. During track, Higginson ran a little faster in 3k/2M, but they were about the same in the 1600. The fact that Higginson has that 9:42 Penn win and Jackucewicz the FL qualifier last year is the main reason for their higher ranking, but obviously Marino could certainly rise to the occasion again this fall.
Liz Deir surprised some with her 2005 8th at Vanny, then she was a solid 19th at FL Finals. She's on the national top 30, but if the senior lacks respect place-wise, it's because she gets less comp and exposure up in Lima racing small schools, and that she hasn't put up big track marks outside the steeple. But her steeple was 3rd in the state last year and was improved over 2005. She's also consistent, a combo of factors that could definitely send her west again.
Kristy Longman, a sr from Sayville NY, was 12th at Vanny last fall. In track, she likes the 800, where she has done 2:09. She also ran 4:50 indoors. The progress of some of her lower ranked rivals in the steeple, 3k, or 2M, and the idea that a few of those rivals may have underachieved at FL NE last year, contributes to the sense that it might be tough for Longman to match up with being the 7th returnee. Then again, it might not be tough at all.
Pennsylvania earned a spot with Liz Costello last fall; now each of a fast trio has designs on making it this time. Their biggest problem is all of those New York and New Jersey kids who've been dominating the region the last few years. Chambersburg sr Sarah Morrison, home-schooled jr Neely Spence of Shippensburg, and jr Kacey Gibson were 17th, 19th, and 20th last year. The problem is that they're 12th, 13th, and 14th on the list of returnees.
Morrison was right up there behind Costello most of the fall, but then she stunned her state's fans by outkicking the senior in her indoor state mile, clocking a eye-opening 4:54.05y. Mono struck soon after, however, and she has had to wait til this fall to build on it. Spence, the daughter of 1991 World Championship Marathon Medalist Steve Spence, has forged her own path, mainly competing 6ks in open/club/collegiate meet opportunities, or in road races. To qualify, she will need to get back to the 17s form she showed before last fall. Gibson started last fall blazing a trail of 17s in her part of the state against AA competition. She had a bad state meet, but bounced back for a good showing at Vanny. In track, she ran 2:17/4:59. If she can take a step up from her best of last fall, she could move up some spots.
So … see how tough this is?
Callie Hogan, the Bay Shore sr who was 21st last year, is now a 10:37y runner and certainly wants to move up. And there's many states we haven't even mentioned. Senior Alison Smith of Atholton MD split the PA and NY/NJ runners in 16th last year. She and Katie Hursey of Hampstead are her state's best, along with Marika Walker from Eleanor Roosevelt. Like MD, Delaware is a NE state for FL and a South state for NTN. Katie Kershner, 24th here last year, is that state's best hope.
What about New England? No one returning who was higher than Kelly Sorrell's 25th. But she and Georgia Griffin (VT), Kirsten Kasper (MA), and 4:49 miler Colleen Weatherbee (MA) would like to change that.
Actually, we shouldn't be surprised if it changes, if anything here changes. After all, the chances of all the returnees finishing the same order as last year at Vanny is astronomical. Two things are for sure: It will be very hard to hold on to a spot, and it will be very hard to move up.


Foot Locker Favorites - Northeast Girls Top 15 - Pre-Season
| | | | |
| --- | --- | --- | --- |
| Athlete | Last Year: Finals/Reg. | Returning Finals/Region | Comments |
| 1. Danielle Tauro, 2007, Southern Regional HS, NJ | 6th/5th NE | 4th/2nd | How will her spring as a magical miler translate to XC? And like Mel, she had a long track season. |
| 2. Caitlin Lane, 2008, Greenwich HS, NY | 31st/3rd NE | 14th/1st | Missed most of spring with injury, but NE's top returnee is back, now at new school ready to race. |
| 3. Ashley Higginson, 2007, Colts Neck HS, NJ | X/26th NE | X/20th | A key contender last fall ready to move up; Highlight of spring was big 3k win at Penn in 9:42. |
| 4. Liz Deir, 2007, Honeoye Falls HS, NY | 19th/8th NE | 10th/4th | Kind of a quiet spring, but this upstater loves CC above all else. She did improve to 6:45 in 2kSt, though. |
| 5. Hannah Davidson, 2008, Saratoga HS, NY | 36th/9th NE | 17th/5th | Led traditional power at times last fall, then not as strong in spring. Can she rebound as clear Toga leader? |
| 6. Briana Jackucewicz, 2009, Colts Neck HS, NY | 37th/7th NE | 18th/3rd | Coming off injury to team with Higginson again as top NE duo; potential defined by 16:43 indoor USR. |
| 7. Shelby Greany, 2009, Suffern HS, NY | 38th/10th NE | 19th/6th | One of two left from Suffern's incredible track relay teams; edged graduated McKenna out for last spot last fall. |
| 8. Amanda Marino, 2007, Jackson HS, NJ | X/15th NE | X/10th | Results in FL NE didn't match up with 2nd in MOC as she chased Tauro all year; not quite as strong in track with 10:46 best. |
| 9. Allison Sawyer, 2007, Hilton HS, NY | X/13th NE | X/8th | Summer improvement (recent 17:46 5k) may move her up among contenders; may have to consider NTN/FL double with top flight Hilton |
| 10. Sarah Morrison, 2007, Chambersburg HS, PA | X/17th NE | X/12th | Got mono during outdoor track after 4:54y indoor stunner at state; ready for big senior year in PA this fall. |
| 11. Callie Hogan, 2007, Bay Shore HS, NY | X/21st NE | X/15th | Progress during track, including 10:37y at NON and 9:50 3k at state, indicate bigger and better things for Bay Shore sr. |
| 12. Kristy Longman, 2007, Sayville HS, NY | X/12th NE | X/7th | Good track season in middle distances, but rivals have made headway at 3200/2M; Can she improve enough at CC to keep up? |
| 13. Neely Spence, 2008, Shippensburg PA (homeschooled) | X/19th NE | X/13th | Hoping to regain 2004 form that saw her in 17s in multiple races. Will likely run in college/open 6ks vs. collegians again. |
| 14. Kacey Gibson, 2008, Neshannock HS, PA | X/20th NE | X/14th | Tore it up last fall in PA before state disappointment; came back in FL NE; O.K. track season in 2A 800/1600. Will have to improve to move up. |
| 15. Alison Smith, 2007, Atholton HS, MD | X/16th NE | X/11th | Tough end to track season with bizarre DQ incident at state, but still finished first in all three races. |
Honorable Mention (15, in alpha order): Lara Crofford PA, Georgia Griffin VT, Lara Heigis NJ, Kirsten Kasper MA, Katie Kershner DE, Sarah McCurdy NY, Ariann Neutts NJ, Kristin Reese NY, Tashika Rivers MD, Caroline Schultz NY, Kelly Sorrell CT, Marika Walker MD, Katherine Ward PA, Colleen Weatherbee MA
1. Danielle Tauro, 2007, Southern Region HS, Manahawkin NJ
2006 Track: 1st NON 4:39.25y, 1st USATF 1500 4:24.53, 5th-H1 World Jr 1500 4:24.16, 1st Penn 4:48.51y, 1st Millrose 4:51.89yi, NJ MOC 1st-4:49.17/1st-2:10.88. Grp4 4:48.40-1st/2:09.54-1st,
2005 CC: 6th FL Finals 17:41, 5th FL Northeast 17:55, 1st NJ MOC 18:03, 1st Grp4 18:06, 1st Shore Conf. 17:52, 1st Ocean Co. 17:34, 1st Shore Coaches 18:29
2005 Track: 3rd NON 4:43.07y, 1st NJ MOC 4:47.55, 1st Shore Conf. 2:10.81, 1st Section 10:43.01
2004 CC: 13th FLNE 18:48

2. Caitlin Lane, 2008, Greenwich HS, NY
2006 Track: 9:58.13 3k 1st Hudson Falls (injured most of season)
2005 CC: 31st FL Finals 18:27, 3rd FL Northeast 17:52, 2nd NYRR CC 18:21, 1st Adriondack JO Int. 17:01 (3M), 11th Saratoga Classic 17:04 (3M), 6th Dartmouth 19:54, 39th Great American (Coll.) 18:28
2005 Track: 1st JO Int. 9:37.09 (3k), 3rd Boston HP 4:27.84 (1500m)
2004 CC: 38th FLN 19:50, 6th FLNE 18:19, 12th NTN 18:59

3. Ashley Higginson, 2007, Colts Neck H.S., Colts Neck NJ
2006 Track: 1st Penn 3k 9:42.07, 13th NON 10:43.00y, 10:38.42 3rd NJ MOC, Grp3 10:42.19-1st/4:58.46-5th
2005 CC: 26th FL Northeast 18:48, 7th NJ MOC 18:26, 2nd Grp3 18:55, 5th Eastern States 14:48 (2.5M), 4th Paul Short 18:05
2005 Track: 10:02.48 (3k) 3rd Penn, 10:47.91 2nd NJMOC, 17th NON 10:54.25y
2004 CC: DNC FLNE

4. Liz Deir, 2007, Honeoye Falls HS, Lima NY
2006 Track: 6:45.19 2kST 3rd State, 6:54.94 2nd Sect5, 4:51.92 1500 4th Sec5-A
2005 CC: 19th FL Finals 18:00, 8th FL Northeast 18:01, 7th Feds 18:55, 1st State B 18:09, 2nd McQuaid (Seeded Med.) 17:26 (3M), 3rd Queensbury 18:17
2005 Track: 5th State 6:55.64 (2kST)
2004 CC: 46th FLNE 19:31

5. Hannah Davidson, 2008, Saratoga HS, Saratoga Springs NY
2006 Track: 2nd NON 3kST 6:58.79, 9:47.94 3k 1st Sect2, 8th State 3k 10:09.22, 6th Arcadia 10:36.58, 4:43.43i 1500 1st Sect2, 5th Boston 4:57.73yi,
2005 CC: 36th FL Finals 18:40, 9th FL Northeast 18:08, 7th NTN 20:11, 3rd Feds 18:40, 2nd 2A State 17:33, 1st Suburban Council 17:04 (3M), 9th Great American ROC 18:16, 2nd Eastern States 14:43 (2.5M), 2nd Brown 18:41
2005 Track: 2nd Penn 9:56.46 (3k), 2nd NON 6:48.64 (2kST)
2004 CC: 23rd FLN 18:40, 3rd FL NE 17:52, 6th NTN 18:34

6. Briana Jackucewicz, 2009, Colts Neck HS, Howell NJ
2006 Track: 9th Penn 3k 10:05.34, 11th Grp3 11:11.49, 2nd Regional 10:58.38 (injured part of year)
2005 CC: 37th FL Finals 18:46, 7th FL Northeast 18:01, 3rd NJ MOC 18:20, 1st Grp3 18:22, 6th Eastern States 14:51 (2.5M), 4th Shore Conf. 18:40, 2nd Paul Short 17:45
2005 Track: NTA (16:43.02i 5k 2004)
2004 CC: DNC FLNE

7. Shelby Greany, 2009, Suffern HS, Suffern NY
2006 Track: 6:52.0 2kST 2nd Cornwall, 1st Loucks 6:57.56 2kSt, USATF 10:38.30 3k-7th/4:36.15 1500-11th, (top relay splits 2:12.8/3:34.4-1200/4:54.1), 1st Stanner 4:58.74yi
2005 CC: 38th FL Finals 18:58, 10th FL Northeast 18:09, 4th Feds 18:43, 4th 2A State 17:48, 1st Section 17:33, 7th Eastern States 14:55, 1st Wizard 17:57, 2nd Queensbury 17:59
2005 Track: 2nd Corn Steeplefest 6:56.2 (2k ST), 1st Section 10:07.8 (3k)
2004 CC: FLNE DNC

8. Amanda Marino, 2007, Jackson HS, NJ
2006 Track: NJ MOC 10:46.72-4th/4:57.48-3rd, Grp4 4:59.37-6th/10:55.79-3rd,
2005 CC: 15th FL Northeast 18:26, 2nd NJ MOC 18:13, 2nd Grp2 18:18, 10th Eastern States 15:07 (2.5M),

9. Allison Sawyer, 2007, Hilton HS, NY
2006 Track: State 6:55.47-4th 2kSt/9:56.85-4th 3k, 1st Sect5 2kSt 6:51.22, 1st Sect5AA 1500 4:43.35, 14th NIN 5:09.43yi
2005 CC: 13th FL Northeast 18:19, 8th NTN 20:21, 8th AAState 18:07, 4th McQuaid 18:03, 8th Queensbury 18:54

10. Sarah Morrison, 2007, Chambersburg HS, PA
2006 Track: (missed outdoor with mono), 1st PTFCA 4:54.05y
2005 CC: 17th FL Northeast 18:30, 3rd 3AState 18:46, 1st District 18:45, 4th NYRRC 18:37, 1st Carlisle 18:31, 2nd Steel City 19:25, 4th Gettysburg 18:42.

11. Callie Hogan, 2007, Bay Shore HS, NY
2006 Track: 11th NON 10:37.05y, 2nd State 3k 9:50.09, D1 Meet 4:36.48-1st 1500/2:15.66-2nd, 4th Loucks 10:49.73, 6th Penn 3k 10:01.95, 4th NSIC 4:54.28y
2005 CC: 21st FL Northeast 18:36, 10th Feds 19:15, 14th AAState 18:37, 5th Brown Inv 19:12, 9th Paul Short 18:43

12. Kristy Longman, 2007, Sayville, NY
2006 Track: 3rd NSIC 4:50.11y, 9th NON 2:11.21, 2:09.49 1st D1 State, 2:10.45 1st State, 2:51.44 (1000m) 2nd State,
2005 CC: 12th FL Northeast 18:17, 6th Feds 18:51, 1st 1A State 18:25, 1st Manhattan 'E' 15:27 (2.5M)

13. Neely Spence, 2008, Shippensburg (homeschooled), PA
2006 Track: 3rd PA Dist Fest 4:58.92, Kaiser Classic 4:43.65-1st 1500/10:14.31-1st 3k,
2005 CC: 19th FL Northeast 18:31, 3rd NYRRC 18:35, 5th Paul Short 22:03 (6k vs. collegiates)
2005 Track: 5th Bison Classic 5k 17:27.39 (vs. College)

14. Kacey Gibson, 2008, Neshannock HS, New Castle HS, PA
2006 Track: 2AState 4:59.93-2nd/2:17.37-4th
2005 CC: 20th FL Northeast 18:31, 48th 2A State 20:28, 1st District 19:12, 1st Big Red 17:27, 1st Sharpsville 17:42 (3M),

15. Alison Smith, 2007, Atholton HS, MD
2006 Track: 2A State 2:15.96-1st/DQ 1600/11:02.30-1st, 4th NIN 4:57.09y,
2005 CC: 16th FL Northeast 18:29, 1st 2AState 19:25,