Foot Locker Cross Country




Nov 25 - Dec 9, 2006




a DyeStat

featured meet
2006 Foot Locker Favorites
Midwest Boys - Pre-Season
A Big Two of Jager and Turner,
Then Eight Big Question Marks
by Steve (steveu) Underwood
If you seek a sure thing in the Midwest boys individual rankings and Foot Locker contenders, look no further than Evan Jager and De'Sean Turner. They have the talent, experience and credentials to lead this region and continue to excel in the post-season.
But if you're looking for uncertainty and unpredictability, consider the battle for the other eight spots to qualify for San Diego and/or stake their claim as top-tenners. It will be waged between a mix of athletes who have had ups and downs in both XC and track, who mostly don't have quite the consistency you'd like for a solid pick.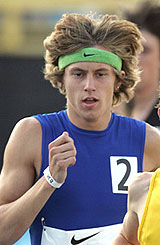 Evan Jager
Becoming a top gun can happen in a hurry, though. Look at Evan Jager. Last fall through his state meet, and even FL Midwest, the Algonquin Jacobs standout was looked at as the top junior in Illinois, but maybe not quite at the level of Steve Finley, Ryan Craven, Jeremy Stevens, the Dettmans, etc. At state he was an impressive 3rd, behind Finley and Craven, then was the 4th of four IL qualifiers from Kenosha to San Diego.
But then came Foot Locker, where Jager was the only junior to break into the top 10 and was 3rd among his Midwest brethren. The stage was set and, in the spring, with Craven struggling with injuries, he became the top runner in Illinois in both the mile and the deuce. He ran 8:57 mid-season, then won AA state 1600 easily and anchored a 7:40 4x8. When he had a chance to run the state's best mile, he did so with a 4:08.15 at the Midwest Distance Gala.
Jager chose the 2-mile at NON and ripped a great PR 8:50.42 for 3rd, though he was outkicked by fellow junior Matt Tebo NW in the final 100. Jager comes across as easily going, but the fire burns. Perhaps galled by losing to Tebo and already cognizant of what would be their national favorite status this fall, he jumped in the 2nd section of the NON mile the next day, primarily, it was said, to get another shot at Tebo (and he beat him).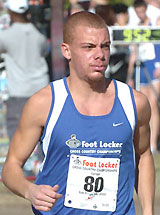 De'Sean Turner
Just as solid a pick in his own right is Warren Central IN sr De'Sean Turner. He impressed many ways last fall, in his junior campaign, first with his quiet leadership of a state championship team. He then was one of the few runners to do the FL region-NTN-FL Finals triple, and pulled it off as well as anyone ever has. He had to push to get the final spot in FL MW, but then was 6th at NTN and then a strong 15th at FL Finals – 6th among the MW guys.
Turner's track season was relatively quiet until he got to state, where he lost a thrilling 1600 by 0.07 to Andy Weatherford, but clocked a big PR 4:08.78. Similar to Fayetteville-Manlius NY star Tommy Gruenewald, Turner is always about the team, anyway, and he expended much of his energy on WC relay teams or with multiple events to get team points in what would be a state championship drive.
the others
How, how to sort through the swarm of contenders after Turner? Several of the top returnees from Kenosha 2005 will appear here, but so will some runners who were much further back but showed up big time in track.
Talented Burnsville MN jr Rob Finnerty gets the next nod. He stunned the nation as a freshman with an 11th at FL MW and 9:06 to win his state meet. But last fall he was plagued with injury/health problems and, after a decent 3rd at Griak and a few other races, didn't make it at state or to Kenosha. This spring, however, he rebounded for 2nd at state in 9:07.99 (behind Elliot Heath), then duplicated that time except for the full 2M at NON, winning the 1st section. His time to make it to San Diego may have finally come.
Dexter MI sr Dan Jackson has been a model of consistency, though; in three of his biggest races last fall – Portage Inv., State, and FL MW – he ran times within 2 seconds of each other. He then moved up toward the national class ranks in the spring, getting 6th at NIN (9:15y), 2nd at State (9:09, behind 2005 FL Finals #5 Landon Peacock), and 2nd behind Finnerty at NON with 9:10.72y. He virtually never has a bad race and has improved steadily in Michigan's top boys CC program.
Kevin Havel of Hersey HS in Arlington Heights IL is another of the region's, and probably the nation's, top juniors. Havel wasn't far behind Jager at state or Kenosha, placing 4th and 14th, respectively – the latter making him the #3 returnee in the FL region. He was off at his state track meet, finishing just 10th in the 3200, but had 9:10.20 and 9:13.2 to his credit earlier in the season. With IL losing a large contingent of great seniors this past spring, Havel is clearly the state's No. 2 runner and expectations will be much higher.
Greencastle IN sr Andy Weatherford surprised some people last year by taking 18th in Kenosha and is the #6 returnee – which is where he's ranked here. He had placed 5th at Semi-State and 10th at State, but showed his potential more clearly at FL MW. In track, he focused on the middle-distances, with the highlight clearly the win over Turner at State in 4:08.71
Colorado, the state in the "Midwest" furthest from Kenosha, almost always has some qualifiers, especially on the girls side. For the boys, there may not be a Mohamud Ige or someone at that level, but Richard Medina and Steve Weeks can be expected to make serious qualifying bids. Medina, a Grand Junction senior, ran 9:13.90 in his state meet at altitude to beat Weeks, then got some good big-meet experience at Golden West, where he hit 9:15.79 and was still 4th.
Weeks, on the other hand, beat Medina in their state 1600 (2nd to his 4th) and also topped his rival at FL MW (23rd in 15:38 to 28th in 15:40) and state (by 16 seconds). From FL MW they are the 8th and 11th returnees. The Arvada sr. tried the 5k on the track at USATF JOs and won that in 15:23. These two should have some good races between them this fall.
In the #9 slot, Winona sr. Elliott Heath illustrates just how close most of the top 10 is. One of the few blemishes on his record is his 71st at Kenosha last fall. But before that, he won the 2A state meet over T.C. Lumbar (another top MN contenders). This spring, he outdueled Finnerty in the state 3200, 9:05.92-9:07.99, before Finnerty ran slightly faster at NON. Heath, whose brother Garrett was an FL Finalist a few years ago, could easily switch places with his in-state rival in 3rd, or with almost anyone else above him. It's all going to come down to who puts it together.
Ohio's best runners could finish higher, as well. Emil Heineking, the Chardon sr., was 5th in D1 State last fall, but then had a great day in Kenosha to get 15th. He is 4th among those coming back. Indoors, he hit 9:11, but at outdoor state he was just 9:22 and didn't really break through all spring.
Outside of MN, runners from the Heartland states don't find it easy to break into the top group, with few exceptions here and there. Lane Boyer, Fredonia KS sr., showed great potential to break that trend with a 9:08.57 in the Kansas Relays, losing only to Colorado's Ige. He was 65th at FL MW last year, though, and has a ways to move up. Stillwater MN sr Ben Blankenship is a new 9:08/4:13 performer (3rd/1st at state) in the same boat – not as proven on the cross-country course as the track.
Two other Heartlanders with a good chance to break in are Josh Mathis and Josh Thebeau, the Potosi MO srs. who are one of the best 1-2 punches in the country. Mathis was 27th in Kenosha (10th returnee) and Thebeau was 51st; they also finished 1-2, respectively, at 3A state. This spring, Thebeau hit 4:14 and won state, while Mathis did the same in the 32 with a 9:20. Also watch out for Iowa's Stephen Dak and Nebraska's Matt Conahan.
Many others bear watching, notably Bobby Moldovan IN (53rd last year in Kenosha, but 9:07 in track), Addis Habtewold MI (#2 state returnee, big winner early last fall), and Adam Lenz, who like 2005 FL Finalist Dan Roberts has traveled from his home state (IN) to Crestwood Academy CO to train in their program. He battled IN's top runners close before having injury/health problems and is training well out west.
Several others (see Honorable Mention) from this unwieldy mass of states could work in there as well, but this report would not be complete without mentioning this spring's biggest distance revelation, Yellow Springs OH's Sam Borchers. As a junior, he went from a relatively unknown D3 champ to a 4:12y at NON and an absolutely stunning 3:46.32 1500 at USATF Jrs. for 3rd behind AJ Acosta and Andrew Bumbalough.
As a harrier, though, Borchers has not proven himself at the same level yet. He was 7th in Ohio D3 last fall and 88th in Kenosha. He also lacks a fast 2-mile/3200. It's possible the mile could remain his prime specialty, or he could progress and show the range that Ohioan Jeff See displayed a few years ago when he became the Midwest champ. He'll have his hands full just in Ohio D3, with defending state champ Andy Arnio of North Bloomfield. Arnio himself was a stunning 20th in Kenosha last spring, but in a reversal of Borchers' scenario, he didn't make a big impact in track, relatively speaking, compared to all of the fast 3200 guys in the top 15.
Don't be surprised, though, if both make Ohio D3 proud this fall. "That's why they run the races," as they say.


Foot Locker Favorites - Midwest Boys Top 15 - Pre-Season
| | | | |
| --- | --- | --- | --- |
| Athlete | Last Year: Finals/Reg. | Returning Finals/Region | Comments |
| 1. Evan Jager, 2007, Algonquin Jacobs HS, IL | 9th/9th MW | 1st/1st | His 9th in SD last fall has snowballed into a great track season (4:08y/8:50y), one of nation's top two, and clear leader here. |
| 2. De'Sean Turner, 2007, Warren Central HS, IN | 15th/10th MW | 2nd/2nd | Did FLMW/NTN/FL triple last year and well; Solid, stoic, great team leader and a 4:08 1600 PR |
| 3. Rob Finnerty, 2008, Burnsville HS, MN | X/DNC MW | X/X | Injury-plagued fall 05, but back in 9:07y form in spring. Don't forget he was 11th at FLMW and ran 9:06 as frosh. |
| 4. Dan Jackson, 2007, Dexter HS, MI | X/17th MW | X/5th | Consistently worked way up in super program; has some big race experience now including 9:10y at NON |
| 5. Kevin Havel, 2008, Hersey HS, IL | X/14th MW | X/3rd | With 06 Class gone, should be able to carry Illifornia banner with Jager. Had some great performances as soph. |
| 6. Andy Weatherford, 2007, Greencastle HS, IN | X/18th MW | X/6th | One of better milers in XC, beat Turner in state thriller in 4:08; surprised here last year with 18th. |
| 7. Richard Medina, 2007, Grand Junction HS, CO | X/28th MW | X/11th | Got some big meet experience with a respectable showing at GWI 3200; also 9:13 at altitude. |
| 8. Steven Weeks, 2007, Arvada HS, CO | X/23rd MW | X/8th | Good combo of strength (15:23 5k at USATF JOs), speed (4:20 1600) |
| 9. Elliott Heath, 2007, Winona HS, MN | X/71st MW | X/34th | Younger bro of FL finalist Garrett; won 2A state last fall, only 71st at FL MW, but came back this spring for 9:05 |
| 10. Emil Heineking, 2007, Chardon HS, OH | X/15th MW | X/4th | His 15th in Kenosha last year and 9:11 indoors show potential; other races haven't always backed it up. |
| 11. Lane Boyer, 2007, Fredonia HS, KS | X/65th MW | X/31st | Has gone from good KS and Heartland runner to near-national class with 9:08 at Kansas Relays. |
| 12. Benjamin Blankenship, 2007, Stillwater Area HS, MN | X/131st MW | X/X | Considered a better track runner, but can't ignore some who's run 9:08 and 4:13. Look for big CC improvement. |
| 13. Bobby Moldovan, 2007, Ft. Wayne Northrup HS, IN | X/53rd MW | X/28th | Disappointing end to CC season, but rallied in spring to win state with big 9:07 |
| 14. Josh Mathis, 2007, Potosi HS, MO | X/27th MW | X/10th | Part of great 1-2 punch that could lead to NTN. Gets slight edge over teammate Josh Thebeau |
| 15. Addis Habtewold, 2008, St. Clair HS, MI | X/29th MW | X/12th | A newcomer in MI last fall, he tore up the state before struggling a bit late season. Talented, but needs push to next level. |
Honorable Mention (15, alphabetical order): Andy Arnio OH, Mark Battista IL, Dean Black CO, Sam Borchers OH, Dan Chenowith IL, Matt Conahan NB, Stephen Dak IA, Luke Grau OH, Adam Green IN, Adam Lenz CO, T.C. Lumbar MN, Aaron Melhorn OH, Sean Olson WI, Andrew Perkins WI, Luke Ryan IL, Josh Thebeau MO
1. Evan Jager, 2007, Jacobs HS, Algonquin IL
2006 Track: 3rd NON 8:50.42y, 4:08.15y 1st MW Dist Gala, 8:57.73 1st Lisle Inv, 4:11.22 1st 2A State, 9th NON 4:13.29y (1st in heat), 4:14.83i 1st IPTT Classic
2005 CC: 9th FL Finals 15:18, 9th FL Midwest 15:16, 3rd State 14:23 (3M)
2005 Track: 3rd 2A State 9:19.32
2004 CC: 66th FLMW 16:38

2. De'Sean Turner, 2007, Warren Central HS, Indianapolis IN
2006 Track: 4:08.78 2nd State, 4:15.97 1st Region, 11th USATF Jr. 1500 3:59.00
2005 CC: 15th FL Finals 15:29, 6th NTN 16:54, 10th FL Midwest 15:18, 2nd State 15:26, 2nd Semi-state 15:07, 1st Culver 15:27, 1st Region 15:13
2005 Track: 6th State 4:17.23, 9th State 9:24.21 (PR 9:23.32)
2004 CC: DNC FLMW

3. Rob Finnerty, 2008, Burnsville HS, MN
2006 Track: 9:07.99y 12th NON (1st Sect. 1), 2A State 9:07.99-2nd/4:13.73-2nd, 4:13.52y 10th NON (2nd Sect. 2)
2005 CC: DNC at FL Midwest & State, 3rd Griak 15:38, 2nd Victoria Lions 15:40,
2005 Track: 1st 2A State 9:06.80
2004 CC: 11th FL MW

4. Dan Jackson, 2007, Dexter HS, Dexter, MI
2006 Track: 9:10.72y 14th NON (2nd Sect. 1), 9:09.93 2nd 2A State, 6th NIN 9:15.66y,
2005 CC: 17th FL Midwest 15:34, 4th D2 State 15:34, 1st Portage 15:32,

5. Kevin Havel, 2008, Hersey HS, Arlington Heights, IL
2006 Track: 9:10.20 4th Prospect Inv, 9:13.2 2nd Sectional, 10th 2A State 9:28.50, 4:18.7 1st Davis Inv,
2005 CC: 14th FL Midwest 15:30, 4th 2A State 14:26 (3M), 4th Prospect 14:26 (3M),

6. Andy Weatherford, 2007, Greencastle, IN
2006 Track: 4:08.71 1st State, 32nd NON 4:31.69,
2005 CC: 18th FL Midwest 15:34, 10th State 15:44, 5th Semi-State 15:38,

7. Richard Medina, 2007, Grand Junction HS, CO
2006 Track: 5A State 9:13.90-1st/4:21.18-4th, 4th Golden West 9:15.79
2005 CC: 28th FL Midwest 15:40, 2nd 5A State 15:58

8. Steven Weeks, 2007, Arvada HS, CO
2006 Track: 1st USATF JO 5k 15:23.38, 5A State 9:23.71-2nd/4:20.51-2nd
2005 CC: 23rd FL Midwest 15:38, 1st 5A State 15:43

9. Elliott Heath, 2007, Winona H.S., Winona MN
2006 Track: 2A State 4:14.73-3rd/9:05.92-1st
2005 CC: 71st FL Midwest 16:06, 1st 2A State 15:36, 1st Ev Berg 15:56, 1st Lakeville 15:29
2005 Track: 4:17.57 3rd State
2004 CC: 44th FLMW 16:25

10. Emil Heineking, 2007, Chardon HS, OH
2006 Track: 2nd D1 State 9:22.73, 9:11.15 1st Kent State,
2005 CC: 15th FL Midwest 15:33, 5th D1 State 15:44,

11. Lane Boyer, 2007, Fredonia HS, KS
2006 Track: Kansas Relays 9:08.57-2nd/4:17.40-5th,
2005 CC: 65th FL Midwest 16:04, 1st 3A State 15:43,

12. Benjamin Blankenship, 2007, Stillwater Area, MN
2006 Track: 2A State 9:08.35-3rd/4:13.68-1st,
2005 CC: 131st FL Midwest 16:31, 7th 2A State 16:02,

13. Bobby Moldovan, 2007, Ft. Wayne Northrup HS, Ft. Wayne, IN
2006 Track: 9:07.99 1st State, 9:12.81 1st Regional, 18th NON 9:21.74y (4th Sect. 1)
2005 CC: 53rd FL Midwest 15:57, 8th State 15:44, 1st Semi-State 15:49,

14. Josh Mathis, 2007, Potosi HS, MO
2006 Track: 3A State 9:20.52-1st/4:19.56-2nd, 6th Kansas Relays 4:17.70,
2005 XC: 27th FL Midwest 15:40, 1st 3A State 15:42,

15. Addis Habtewold, 2008, St. Clair HS, MI
2006 Track: D2 State 4:16.53-2nd/9:16.83-3rd,
2005 CC: 29th FL Midwest 15:41, 7th D2 State 15:41, 1st Holly 15:54