Results Boys - Girls | Splits Boys - Girls | Photo Sequence Boys - Girls | Donna on the Side fun before the races - Race Day
VIDEO Doug Speck from the announcer's tower - Boys - Girls - Speck at Friday course walk.
VIDEO Marc Davis - registration, skits and the races. Kirby Lee photo album
Re-run the webcast. Boys - Girls
Saratoga boys surprise, but girls lose to Hilton. Kenny Klotz OR 16:26 and Betsy Bies SD 19:24 win individual honors. FL West qualifiers are Klotz, Taylor Nepon, Anne St. Geme, and Cassie Ricks.
Splash!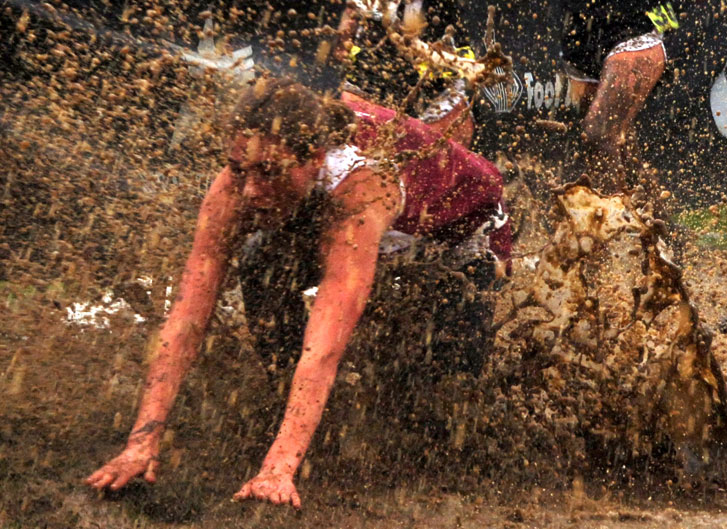 It was a mud bath at Portland Meadows. Precious few steps were not in water or shoe-sucking mud. Ironically, the Camelbacks, a short series of hills installed to keep the flat course from being a speedway, were the easiest part of the course today as a cover of wood chips made the hills dry. Most runners were 1-2 minutes slower than normal. And yet, most runners and fans said, "This is real cross country." A Willmar MN runner spoke for all the runners when he said, "It's so good to be muddy and cold HERE than to be warm and comfortable someplace else. This experience is.........the ULTIMATE for a cross country runner. The teams, the competition, the course, just the way you are treated. The Ultimate.". photo by Kirby Lee
Rich Gonzalez preview

Reg Editor Previews

Team Pages
Box Assignments
Schedule
Directions




Champion Hilton NY girls get big welcome home
How big a deal was the Hilton girls' NTN title? Well, after a police escort to the airport on the way to Portland, it was obviously even better coming home. 100+ people met them at the airport along with ALL FIVE local TV stations according to Hilton assistant Seth Blodgett. "We just had a parade in the school. The girls walked through the halls followed by our marching band and all the other students lined the halls cheering for them." [Don Rich, Northeast regional editor]

Rich Gonzalez' report
NTN 2005: A Toga Party; Hilton's Honors Program
"I don't think anyone has ever had to run a race in conditions like that. We had girls picking mud out their teeth in the finish chute!" -- Girls' race-winner Betsy Bies of Yankton 3-D, commenting on the cold, drizzly and muddy conditions at Nike Team Nationals.
Saratoga boys crash defending champion Elmhurst's party.
Girls trophy leaves the Saratoga penthouse and checks in for a night at the Hilton.
Saratoga boys bump last year's top three down a notch by cleaning up on positions 3-4-5 - Toga's Greg Kiley comes from 81st to 11th to cover Steve Murdock's fall from 1st to 16th - On crutches before and after the race, Hilton's Amanda Griggs lays down a hurt on opponents during the race - Klotz is clutch - Bies is best - Chapel Hill NC boys and Naperville North IL girls are surprise teams - Northeast region strong, Southeast on the rise .

Regional Editor reports
Northeast - Role Reversal. Saratoga boys win NTN. Girls 2nd. Amanda Griggs takes inspiration from older sister and teammates to lead Hilton to title.
Southeast - Region on the rise? Southeast exceeds expectations at NTN II
South - Carroll Southlake TX girls learned from last year and rose to third this year with fastest average team time. "I had the time of my life," said a King Corpus Christi runner.
Midwest - Naperville girls the surprise of the day.
Heartland - Notes and quotes.
Southwest - future U. Wisconsin teammates Noah Shannon and Jack Bolas exemplify the meet's slogan, "Every teammate counts."
Northwest - Mead boys, Gig Harbor girls, and Kenny Klotz carried the NW banner well.
California - It was a New York kind of day, which was bad news for California girls. Simi West boys disappointed; Carmichael (Jesuit) boys pleased.

NTN SPLITS - Chip readers were placed approximately every 1,000 meters to capture split times for all runners and interim scoring for teams. Lynx Systems displayed the interim standings on the jumbotron screens at the course so everyone could tell how the team competition was unfolding. Now you can analyze the race to your heart's content. Boys Splits - Girls Splits


Donna on the Side at NTN


257 photos of sideline scenes
fun before the races - race day
| | |
| --- | --- |
| Betsy Bies SD (red sweat band) and Anne St. Geme CA duelled for 2 miles before Bies pulled away late. As the top Foot Locker West region finisher, St. Geme qualified for FL national finals in San Diego next Saturday. Bies already qualified last Saturday by finishing second in the Midwest regional. | Kenny Klotz OR was the winner of a 3-way battle with Jack Bolas NC and Noah Shannon CO. It was the third straight major win for Klotz (OR state meet and OR-WA BorderClash). He heads for San Diego now for Foot Locker finals along with Taylor Nepon of Mead WA, who were the top two Foot Locker West finishers at NTN. |
| | photos by John Dye |
Rich Gonzalez preview
Finally, it's time to find out "Who's Number One?" Nation's hot lineups clash in frigid, wet conditions. Inaugural champions Elmhurst IL boys and Saratoga NY girls return but wide open races are expected this time around.
Foot Locker qualifying preview - top two runners at NTN from the Foot Locker West region will qualify for FL finals in San Diego next week. Rich Gonzalez handicaps the field and makes the favorites Kenny Klotz, Michael Cybulski, Annie St. Geme and Crystal Pitney.
8th Man Race
-

With eight runners per team coming to Portland and only seven competing in the championship races, NTN has an "eighth man race" to start the day at 8:30 am Saturday. The race is open to anyone else who wants to try out the course. For Dylan Hatcher, the race was a stepping stone. He won the 8th man race last year and now is running 1-2 for the powerful Mead WA squad.
Previews by the regional editors
Northeast -

These seven teams are strong. It's a good year in the Northeast... and it may get even better at NTN.

The four boys teams are all better than last year's runner-up, Manlius NY, and that includes this year's Manlius squad. The mighty Saratoga NY girls, US#1 since before DyeStat, could lose.
Southeast - No where to go but up after last year's dismal showing, this year's teams are determined to represent the region well. Sprint power Greenbelt MD (Eleanor Roosevelt) came up with a distance running group and circled Dec. 3 on their calendar last summer.
South - Dream seasons for Corpus Christi TX (King) boys and Carroll Southlake TX girls ended with state championships. Carroll put two girls and a boy into Foot Locker national finals.
Midwest - Defending NTN champ Elmhurst IL (York) boys plus three less known but hungry teams represent the Midwest..
Heartlands - Yankton SD boys and girls teams are both rankede #1 in region. North Lakeville MN girls boast national 2-mile champion Elizabeth Yetzer. Willmar MN boys met all three season goals -- win state meet, rank in top 25 nationally, and go to NTN.
Southwest - Plain City girls and Mountain View boys return from Utah. Rock Springs boys are first Wyoming representative at NTN. Fort Collins solves the mystery of the rankings process. Teri Cady juggles having a baby with coaching the Colorado Lady Knights (Fairview) girls.
Northwest -

Like the Northeast, this region has seven teams -- and all are contenders.


California - Newport XC Club (Corona del Mar) steamrolled all opposition en route to US#1 ranking, the California D3 championship and course records at venerable Woodward Park and Mt. SAC. Oak Park closed strong to finish only 5 points behind CdM at the state meet. Like Newport, Simi Valley (Royal) set records at Woodward Park and Mt. SAC en route to the California state championship and a return visit to Portland. Master coach Walt Lange brings Carmichael (Jesuit) to the big show.
Preliminary activities

-

Marc Davis Video - of team registration and Welcome Ceremony skits.
Nike Elite Teams
--

the top 10 teams at NTN Saturday will be designated as Nike Elite teams. They will be completely outfitted for next cross country season with singlets, shorts, training shoes and racing shoes.
team pages - a page for all 40 teams.
It's a TEAM thing - every runner counts.
40 teams from 19 states with 320 runners - pre-race festivities at Nike World Headquarters - the races at Portland Meadows race track, with a unique cross country course in the infield - huge jumbotrons - instant scoring every 1000 meters - historic live webcast - post race festivities at Nike.
Schedule
THURSDAY
Teams arrive, register, and hang out at the big Hospitality Suite or go on Nike campus tours and runs, followed by dinner and welcoming ceremonies (including those famous team skits).
FRIDAY
AM - course walk
PM - elite athlete forum, NCAA forum, elite athlete autograph sessions.
EVE - dinner and decorate team vans
SATURDAY
8:30 am - 8th man race, open to all
9:30 - Boys introductions
9:45 - Boys webcast starts
10:00 - Boys race
11:00 - Girls introductions
11:15 - Girls webcast starts
11:30 - Girls race
12:15 pm - Awards
Directions
Portland Meadows - the race course is the horse track at 2001 North Schmeer Road Portland, OR 97217, along I-5 north of downtown Portland before the Columbia River bridge. NOTE: Despite the red star west of the freeway, Portland Meadows is east of the freeway -- in fact, the NTN course is where the map reads, Portland Meadows Golf Course.
Mapquest link -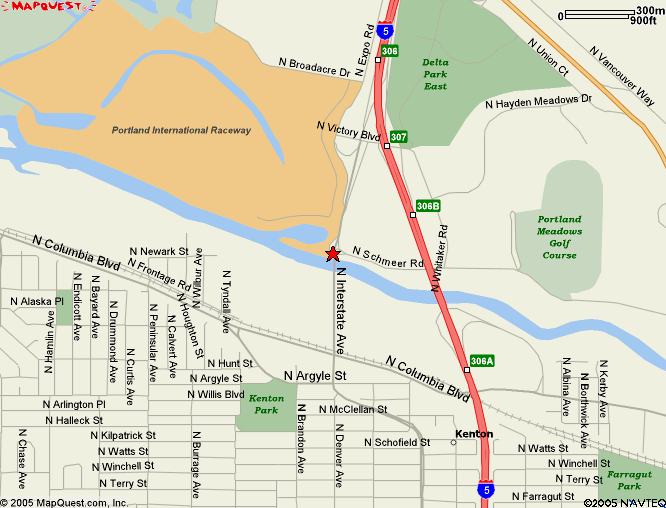 Nike World Headquarters - the campus entrance is on Walker Road in Beaverton. Tiger Woods Center is straight ahead from the entrance, with parking on the left. Mapquest link From Portland, go west on highway 26, south on Murray Blvd, and west on Walker Road to stop light at Nike entrance.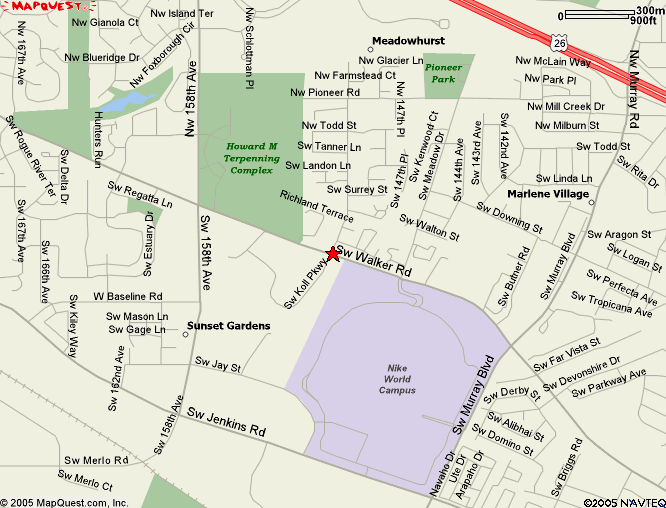 Headquarters Hotel, Embassy Suites, 9000 SW Washington Square Road, Tigard OR 503-644-4000 - on Highway 217 next to Washington Square mall. Take Progress/Scholls Ferry exit from Hwy 217.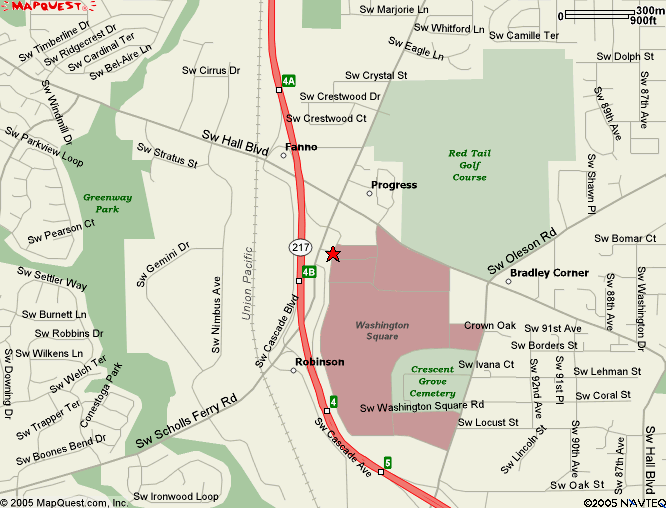 .NTN REGIONS: Northeast | Southeast | South | Midwest | Heartland | Southwest | Northwest | California |