Schedule and Results: IAAF site - Marrakech site

Preview by Mike Kennedy
Entry Standards -

2003 in Canada

Meet web sites
IAAF - USATF - Marrakech

Joy Kamani's Photo Album of Scenes from Marrakech

Daily reports with notes by Jim Spier
Day 5 Sunday - 3 more gold medals for USA - both medley relays and April Williams in 100H - Bianca Knight gets silver in 200m - David Klech 3rd in 400H - Scott Roth wins silver in PV - Arantxa King wins LJ for Bermuda
Day 4 Saturday - Bianca Knight, Khrystal Carter win 200m heats and semis - David Klech wins 400H semi and Tim Grier makes final too - Theresa Lewis, April Williams advance to 100H finals - USA is far the fastest in medley relay heats.
Day 3 Friday - Ebony Collins 55.96 destroys 400H field by more than 2 seconds with US#3 all time mark. David Klech 51.84, Tim Grier 53.09, Latavia Thomas 2:10.17, Devon Williams 2:11.04, and Kamorean Hayes 47-10 advance to finals.
Day 2 Thursday - Bianca Knight 11.38 and Cordera Jenkins 13.35 bring first gold medals to US - Ebony Collins wins silver in 100m and wins 400H heat - Michael Morrison 7th in octathlon.
Day 1 - Wednesday - Bianca Knight MS 11.38 100m is US#1 for year and she is fastest into the finals. Cordera Jenkins TX 13.56 110H and Kamorean Hayes NC 160-10 DT also advance with best marks of round.

Mike Byrnes from Marrakech
Team USA - 16 boys and 16 girls represent the US. They were selected from last year's Junior Nationals, USATF Youth Championships and USATF Junior Olympics. Some leading athletes are Walter Henning NY, David Klech CA, Michael Morrison VA, Scott Roth CA, Ebony Collins CA, Brandi Cross TX, Kamorean Hayes NC, Nicole Jones TX, Bianca Knight MS, Latavia Thomas PA, and Devon Williams MD.
This is the fourth world championship for track and field athletes under age 18. Prior championships were held in Sherbrooke, Canada in 2003, Debrecen, Hungary in 2001 and Bydgoszcz, Poland in 1999. In the first three meets, the USA has won 15 gold medals and 36 medals overall. US Medal History Also see Team USA Alumni List from prior world youth meets.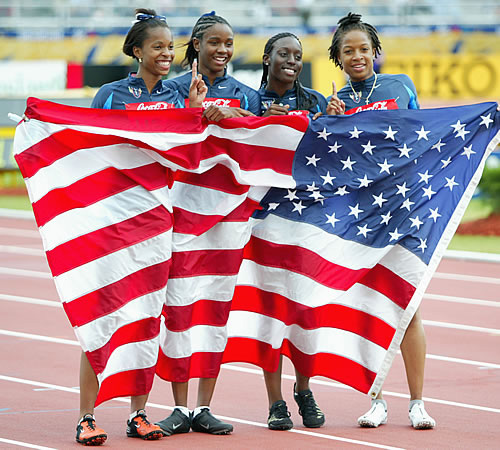 US women won sprint medley by 3 seconds.
Alexandria Anderson, Krystin Lacy, Jessica Onyepunuka, Natasha Hastings - photo by Errol Anderson

2001 -