Complete Friday Results
Friday Night Relays
West Catholic Philadelphia PA girls - Poly Long Beach boys - Archbishop Mitty CA girls - Shaker NY boys - Wayne OH boys - Muir CA girls - Maria Carrillo CA girls - Royal Simi Valley boys
Meet director Rich Gonzalez calls this session "Burnin' Batons." On a cold and windy night, the hottest squad was the West Catholic Philadelphia PA girls, who doubled in the 4x200 (1:38.39 US#2) and the sprint medley (4:00.44 US#1). Conditions were not favorable for a record try by West Catholic, which came within 3 seconds of the national indoor record last month. Nicole Leach (at left below) ran both relays to complete a busy day in which she beat college women at the Rafer Johnson / Jackie Joyner Kersee Invitational at UCLA in the afternoon. Her time of 59.31 is US#1 this season.
West Catholic Philadelphia PA 4x200 squad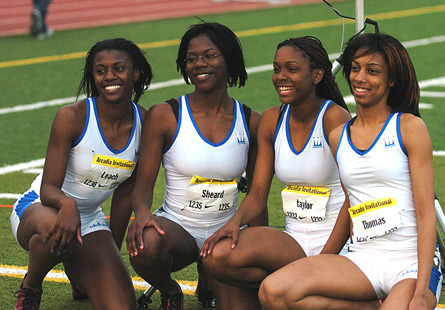 Poly Long Beach CA boys, the nation's leader in the 4x200 until Cinco Ranch Katy TX ran 1:24.97 in a Texas Relays prelim earlier in the day, won by 3 seconds in 1:26.76. Their B team was third best overall at 1:29.53.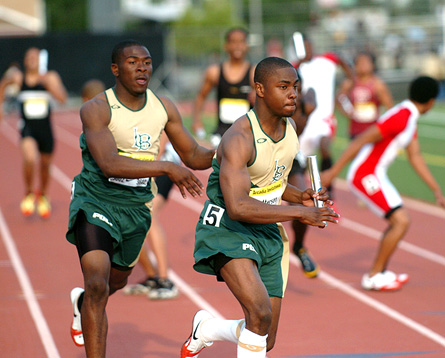 4x800 - Shaker NY boys, US#2 indoors, shook off Suburban Council NY league rival Shenendehowa in the third leg and posted the US#1 time so far outdoors, 7:46.43 to 7:49.22. Archbishop Mitty CA girls 9:12.71 had a wire to wire romp, winning by 7 seconds over Poly Long Beach.
Shaker NY 7:46.43

Joe Belokopitsky anchors Shaker NY 4x800 at Arcadia to US#1 time of the young outdoor season. Shaker was US#2 for 2005 and US#3 all time indoors this year. This race was a Suburban Council NY rivalry transported across the continent, as Shenendehowa 7:49.22 was second.
Shuttle Hurdles - Wayne Huber Heights OH, known as "Hurdle High", routed the field in 1:00.81, more than 3 seconds better than anyone else. Last month Wayne won this event at the Nike Indoor Nationals. John Muir CA 1:01.73 won the girls race.
4xMile Relay - Maria Carrillo CA girls 21:20.12, Royal Simi Valley CA boys 17:48.59 US#1.
Friday Results
Arcadia Invitational - 4/8/2005 to 4/9/2005                  
                                                                
                              Arcadia High School                              
                                    Results                                    
 
Women 4x1 Mile Relay Invitational
================================================================
    School                                               Finals 
================================================================
Section  1  
  1 Maria Carrillo High School  'A'           21:20.12 - #3 NATION OUTDOORS 2005
SPLITS - 5:15.3 - 5:29.1 - 5:26.7 - 5:08.7  
     1) 3308 Robinson, Amy 12           2) 3314 Fladseth, Kristin 12      
     3) 3310 Fogg, Leanne 10            4) 3319 Sanzari, Kristen 10       
  2 Ventura High School  'A'                  21:23.06 - #4 NATION OUTDOORS 2005SPLITS - 5:15.7 - 5:23.4 

- 5:23.4 - 5:20.6 
     1) 545 Spiker, Emily 11            2) 550 Ricketts, Lauren 10        
     3) 539 Martinez, Lauren 11         4) 548 Bryant, Jessica 12         
  3 La Costa Canyon High School  'A'                   21:37.09 - #6 NATION OUTDOORS 2005SPLITS - 5:17 - 

5:37 - 5:26 - 5:16   
     1) 3117 Maffucci, Laura 09         2) 3112 Giuffre, Brooke 11        
     3) 3111 Kakadelas, Haley 09        4) 3122 Andrews, Katy 09          
  4 Shenendehowa High School  'A'                      21:37.11 - #7 NATION OUTDOORS 2005  
     1) 2733 Babcock, Libby 12          2) 2736 Gniewek, Jackie 11        
     3) 2739 Medford, Katie 12          4) 2732 Rogers, Sarah 12          
  5 Murrieta Valley High School  'A'                   21:50.87 - #13 NATION OUTDOORS 2005  
     1) 1583 Walker, Jessica 11         2) 1598 Alvarado, Randi 11        
     3) 1574 Pourtau, Celia 11          4) 1594 Boucher, Terah 10         
  6 Dana Hills High School  'A'                        21:53.85  
     1) 285 Norris, Jennifer 09         2) 292 Vanpelt, Marijke 12        
     3) 293 Canterbury, Jamie 12        4) 298 Bube, Cheryl 12            
  7 Serrano  'A'                                       22:07.20  
     1) 3426 Brockert, Katherine 10     2) 3394 Rodriguez, Ashlyann 10    
     3) 3421 Castro, Amanda 12          4) 3425 Medina, Diana 10          
  8 King High  'A'                                     22:09.17  
     1) 1506 Sjogren, Morgan 12         2) 1510 Sjogren, Carly 11         
     3) 1516 Moore, Kristina 12         4) 1513 Bowman, Carissa 09        
  9 Edison HS Huntington Bch  'A'                      22:18.32  
     1) 66 Huluka, Mishka 09            2) 86 Alai, Candace 11            
     3) 56 Alai, Nicole 11              4) 76 Kostrikin, Courtney 10      
 10 Los Gatos High School  'A'                         22:22.01  
     1) 949 Goodwin, Jill 10            2) 962 Nicewonger, Ariana 11      
     3) 943 Townsend, Kaela 09          4) 954 Kemp, Jacqui 11            
 11 Fountain Valley  'A'                               22:37.46  
     1) 3770 Rackliffe, Amber 10        2) 3776 Coe, Molly 10             
     3) 3783 Giove, Nicole 09           4) 3788 Simek, Kristen 11         
 12 San Pedro High School  'A'                         22:43.01  
     1) 2252 Adams, Kirsten 11          2) 2254 Adams, Megan 11           
     3) 2255 Tortoledo, Mavel 11        4) 2251 Manqueros, Terry 12       
 13 Half Moon Bay High School  'A'                     22:49.71  
     1) 1752 Virgen, Lauren 09          2) 1756 Millett, Aly 11           
     3) 1759 Hitchner, Liza 12          4) 1751 Hughey, Allie 10          
 14 Oak Park High School  'A'                          22:54.82  
     1) 754 Diehl, Marissa 09           2) 774 Jackson, Kirsten 09        
     3) 770 Lightfoot, Courtney 09      4) 4314 Miller, Jessica           
 15 South Kitsap High School  'A'                      23:11.38  
     1) 3373 Godfrey, Samantha 12       2) 3378 Rosapepe, Katie 12        
     3) 3374 Cobb, Melanie 12           4) 3380 Coleman, Shyla 11         
 
Women 4x1 Mile Relay Seeded

================================================================
    School                                               Finals 
================================================================
  1 Buena High School  'B'                             22:12.63  
  2 Warren High School  'A'                            22:16.64  
     1) 675 Briones, Pamela 11          2) 683 Castillo, Samantha 10      
     3) 672 Edwards, Mariana 09         4) 689 Guggiana, Robyn 12         
  3 Corona High School  'A'                            22:21.30  
     1) 2442 Goodman, Christen 12       2) 2444 Floyd, Kelley 12          
     3) 2449 Escobar, Alma 11           4) 2441 Frazier, Allison 11       
  4 Ventura High School  'B'                           22:34.47  
     1) 551 Mason, Laura 10             2) 554 Venable, Sally 09          
     3) 547 Wagner, Reilly 10           4) 540 Hernandez, Angelica 09     
  5 Redlands High School  'A'                          22:43.06  
     1) 2783 Gonzalez, Sarah 09         2) 2782 Ramos, Elizabeth 09       
     3) 2802 Robie, Meredith 09         4) 2785 Evans, Lauren 10          
  6 Chino Hills High School  'A'                       22:43.54  
     1) 356 Eichmann, Amanda 12         2) 348 Franco, Yvette 11          
     3) 360 Houdetsanakis, Leah 11      4) 354 Aparicio, Jessica 10       
  7 Long Beach Poly High School  'A'                   22:43.79  
     1) 3575 Lopez, Carley 09           2) 3608 Rubin, Emily 09           
     3) 3588 Santos, Vania 10           4) 3562 Tedesco, Tava 11          
  8 Cypress High School  'A'                           22:57.90  
     1) 133 Conley, Amber 11            2) 130 Jirges, Lauren 12          
     3) 136 Shimada, Elyse 11           4) 134 Anderson, Patricia 10      
  9 Northwood High School  'A'                         23:01.32  
     1) 832 Tseng, Sharon 10            2) 839 Pokorski, Kendall 12       
     3) 835 Leslie, Heather 09          4) 838 Gelsinger, Leah 12         
 10 Klamath Union High School  'A'                     23:02.29  
     1) 496 Gomez, Anna 10              2) 497 Kleeman, Kellianne 12      
     3) 495 Young, Lorene 12            4) 492 Wood, Jessica 12           
 11 L.B. Wilson  'A'                                   23:02.76  
     1) 1327 Hobelman, Ashley 11        2) 1329 Emery, Jamie 09           
     3) 1319 Arrechiga, Valerie 11      4) 1322 Brown, Aine 10            
 12 Sultana High School  'A'                           23:02.80  
     1) 263 Duarte, Shadee 12           2) 258 Espinola, Samantha 09      
     3) 272 Sauve, Amanda 11            4) 264 Munoz, Susie 12            
 13 Great Oak High School  'A'                         23:03.04  
     1) 2721 Barnard, Jessica 09        2) 2722 Gallaher, Alli 09         
     3) 2724 Plummer, Pilar 09          4) 2723 Campfield, Lauren 10      
 14 Yucca Valley High School  'A'                      23:08.84  
     1) 109 Swanson, Sarah 11           2) 110 Salas, Candace 11          
     3) 104 Snyder, Emily 10            4) 107 Gheta, Randi 11            
 15 Fountain Valley  'A'                               23:11.55  
     1) 3768 Do, Sylvia 10              2) 3775 Lamb, Kristina 09         
     3) 3766 Simpson, Shannon 10        4) 3777 Wells, Laura 10           
 16 Alameda high school  'A'                           23:24.23  
     1) 2909 Mason, Jessica 11          2) 2907 Sedlack, Jessica 12       
     3) 2913 Shafer, Devaja 11          4) 2904 Vaughan, Jessica 11       
 17 Arcadia HS  'A'                                    23:36.45  
     1) 243 Mattison, Sarah 11          2) 231 Salvador, Tiffany 11       
     3) 239 Garcia, Stehpanie 10        4) 238 Pacheco, Roxie 10          
 18 Los Osos High School  'A'                          23:56.31  
     1) 2678 Mercado, Brianna 11        2) 2672 Daniels, Ashley 09        
     3) 2688 Browne, Vanessa 12         4) 2698 Bentley, Brianna 10       
 19 Buena High School  'A'                             24:01.19  
     1) 1196 Donatelli, Kimberly 11     2) 1199 Mathis, Amelia 09         
     3) 1203 Clahassey, Lynn 10         4) 1201 White, Larissa 12         
 20 Rancho Verde High School  'A'                      24:53.60  
     1) 3974 Mendoza, Ana 12            2) 3983 Cordova, Ashley 12        
     3) 3984 Williams, Melinda 11       4) 3982 McGlothen, Geannana 11    
 -- Palisades H.S.  'A'                                     DNF  
     1) 161 Doebel-Hickock, Kristabel 1 2) 165 Perry-Spahn, Angela 10     
     3) 156 Rochlin, Danielle 11        4) 160 Shanklin, Unique 10        
 
Women 4x200 Meter Relay Rated
================================================================
    School                                               Finals 
================================================================
  1 Skyline High School  'A'                            1:44.42  
     1) 799 Chase, Meosha 11            2) 789 Emila, Nichelle 12         
     3) 804 Wooten, Nina 10             4) 794 Hudson, Dantia 10          
  2 Mt. Eden High School  'A'                           1:45.67  
     1) 912 Clark, Sharonda 09          2) 906 Garrett, Cherrelle 10      
     3) 911 Motley, Cameo 11            4) 899 Parker, Kamilah 10         
  3 Los Gatos High School  'A'                          1:49.12  
     1) 939 Erickson, Jaimee 10         2) 938 Gonzales, Mary 11          
     3) 953 Moser, Sammi 09             4) 958 Reed, Christine 09         
  4 Sultana High School  'A'                            1:50.13  
  5 Harvard-Westlake High School  'A'                   1:50.45  
     1) 638 Bickers, Cara 10            2) 646 Sutton, Cela 11            
     3) 633 Meadors, Laura 09           4) 634 Ferry, Jackie 12           
  6 Placer High School  'A'                             1:51.26  
     1) 2240 Ramirez, Megan 12          2) 2241 Elmgren, Amy 12           
     3) 2237 Rouse, Sherrie 12          4) 2232 Gillming, Amanda 12       
  7 Lynwood High School  'A'                            1:51.90  
     1) 2597 Johnson, Myesha 11         2) 2571 Patterson, Shaniqua 09    
     3) 2578 Morgan, Dyamond 10         4) 2568 Johnson, Tiara 09         
 
Women 4x200 Meter Relay Open
================================================================
    School                                               Finals 
================================================================
  1 El Toro High School  'A'                            1:45.19  
     1) 1221 Albee, Erin 11             2) 1216 Armando, Allison 10       
     3) 1208 Bastos, Elizabeth 11       4) 1206 Fraschauf, Lauren 10      
  2 Cypress High School  'A'                            1:47.04  
     1) 142 Flores, Brittney 10         2) 125 Fuentes, Liana 09          
     3) 146 Stewart, Brittany 10        4) 137 Toban, Lisa 11             
  3 Oak Park High School  'A'                           1:48.80  
     1) 767 Barton, Michelle 11         2) 764 Beck, Dani 11              
     3) 760 Bruno, Francesca 09         4) 758 Chang, Tiffany 12          
  4 Serrano  'A'                                        1:50.71  
     1) 3403 Garcia, Rachelle 10        2) 3401 Brockert, Kristine 11     
     3) 3417 Smith, Brooke 09           4) 3415 St. Jeor, Rachelle        
  5 Skyline High School  'A'                            1:51.04  
  6 Fountain Valley High School  'A'                    1:51.35  
  7 Redlands High School  'A'                           1:52.42  
     1) 2772 Novick, Emily 12           2) 2803 Nicholson, Nikki 10       
     3) 2801 Bennett, Lauren 09         4) 2799 Walker, Alicia 12         
  8 Rancho Cotate High School  'A'                      1:53.07  
     1) 990 Ahanotu, Chema 09           2) 984 Wellman, Caty 09           
 
Women 4x200 Meter Relay Invitational
================================================================
    School                                               Finals 
================================================================
  1 West Catholic High School  'A'                      1:38.39 = #3 NATION OUTDOORS 2005 SPLITS - 23.8 - 

24.4 - 25.5 - 24.7  
     1) 1236 Leach, Nicole 12           2) 1233 Ali, Nia 11               
     3) 1235 Sheard, Kneisha 11         4) 1237 Thomas, Latavia 11        
  2 Vallejo  H.S.  'A'                                  1:41.97  
     1) 255 Mcliechey, Derrhea 10       2) 249 Tansil, Samantha 11        
     3) 253 Williams, Charmaine 11      4) 248 Dilworth, Sherrelle 12     
  3 Cheyenne High School  'A'                           1:43.42  
     1) 2830 Williams, Floreece 10      2) 2817 Williams, Ariel 12        
     3) 2812 Hartwell, Patrice 12       4) 2820 Marshall, Sharonte 09     
  4 James Logan High School  'A'                        1:43.70  
     1) 743 Ward, Tierra 11             2) 730 Harrison, Jackie 10        
     3) 711 Stewart, Tracey 11          4) 720 Kaye, Decontee 12          
  5 Rancho Cucamonga High  'A'                          1:44.09  
  6 Claremont High School  'A'                          1:46.14  
     1) 2166 Holmes, Kristin 12         2) 2165 Charan, Ashika 11         
     3) 2164 Manis, Krista 11           4) 2167 Simon, Monique 10         
  7 St. Elizabeth High School  'A'                      1:46.15  
     1) 3258 Wallace, Jameelah 10       2) 3248 Wadsworth, Monay 09       
     3) 3256 Munson, Jazzmine 10        4) 3261 Purvis, Julian 09         
  8 John Muir High School  'A'                          1:47.36  
     1) 1376 Crayton, Vernisha 12       2) 1383 Snailgro, Daniel 12       
     3) 1387 Griffin, Ashlie 12         4) 1386 Thompson, Amanda 12       
  9 James Logan High School  'B'                        1:50.99  
     1) 724 Jefferson, Myiesha 12       2) 713 Johnson, Victoria 10       
     3) 740 Castle, Careese 09          4) 734 Carter, Shi-nae 11         
 
Women 4x200 Meter Relay Seeded
================================================================
    School                                               Finals 
================================================================
  1 Benicia High School  'A'                            1:43.50  
     1) 3201 Cowling, Dominique 11      2) 3188 Ankton, Falesha 12        
     3) 3187 Flexor-Harrison, Madeliene 4) 3204 Purvis, Amber 09          
  2 Edison HS Fresno  'A'                               1:44.07  
     1) 1035 Alberty, Janetria 10       2) 1044 Carter, Sharita 12        
     3) 1031 Mannings, Tat 12           4) 1034 Thomas, Kyanna 10         
  3 Etiwanda high school  'A'                           1:47.39  
     1) 4162 Evans, Chazz 11            2) 4173 Henderson, Chrishana 12   
     3) 4170 Manso, Ashley 12           4) 4174 Bolden, Ashley 11         
  4 Paramount High School  'A'                          1:47.65  
     1) 2878 Amos, Kenya 10             2) 2901 Hernandez, Valeria 10     
     3) 2887 Jiles, Larrika 09          4) 2889 Echols, Alanya 10         
  5 L.B. Wilson  'A'                                    1:48.06  
     1) 1314 Pinkney, Andriea 12        2) 1321 Whyte, Cherelle 11        
     3) 1316 Fair, Quiana 09            4) 1317 Malcolm, Savanna 10       
  6 Santa Margarita  'A'                                1:48.85  
     1) 2178 Nader, Mandy 09            2) 2183 Lucier, Jessie 11         
     3) 2181 Michiels, Nathalie 11      4) 2186 Mielke, Alexis 12         
  7 A. A. Stagg High School  'A'                        1:49.23  
     1) 3345 Henderson, Jadaia 11       2) 3343 Roots, Renisha 12         
     3) 3342 Wright, Natalia 10         4) 3340 Maxwell, Candise 11       
  8 Crenshaw High School  'A'                           1:49.36  
  9 Bishop O'Dowd High School  'A'                      1:50.93  
     1) 467 Williams, Nailiah 09        2) 457 Adams, Rachel 09           
     3) 459 Hinds, Jennifer 10          4) 450 Lynch, Jackie 10           
 
Women 4x800 Meter Relay Invitational
================================================================
    School                                               Finals 
================================================================
  1 Archbishop Mitty High School  'A'                   9:12.71 - MITTY NAT'L LEADER 9:10.96SPLITS - 

2:17.6 PLANK - 2:19.4 ENGLISH - 2:18.4 ROBINSON - 2:17.1 - WHALEN   
     1) 1921 Shaffer, Mary 10           2) 1911 Whalen, Christine 12      
     3) 1914 English, Jeanell 11        4) 1913 Robinson, Renisha 10      
  2 Long Beach Poly High School  'A'                    9:19.42 - #2 TEAM NATION OUTDOORS 2005SPLITS - 

2:21.7 - 2:18.3 - 2:23.1 - 2:16.3   
     1) 3609 Allen, Samantha 12         2) 3588 Santos, Vania 10          
     3) 3573 Richmond, Leah 10          4) 3607 Bournes, Gabrielle 12     
  3 Fountain Valley  'A'                                9:25.37 - #5 TEAM NATION 2005SPLITS - 2:18.7 

DISIENA - 2:24.3 WELLS - 2:24.0 NAKASHIMA - 2:19.0 REED 
     1) 3779 Nakashima, Merisa 11       2) 3767 Wells, Jennifer 11        
     3) 3761 Reed, Crystal 10           4) 3765 DiSiena, Anja 09          
  4 Fairfield High School  'A'                          9:28.81  
     1) 3669 Jackson, Dominique 10      2) 3654 Bradshaw, Caprice 11      
     3) 3651 Piatkiewiez, Danielle 10   4) 3676 Khalid, Sekayi 12         
  5 El Toro High School  'A'                            9:31.43  
     1) 1228 Pierson, Molly 12          2) 1229 Lester, Leanne 11         
     3) 1209 Meade, Leigh 12            4) 1211 Hampton, Whitney 12       
  6 Shenendehowa High School  'A'                       9:34.86  
     1) 2733 Babcock, Libby 12          2) 2736 Gniewek, Jackie 11        
     3) 2732 Rogers, Sarah 12           4) 2739 Medford, Katie 12         
  7 Brea Olinda High School  'A'                        9:45.32  
     1) 931 Bradley, Shelby 10          2) 928 Gustafson, Anne 12         
     3) 930 Rogers, Holly 11            4) 932 Palmer, Maureen 11         
  8 San Lorenzo Valley High School  'A'                 9:47.41  
     1) 2291 Deane, Allison 10          2) 2289 Deane, Lindsey 10         
     3) 2296 Hoff, Amanda 10            4) 2299 Romo, Emily 12            
  9 Los Gatos High School  'A'                          9:58.69  
     1) 960 Peppard, Samantha 10        2) 950 Benson, Ashley 12          
     3) 959 Shile, Marlana 11           4) 952 Stege, Caroline 12         
 10 Oakton High School  'A'                             9:59.54  
     1) 2605 Eilerts, Hallie 09         2) 2608 Hudson, Carly 09          
     3) 2609 Perl, Deborah 12           4) 2610 Thomas, Stephanie 10      
 11 Torrance High School  'A'                          10:02.17  
     1) 702 Matsukawa, Christie 10      2) 691 Lyons, Rachel 10           
     3) 698 Le, Chi 12                  4) 696 McPheeters, Erica 12       
 12 Harvard-Westlake High School  'A'                  10:06.67  
     1) 634 Ferry, Jackie 12            2) 636 Virgien, Kerry 11          
     3) 633 Meadors, Laura 09           4) 641 Farias-Eisner, Anna 12     
 13 L.B. Wilson  'A'                                   10:11.39  
     1) 1318 Scott, Olenda 10           2) 1323 Collins, Ebony 11         
     3) 1329 Emery, Jamie 09            4) 1324 Anderson, Claire 10       
 14 El Capitan High School  'A'                        10:12.60  
     1) 2998 Ferguson, Jamie 09         2) 2994 Girty, Sarah 11           
     3) 2997 James, Christy 09          4) 3001 Tillery, Ashley 11        
 15 Oakmont High School  'A'                           10:14.28  
     1) 3647 Klousner, Erin 12          2) 3639 Mosbrucker, Lindsay 09    
     3) 3641 McBride, Elice 09          4) 3644 Wise, Kaitlyn 11          
 16 Oaks Christian High School  'A'                    10:54.45  
     1) 1605 Fleming, Roseanne 09       2) 1614 Fredrickson, Laura 11     
     3) 1610 Stanley, Maggie 11         4) 1615 Strenkowski, Breanne 10   
 
Women 4x800 Meter Relay Seeded
================================================================
    School                                               Finals 
================================================================
  1 Alameda high school  'A'                            9:45.70  SPLITS - 2:27 - 2:30 - 2:25 - MASON 2:24 
     1) 2909 Mason, Jessica 11          2) 2906 Rodrigues, Nicole 12      
     3) 2913 Shafer, Devaja 11          4) 2904 Vaughan, Jessica 11       
  2 Buena High School  'B'                              9:48.46  
     1) 1203 Clahassey, Lynn 10         2) 1198 Flores, Stacey 09         
     3) 1202 Pearson, Stephanie 11      4) 1195 Stevenson, Sandra 12      
  3 Fountain Valley  'B'                                9:50.17  
     1) 3787 Luke, Jillan 10            2) 3763 Rackliffe, Melinda 12     
     3) 3772 Coe, Lizzy 09              4) 3775 Lamb, Kristina 09         
  4 Serrano  'A'                                        9:59.88  
     1) 3419 Weaver, Samantha 10        2) 3394 Rodriguez, Ashlyann 10    
     3) 3405 Tarver, Kauren 09          4) 3425 Medina, Diana 10          
  5 Lakewood High School  'A'                          10:02.33  
     1) 1707 Kildall, Carissa 09        2) 1705 Mojica, Esther 10         
     3) 1693 Cortez, Miriam 11          4) 1691 Toledo, Gloria 12         
  6 La Sierra High  'A'                                10:04.01  
     1) 2377 Sanchez, Kirsten 10        2) 2384 Wettergreen, Lindsay 11   
     3) 2385 Rusk, Jenny 12             4) 2383 Casillas, Laiza 12        
  7 Cheyenne High School  'A'                          10:06.66  
     1) 2822 Dauphine, Roshaun 12       2) 2827 Lazelle, Jessica 10       
     3) 2819 Washington, Brittney 09    4) 2813 Lindsey, Marjori 12       
  8 Los Osos High School  'A'                          10:06.73  
     1) 2683 Strong, Amanda 11          2) 2688 Browne, Vanessa 12        
     3) 2670 Edwards, Anna 09           4) 2672 Daniels, Ashley 09        
  9 Arcadia HS  'A'                                    10:09.46  
     1) 231 Salvador, Tiffany 11        2) 228 Boulat, Johanne 09         
     3) 215 Sorial, Giselle 09          4) 219 Frias, Jazmin 12           
 10 Sultana High School  'B'                           10:09.97  
 11 Etiwanda high school  'A'                          10:10.49  
     1) 4169 Martinez, Lizzette 10      2) 4156 Nardone, Cassie 09        
     3) 4182 Chavez, Michelle 11        4) 4153 Aguirre, Priscilla 09     
 12 Crescenta Valley High School  'A'                  10:15.31  
     1) 1795 Lange, Rachel 09           2) 1808 Arutyunyan, Aylin 12      
     3) 1796 Ryan, Anna 11              4) 1798 Lee, Stella 12            
 13 Glendale High School  'A'                          10:16.07  
     1) 2939 Villalobos, Milagros 10    2) 2956 Hernandez, Erika 11       
     3) 2950 Diaz, Heidi 10             4) 2941 Edmonson, Bersania 11     
 14 St. Lucy's High School  'A'                        10:17.19  
     1) 2651 DiMascio, Jessica 12       2) 2653 Lakin, Lynsey 12          
     3) 2655 Rodriguez, Kristen 10      4) 2654 Parodi, Megan 10          
 15 Palisades H.S.  'A'                                10:17.32  
     1) 161 Doebel-Hickock, Kristabel 1 2) 159 Lim, Riza 12               
     3) 164 Roepke, Elane 10            4) 160 Shanklin, Unique 10        
 16 Rancho Cotate High School  'A'                     10:18.39  
     1) 984 Wellman, Caty 09            2) 991 Jordan, Shannon 09         
     3) 983 Charles, Kristin 12         4) 980 Jeppesen, Molly 09         
 17 Burroughs High School Burbank  'A'                 10:18.62  
     1) 2838 Martinez, Michelle 10      2) 2835 Morejon, Lilyana 10       
     3) 2839 Martinez, Sadee 09         4) 2837 Cross, Samantha 09        
 18 Redlands High School  'A'                          10:21.62  
     1) 2785 Evans, Lauren 10           2) 2782 Ramos, Elizabeth 09       
     3) 2784 Lowry, Sarah 09            4) 2783 Gonzalez, Sarah 09        
 19 Edison HS Huntington Bch  'A'                      10:21.99  
     1) 81 Lopez, Jillian 11            2) 89 Miller, Keely 11            
     3) 63 Verran, Mary 11              4) 65 Cutler, Jan 10              
 20 Inglemoor High School  'A'                         10:24.52  
     1) 1412 Easton, Whitney 12         2) 1420 Moore, Nicole 12          
     3) 1411 Boddy, Kathryn 11          4) 1422 Swenson, Heather 12       
 21 Santa Monica High School  'A'                      10:29.71  
     1) 40 Nakamua, Maki 10             2) 47 Yu, Helen 10                
     3) 44 Tejeda, Alyssa 11            4) 43 Thornton, Stephanie 12      
 22 Rancho Verde High School  'A'                      11:05.03  
     1) 3982 McGlothen, Geannana 11     2) 3984 Williams, Melinda 11      
     3) 3983 Cordova, Ashley 12         4) 4004 Stroup, Theresa 09        
 
Women 1600 Sprint Medley Seeded
================================================================
    School                                               Finals 
================================================================
  1 Cheyenne High School  'A'                           4:13.56 SPLITS - 26.4 - 25.6 - WILSON 57.9 - 

WASHINGTON 2:23.6   
     1) 2822 Dauphine, Roshaun 12       2) 2819 Washington, Brittney 09   
     3) 2815 Wilson, Valencia 12        4) 2820 Marshall, Sharonte 09     
  2 James Logan High School  'B'                        4:18.24  
     1) 717 Collins, Jazlynn 10         2) 742 Hardwick, Shevontee 10     
     3) 739 Richards, Juliette 11       4) 721 Jassar, Jessica 10         
  3 Huber Heights Wayne  'A'                            4:23.17  
     1) 2001 Arnold, Ashley 11          2) 2007 Dallas, Jasmine 10        
     3) 2005 Bennett, Ashley 12         4) 2004 Avery, Janelle 09         
  4 Los Gatos High School  'A'                          4:23.64  
     1) 958 Reed, Christine 09          2) 953 Moser, Sammi 09            
     3) 939 Erickson, Jaimee 10         4) 960 Peppard, Samantha 10       
  5 Paramount High School  'A'                          4:25.37  
     1) 2901 Hernandez, Valeria 10      2) 2889 Echols, Alanya 10         
     3) 2879 Fortson, Shawntay 11       4) 2899 Ross, Penney 09           
  6 Crescenta Valley High School  'A'                   4:36.12  
     1) 1816 Baucham, Ashley 10         2) 1791 McCauley, Melissa 11      
     3) 1818 Podnek, Nicole 10          4) 1810 Harrison, Claire 09       
  7 Fountain Valley  'A'                                4:39.61  
     1) 3771 Empting, Madison 12        2) 3778 Leroux, Marie 11          
     3) 3760 Scott, Jessica 12          4) 3779 Nakashima, Merisa 11      
  8 Redlands High School  'A'                           4:40.80  
     1) 2799 Walker, Alicia 12          2) 2769 Williams, Porsche 10      
     3) 2794 Yellon, Shayna 11          4) 2784 Lowry, Sarah 09           
  9 Rancho Cotate High School  'A'                      4:42.29  
     1) 988 Kalaorgevich, Milena 10     2) 983 Charles, Kristin 12        
     3) 980 Jeppesen, Molly 09          4) 991 Jordan, Shannon 09         
 
Women 1600 Sprint Medley Invitational
================================================================
    School                                               Finals 
================================================================
  1 West Catholic High School  'A'                      4:00.44 - #1 TIME NATION OUTDOORS 2005SPLITS - 

SHEARD 248 - TAYLOR 24.9 - LEACH 54.3 - THOMAS 2:16.3  
     1) 1236 Leach, Nicole 12           2) 1235 Sheard, Kneisha 11        
     3) 1232 Taylor, Christiana 11      4) 1237 Thomas, Latavia 11        
  2 Rancho Cucamonga High  'A'                          4:05.72 - #5 TIME NATION OUTDOORS 2005  
  3 Harvard-Westlake High School  'A'                   4:09.23 - #8 TIME NATION OUTDOORS 2005 
     1) 638 Bickers, Cara 10            2) 646 Sutton, Cela 11            
     3) 634 Ferry, Jackie 12            4) 641 Farias-Eisner, Anna 12     
  4 Judge Memorial Catholic High S  'A'                 4:13.10  
     1) 2094 Gaffney, Samantha 11       2) 2095 King, Maddy 11            
     3) 2097 Richardson, Asha 12        4) 2098 Meyer, Aubrey 11          
  5 Lynwood High School  'A'                            4:19.96  
     1) 2582 Colson, Reyanna 10         2) 2570 Brown, Chelsea 11         
     3) 2596 Allen, Blair 09            4) 2557 Sexton, Brandi 11         
  6 James Logan High School  'A'                        4:24.49  
     1) 730 Harrison, Jackie 10         2) 720 Kaye, Decontee 12          
     3) 722 Davis, Kristina 11          4) 727 Hardy, Jami 09             
  7 Sultana High School  'A'                            4:33.05  
     1) 267 Warnigus, Renelle 10        2) 265 Keyes, Katie 09            
     3) 270 Oliva, Erica 12             4) 259 Carlson, Jessii 12         
 
Women 1600 Sprint Medley Rated
================================================================
    School                                               Finals 
================================================================
  1 Yucaipa High School  'A'                            4:20.87  
     1) 10 Cano, Lyndsey 09             2) 7 Denolf, Rene 11              
     3) 9 Kliest, Kandy 09              4) 1 Pedersen, Leah 12            
  2 South Pasadena High School  'A'                     4:22.72  
     1) 3930 McKenzie, Ashley 10        2) 3940 Fata, Chloe 09            
     3) 3928 Eastwood, Erin 10          4) 3929 Mohamadi, Mina 10         
  3 Etiwanda high school  'A'                           4:25.71  
     1) 4178 Brightful, Alexandra 11    2) 4172 Carrington, Christain 09  
     3) 4162 Evans, Chazz 11            4) 4173 Henderson, Chrishana 12   
  4 Serrano  'A'                                        4:26.54  
     1) 3401 Brockert, Kristine 11      2) 3399 Talbott, Chelsey 09       
     3) 3425 Medina, Diana 10           4) 3406 Buchan, Charlette 09      
  5 Cimarron-Memorial High School  'A'                  4:26.82  
     1) 3027 Page, Pilar 10             2) 3018 Houston, Aurelia 10       
     3) 3022 Brinkley, Erica 09         4) 3026 Allen, Vinci 09           
  6 Glendale High School  'A'                           4:37.68  
     1) 2940 Assoian, Rita 09           2) 2944 Crosby, Cindy 11          
     3) 2943 Dowty, Jennifer 09         4) 2950 Diaz, Heidi 10            
  7 Pete Knight  'A'                                    4:47.73  
     1) 2424 Idiga, Sandra 10           2) 2428 Warren, Cidnie 09         
     3) 2436 Blaxton, Michelle 09       4) 2431 Simms, Shequelia 10       
 -- Lakewood High School  'A'                               DNF  
     1) 1690 Denton, Raevelene 12       2) 1710 McDaniel, ashlee 12       
     3) 1693 Cortez, Miriam 11          4) 1702 King, Azalia 10           
 
Women 4x100 Meter Shuttle Hurdle Invitational
================================================================
    School                                               Finals 
================================================================
  1 John Muir High School  'A'                          1:01.73 - #1 TIME NATION OUTDOORS 2005VERNEISHA 

CRAYTON 16.0 - KIANI PROFIT 15.7 - JASMINE CLARK 15.2 - JALISA WILLIAMS 14.9     
  2 Dana Hills High School  'A'                         1:05.36  
  3 Santa Margarita  'A'                                1:05.38 - LAUREN COLLINS 13.7W    
  4 Chino Hills High School  'A'                        1:06.46  
 
Women 4x100 Meter Shuttle Hurdle Seeded
================================================================
    School                                               Finals 
================================================================
  1 Lynwood High School  'A'                            1:07.03  
     1) 2575 Garrett, Linda 12          2) 2590 Young, Lation 12          
     3) 2570 Brown, Chelsea 11          4) 2568 Johnson, Tiara 09         
  2 Vista Murrieta  'A'                                 1:11.81  
     1) 1783 Rozier, Kimika 10          2) 1766 Miller, Rachel 09         
     3) 1771 Manu, Mary 11              4) 1767 Beyer, Katie 10           
  3 Menlo Atherton  'A'                                 1:13.00  
     1) 1890 O'Donnell, Kim 09          2) 1894 Connet, Jennifer 12       
     3) 1887 Lazar, Rachel 12           4) 1885 Roberts, Laurie 12        
 -- Thousand Oaks High School  'A'                           DQ   Passed Too Early
     1) 1123 Robertson, Holly 12        2) 1129 Merrifield, Meaghan 12    
     3) 1126 Speer, Sarah 11            4) 1122 Aplin-Gonzalez, GG 10     
 
Women High Jump
==========================================================================
    Name                    Year School                  Finals           
==========================================================================
Flight  1  
  1  3062 Valdez, Hannah      10 Dos Pueblos HS        J5-02.00      1.57m 
  1   522 Roland, Sylvia      12 Rialto HS              5-02.00      1.57m 
  3  1505 Thurman, Brittany   11 King High              5-00.00      1.52m 
  4  2908 Hodill, Brittany    12 alameda high sch       4-10.00      1.47m 
  4  2427 Leggett, Kacey      09 Pete Knight           J4-10.00      1.47m 
  4  3523 Thorn, Kelsey       10 Los Alamitos Hig       4-10.00      1.47m 
  4  1984 Dansby, Courtney    11 Sunnyside HS          J4-10.00      1.47m 
  4   670 Cooks, Shawana      11 Warren HS              4-10.00      1.47m 
  9  3716 Houle, Ashley       11 Mountain View HS       4-08.00      1.42m 
 
Women Pole Vault
==========================================================================
    Name                    Year School                  Finals           
==========================================================================
  1  3733 Weaver, Samantha    12 Lodi High School      10-06.00      3.20m 
  1  3731 Fraser, Tessa       11 Lodi High School     J10-06.00      3.20m 
  3  2183 Lucier, Jessie      11 Santa Margarita       10-00.00      3.04m 
  4  1508 Stark, Caroline     12 King High             J9-06.00      2.89m 
  4  3861 Duong, Judith       12 Temple City HS        J9-06.00      2.89m 
  4  2174 Wallace, Amy        11 Santa Margarita       J9-06.00      2.89m 
  4  3780 Beal, Becky         10 fountain valley        9-06.00      2.89m 
  4   291 Cohen, Danielle     12 Dana Hills HS          9-06.00      2.89m 
  4  4343 Tang, Grace         11 Temple City HS        J9-06.00      2.89m 
  4  3941 Santos, Amanda      12 El Rancho HS          J9-06.00      2.89m 
  4  1131 Blair, Brianna      10 Thousand Oaks Hi      J9-06.00      2.89m 
 12  3867 Bradley, Anna       12 Temple City HS         9-00.00      2.74m 
 12   662 Nham, Beti          12 Piedmont Hills         9-00.00      2.74m 
 12  3456 Funk, Holden        10 Marina HS              9-00.00      2.74m 
 12  3522 Beighton, Katelyn   10 Los Alamitos Hig       9-00.00      2.74m 
 12  3774 Nguyen, Kimberly    12 fountain valley        9-00.00      2.74m 
 17  2896 Lopez, Leslie       12 Paramount High S       8-06.00      2.59m 
 17   718 Shiekh, Shaheena    11 Logan HS               8-06.00      2.59m 
 17  3159 Spalding, Hayley    09 Covina High Scho       8-06.00      2.59m 
 17  2288 Lopes, Nicki        12 San Lorenzo Vall       8-06.00      2.59m 
 --   266 Black, Rachel       12 Sultana High Sch            NH            
 --  2567 Stovall, Andrea     11 Lynwood HS                  NH            
 --  3734 Cranston, Brooke    12 Lodi High School            NH            
 
Women Long Jump
===============================================================================
    Name                    Year School                  Finals  Wind          
===============================================================================
  1  1044 Carter, Sharita     12 Edison HS             16-10.25   2.4     5.13m 
  2  1882 Bailey, Jasmine     10 Rocklin HS            16-08.50   4.2     5.09m 
  3  1890 O'Donnell, Kim      09 Menlo Atherton        16-06.25   1.5     5.03m 
  4  3508 Hogan, Tiawanna     11 Bakersfield Sout      16-04.75   1.7     4.99m 
  5  3221 LeDuc, Madeline     10 Glendora HS           16-03.25   2.6     4.95m 
  6  3184 Moore, Lauren       11 Saugus High Scho      16-00.00   2.8     4.87m 
  7   520 Westmoreland, Ja'N  12 Rialto HS             15-10.75   1.2     4.84m 
  8  2679 Green, Dana         11 Los Osos High Sc      15-09.50   2.7     4.81m 
  9  3207 Sherman, Kourtney   12 Benicia High Sch      15-08.75   2.7     4.79m 
 10  2794 Yellon, Shayna      11 Redlands High Sc      15-08.25   2.0     4.78m 
 11   175 Bear, Mackenzie     12 Valencia HS           15-07.75   5.3     4.76m 
 12  1747 McMillian, Alexis   12 Bakersfield High      15-06.50   2.1     4.73m 
 13  2932 Chrzan, Carolyn     11 Burbank High Sch      15-01.75   3.0     4.61m 
 14  2149 Co, Julia           11 Monta Vista HS        14-07.50   3.0     4.45m 
 15   236 Han, Karen          09 Arcadia HS            14-04.50   2.2     4.38m 
 
Women Triple Jump
===============================================================================
    Name                    Year School                  Finals  Wind          
===============================================================================
  1  3184 Moore, Lauren       11 Saugus High Scho      35-04.00   1.6    10.76m 
  2  3079 Murillo, Christina  10 Trabuco Hills         35-00.50   1.5    10.68m 
  3  3018 Houston, Aurelia    10 Cimarron-Memoria      34-11.00   1.8    10.64m 
  4  1382 Hector, Domonique   12 John Muir HS          34-09.00   1.5    10.59m 
  5  3207 Sherman, Kourtney   12 Benicia High Sch      34-04.50   1.5    10.47m 
  5  2852 Palmer, Christina   11 Alta Loma High S      34-04.50   0.4    10.47m 
  5  1809 Ray, Keaton         09 Crescenta Valley      34-04.50   3.6    10.47m 
  8    12 Ruark, Elise        12 California High       33-09.00   2.8    10.28m 
  9   228 Boulat, Johanne     09 Arcadia HS            33-05.00   2.6    10.18m 
 10  1404 Wong, Hai           12 Alhambra H.S. Tr      32-09.50   2.2     9.99m 
 11    22 Boyle, Melanie      11 Cupertino High S      32-07.00   0.6     9.93m 
 12   220 Yang, Serena        12 Arcadia HS            32-02.00   NWI     9.80m 
 13    58 Dunn, Alex          11 Edison HS             31-08.50   2.0     9.66m 
 14  2582 Colson, Reyanna     10 Lynwood HS            31-06.50   NWI     9.61m 
 15  1951 Hill, Renecia       10 St. Mary's Ingle      31-03.00   1.4     9.52m 
 --  2699 Jacobs, Tiffany     12 Los Osos High Sc          FOUL   NWI           
 
Women Shot Put
==========================================================================
    Name                    Year School                  Finals           
==========================================================================
  1  3179 McConnell, Jeanett  11 Saugus High Scho      38-11.50     11.87m 
  2  1676 Agwuenu, Ify        10 Ayala HS              38-04.50     11.69m 
  3  2106 Behring, Andi       11 Canyon HS             36-05.25     11.10m 
  3  2464 Kingsland, Lindsay  11 El Modena HS          36-05.25     11.10m 
  5    11 Greenspan, Jennife  12 California High       36-03.50     11.06m 
  6  2885 Aliimatafitafi, St  09 Paramount High S      35-09.00     10.89m 
  7  4024 Bonner, Jessica     10 Chaparral High S      35-08.75     10.89m 
  8  2263 Larson, Krista      12 Davis (Ut)            35-07.25     10.85m 
  8   822 Maguire, Allie      12 St. Francis Moun      35-07.25     10.85m 
 10  1862 Colyer, Caitlin     12 San Marcos High       35-05.00     10.79m 
 11  3640 Borders, Antoinett  12 Oakmont High Sch      34-05.25     10.49m 
 12  4039 Lowe, Brittany      12 Chaparral High S      33-10.75     10.33m 
 13  1200 Quiroz, Alyse       12 Buena High Schoo      33-05.00     10.18m 
 14  2892 Faagata, Vanessa    09 Paramount High S      32-11.75     10.05m 
 15  2847 Wong, Annie         10 Rosemead High Sc      32-06.50      9.91m 
 16  2437 Williams, Jahne     10 Pete Knight           32-05.25      9.88m 
 17   108 McKettrick, Chatel  12 Yucca Valley Hig      32-01.25      9.78m 
 18  2258 Prince, Shannon     11 Davis (Ut)            31-01.25      9.48m 
 19  2849 Williams, Shana     12 Alta Loma High S      30-01.25      9.17m 
 20  2853 Bauer, Samantha     11 Alta Loma High S      28-10.00      8.78m 
 
Women Discus Throw
==========================================================================
    Name                    Year School                  Finals           
==========================================================================
  1   300 Pappas, Sonja       11 Arroyo Grande HS        125-06     38.25m 
  2   303 Lady, Sara          11 Arroyo Grande HS     122-04.50     37.29m 
  3   409 Deleon, Elisha      10 Centennial Baker     120-04.50     36.69m 
  4   518 Clark, Tatiana      11 Rialto HS               118-03     36.04m 
  5  3442 Hammar, Rachel      09 Buhach Colony Hi        117-03     35.73m 
  6  1200 Quiroz, Alyse       12 Buena High Schoo     116-06.50     35.52m 
  7  2747 Guerrieri, Lauren   10 Davis HS             116-02.50     35.42m 
  8   304 Lewis, Lindsay      11 Arroyo Grande HS        112-00     34.13m 
  9  3179 McConnell, Jeanett  11 Saugus High Scho        110-06     33.68m 
 10  3637 McMahon, Breanna    11 Oakmont High Sch     103-06.50     31.55m 
 11  4024 Bonner, Jessica     10 Chaparral High S        101-11     31.06m 
 12   185 Wiesmann, Gigi      12 Valencia HS          100-09.25     30.71m 
 13   452 Wilson, Miranda     10 Bishop O'Dowd HS      99-02.50     30.23m 
 14   531 Tillman, Erin       11 Rialto HS                89-09     27.35m 
 15  2885 Aliimatafitafi, St  09 Paramount High S      89-05.50     27.26m 
 16  2258 Prince, Shannon     11 Davis (Ut)            84-07.25     25.78m 
 17  1451 Gardiner, Kaitlin   11 Rio Mesa HS              83-11     25.57m 
 
Men 2 Mile Run Rated
================================================================
    Name                    Year School                  Finals 
================================================================70.4 - 2:20.2 - 3:31.4 - 4:44.5 - 5:58.3 

- 7:14.3 - 8:19.5 (SIERACKI 65.2 LAP) 9:29.6 
Section  1  
  1  2752 Sieracki, Thad      12 Davis HS               9:29.61  
  2  2014 Eubank, Carlyle     12 Santa Ynez High        9:29.78  
  3  2366 Miller, Matt        12 Loyola HS              9:32.81  
  4  2071 Gomez, Joaquin      12 Carpinteria            9:35.39  
  5   389 Matthews, Jake      11 Folsom High Scho       9:35.69  
  6  1496 Kayali, Murat       12 La Jolla               9:38.76  
  7  1673 Porter, Stephen     12 Ayala HS               9:38.92  
  8  1119 Ambriz, Axel        12 Thousand Oaks Hi       9:39.75  
  9  2762 Gregg, Brendan      10 Davis HS               9:40.19  
 10  3447 Feldman, Aaron      12 Harbor HS              9:40.45  
 11  3962 Stromberg, Scott    12 Santa Margarita        9:46.98  
 12  1881 Cannon, Tim         11 Rocklin HS             9:48.03  
 13   535 Cuevas, Daniel      12 Rialto HS              9:50.29  
 14  1655 Clough, Josh        12 Auburn Riverside       9:52.15  
 15   242 Pilavjian, Andrew   10 Arcadia HS             9:53.59  
 16  1663 Perez, Luis         12 St. John Bosco         9:53.65  
 17  2857 Parker, Keli        12 North Monterey C       9:55.64  
 18  4094 Hart, Charles       12 Cedar High Schoo      10:02.41  
 19   704 Noonan, Brian       12 Tehachapi High S      10:05.32  
 20  2475 Bishop, Ryan        10 Spokane Mead (Wa      10:10.89  
 21  2874 Contreras, Jesse    11 Paramount High S      10:10.99  
 22  2017 Dalton, Joshua      12 Deary High Schoo      10:11.10  
 23   597 Serna, Eduardo      12 Brea Olinda HS        10:11.56  
 24  1879 Hougen, Kevin       11 Rocklin HS            10:12.77  
 
Men 4x1 Mile Relay Seeded
================================================================
    School                                               Finals 
================================================================
  1 La Costa Canyon High School  'A'                   18:18.33 SPLITS - 4:31 - 4:35 - 4:38 - 4:34  
     1) 3125 Ali, Ramsey 12             2) 3123 Hamilton, Tom 11          
     3) 3118 LeVieux, Jake 12           4) 3126 Shaughnessy, Matt 12      
  2 West Torrance High School  'A'                     18:28.06 SPLITS 4:31 - 4:38 - 4:42 - 4:37  
     1) 1166 Decastro, Steven 10        2) 1194 Truong, Matthew 12        
     3) 1185 Yi, Jon 12                 4) 1181 Wiseman, Trevor 12        
  3 El Rancho High School  'A'                         18:33.38  
     1) 3945 Jimenez, Julio 11          2) 3942 Campos, Alan 11           
     3) 3946 Guevara, Luis 10           4) 3950 Mejia, Manny 11           
  4 Los Gatos High School  'A'                         18:42.17  
     1) 967 Downey, Ryan 10             2) 944 Johnson, Michael 09        
     3) 937 Livingston, Rye 09          4) 936 Petrillo, Matthew 10       
  5 Benicia High School  'A'                           18:44.16  
     1) 3199 Campbell, Dan 12           2) 3200 Padilla, Luis 12          
     3) 3208 Jones, Richard 11          4) 3206 Wolken, Geoffrey 10       
  6 Coachella Valley High School  'A'                  18:52.05  
     1) 848 Ventura, Carlos 12          2) 851 Serrano, Miguel 12         
     3) 850 Rubio, Jose 12              4) 852 Ramirez, Paulino 12        
  7 Serrano  'A'                                       18:52.66  
     1) 3398 Cabal, Walter 10           2) 3435 Hoefle, Clark 10          
     3) 3423 Mendoza, David 10          4) 3412 Richter, Tom 11           
  8 Sultana High School  'A'                           18:52.94  
     1) 276 Patterson, Stuart 12        2) 271 Hodges, Josh 11            
     3) 261 Upham, Ryan 11              4) 274 White, Garret 11           
  9 William Howard Taft High Schoo  'A'                18:53.04  
 10 El Toro High School  'B'                           18:56.27  
     1) 1205 Hausmaninger, Marc 10      2) 1227 Zweig, Jesse 11           
     3) 1219 Laurino, Sean 10           4) 1218 Eisenbeis, Troy 11        
 11 El Capitan High School  'A'                        18:59.65  
     1) 2993 McAnally, Hunter 12        2) 2995 Martinez, Manny 11        
     3) 3002 Victor, Kevin 12           4) 3000 Watters, Kevin 11         
 12 Arcadia HS  'A'                                    19:01.53  
     1) 242 Pilavjian, Andrew 10        2) 224 Markowski, Kamil 12        
     3) 232 Beckwith, Paul 11           4) 211 Bacic, TJ 11               
 13 Los Osos High School  'A'                          19:01.72  
     1) 2687 Anderson, Patrick 11       2) 2681 Pasma, Chris 11           
     3) 2674 Pasma, Keith 09            4) 2700 Valencia, Brett 09        
 14 Cypress High School  'A'                           19:03.55  
     1) 138 schlothan, eric 11          2) 143 wagner, justin 12          
     3) 131 Dutt, Josh 11               4) 140 Dettmer, Ryan 09           
 15 Edison HS Huntington Bch  'A'                      19:04.51  
     1) 80 Fernandez, Max 10            2) 73 Newhard, Brian 11           
     3) 67 Kimmel, Blake 12             4) 78 Ritter, Danny 10            
 16 Ventura High School  'A'                           19:05.61  
     1) 558 Garrett, Taylor 12          2) 553 Gurney, Chris 12           
     3) 559 Henneck, Stephen 11         4) 556 Tovar, Austin 11           
 17 Rio Mesa High School  'A'                          19:07.51  
     1) 1457 FitzGerald, Patrick 12     2) 1459 Lester, Max 10            
     3) 1460 Soliz, Gabriel 09          4) 1443 Parsons, Mac 12           
 18 Northwood High School  'A'                         19:17.63  
     1) 836 Peck, Jason 10              2) 837 Oberlin, Brent 10          
     3) 834 Largent, Elliott 12         4) 833 Shatzen, Evan 11           
 19 Alameda high school  'A'                           19:24.19  
     1) 2914 O'Toole, Tony 12           2) 2905 Castro, Miguel 10         
     3) 2910 Mahon, Ben 12              4) 2911 Skeels, Marty 12          
 20 King High  'A'                                     19:24.24  
     1) 1511 Ashley, John 11            2) 1518 Cummins, Matt 10          
     3) 1512 Baugus, Jeremy 11          4) 1519 Ehret, Nick 10            
 21 Murrieta Valley High School  'B'                   19:26.79  
     1) 1577 Zubia, Josh 10             2) 1592 Rutgers, Stephen 11       
     3) 1600 Thompson, Bruce 10         4) 1575 McCutcheon, Brandon 12    
 22 Yucaipa High School  'A'                           19:28.67  
     1) 2 Jensen, Brandon 12            2) 5 Bay, Greg 11                 
     3) 8 Pico, Josh 12                 4) 4 Gonzales, Raul 12            
 23 West Torrance High School  'B'                     19:30.28  
     1) 1167 Ursani, Amir 12            2) 1178 Hyun, James 11            
     3) 1168 Nazarian, Avo 11           4) 1193 Castro, Louis 11          
 24 Antelope Valley HS  'A'                            19:33.72  
     1) 1092 Melena, Jose 12            2) 1084 Navarro, Jose 12          
     3) 1088 Tepos, Jovanny 12          4) 1087 Broskoff, Nick 11         
 25 Palo Alto High School  'A'                         19:35.38  
 26 Marina High School  'A'                            19:36.76  
     1) 3465 Lawson, Brett 11           2) 3458 Hernandez, Arnold 11      
     3) 3470 Arroyo, Phillip 09         4) 3460 Matsumoto, Shinici 11     
 -- Acalanes HS  'A'                                        DNF  
     1) 1845 Lawson, Ryon 11            2) 1839 Sutyak, Michael 12        
     3) 1834 Beach, Nate 09             4) 1835 Mooney, Conner 10         
 
Men 4x1 Mile Relay Invitational
================================================================
    School                                               Finals 
================================================================
  1 Royal High School  'A'                             17:48.59 - #1 OUTDOOR TIME 2005 NATION  SPLITS - 

CYBULSKI 4:24.9 - ANDREWS 4:26.5 - PEDERSEN 4:31.0 - JAEDTKE 4:26.3 
  2 Madera High School Coyotes  'A'                    18:00.88 - #7 OUTDOOR TIME 2005 NATION   
     1) 3755 Madrigal, Benny 12         2) 3738 DeVault, Nathan 12        
     3) 3750 Pulido, Tony 12            4) 3736 Moreno, Claudio 12        
  3 Don Lugo High School  'A'                          18:04.68  
     1) 3385 Gonzales, Alfred 11        2) 3382 Hernandez, Alfred 12      
     3) 3383 Mercado, Alex 11           4) 3387 Tesfa, Fitsum 12 - TESFA 4:19.9           
  4 Mountain View HS  'A'                              18:05.81  
     1) 3711 Evensen, Spencer 12        2) 3710 Pierce, Andrew 12         
     3) 3714 Robison, Kevin 12          4) 3712 Bahr, Alden 12            
  5 Oak Ridge High School  'A'                         18:06.31  
     1) 3348 Cosens, Ryan 10            2) 3347 Mansoor, Alex 10          
     3) 3355 Campbell, Jeff 12          4) 3353 Crawford, Scott 11        
  6 Jordan High School  'A'                            18:14.81  
     1) 343 Batty, Miles 12             2) 344 Summers, Brian 12          
     3) 342 Bingham, Ryan 12            4) 345 Bienlien, Jared 12         
  7 Murrieta Valley High School  'A'                   18:17.00  
     1) 1570 Olson, Brandon 12          2) 1567 Munoz, Mike 11            
     3) 1589 Milloy, Patrick 11         4) 1579 Orozco, Jose 12           
  8 El Toro High School  'A'                           18:20.36  
     1) 1215 Masci, Anthony 10          2) 1222 Mouzis, Nate 11           
     3) 1213 McDonald, Chris 10         4) 1224 Briggs, Nick 12           
  9 Los Alamos High School  'A'                        18:24.04  
     1) 4103 Gilna, Simon 11            2) 4105 Willms, Ben 12            
     3) 4102 Yarbrough, Finn 12         4) 4107 McNiff, Ryan 11           
 10 Syosset HS  'A'                                    18:24.23  
     1) 1502 Lampert, Adam 12           2) 1500 Tully, Dan 12             
     3) 1501 Tully, Sean 12             4) 1504 Howell, Chris 12          
 11 Ayala HS  'A'                                      18:30.23  
     1) 1683 Noble, Westley 11          2) 1678 Kennedy, Derek 12         
     3) 4329 Floris, Henry              4) 4330 Cendejas, Armando         
 12 Maria Carrillo High School  'A'                    18:30.97  
     1) 3307 Roth, Andrew 12            2) 3312 Ensign, Logan 11          
     3) 3321 Aldridge, Ryan 11          4) 3315 Cumbo, Timothy 12         
 13 Rancho Cucamonga High  'A'                         18:31.80  
 14 West Valley High School  'A'                       18:32.83  
     1) 1052 Baker, Matt 11             2) 1049 Crowl, Pat 12             
     3) 1054 Fairley, Jordan 12         4) 1050 Hanna, Jon 11             
 15 Inglemoor High School  'A'                         18:32.86  
     1) 1423 Jones, Alex 12             2) 1417 Schultz, Brian 11         
     3) 1414 Hansen, Corey 12           4) 1418 Holt, Nick 10             
 16 Monsignor Farrell  'A'                             18:38.64  
     1) 2216 Lewis, Dan 11              2) 2215 Cannavo, Vito 11          
     3) 2208 Gordon, Rob 11             4) 2209 Carbonella, Jeff 11       
 17 South Kitsap High School  'A'                      18:40.33  
     1) 3375 Schenck, Justin 12         2) 3377 Daniels-Hall, Joe 12      
     3) 3379 Jones, Nate 12             4) 3381 Coleman, Sean 12          
 18 San Pedro High School  'A'                         18:59.00  
     1) 2249 Rosales, Alex 12           2) 2250 Nava, Johan 12            
     3) 2253 Soto, David 11             4) 2256 Calise, Steve 10          
 19 Long Beach Poly High School  'A'                   19:01.15  
     1) 3591 Griego, Joseph 11          2) 3611 Wells, Patrick 11         
     3) 3583 Muro, Victor 11            4) 3592 Ramos, Pedro 12           
 20 McFarland High School  'A'                         19:03.98  
     1) 1362 Bravo, Jaime 11            2) 1364 Serna, Juan 11            
     3) 1366 Ruiz, Octavio 11           4) 1363 Olvera, Julio 10          
 21 Oakmont High School  'A'                           19:04.90  
     1) 3638 Gliko, Mike 10             2) 3632 Infausto, Garrett 11      
     3) 3646 Sey, Jason 11              4) 3630 Arreygue, Erik 12         
 22 Paramount High School  'A'                         19:13.14  
     1) 2865 Zarate, John 12            2) 2886 Vera, Jacob 12            
     3) 2871 Valencia, Mark 12          4) 2874 Contreras, Jesse 11       
 23 Fountain Valley High School  'A'                   19:50.00  
     1) 1139 Figarsky, Ian 12           2) 1148 williams, jeremy 11       
     3) 1146 Switzer, Preston 11        4) 1143 Drum, Alex 12             
 24 Oak Park High School  'A'                          20:03.22  
     1) 757 Gourdeau, Garrison 09       2) 766 Fox, Tyler 11              
     3) 776 Pondella, Anthony 10        4) 4316 Bettisworth, Doug         
 
Men 4x200 Meter Relay Open
================================================================
    School                                               Finals 
================================================================
  1 Archbishop Mitty High School  'A'                   1:32.89  
     1) 1917 Ciesinski, Joe 12          2) 1923 Dahl, Brandon 11          
     3) 1919 Hopkins, Pat 12            4) 1926 Gancayco, Nick 12         
  2 Rancho Cucamonga High  'A'                          1:32.91  
  3 Cimarron-Memorial High School  'A'                  1:33.08  
     1) 3023 Davis, Corey 12            2) 3016 Ibarguen, Efren 11        
     3) 3033 Naya, Jay 11               4) 3021 Moline, Shane 12          
  4 Lynwood High School  'A'                            1:33.81  
     1) 2593 Pryor, Tarahjee 09         2) 2599 Harris, Willie 11         
     3)                                 4) 2564 Anderson, Da Vonte 11     
  5 Mt. Eden High School  'A'                           1:34.88  
     1) 900 Jalil, Amir 11              2) 894 Taylor, Nick 12            
     3) 914 Robinson, Donte 09          4) 895 Nguyen, Mahn 12            
  6 Servite High School  'A'                            1:35.11  
     1) 3281 Mendoza, Andrew 12         2) 3280 Sanchez, Frank 12         
     3) 3276 Reinert, Chris 12          4) 3282 Shoemate, Dennis 09       
  7 Las Lomas High School  'A'                          1:35.14  
     1) 3489 Yamashita, James 12        2) 3488 Rivers, Aaron 12          
     3) 3483 Dyer, Will 11              4) 3485 Paclebar, Corey 09        
  8 Inglemoor High School  'A'                          1:35.45  
     1) 1413 Valla, Chris 11            2) 1421 Swenson, Jordan 12        
     3) 1415 Burns, Brian 12            4) 1416 Solberg, Janssen 11       
  9 Acalanes HS  'A'                                    1:35.83  
     1) 1836 Adcock, Cole 11            2) 1830 McAdams, Jonathan 12      
     3) 1838 Neill, Bill 12             4) 1833 Schwertscharf, Brian 12   
 
Men 4x200 Meter Relay Rated
================================================================
    School                                               Finals 
================================================================
  1 Walnut High School  'A'                             1:32.21  
     1) 3918 Parkinson, Mark 12         2) 3920 Jones, Chris 12           
     3) 3916 Hankins, Dee 12            4) 3921 Thomas, Terrence 12       
  2 St. Francis High School Mounta  'A'                 1:33.06  
     1) 820 Howard, Desmond 11          2) 827 Plattner, Oliver 12        
     3) 816 Perry, Ryan 11              4) 824 Van Amburg, Chris 12       
  3 Cypress High School  'A'                            1:33.19  
     1) 124 weldon, avery 12            2) 145 Rose, Morgan 12            
     3) 144 Dodson, Eric 12             4) 129 Parga, Clint 11            
  4 Long Beach Poly High School  'C'                    1:34.25  
     1) 3568 Blount, Michael 10         2) 3578 Johnson, Jeffrey 09       
     3) 3613 Vaughn, Eric 09            4) 3561 Session, Travionte 10     
  5 James Logan High School  'B'                        1:34.31  
     1) 744 Yuen, Jared 12              2) 725 Jenkins, Sean 12           
     3) 709 Smith, AJ 11                4) 733 Spencer, Marcus 11         
  6 John Muir High School  'A'                          1:35.17  
     1) 1378 Love, Alex 12              2) 1384 Robey, Tyler 11           
     3) 1371 Hudson, Eric 12            4) 1367 Morris, Daruis 09         
  7 Placer High School  'A'                             1:35.86  
     1) 2234 Foreman, Mike 12           2) 2243 Foreman, Chris 12         
     3) 2245 Schell, Steven 12          4) 2239 Hapak, Scott 11           
  8 Harvard-Westlake High School  'A'                   1:36.97  
  9 Monrovia High School  'A'                           1:37.11  
     1) 1250 Mitchell, Nagee 12         2) 1253 Porchia, Garret 11        
     3) 1257 Boggs, Kenny 11            4) 1266 Vaden, Gerame 11          
 
Men 4x200 Meter Relay Seeded
================================================================
    School                                               Finals 
================================================================
  1 Long Beach Poly High School  'B'                    1:29.53  
     1) 3590 Wade, David 10             2) 3612 Laguana, Agustin 11       
     3) 3563 Williams, Deondray 12      4) 3576 Wright, Donte 11          
  2 Clovis West  'A'                                    1:30.73  
     1) 2422 Duffy, Kyle 11             2) 2419 Oustad, Ryan 12           
     3) 2405 Beebe, Scott 12            4) 2410 Aluisi, Jared 12          
  3 Covina High School  'A'                             1:31.31  
     1) 3139 Williams, Andre 11         2) 3151 James, Jamal 10           
     3) 3145 Hinton, Artez 12           4) 3141 James, Tyrone 11          
  4 Dana Hills High School  'A'                         1:32.74  
     1) 437 Barnett, Nathan 12          2) 448 Schwartz, Grant 11         
     3) 432 Staph, Evan 12              4) 445 Nokoff, Alex 12            
  5 De La Salle  'A'                                    1:33.87  
  6 Warren High School  'A'                             1:34.57  
     1) 685 Enenmoh, Henry 12           2) 676 Watkins, Ben 10            
     3) 678 Reyes, Justin 11            4) 674 Machado, Josh 12           
  7 Santa Monica High School  'A'                       1:34.87  
 -- Lakewood High School  'A'                               DNF  
     1) 1692 Thomas, Malcolm 10         2) 1700 Fraizier, Eric 12         
     3) 1696 Collins, Jammie 10         4) 1694 Jackson, Ryan 12          
 
Men 4x200 Meter Relay Invitational
================================================================
    School                                               Finals 
================================================================
  1 Long Beach Poly High School  'A'                    1:26.76 - POLY IS NAT'L LEADER 1:25.51  SPLITS - 

GREEN 21.7 - JOSEPH 21.5 - NELLUM 22.1 - THOMPSON 21.3  
     1) 3567 Anderson, Ellis 11         2) 3605 Thompson, Jr., Donn 12    
     3) 3593 Nellum, Bryshon 10         4) Isaiah Green                               
  2 Edison HS Fresno  'A'                               1:29.03 - TURNER 21.2 ANCHOR   
     1) 1032 Turner, Joe 12             2) 1045 Green, Terrance 10        
     3) 1040 Horn, Matthew 12           4) 1038 Anderson, Anthony 12      
  3 James Logan High School  'A'                        1:32.01  
  4 Huber Heights Wayne  'A'                            1:32.03  
     1) 2013 Orton, Greg 12             2) 2010 Traylor, James 12         
     3) 2009 Snyder, Dan 12             4) 2011 Johnson, Byron 12         
  5 Rancho Cucamonga High  'A'                          1:32.25  
  6 Paramount High School  'A'                          1:32.38  
     1) 2877 Bradley, Ramond 12         2) 2867 Castille, Adam 12         
     3) 2873 Marshall, Sonny 11         4) 2861 Woodard, Earl 12          
  7 Serra High (Gardena)  'A'                           1:32.53  
     1) 3718 Patin, Tristan 12          2) 3721 Ellis, Cameron 11         
     3) 3724 Trice, Lawrence 11         4) 3719 Keeling, Marcell 12       
  8 Miller High School  'A'                             1:33.25  
     1) 2022 Curry, Micheal 12          2) 2025 Leggette, Brandon 11      
     3) 2030 Minley, Marcus 10          4) 2018 Brown, Le Ron 12          
 -- Rio Mesa High School  'A'                                DQ   2 to 3 Out of Zone
     1) 1458 Thomas, Kevin 12           2) 1442 Lewis, Malachi 10         
     3) 1441 Hirashima, Stephen 12      4) 1461 Hernandez, George 11      
 
Men 4x800 Meter Relay Invitational
================================================================
    School                                               Finals 
================================================================
  1 Shaker High School  'A'                             7:46.43 - #1 TIME NATION 2005 OUTDOORSSPLITS - 

MYERS 1:57.0 - KIPPINS 1:59.8 - MALOY 1:52.5 - BELOKOPITSKY 1:56.5   
     1) 3037 Myers, Daren 12            2) 3036 Kippins, Mike 11          
     3) 3039 Belokopitsky, Joe 12       4) 3038 Jupin, Jared 12           
  2 Shenendehowa High School  'A'                       7:49.22 - #2 TIME NATION 2005 OUTDOORSPLITS - 

1:56 - 1:55 - 1:59 - 1:59    
     1) 2742 Benson, Andrew 12          2) 2740 Gonyo, Chris 12           
     3) 2737 McManamon, Dan 11          4) 2741 Wysocki, Matt 12          
  3 Dana Hills High School  'A'                         7:52.10 - #3 TIME NATION 2005 OUTDOORSPLITS - 

1:56.3 - 1:59.7 - 1:58.4 - SMITH 1:57.6   
     1) 432 Staph, Evan 12              2) 446 Smith, Scott 12            
     3) 443 Lindahl, Cade 11            4) 439 Grimes, Darron 12          
  4 Madera High School Coyotes  'A'                     7:55.45  
     1) 3744 Richardson, Nathaniel 10   2) 3738 DeVault, Nathan 12        
     3) 3750 Pulido, Tony 12            4) 3736 Moreno, Claudio 12        
  5 Benson Poly  'A'                                    7:56.20  
  6 Marina High School  'A'                             7:59.82  
     1) 3469 Morrill, Jesse 11          2) 3466 Arcos, Celso 09           
     3) 3474 Peck, Robert 11            4) 3457 Guadagnini, Tony 12       
  7 North Monterey County  'A'                          8:02.11  
     1) 2859 Alfaro, Ivan 11            2) 2858 Palmtag, Mike 11          
     3) 2857 Parker, Keli 12            4) 2860 Huerta, Nathan 12         
  8 Jesuit High School  'A'                             8:02.49  
     1) 198 Kelly-Strong, Jake 11       2) 197 Hodgson, J 10              
     3) 195 Benouar, Samir 11           4) 199 Laville, James 11          
  9 Acalanes HS  'A'                                    8:05.33  
     1) 1837 Love, Alex 12              2) 1845 Lawson, Ryon 11           
     3) 1832 Thomas, Joey 10            4) 1838 Neill, Bill 12            
 10 Benicia High School  'A'                            8:06.18  
     1) 3195 Ramirez, Francisco 12      2) 3202 Vercelli, Alex 11         
     3) 3208 Jones, Richard 11          4) 3206 Wolken, Geoffrey 10       
 11 Don Lugo High School  'A'                           8:08.77  
     1) 3391 Roser, Brian 12            2) 3386 Vaca, David 11            
     3) 3389 Medel, Victor 09           4) 3392 Mercado, Cesar 11         
 12 Fairfield High School  'A'                          8:10.94  
     1) 3666 Fernandez, Darrell 10      2) 3674 Frazier, Nolan 11         
     3) 3667 Lucas, Myco 10             4) 3661 Sanders, Joe 12           
 13 La Sierra High  'A'                                 8:15.71  
     1) 2381 Knight, Dylan 10           2) 2378 Knight, Spencer 10        
     3) 2380 Sidoti, Adam 12            4) 2382 Wyman, Sean 12            
 14 Oakmont High School  'A'                            8:21.21  
     1) 3634 Jeffrey, Clary 11          2) 3638 Gliko, Mike 10            
     3) 3630 Arreygue, Erik 12          4) 3632 Infausto, Garrett 11      
 15 Los Gatos High School  'A'                          8:21.81  
     1) 964 Bardes, Sean 12             2) 956 Gaspar, Don 11             
     3) 967 Downey, Ryan 10             4) 942 Dominguz, Marty 12         
 16 Douglas High School  'A'                            8:28.25  
     1) 1288 Arvayo, Trevor 10          2) 1289 Jimenez, Arturo 12        
     3) 1287 Ortega, Luis 12            4) 1285 Cormier, Kenneth 12       
 17 Santa Margarita (Boys)  'A'                         8:28.37  
     1) 3956 Hirschboeck, Mark 10       2) 3961 Castillo, Jon 12          
     3) 3966 Brand, Mike 12             4) 3963 Schmit, Colin 12          
 18 Placer High School  'A'                             8:30.01  
     1) 2244 Johnisee, Adam 11          2) 2226 Gazarian, Daniel 12       
     3) 2228 Dilts, Aaron 12            4) 2222 Parnow, Ken 12            
 
Men 4x800 Meter Relay Seeded
================================================================
    School                                               Finals 
================================================================
  1 Paramount High School  'A'                          8:11.28  
     1) 2871 Valencia, Mark 12          2) 2864 Swanson, Marqueze 11      
     3) 2890 Garcia, Allan 11           4) 2888 Cruz, Jorge 12            
  2 Fountain Valley High School  'A'                    8:13.86  
     1) 1143 Drum, Alex 12              2) 1140 Urias, Vince 11           
     3) 1148 williams, jeremy 11        4) 1142 Ord, Chris 11             
  3 Lakewood High School  'A'                           8:15.93  
     1) 1701 Espinoza, Alberto 12       2) 1704 Ramirez, Alex 12          
     3) 1699 Burtzloff, Kyle 10         4) 1697 Dillard, John 11          
  4 University of San Diego H.S.  'A'                   8:17.36  
     1) 4068 Ryan, Brandon 12           2) 4066 Juarez, Patrick 12        
     3) 4065 Lockhart, Dominic 11       4) 4062 Kitrick, Francis 12       
  5 Rialto High School  'A'                             8:20.48  
     1) 535 Cuevas, Daniel 12           2) 517 Rogers, Buddy 12           
     3) 521 Maier, John 12              4) 532 Clark, Michael 11          
  6 Mater Dei  'A'                                      8:21.49  
     1) 318 Kovacich, Joseph 11         2) 319 Goethals, Patrick 12       
     3) 330 Gallardo, Luis 09           4) 315 Beld, Sean 11              
  7 Warren High School  'A'                             8:22.62  
     1) 671 Martinez, Francisco 12      2) 668 Guido, Gary 11             
     3) 682 Estrada, AJ 10              4) 681 Parrish, Brandon 11        
  8 Vista Murrieta  'A'                                 8:22.81  
     1) 1778 Matson, John 10            2) 1780 Gonzales, James 10        
     3) 1785 Cook, Tony 10              4) 1770 Barnes, Anthony 11        
  9 Rancho Verde High School  'A'                       8:25.70  
     1) 3992 Lopez, Jose 11             2) 4011 Flores, Carlos 10         
     3) 3975 Canedo, Saul 12            4) 4000 Stroup, Gary 11           
 10 Cheyenne High School  'A'                           8:28.62  
     1) 2826 Proby, Deshawn 10          2) 2828 Fanter, David 11          
     3) 2831 LeDuff, Cody 12            4) 2814 Robinson, Daron 11        
 11 Orange Lutheran High School  'A'                    8:28.96  
     1) 2057 Ross, Kyle 11              2) 2060 Dietz, Kennen 12          
     3) 2054 Schmidt, Jordan 10         4) 2059 Ricca, Erik 11            
 12 Arcadia HS  'A'                                     8:29.11  
     1) 211 Bacic, TJ 11                2) 225 Herrera, Ryan 10           
     3) 245 Garcia, Wesley 12           4) 224 Markowski, Kamil 12        
 13 Alameda high school  'A'                            8:31.84  
     1) 2910 Mahon, Ben 12              2) 2903 Rogerson, Arran 11        
     3) 2905 Castro, Miguel 10          4) 2914 O'Toole, Tony 12          
 14 San Rafael High School  'A'                         8:32.99  
     1) 4049 Leiva, Caesar 10           2) 4048 Rivas, Pablo 12           
     3) 4052 Hoye, Brandon 12           4) 4047 Ghosh, Moyukh 10          
 15 Glendale High School  'A'                           8:33.05  
     1) 2938 Avanesi, Sevak 10          2) 2942 Edmonson, Joshua 12       
     3) 2955 Masangkay, Roy 12          4) 2949 McNeal, Justin 12         
 16 Half Moon Bay High School  'A'                      8:33.21  
     1) 1753 Grech, Daniel 12           2) 1755 Rotchstein, Jacob 11      
     3) 1757 Gunther, David 11          4) 1758 Racine, Jack 11           
 17 Oaks Christian High School  'A'                     8:36.13  
     1) 1608 Block, Kyle 11             2) 1617 Meissner, Eric 12         
     3) 1602 Renner, Nolan 10           4) 1616 Roesler, Stephen 12       
 18 McFarland High School  'A'                          8:36.91  
     1) 1361 Banuelos, Luis 10          2) 1360 Medina, Jose 09           
     3) 1365 Perezchica, Martin 11      4) 1366 Ruiz, Octavio 11          
 19 Yerba Buena High School  'A'                        8:43.63  
     1) 2934 Gutierrez, Juan 11         2) 2935 Bajwa, Ranjodh 12         
     3) 2936 Cortez, Francisco 12       4) 2933 Rivera, Uriel 12          
 20 Etiwanda high school  'A'                           8:54.36  
     1) 4157 Kolarick, Brett 6          2) 4158 Roche, James 12           
     3) 4181 Castillo, Steven 12        4) 4152 Henderson, Chris 12       
 
Men 1600 Sprint Medley Invitational
================================================================
    School                                               Finals 
================================================================
  1 Fremont High School  'A'                            3:31.53 - FREMONT IS #4 NATION 2005BRADFORD 

1:54.6  
  2 Lodi High School  'A'                               3:34.50  
     1) 3732 Mettler, Justyn 11         2) 3728 Merrill, Jeff 11          
     3) 3727 Goldberg, Alex 11          4) 3730 Hall, Justin 11           
  3 James Logan High School  'A'                        3:38.03  
     1) 710 Hassell, Michael 12         2) 747 Powell, Quentin 10         
     3) 741 Wethington, Keagan 10       4) 737 Parker, Taven 11           
  4 Acalanes HS  'A'                                    3:40.20  
     1) 1838 Neill, Bill 12             2) 1832 Thomas, Joey 10           
     3) 1844 Lennon, Mark 11            4) 1837 Love, Alex 12             
  5 Cimarron-Memorial High School  'A'                  3:40.54  
     1) 3016 Ibarguen, Efren 11         2) 3023 Davis, Corey 12           
     3) 3021 Moline, Shane 12           4) 3017 Wilmore, Ernest 11        
  6 Archbishop Mitty High School  'A'                   3:43.59  
     1) 1929 Duterte, Andrew 11         2) 1910 Brockmeier, Trevor 12     
     3) 1926 Gancayco, Nick 12          4) 1917 Ciesinski, Joe 12         
  7 Don Lugo High School  'A'                           3:45.85  
     1) 3391 Roser, Brian 12            2) 3382 Hernandez, Alfred 12      
     3) 3386 Vaca, David 11             4) 3388 Berry, James 10           
  8 Oak Park High School  'A'                           3:49.00  
     1) 755 Lamm, Robbie 10             2) 4322 Potter, Kevin             
     3) 775 Schneider, Brandon 11       4) 771 Derricks, Gabe 11          
  9 Shenendehowa High School  'A'                       3:50.67  
     1) 2743 Serfilippi, Dan 12         2) 2741 Wysocki, Matt 12          
     3) 2735 Vale, Josh 10              4) 2731 Metzger, Justin 12        
 
Men 1600 Sprint Medley Rated
================================================================
    School                                               Finals 
================================================================
  1 Crenshaw High School  'A'                           3:38.55  
     1) 1469 Arnold, Daviaun 10         2) 1463 Hagan, Darian 11          
     3) 1480 Clarke, Christopher 11     4) 1481 Blair, Darrick 12         
  2 Serrano  'A'                                        3:41.47  
     1) 3400 Johnson, Bryce 12          2) 3420 Turner, Thomas 10         
     3) 3410 Hickman, Travon 12         4) 3412 Richter, Tom 11           
  2 Warren High School  'A'                             3:41.47  
     1) 681 Parrish, Brandon 11         2) 679 Morgan, Adam 11            
     3) 674 Machado, Josh 12            4) 678 Reyes, Justin 11           
  4 Glendale High School  'A'                           3:43.73  
     1) 2938 Avanesi, Sevak 10          2) 2953 Dejesus, Neil 10          
     3) 2951 Nalbandyan, Hovik 12       4) 2947 Markosyan, Sevada 11      
  5 Crescenta Valley High School  'A'                   3:52.90  
     1) 1792 Balderama, Gabe 12         2) 1805 Ballard, Joey 12          
     3) 1794 Davis, Chad 12             4) 1797 Matejka, Kurtis 10        
 
Men 1600 Sprint Medley Open
================================================================
    School                                               Finals 
================================================================
  1 Rancho Cucamonga High  'A'                          3:37.39 - ARTEZE SPICER 2:00.0  
  2 Harvard-Westlake High School  'A'                   3:40.55 - BELL 1:56.2   
  3 Glendora High School  'A'                           3:40.82  
  4 Chino high school  'A'                              3:42.20  
  5 Santa Monica High School  'A'                       3:51.46  
 
Men 1600 Sprint Medley Seeded
================================================================
    School                                               Finals 
================================================================
  1 Etiwanda high school  'A'                           3:35.01  - FIELDS 21.9 LEAD-OFF 
     1) 4155 Fields, Brandon 11         2) 4160 McDermott, Adam 12        
     3) 4158 Roche, James 12            4) 4180 Fontenot, Allyn 11        
  2 Lakewood High School  'A'                           3:39.91  
     1) 1692 Thomas, Malcolm 10         2) 1700 Fraizier, Eric 12         
     3) 1709 Anderson, Johnathan 11     4) 1696 Collins, Jammie 10        
  3 Arcadia HS  'A'                                     3:40.06  
     1) 210 Cole, KC 11                 2) 212 Bailey, Audarrius 11       
     3) 245 Garcia, Wesley 12           4) 225 Herrera, Ryan 10           
  4 Cheyenne High School  'A'                           3:40.85  
     1) 2823 Coleman, Torrie 12         2) 2829 Holman, Jarell 12         
     3) 2828 Fanter, David 11           4) 2825 Hayes, Donnie 11          
  5 Covina High School  'A'                             3:42.26  
     1) 3145 Hinton, Artez 12           2) 3141 James, Tyrone 11          
     3) 3155 Williams, Arieus 09        4) 3154 Martinez, Fererico 11     
  6 San Benito High School  'A'                         3:44.79  
     1) 278 Thompson, Chuck 12          2) 277 Weltz, Jeff 11             
     3) 280 Tungate, Chad 12            4) 282 Rice, Jesse 12             

  7 James Logan High School  'B'                        3:46.39  
     1) 729 Pierce, Clinton 11          2) 723 Akinsiku, Lanre 12         
     3) 733 Spencer, Marcus 11          4) 748 Yonas, Alex 11             
  8 Paramount High School  'A'                          3:48.61  
     1) 2861 Woodard, Earl 12           2) 2867 Castille, Adam 12         
     3) 2877 Bradley, Ramond 12         4) 2888 Cruz, Jorge 12            
  9 Lynwood High School  'A'                            3:50.61  
     1) 2572 Pina, Fernando 12          2) 2562 Brisco, Kristian 10       
     3) 2599 Harris, Willie 11          4) 2592 Holguin, Jesus 11         
 
Men 4x110 Meter Shuttle Hurdle Invitational
================================================================
    School                                               Finals 
================================================================
  1 Huber Heights Wayne  'A'                            1:00.81 - SPLITS - 14.8 TRAYLOR - 16.0 DIXON - 

15.2 SNYDER - 14.5 MICKENS   
     1) 2002 Mickens, Mike 12           2) 2010 Traylor, James 12         
     3) 2003 Dixon, Keith 10            4) 2009 Snyder, Dan 12            
  2 Redlands High School  'A'                           1:04.01  
     1) 2768 Baham, Leon 12             2) 2800 Counce, Ryan 12           
     3) 2798 Mooney, Cory 12            4) 2786 Cain, Paul 12             
  3 Lynwood High School  'A'                            1:05.24  
     1) 2564 Anderson, Da Vonte 11      2) 2603 Alcorn, Patrick 12        
     3) 2576 Milton, Troy 12            4) 2574 Mitchell, Edmond 11       
  4 San Jacinto High School  'A'                        1:07.32  
     1) 2500 Nelson, Jacob 12           2) 2502 Crispin, Johan 12         
     3) 2501 Shaw, Ken 10               4) 2494 Abushawish, Joe 10        
 
Men 4x110 Meter Shuttle Hurdle Seeded
================================================================
    School                                               Finals 
================================================================
  1 Loyola High School  'A'                             1:01.88JORDAN PAUL 14.4 ANCHOR   
  2 Davis High School  'A'                              1:02.68  
     1) 2264 Willoughby, Jake 12        2) 2257 Hughes, Tim 12            
     3) 2262 Peirce, Stephen 11         4) 2272 Heder, Caleb 12           
  3 Westmoor HS  'A'                                    1:03.59  
     1) 2621 Solomon, Emmanuel 12       2) 2620 Chen, Daniel 11           
     3) 2622 Phillips, Chad 11          4) 2623 Gacula, Carlos 10         
  4 La Quinta High School  'A'                          1:07.18  
     1) 1714 Nunez, Arnold 10           2) 1711 Woods, Ryan 10            
     3) 1722 Perez, Kevin 11            4) 1715 Marquis, Brandon 10       
 
Men High Jump
==========================================================================
    Name                    Year School                  Finals           
==========================================================================
Flight  1  
  1  4230 Nishiyama, Kurtis      Louis St Laurent      J6-00.00      1.82m 
  1  1916 DeJong, Menso       10 Mitty HS               6-00.00      1.82m 
  3  3916 Hankins, Dee        12 Walnut High Scho      J5-10.00      1.77m 
  3  3063 Kenyon, Geoff       12 Dos Pueblos HS        J5-10.00      1.77m 
  3  2726 Baboo, Arash        12 Huntington Beach       5-10.00      1.77m 
  3   179 Robotham, MJ        11 Valencia HS           J5-10.00      1.77m 
 
Men Pole Vault
==========================================================================
    Name                    Year School                  Finals           
==========================================================================
  1    82 Roy, Aaron          11 Edison HS             14-00.00      4.26m 
  2  1619 Giles, Parker       11 Mira Costa HS         13-06.00      4.11m 
  2  2225 Ramm, Evan          12 Placer HS            J13-06.00      4.11m 
  4   811 Glassanos, David    11 St. Francis Moun     J13-00.00      3.96m 
  4  3269 Fulton, Bob         12 Servite High Sch     J13-00.00      3.96m 
  4  1304 Jones, Kevin        11 University City       13-00.00      3.96m 
  7  1110 Saura, Alan         11 Miramonte HS         J12-06.00      3.81m 
  7  3865 Chan, Kurtis        12 Temple City HS       J12-06.00      3.81m 
  7  1192 Oh, Kevin           11 West Torrance HS      12-06.00      3.81m 
  7   353 Reiter, Francis     10 Chino Hills HS        12-06.00      3.81m 
 --  3863 Liu, Brian          12 Temple City HS              NH            
 --  1507 Johnston, Mark      12 King High                   NH            
 --   726 Orozco, Anthony     11 Logan HS                    NH            
 --   235 Beck, Nathan        12 Arcadia HS                  NH            
 --  2735 Vale, Josh          10 Shenendehowa                NH            
 
Men Long Jump
===============================================================================
    Name                    Year School                  Finals  Wind          
===============================================================================
  1  3141 James, Tyrone       11 Covina High Scho      21-04.50   2.7     6.51m 
  2   847 Bonapart, Curtis    12 Riverside Poly        21-03.50   0.5     6.48m 
  3   599 VanDeudekom, Austi  12 Brea Olinda HS        20-08.50   1.3     6.31m 
  4   226 Robison, Kris       10 Arcadia HS            20-07.00   2.5     6.27m 
  5  1421 Swenson, Jordan     12 Inglemoor (Wa)        20-06.50   3.7     6.26m 
  6  3807 Clemons, Robert     12 Diamond Ranch HS      20-02.25   1.7     6.15m 
  7  3289 Wood, Jordan        10 Eisenhower (Wa)       20-01.00   0.2     6.12m 
  8  2374 Stanley, Chris      10 Loyola HS             19-08.75   1.7     6.01m 
 
Men Triple Jump
===============================================================================
    Name                    Year School                  Finals  Wind          
===============================================================================
  1  2706 Davis, Teryon       12 Milpitas High Sc      49-00.00   1.2    14.93m 
  2  4086 Sarpong, Joe        12 Colony High Scho      45-00.50   2.0    13.72m 
  3   247 Nelson, Jake        12 Yuba City HS          44-07.50   2.0    13.60m 
  4  3754 Grier, Lamar        12 Madera HS             44-04.00   3.8    13.51m 
  5  4033 Hansen, Kyle        12 Chaparral High S      43-00.00   3.2    13.10m 
  6  1338 Lashley, Kevin      11 North Hollywood       42-11.00   1.2    13.08m 
  7  1569 Jones, Jesse        12 Murrieta Valley       42-04.00   2.6    12.90m 
  7  2569 Weary, Antonio      12 Lynwood HS            42-04.00   3.0    12.90m 
  9  2869 Newsome, Vince      11 Paramount High S      41-08.00   1.9    12.70m 
 10    23 Scibetta, Travis    11 Cupertino High S      41-02.00   3.2    12.54m 
 11   708 Papac, Michael      11 Tehachapi High S      40-10.00   2.7    12.44m 
 12  2875 Ross, Clifford      11 Paramount High S      39-11.00   2.5    12.16m 
 13  1515 Bias, Rashad        11 King High             39-01.00   2.1    11.91m 
 
Men Shot Put
==========================================================================
    Name                    Year School                  Finals           
==========================================================================
  1   310 Pollock, Kyle       11 Arroyo Grande HS      54-05.00     16.58m 
  2   307 Fibich, Justin      11 Arroyo Grande HS      53-01.00     16.17m 
  3    20 Stevens, Tevita     12 Hemet High Schoo      53-00.00     16.15m 
  4  3042 Bianculli, Greg     12 Riordan High Sch      52-07.00     16.02m 
  5    17 Santos, Tim         12 California High       50-06.00     15.39m 
  6   746 Chambers, DeSean    12 Logan HS              49-07.00     15.11m 
  7   311 Uzueta, Blas        11 Arroyo Grande HS      49-06.00     15.08m 
  8   463 Williams, Evan      12 Bishop O'Dowd HS      49-03.50     15.02m 
  9  3196 Fong, Ryan          12 Benicia High Sch      49-03.00     15.01m 
 10  2499 Carlson, Zac        12 san jacinto high      49-00.00     14.93m 
 10  3008 Lara, Manny         12 Trabuco Hills Mu      49-00.00     14.93m 
 10   302 Weinreich, Jon      12 Arroyo Grande HS      49-00.00     14.93m 
 13  1941 Farrow, Devin       11 Valley Christian      48-11.50     14.92m 
 14   825 Wernick, David      11 St. Francis Moun      48-05.00     14.75m 
 15  3006 Grant, Justin       12 Trabuco Hills Mu      47-09.50     14.56m 
 16  1053 Hall, Davlin        12 West Valley High      47-03.00     14.40m 
 17  2362 Walter, Tim         12 Loyola HS             45-10.75     13.98m 
 18  2268 Hall, Spencer       11 Davis (Ut)            45-09.00     13.94m 
 19  1928 Gordon, Drew        09 Mitty HS              45-08.50     13.93m 
 20   759 McMahon, Phil       12 Oak Park High Sc      43-09.00     13.33m 
 --   314 Motter, Eric        11 Arroyo Grande HS          FOUL            
 
Men Discus Throw
==========================================================================
    Name                    Year School                  Finals           
==========================================================================
  1  4020 Williams, Kevin     10 Newport Harbor          48.65m     159-07 
  2   642 Lachman, Jeff       12 Harvard-Westlake        48.23m     158-03 
  3  2850 Gonzalez III, Raul  10 Alta Loma High S        47.82m     156-11 
  4  2836 Britton, Eben       12 Burroughs Burban        47.48m     155-09 
  5  1874 Vallejo-Howard, Gu  12 San Marcos High         47.06m     154-05 
  6  1928 Gordon, Drew        09 Mitty HS                46.88m     153-10 
  7  2469 Bustos, Eric        12 El Modena HS            46.54m     152-08 
  8  3196 Fong, Ryan          12 Benicia High Sch        46.02m     151-00 
  9  2893 Eteaki, Paul        11 Paramount High S        44.30m     145-04 
 10  3014 Mooney, Trevor      11 Trabuco Hills Mu        43.54m     142-10 
 11  2058 Mercurio, John      12 Orange Lutheran         43.10m     141-05 
 12    20 Stevens, Tevita     12 Hemet High Schoo        43.04m     141-02 
 13  2069 Targoni, Chris      12 Carpinteria             42.76m     140-03 
 14  2703 Hudspeth, Josh      12 Los Osos High Sc        41.73m     136-11 
 15   463 Williams, Evan      12 Bishop O'Dowd HS        41.14m     135-00 
 16  2845 Correa, Jesus       10 Rosemead High Sc        33.43m     109

Arcadia Invitational index page