DONNA ON THE SIDE - before the meet
by Donna Dye
The Arcadia Scene
From LAX to Arcadia
Los Angeles is a huge metropolitan area. It used to be said that LA was many suburbs in search of a city. With the most developed freeway system in the world, residents move about going through, around, up and over LA. We landed at LAX on a mostly cloudy day. Quite different from what we easterners expected. After all as the song goes, it never rains in southern California. But we know better.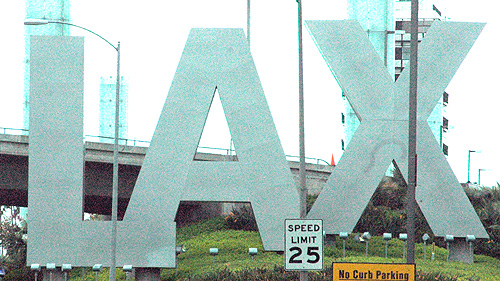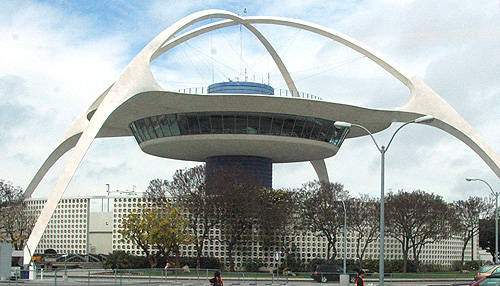 It's a city of freeways!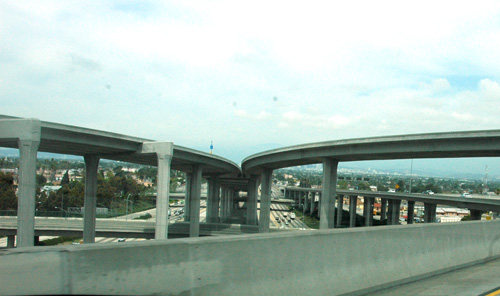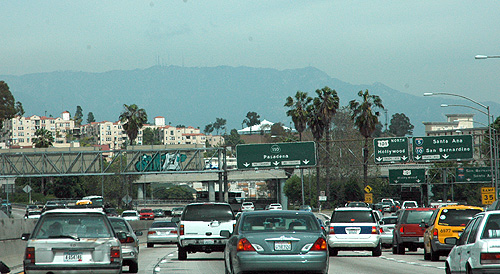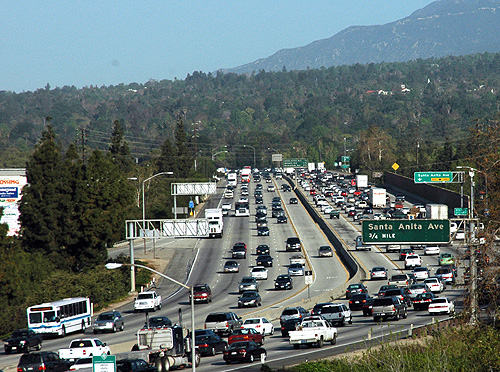 Downtown LA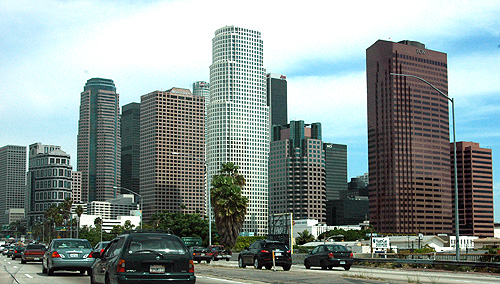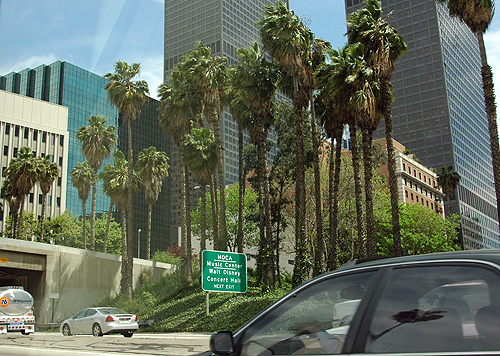 On the way to Arcadia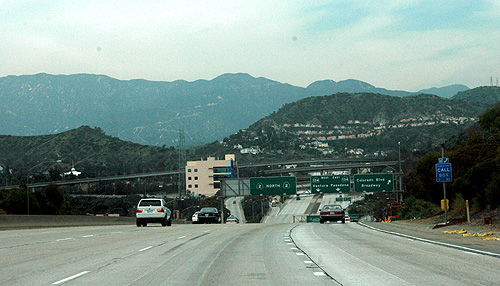 Arcadia--The Meet Home
The City of Arcadia describes itself as, "an upper-middle class community of approximately 53,000 people in an 11.2 square mile area in the San Gabriel Valley. It was incorporated in 1903 and became a Charter City in 1951. Arcadia is known for beautiful neighborhoods, warm character and a community of homes atmosphere. The City places great emphasis on preserving green space and its commitment to the environment is evidenced by the large population of healthy trees you will find around town."
The land of Arcadia has its roots in Native American and Spanish heritages and in Elias J. "Lucky" Baldwin. In 1875, Baldwin bought a large area of land including what is known as Arcadia for $200,000 ($25 an acre). When Lucky Baldwin first saw the land of Arcadia with its beautiful foothill landscape, lush greenery and oak trees, fertile growing land and acres full of potential, Lucky Baldwin was amazed and declared "By Gads!This is paradise." Upon buying the land, Lucky chose to make the area his home and immediately started erecting buildings and cultivating the land for farming, orchards and ranches. It didn't take log before he turned his sights to city hood for the blossoming area he named Arcadia.
With a population of 500 and a booming economy that was somewhat based on entertainment, sporting, hospitality and gambling opportunities, Arcadia became a city in 1903. Since then, Arcadia has grown and matured into a city of which Lucky would have been proud – one of distinction, heritage, success and beauty. Thanks to the Arcadia web site for the historical information.
Arcadia City Hall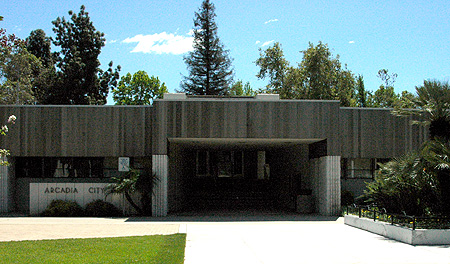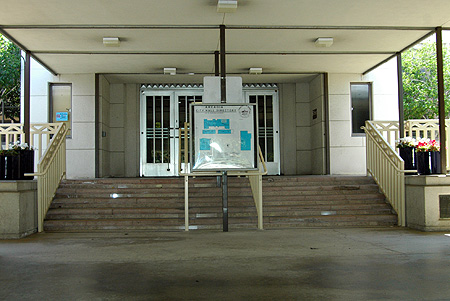 Arcadia Police Department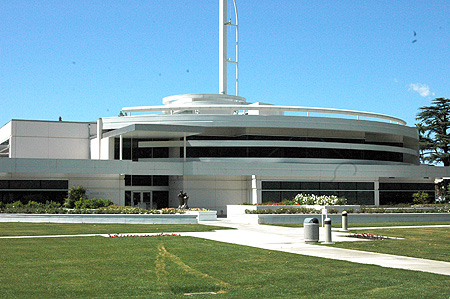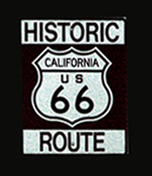 Running through the City of Arcadia is the Historic Route 66. Route 66 was established in the 1930's to connect the main streets of rural and urban communities to a major national highway. Like the song says, it ran from Chicago to LA. While parts of it still exist, many sections have been replaced through the years by interstate freeways, so it is no longer included on maps.
Route 66 has been the subject of many tales, songs and memories. In The Grapes of Wrath, John Steinbeck proclaimed U. S. Highway 66 the "Mother Road." and often called, "The Main Street of America" because it linked a remote and under-populated region with two vital 20th century cities - Chicago and Los Angeles. Visit the National Historic Route 66 Federation web site for more information.
Sitting at the corner of Santa Anita and Huntington streets is one of the most unique Denny's.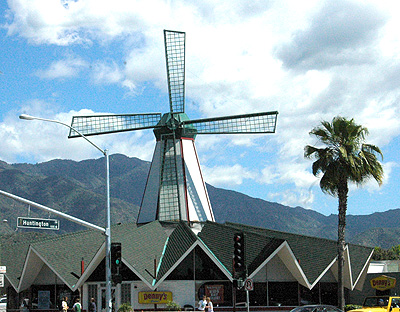 What's To Do In Arcadia?
There's the Santa Anita Race Track--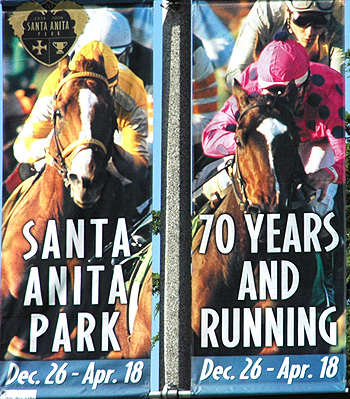 Santa Anita Park is for horse racing. Its slogan is that it is "The Great Race Place." Built by movie mogul Hal Roach, Santa Anita Park was the haunt of early show business tycoons and movie stars. The park has been the site of many movies, including most recently SeaBiscuit, the story of the horse that won the 1940 Santa Anita Handicap.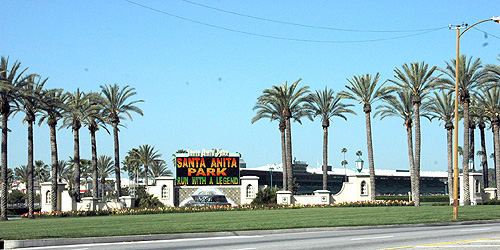 There's the Arboretum of Los Angeles County
The Los Angeles County Arboretum & Botanic Garden is a 127 acre botanical garden and historical site filled with lush gardens. a citrus grove, an avocado orchard, a South American collection, a fig grove, a tropical greenhouse, a rose garden, a garden for all seasons and much more. Visitors can walk about or take the tram through the grounds.
The land was home to Native Americans, Spanish and Mexicans. In 1875, Elias Jackson "Lucky" Baldwin bought Rancho Santa Anita, a ranch on a 2,000 acre artesian belt on top of the Raymond Hill Fault. In 1885 he built "Baldwin's Belvedere," today known as the Queen Anne Cottage. Lucky Baldwin supplied residents of the city of Arcadia with high quality combination of canyon and artesian water. Since 1936, movie and television locations have used Baldwin Lake as a stand-in for swamps, lakes, rivers and even South Pacific lagoons.
Johnny Weissmuller swam in Baldwin Lake for three decades as Tarzan and later Jungle Jim. Bob Hope, Bing Crosby and Dorothy Lamour took up a month-long watery Baldwin Lake residence in homes on stilts for the filming of Road to Singapore in 1939, the same year the Douglas Fairbanks, Jr.,/Madeleine Carroll film Safari managed to sink a paddlewheel boat in the same lake. Television's original "Fantasy Island" lowered a pontoon plane by helicopter onto Baldwin Lake and propelled it across the water to bring visitors to Mr. Roark's island paradise. For Alex Haley's "Roots II", Baldwin Lake became Junta Kinte's river home in Africa.
The Arboretum was created in 1948, when the State of California and County of Los Angeles jointly purchased 111 acres from Rancho Santo Anita Inc to create an arboretum built around the Baldwin home-site. Through the years buildings and gardens were added.
Strapped for time, we could only do part of the Arboretum. Perhaps we can do the remaining areas next year.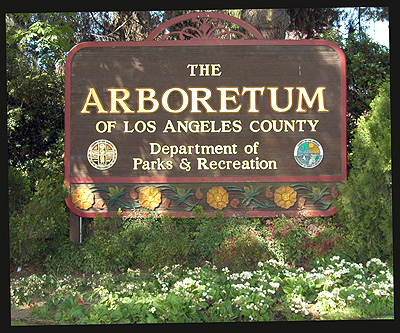 The Arboretum --home to plants, gardens and peacocks alike.
The peacocks walk about at will on the walks and in the gardens. They are noisy and we're told can be very nasty. So visitors are cautioned not to go close or feed them. They don't often spread their wings; we were lucky catching this male.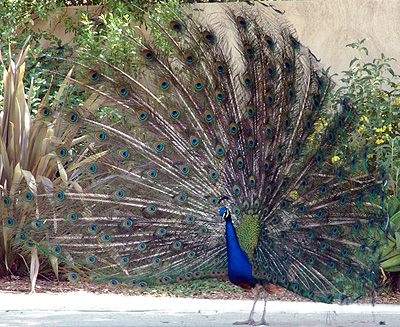 This is their typical position.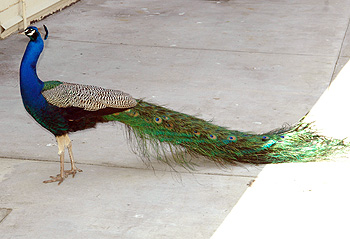 The Pool, Fountain and Gardens
A walk through the gardens

Cactus in a row

Bamboo Forest
The Queen Anne Cottage-
Registered on the National Register of Historic Places
Built in 1881, the Queen Anne Cottage was designed for entertaining only. There was no kitchen. So, food was served from the nearby Adobe where Lucky Baldwin actually lived.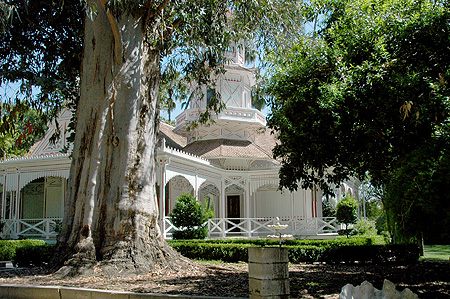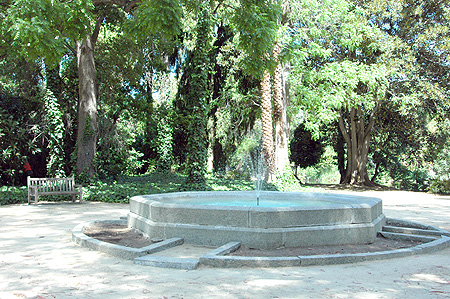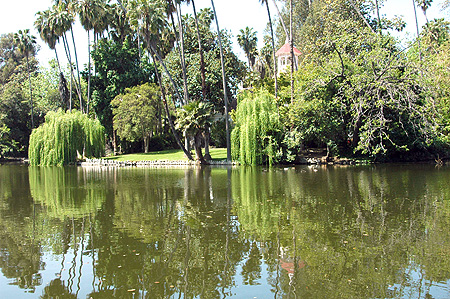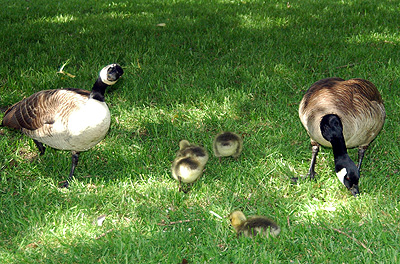 The Rose Garden
The Posies
More Gardens
A Yellow Trumpet Tree, a member of the Trumpet Vine Family from Brazil
The Trumpet Tree Flower up close
Fields of Aloe
The Peacock Pavilion, Coffee Shop and Gift Shop and Entertainment Patio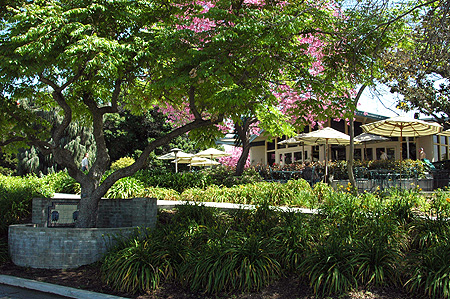 Find the peacock in the tree.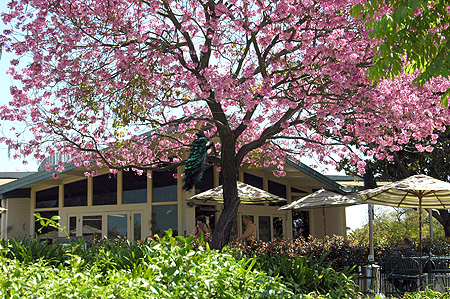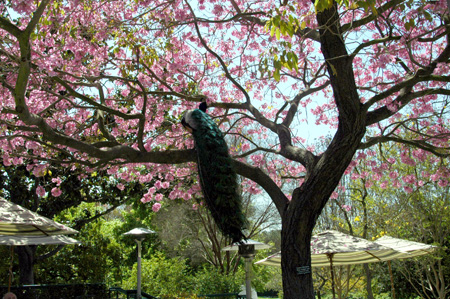 Pink Trumpet Tree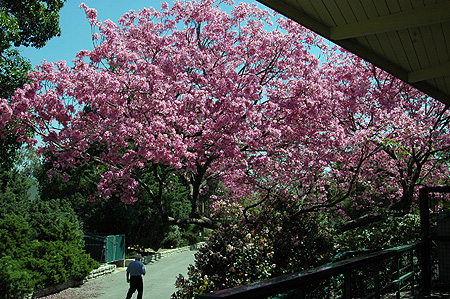 Entertainment Patio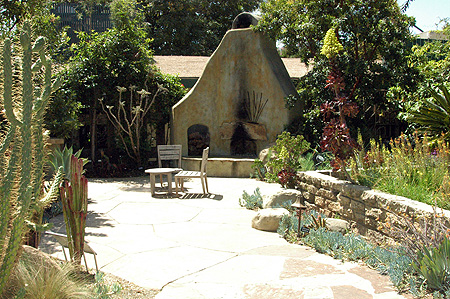 There is the Arcadia Park
The fountain is dedicated to those who gave their lives in service to the US. It was rededicated to include those who lost their lives on 9/11/2001

A shady place for birthday parties

A rose garden

Adult conversation--kid playtime
Monrovia
Meet hotels were located in Monrovia, which is adjacent to Arcadia. From our hotel balcony you see the surrounding San Gabriel Mountains with several peaks over 9,000 feet, the highest being the snow capped Mount San Antonio (also known as Mount Baldy) at 10,064 feet.

Monrovia dates back to 1887 when it was established as an incorporated city. Monrovia has grown from a sparse community of orange ranches to a residential community of approximately 37,000 residents. We started each day at the Monrovia Coffee House in Old Town and had lunch and dinner at a few places with a variety of atmospheres and foods including Rudy's Mexican Food, Bella Serra Trattoria with its sidewalk seating, and Devon, rated in the Zagat Guide as Best Restaurant in Monrovia and one of the 10 Best New Restaurants in L.A.by the L.A. Magazine.
Monrovia Coffee Company

Rudy's Mexican Food

Rudy's Menu
The Los Angeles County area is very scenic and worth spending more time to enjoy the scenes, food and activities.