Northwest represents well
Tyson's Army (Mead),
Hilltop Belles (Bellarmine) lead the way
by Julian Aguirre, NTN Northwest editor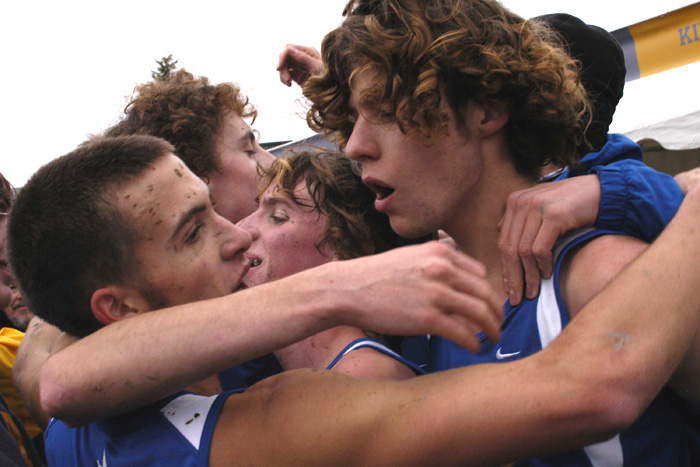 Tyson's Army WA (Mead) celebrates surprise 3rd place finish.
Simply, anything is possible at the Nike Team Nationals. Here, a #5 runner can rejoice the same as an individual national champion or state champion. Here, all 320 attending athletes feel special. Here, every teammate counts.
"There was no team strategy," insisted Tyson's Army #1 runner and Mead HS phenom Sr Lafayette Barnes while recuperating with his teammates in their team tent. "We just wanted to get out, get a place, and move up, that's it."
Simply, Tyson's Army (Mead HS during regular season) had placed second to rival South Side Farm Team (Joel Ferris HS) at the Washington State meet by a distant margin, earning a US#16 final Harrier magazine national ranking to compliment. But no one expected a top-five finish amidst such a talented field where every 10 seconds represented nearly twenty places throughout the bulk of the finishers. But Tyson's Army cracked into the top ten midway through the race and continued to move up, securing a surprise third-place finish with three scoring athletes passing more than a dozen runners each over the final 1000 meters.
In the pre-event inspirational speech given at the Friday evening dinner inside an Embassy Suites ballroom, Nike's very first employee and former successful high school and middle school coach Jeff Johnson, who came up with the concept of naming Nike, addressed the 280 competing athletes and company to the tune of greatness and the concept of 'team'.
"Good teams have four or five fast runners," said Johnson in his fifteen minute address. "Great teams have seven or more." Johnson later touched on focusing and the relation of focused teams on their A-game versus very good teams lacking focus on race-day.
Inspired by Johnson and his own will to help his team to success, Tyson's Army Sr Greg Panas, a former unknown in the northwest high school circuit, truly exemplified what Johnson had emphasized throughout his presentation: seven great runners make great teams, maybe more than seven. Panas had formerly been Mead's #7 runner for most of the season, only partaking in varsity races to give Sr Laef Barnes rest to recover and regain strength from an early season stress fracture; at state he ran #5.
"He's never even broken 4:50 for a mile," said Mead HS Head Coach Pat Tyson. Tyson added that Panas began as Mead's #10-runner in August.
Each of Tyson Army's runners began their race somewhat conservatively, picking off runners over the final 2,000 meters of the challenging, mud-laden course. Washington State 's border rival from Portland OR , the Crusader Harriers, executed a much different race plan, as observed by their early-on front-running tactics, whereby Sr John Maletis led his team's anterior charge over the initial 1,000-meter loop. Maletis' arm gesture in introductions pointing to the sky and then to the ground, signified that this was his teams' hometown. Needless to say, he ignited the crowd and his teammates versus the nation's finest young prep harriers.
Tyson's Army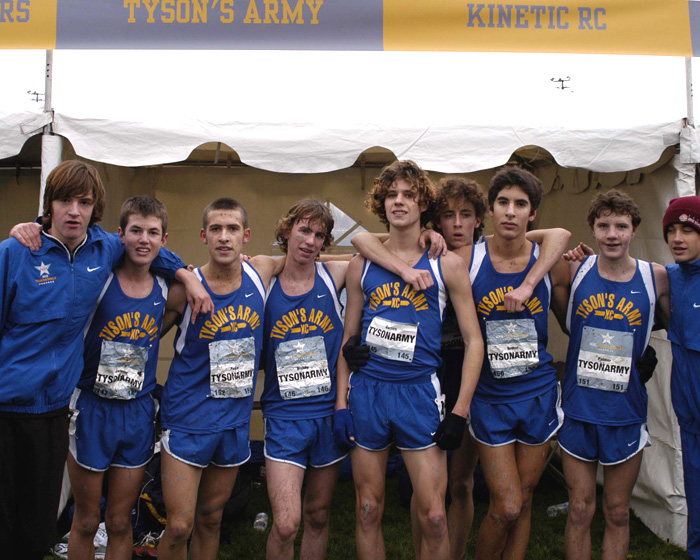 The Crusader Harriers would place sixth, also led by a late charge.
"We didn't feel like it was a disadvantage for us to go out that fast," said Jesuit HS Head Coach Tom Rothenberger, "it was impressive."
Rothenberger added that the most challenging obstacle of all for every competitor was finding their teammates within a 2:00 spread of 120 athletes, which averages out to two athletes per second.
"Once John (Maletis) and Andy (Scott) found each caught up with each other, that was when things really turned around for us," said Rothenberger. "Those two dropped our score by 45 to 50 points alone."
Coach Rothenberger also added how much wider the NTN course is versus their Oregon state meet course, and the amount of tangents present which take off 10-15 yards per loop if maneuvered successfully.
Both the Crusader Harriers and the Yakima Harriers (competed as Eisenhower HS during the regular season) enjoyed great success at the NTN event; Yakima would claim ninth, leading a pack of five teams within 23 points.
"I think the real story of the meet was the Yakima Harriers," said Tyson in complement to Eisenhower HS Head Coach Phil English and his squad. "That was huge for them, and they were even better last year!"
Yakima was led by #1 runner Sr Robbie Baranyi, who signed his ticket to the Foot Locker National Championships by placing third overall, second for the Western 13 states and Sr Charles Cummings, a second-year senior, in 19 th place. Eisenhower HS Head Coach Phil English was very excited for his team's success, especially since they were the second of two at-large teams admitted in the first round of at-large selections; the first team was Tyson's Army (Mead HS).
"This is great for our sport," said English following the closing awards presentation at Nike Headquarters. "We ran well for being a month out (after the state meet)."
With the South Side Farm Team experiencing an off-day in 13 th place, the Northwest region placed three teams in the top nine and four in the top two-thirds. We're looking good for the future up here in the northwest. Mead will return five of their front seven, Jesuit returns four and Ferris returns three.
Nice work NW boys!
Girls
"We deserved a higher ranking, and proved ourselves today (to the rest of the US )," said Bellarmine Prep Head Coach Matt Ellis following the announcement that his Hilltop Belles team had placed fourth. "Now hopefully the northwest will get the respect it deserves."
Throughout the entire season, northwest teams have inched their way up through The Harrier magazine's national polls, ending up in good standing, but in some opinions, not far enough up the ladder. In Bellarmine's case (Hilltop Belles) they were selected as the third-best team in the northwest region, and wound up fourth overall at NTN, which according to Ellis, was nearly a certainty if his girls ran similar to their in-season performances.
"We knew we could do it," said Ellis. "We knew we were capable of making the podium (at NTN)."
Led by Sr Brianna Felnagle, who stormed past 2004 Northeast Foot Locker XC Championships winner and New York State Champion Nicole Blood and 2003 Foot Locker National Champion Kaitlyn Kaltenbach over the final 600m, Bellarmine was off to a great start. Middle-school track sensation Nicole Cochran sprinted past a half dozen of her nearest competitors in the closing meters as well.
Felnagle (left) ran with Katelyn Kaltenbach of Colorado in fifth or sixth most of the race
before moving up strongly to 2nd place wih her customary kick.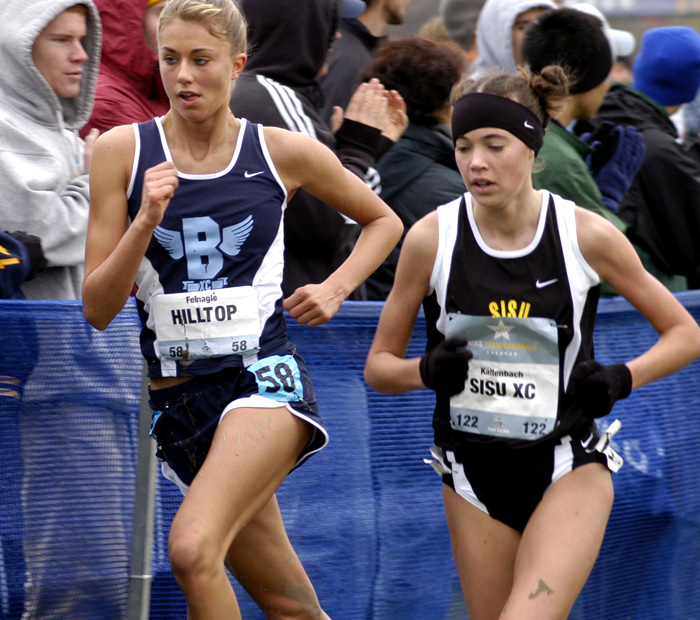 Two in.
Then, Sr Rita Troup equaled her state meet performance, if not improved it in leading teammate Sr Megan Kelly across the line for a 43-45 #3 and #4 girl finish. This left only Jr Sarah Lorch, their #5 runner, out in the pack. Lorch, who had an off day at the state meet due to a recent illness, regained her strength over the past few weeks and closed Bellarmine's spectacular season in placing 97 th to secure their fourth-place position, leading a pack of eleven teams that finished within 64 points of each other.
That's five.
"This was so awesome," said Bellarmine #1 runner and second-place overall Sr Brianna Felnagle, the Washington State 4A Champion this fall.
The undefeated Felnagle, whose efforts this season have resulted in two illustrious course records, including the Sunfair Invitational and the Washington State meet course, was content with a runner-up placing at the NTN, admitting she kicked into her final gear and ran well to her ability.
"I beat Nicole Blood," yelled Felnagle to her teammates as they began filtering through the finish chute. "Yes, awesome," were both popular congratulatory words from her teammates as she reconstructed herself following a swarm of hugs from friends, family, teammates and Coach Ellis.
For Bellarmine the competition was exactly what they expected and trained for the entire season; they expected to compete at the NTN from day one of practice this past August, according to Ellis and his team.
left, Nicole Cochran finishes for Bellarmine.

Rita Troup shows her muddy shoes after the race.


Hilltop Belles
Portland 's Crusader Harriers girls (Jesuit) enjoyed their first NTN experience and competed well for a very inexperienced championship team.
Jesuit at Friday run through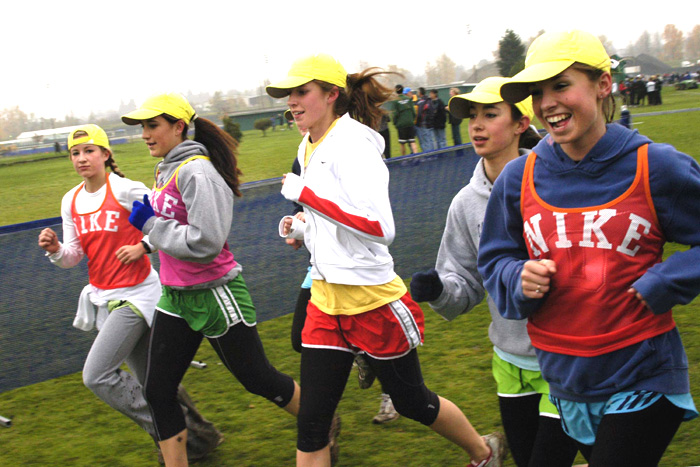 According to Coach Tom Rothenberger, Sr Patricia Loughlin and So Katie Sullivan were the only two of seven girls who had competed on the Jesuit varsity, or on a state championship team prior to this season.
"That was probably the difference between our boys' squad and girls' squads performances," said Rothenberger, "experience." "If I would have told my girls back in August that they would be here, they would have laughed at me," said Coach Rothenberger.
"I've never run cross country like this," said So Katie Sullivan, one of Oregon 's future hopefuls who placed second for her Crusader team in 54 th place. "It was so challenging."
So challenging that two of Jesuit's varsity girls, Sr Katie Humm and Jr Bailey Schutte, had to be carried through the entire finish chute, visibly melted from one tough race. "I gave it my all," said Humm.
Prior to her race, Schutte had a unique goal: "My goal is to be 'covered' by the end of the race," said Schutte in reference to the muddiness."
For the majority of the Crusader girls the experience alone was enough to fuel their bodies. "Running against so many fast girls just gives you so much more adrenaline," said So Anna Imperati, fourth for her team in 95 th . "It felt like the best race I've ever run."
For an inexperienced team, the Crusader Harriers showed up ready to rock, boasting bright rainbow headbands to easily find each other in a crowd. But it wasn't enough, so they will try again next year.
If 16 th in the nation is an off day, what does an awesome day look like?
Jesuit after the race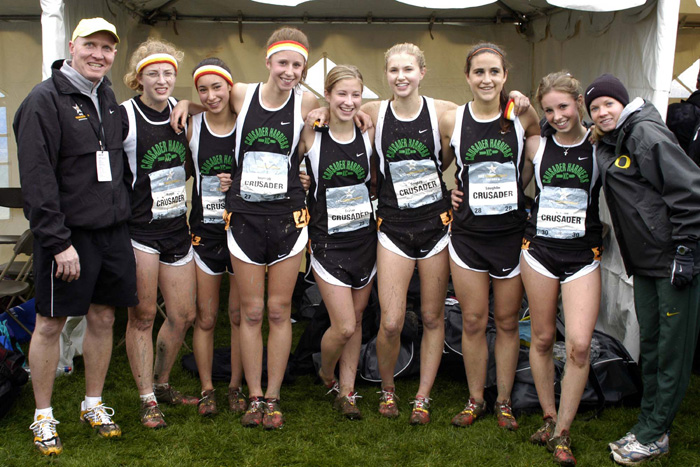 We'll see you all next September! Nice job ladies!
JA
Northwest performances
Boys
#3 Tyson's Army (competed as Mead HS, Spokane WA during regular season)
6-21-33-36-50-74-115, 146 points
Sr Lafayette Barnes 16:13 #6
Jr Steven Gimpel 16:34 .7 #21
Sr Greg Panas 16:47.3 #33
So Taylor Nepon 16:48.0 #36
Jr Brian Palmer 16:56.5 #50
So Kelvin Daratha 17:10.5 #74
So Ryan Bishop 17:45.4 #115
Top five team average: 16:39
#6 Crusader Harriers (competed as Jesuit HS, Portland OR during regular season)
7-27-28-67-87-113-132, 216 points
Sr Michael Maag 16:15 #7
Sr John Maletis 16:41 #27
Sr Andrew Scott 16:42 #28
Jr Ted Quinn 17:06.2 #67
Jr Mathew Smith 17:24 #87
Fr Brian Manning 17:44.3 #113
Jr Robert Maletis 18:16.5 #132
Top five team average: 16:49
#9 Yakima Harriers (competed as Eisenhower HS, Yakima WA during regular season)
3-19-76-79-99-122-134, 276 points
Sr Robbie Baranyi 16:02 #3
Sr Charles Cummings 16:34 #19
Sr Victor Palma 17:11 #76
Sr Victor Dominguez 17:13 #79
Jr Stephen Englund 17:36.1 #99
Sr Matt Guilland 17:56.5 #122
Sr Miguel Macedonio 18:33.4 #134
Top five team average: 16:55
#13 South Side Farm Team (competed as Joel Ferris HS, Spokane WA during regular season)
11-46-73-78-89-98-124, 297 points
Sr Benjamin Poffenroth 16:24 #11
Jr Robert Cosby 16:53 #46
Sr Peter Hawkins 17:09.9 #73
Sr Brendan Chestnut 17:12.6 #78
So David Hickerson 17:26.3 #89
Sr Greg Kleweno 17:35 #98
So Steve Olsen 18:00 #124
Top five team average: 17:01
Girls
#4 Hilltop Belles (competed as Bellarmine Prep HS, Tacoma WA during regular season)
2-24-43-45-97-127-130, 211 points
Sr Brianna Felnagle 18:15 #2
Fr Nicole Cochran 19:40 #24
Sr Rita Troup 20:06.4 #43
Sr Megan Kelly 20:09 #45
Jr Sarah Lorch 20:59.8 #97
Jr Emily Mosich 21:42 #127
Alissa Vaughn 21:50 #130
Top five team average: 19:50
#16 Crusader Harriers (competed as Jesuit HS, Portland OR during regular season)
27-54-70-95-105-121-132, 351 points
Sr Patricia Loughlin 19:42.4 #27
So Katie Sullivan 20:18 #54
Jr Samantha Sondag 20:33
So Anna Imperati 20:59.1 #95
Sr Kathryn Humm 21:07.9 #105
Jr Bailey Schutte 21:38.0 #121
Sr Shannon Fraser 21:55 #132
Top five team average: 20:32