Noblesville IN 11/10/04 -- Although I ran in my first cross country meet in 1977 in California and started coaching in Indiana in 1993, it wasn't until this year's Illinois state meet that I finally went to watch America's most successful high school coach, Joe Newton, in action with his Dukes of York.
Judging by clues in his book, "Coaching Cross Country Successfully", Coach Newton is in his mid-70s now. In that book he wrote that his goal was to coach until the year 2000 -- I'm very glad that he has gone overtime and given me a chance to see him. More importantly, York's runners, parents, and alumni are glad too. Hundreds upon hundreds of them were at Detweiller Park in Peoria on November 6th to watch the team go for its 24th state championship under Newton.
This is Coach Newton's 45th season as York's head coach. Besides the state titles, Coach Newton's teams have placed second at the state meet ten times. With York ranked first or second nationally for many weeks now, and with Sean McNamara breaking course records which have stood since Don Sage and even Jim Spivey, it was time for me to experience Yorkmania.
What a day to watch a cross country meet -- sunny, pleasantly warm, light breeze. Detweiller's 3-mile course is a three-looper contained within a rectangle of grass which measures roughly a half-mile by a quarter-mile, so it's great for spectators. The starting line and finish line are down toward one end of the rectangle. Each loop is a different length, with the second one being the longest, but basically the athletes just keep moving around the area counterclockwise. The terrain is close to being flat; there's nothing that can be called a hill (there are a few subtle, long inclines and declines).
Coach Newton in the middle
After the girls' larger-schools race I joined the green-and-white throng in the York encampment. There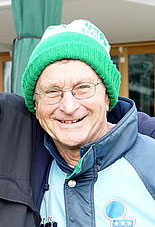 was Coach Newton in the middle, sitting atop the team's particular park bench which he wrote about in his book. From a distance I pointed him out to my young daughter and son (both beginning runners), and then I watched Coach Newton as he signed an occasional autograph and greeted friends who stopped by the bench to say hi.
After a while I circled around behind the bench and then in front to stand along the rope and watch for the team to maybe pass by during their warmup. Coach Newton saw them before I did -- suddenly behind me he shouted, "HEY HEY! GO YORK!" I turned around in surprise, then turned back to see the varsity seven and alternates striding by. The crowd cheered. It sort of reminded me of a formation of jets in an airshow flyby.
Coach Newton left the bench a few minutes later to meet the team out in the middle of the course area. Much of the encampment went with him, and I followed. Coach Newton went into take-charge mode: "Who are we missing? Okay, jumping jacks, let's get 'em going." It was easy to imagine him saying the same thing, in the same way, in the same spot, three decades ago.
During the remainder of their stretching and exercise routine he kept focusing the team every few seconds with short phrases, like "One and a half miles -- feel the pain" (he took their minds to several different points in the race). Another was, "Don't think, just run" -- that one he addressed to several of his athletes individually after addressing each by name. Then, "110s, captains get 'em going."
An official announced that it was time for those not competing to leave the area, so I headed back to a good position along the rope. When Coach Newton returned toward the bench he ducked under the rope beside me. As I stood along the rope in the minutes before the start, I thought of emerging champions who'd raced at Detweiller in the past: Matt Withrow, Sage, Jorge Torres, Tim Broe. How time flies -- a decade ago I accompanied my first Foot Locker Midwest Regional athlete to Kenosha, and the winners that day were future Athens Olympians Tim Broe and Carrie Tollefson.
Thirty-one other teams lined up against York, along with 42 individuals. I remained in the same spot for approximately the first kilometer of the race and so watched the field pass by in the opening 200 meters and then again at about 1K. York's bright green uniforms were easy to spot, and McNamara was a few strides behind the leaders in the vicinity of 1K.
As the lead pack passed in front of the long line of frenzied fans, a human wave was launched across the grass and toward the other side of the rectangle. I too sprinted toward a position near the one-mile post. The leader went through in about 4:48 with McNamara on his right shoulder and others packed with them.
From there I ran back across the grass to the area of the two-mile post. A press truck preceded the leaders, and the voice of an announcer in the truck was sent wirelessly to speakers set up in various places along the course. The announcer informed us that McNamara was pulling away in the second mile, and that York's twins, Eric and Matt Dettman, were together in second and third.
The announcer also revealed that Craig Virgin was riding in the press truck. I actually "raced" Craig once -- it was at the Bay To Breakers race in San Francisco in the days when he was a two-time world cross country champion and I was in junior high. Craig still holds the Detweiller record of 13:50, set 32 years ago, a few months before he broke Steve Prefontaine's high school national record for two miles.
McNamara came through two miles in about 9:38, and the Dettmans in about 9:57. York's #4 and #5 were 14th and 32nd at that point. I stayed put so I wouldn't lose my spot along the fence from which to watch the homestretch. I was about 150 meters out from the finish, but after McNamara went by me for the last time I was able to see him raise his arms in victory in 14:33 (one of the fastest three-mile times in the nation this season, despite the fact that he was all alone for the second half of the race). When the Dettmans went by me for the last time there were two guys right on them, but the Dettmans then began to surge away to end up at 14:53 and 14:54. York's #4 and #5 were Mike Arnold in 26th
(15:23) and Nick Kuczwara in 37th (15:32).
After I eventually returned to York's encampment and gradually worked my way close enough to Coach Newton's bench to hear what he was saying, I found that he was anxious to receive confirmation that his team had won. A couple of different visitors to the bench told him not to worry, but he told his crew, "Don't count your chickens before they hatch. My grandmother told me that."
The larger-school girls' race's results weren't posted yet, and I had a family to feed and a long drive home, so I had to miss seeing York's celebration. But I'll have some runners with me at the Foot Locker Midwest Regional, and we'll be hoping to watch McNamara that day.
After that it will be time to find out whether the fastest high school team in the country is from Illinois or New York, or somewhere else.
========
3 high school coaching legends
At the 2003 BorderClash at Nike World Headquarters in Beaverton OR, from left, Danny Green, The Woodlands TX; Pat Tyson, Mead Spokane WA; and Joe Newton, York Elmhurst IL. Their teams are ranked 2nd (York), 4th (The Woodlands) and 16th (Mead) in Marc Bloom's latest Super 25 and all will compete in the first Nike Team Nationals. Unfortunately, Newton underwent surgery after the Illinois state meet and is unable to fly to Portland.- photo by Donna Dye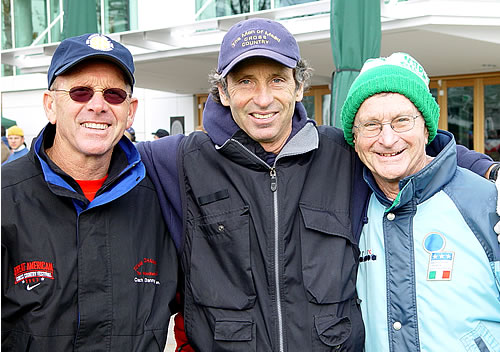 about Dave Luce
I coach the boys' track distance runners at Noblesville HS and am the assistant boys' cross country coach. I grew up in southern California, in the vicinity of Royal and Ventura high schools. It was quite a place to begin running -- from schools within about a half-hour of mine came Eric Reynolds, Marla Runyan, Angela Burnham, Bryan Dameworth, Deena Drossin, Marion Jones, Amy Skieresz, and Kim Mortensen.
One of my high school coaches, who was a friend of Doug Speck, ran for Bowerman at Oregon and then ran a 4:00 full mile for Mihaly Igloi (my coach told me that Igloi wrote "4:00" in the long jump pit sand before the race). A cross country and track scholarship to Huntington College is what brought me to Indiana in 1986.
Dave Luce