results and pix
BOYS - GIRLS
Splits BOYS - GIRLS

Donna on the Side
Getting Ready
Race Day
Fun away from course

Photo Albums
by John Dye
Boys Race
Girls Race

by PhotoRun
the camelbacks

by DyeStatCal
Ernie's Army
Friday
Awards

the buzz
the morning line
Entries
Regional Rankings
Schedule


BOYS - Sean McNamara leads York IL to decisive victory over Fayetteville-Manlius NY
GIRLS - Divine right of queens: Saratoga wins

Rich Gonzalez report Never before had such breathtaking storylines played out quite like this: Champion met champion. Talent met technology. And for the first time ever, America met its true number ones.

they said it at NTN - Don Rich's NTN in quotes and photos

Leo Collins report:
2-legged thoroughbreds and high technology
on display at Portland Meadows.
It was a wonderful experience for both fans and competitors. there were no gloomy faces to be seen after the race had ended. Everyone seemed to know they had taken part in something special.
Choosing the best is not an easy task & this was a brilliant step in the right direction.
A Jesuit Portland runner: "This season has been the most fun. It's all about team!"

Southwest quotes
Summer mileage and Kaltenbach trail blazing are key to Smoky Hill's success, says coach Greg Weich. Los Alamos coach Kathy Hipwood talks about training at altitude and racing at sea level.
BOYS

GIRLS

York Elmhurst IL 92
Fayetteville-Manliis NY 127
Mead Spokane WA 147
Royal Simi Valley CA 173
Mountain View Orem UT 206
Saratoga Springs NY 51
Smoky Hill Aurora CO 125
Yankton SD 154
Bellarmine Prep Tacoma WA 211
Fremont Plain City UT 221

The meet was blessed by the weather gods. Instead of predicted all day rains, there was no rain and just after the end of the girls race, the clouds parted and the sun came out. It was an electric and historic day as the greatest high school teams in the country were introduced one by one and then raced against each other to settle all arguments of "Who's Number One."

Thanks to the new Finish Lynx scoring system, with team scores and standings every 1000 meters, the crowd could follow the team battle on 23-foot screens. The system also fed coaches (left) the data on Palm Pilots. In the boys race, the Harrier Crusaders OR (Jesuit) were out early, but Stotan NY (Fayetteville-Manlius) took the lead after 2,000 meters. York Elmhurst IL responded in the third segment but had only a 5-point lead with 1,000 meters to go. It seemed that a furious finish loomed. But York pulled away for a convincing win behind individual winner Sean McNamara. Matt Dettman's fourth place finish was a key for York as the Illinois crew and others pushed F-M's 3-4-5 runners back. Boys Splits

There was no suspense in the girls race after Saratoga put their four Foot Locker finalists in the top six after 1,000 meters. Ramsay Kavan of South Dakota settled the individual race early as well, with Brie Felnagle WA closing fast to beat Saratoga's Nicole Blood for second. Next were Smoky Hill CO's Foot Locker finalists -- Katelyn Kaltenbach and Keara Sammons -- finishing together in 4th and 5th place. Girls Splits
York Elmhurst IL boys hear the news -- they have beaten Fayetteville-Manlius NY and reclaimed
the #1 national ranking they had at the start of the season. - photo by Donna Dye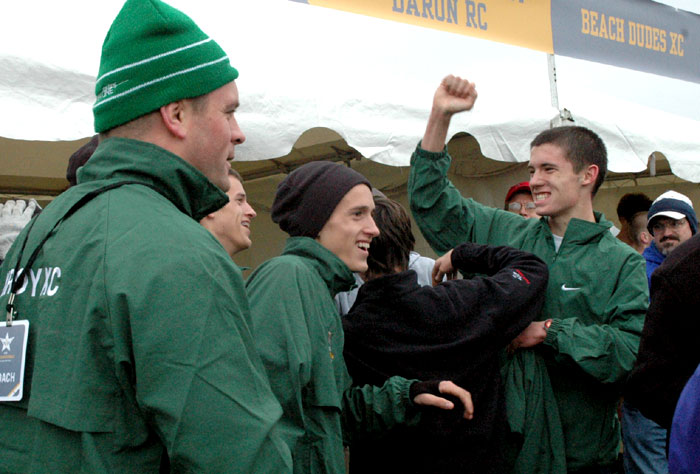 the Saratoga NY girls came in with the label of best team ever, and lived up to it. Starting with four in the top six at the 1000 meter mark, they cruised in from there and sealed their 11th US#1 rank in 13 years. - photo by Donna Dye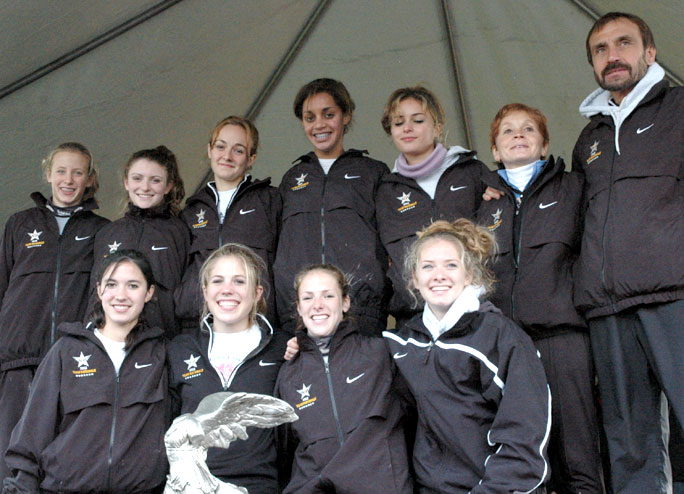 | | | |
| --- | --- | --- |
| Sean McNamara wins boys race to lead York IL to title | Nicole Blood in 3rd was the first runner for mighty Saratoga NY | Ramsey Kavan of Yankton SD continued unbeaten for the year. |
the camelbacks - artificial hills, 4' high - four hills in 150 feet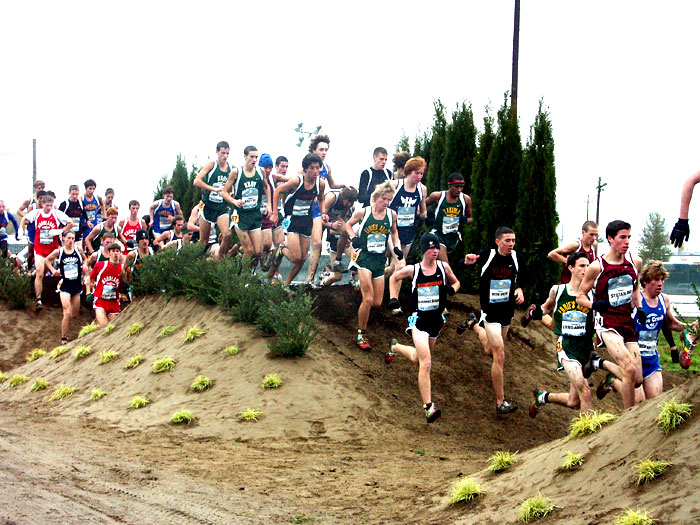 photo by John Nepolitan
Julian Aguirre reports - Northwest region teams were on a mission for respect, and they earned it. Mead WA boys, Jesuit Portland OR boys, Eisenhower Yakima WA boys, and Bellarmine Tacoma WA girls all place in the top 10. "This was so awesome," said Bellarmine's ace Brie Felnagle. "I beat Nicole Blood." Jesuit OR runner John Maletis: "It was the best weekend of our lives!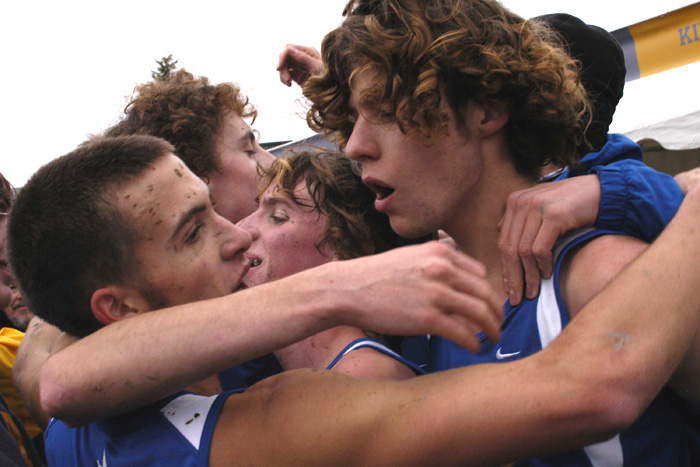 Tyson's Army WA (Mead) celebrates surprise 3rd place finish.
Awards Dinner photo album - Nike executive Josh Rowe, the person most responsible for creation of NTN, gets an award from A.J. Holzherr (right) of the National Scholastic Sports Foundation, the meet managers. At left is Kristen Wall of Nike.
-- photo by Doug Speck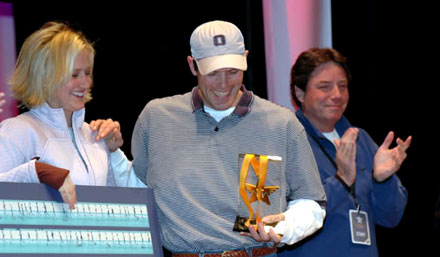 DONNA ON THE SIDE - RACE DAY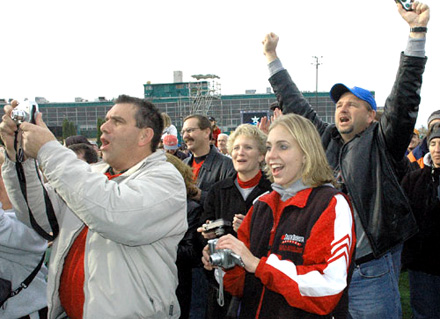 NTN fun away from the course - team skits, gong show, goodie bags, awards - 3rd edition of DONNA ON THE SIDE from Nike Team Nationals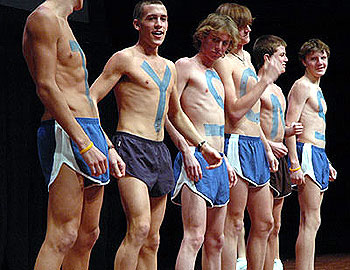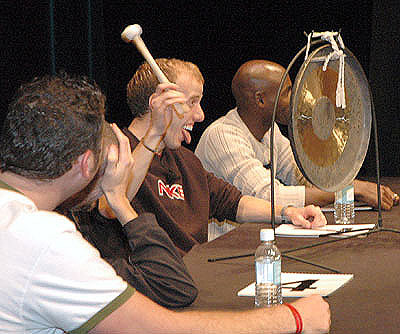 NTN - the morning line
a coronation and a horse race
by John Dye
PORTLAND OR 12/2/04 -- Like several state meets, the first Nike Team Nationals is being run at a horse track, so what does the morning line look like?
GIRLS - Saratoga NY, entered as Kinetic Running Club ***, is the odds-on favorite. This could be a coronation as the greatest team ever. They are certainly the royal family of high school girls cross country in the US. Ranked US#1 by The Harrier in 10 of the last 12 years, this is the first time they can prove it on the course instead of the polls. After their performance at the Foot Locker Northeast regional last Saturday -- a record four girls qualified for the Foot Locker finals in San Diego Dec. 11 -- few doubt they will win here.
BOYS - Pick 'em. Too close to call. This is the race that justifies the meet. Five powerful teams from five far flung regions of the country converge on Portland to settle debates that have been raging for weeks on the message boards. But instead of endless wrangling and woofing on TrackTalk, the boys will settle the issue face to face at Portland Meadows. The new FinishLynx scoring system (standings will flash on a 23-foot screen and coaches' hand held computers every 1,000 meters) will be tested to the limit as teams jockey for position. The race will probably come down to the fifth man, and NTN will give awards to the fastest fifth runner in each race. Here are the favorites, in alphabetical order, with apologies to the inevitable dark horse who may crash the party.
*** NOTE: Although all teams' runners are from one school, this is an out of season meet under USATF sanction, and the teams are running as USATF clubs.
Entries
Teams are running as USATF clubs. City or school name is in parenthesis if it isn't obvious from the club name.
BOYS

GIRLS

NORTHEAST

Stotan AC (Fayetteville-Manlius) NY
Lincroft TC (Christian Brothers) NJ
Harrisburg Harriers (Cedar Cliff) PA
Kinetic RC (Saratoga Springs) NY
Roxbury XC Club NJ
Bethlehem XC Club NY
Hoover XC Club AL
Winter Park XC Club FL
Scottsboro XC Club AL
Harford Harriers (Bel Air) MD

SOUTH

The Woodlands XC Club TX
Carroll XC Club Southlake TX

Kingwood XC Club TX
Carroll Southlake XC Club TX
York XC Club, Elmhurst IL
Yahara Hills RC, Madison WI
Northridge XC Club IN
Bowling Green XC Club OH

HEARTLAND

Marshall Mix MN
Team Swanson (Shawnee Mission) KS
Yankton XC Club SD
Iowa City West XC Club IA
Roosevelt XC Club Sioux Falls SD

SOUTHWEST

Mountain View XC Club UT
Albuquerque Academy XC Club NM
Los Alamos XC Club NM
South Tahoe XC Club CA
Smoky Hill XC Club Aurora CO
Fremont XC Club Plain City UT

NORTHWEST

Ferris XC Club (Spokane) WA
Crusader Harriers (Jesuit) OR
N. Spokane Harriers (Mead) WA
Eisenhower XC Club Yakima WA
Crusader Harriers (Jesuit) OR
Hilltop Belles (Bellarmine Tacoma) WA
1 Royal XC Club Simi Valley
2 Dana Hills XC Club
3 El Toro XC Club Lake Forest
Fountain Valley XC Club
Thousand Oaks XC Club
Murrieta Valley XC Club
Schedule
9:30 Boys Race
10:30 Girls Race
11:15 USATF Club Championship Races begin